MORRIS – When Sister Debrah Funfsinn told one of her first-grade students he wouldn't be moving forward with his class, she prayed the other kids wouldn't ask him about it.
On the last day of school, Funfsinn waited for the inevitable questions to come. Yet, she heard the little boy stand up and say, "Class, I'm the luckiest kid in this room. I get to have Sister Debrah another year."
"I couldn't believe it," Funfsinn said. "He was such a sweet boy. And I just remember how precious that was and that he was excited to have me again and he wasn't so sad he wasn't moving on with his friends."
Funfsinn, who has been a beloved school teacher for 48 years, said she will retire from Immaculate Conception School at the end of the year. Her unique ability to see each child's strengths is at the forefront of what she calls her education philosophy.
"Each child must be noticed. Each youngster needs that certain look from me that assures them that, 'I'm special.' Once they feel loved, they'll know the great love God has for them and will want to share it with others," she said. After following her calling, she chose to pursue teaching ministry.
"I grew up in a large family, so I was always teaching, and in our community, you get two choices, you could be a teacher or a nurse – and I really didn't want to be a nurse – but I geared towards teaching because I thought I had some creative abilities," Funfsinn said.
At 22, Funfsinn began teaching at St. Mary School in Mokena, where she taught fifth grade. Shortly after, she realized her true passion was teaching primary school.
"At a younger age, children are like sponges, they soak up everything whatever you say. And I just enjoy it so much, watching their eyes open when they finally get a concept or skill or when they're excited about what they are reading."
"It's just their innocence and openness to say anything and everything, you know. But, my favorite thing about the kids is their energy. They make me young," she said.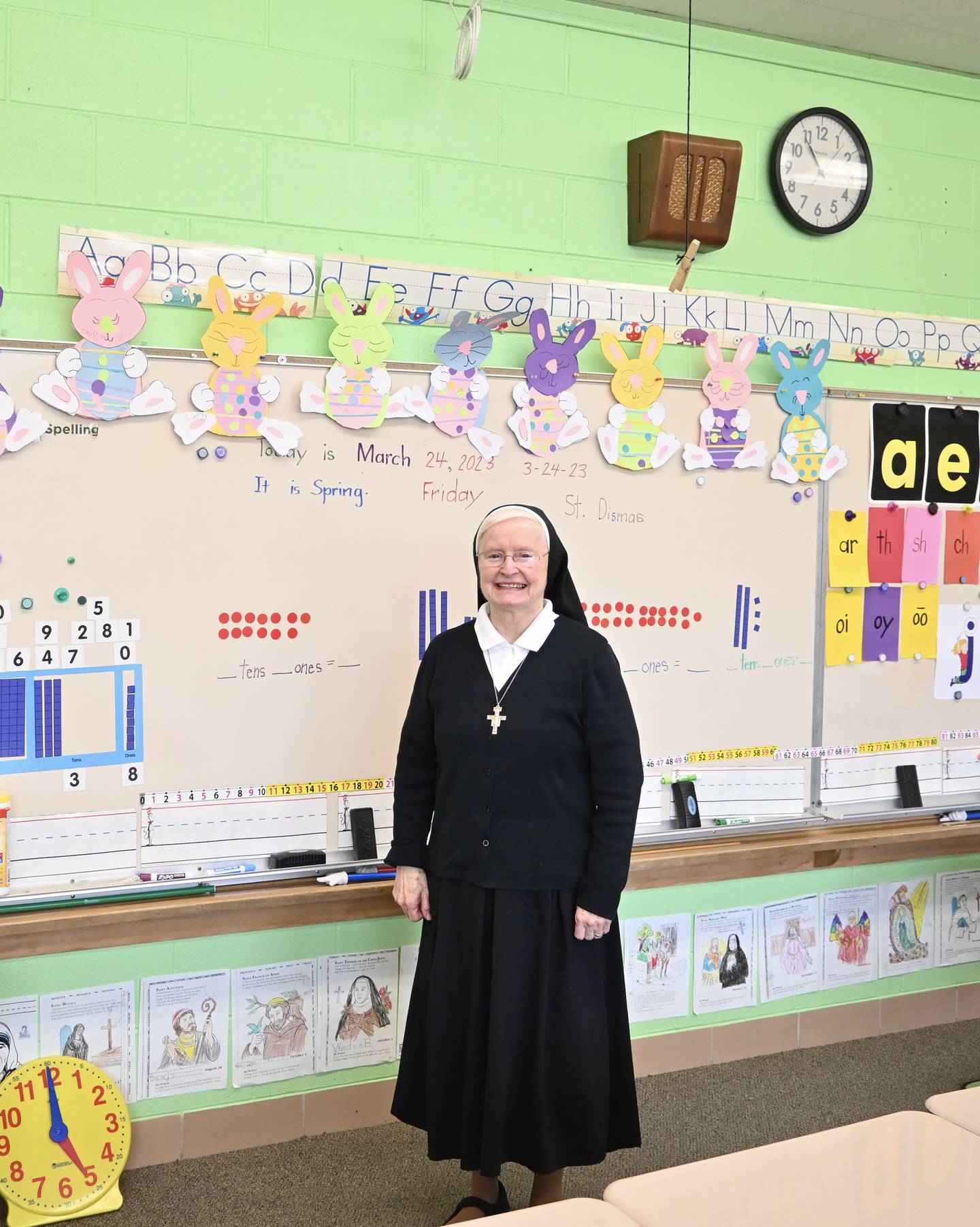 Funfsinn said that education has changed a lot during her time, but the aspect of teaching that has changed the most is the curriculum and technology.
"They've asked the children to do more, learn more and expand their minds. But going back, we didn't have computers or SMART Boards. Kids learn in many different ways. There is so much involved and with what is required.
"I used to write lesson plans in a book, now everything is online. ... These are the changes I have seen," she said.
Funfsinn's values have not gone unnoticed by her students or their parents.
"Sister Debrah expects a lot from her students, she challenges and stretches them academically and spiritually, and they certainly exceed her expectations. She not only teaches her students reading, writing, science, math, social studies, etc.," Allison Wiley, a parent, said.
Funfsinn said that she will miss her children the most in her retirement, but she is looking forward to not waking up at 4:30 a.m. and having the time to go to other places.
"I live with another sister and I tell her, 'I can't wait until tomorrow because we are going to have an art project and we are going to be doing this or that.' I get excited with them. And I won't have that," she said.
Paul Vieraitis, a parent to one of Funfsinn's students said she was a "blessing" and attributes his child's interest in religion and Jesus to her. His daughter, Abigail, 5, called Sister Debrah her favorite teacher.
"She is very kind and patient with the children in her class. Every day when the children leave school Sister Debrah gives them a hug and says, 'Good night, God bless you,' It warms my heart every time," he said.