MORRIS – Kim Struck discovered her love of music in second grade, her music teacher, Barbara Ewalt, filled her classroom with a room with so much love and happiness that Struck immersed herself in all genres of music.
"Her room was the room that always had joy in it, singing and moving and smiles and it just made me so happy. So in third grade, I started taking piano lessons and in fourth or fifth grade I joined the band," Struck said.
Struck's love for music stayed with her throughout her educational career, eventually leading her to become a music teacher.
"I knew at a young age that I wanted to teach music because of the joy it brought me and I wanted to pass it on to children. I think it's a place where children can express themselves," she said.
Struck has taught for more than 35 years, her past 14 have been spent at Saratoga Elementary School. Her room reflects the joy she hopes her children feel walking in – filled with color and posters representing cultures and genres of music throughout the world.
"When kids come into my room, I don't know for the most part their math scores or their reading scores. I just know that music brings them joy and they can feel safe to sing and dance and create," she said.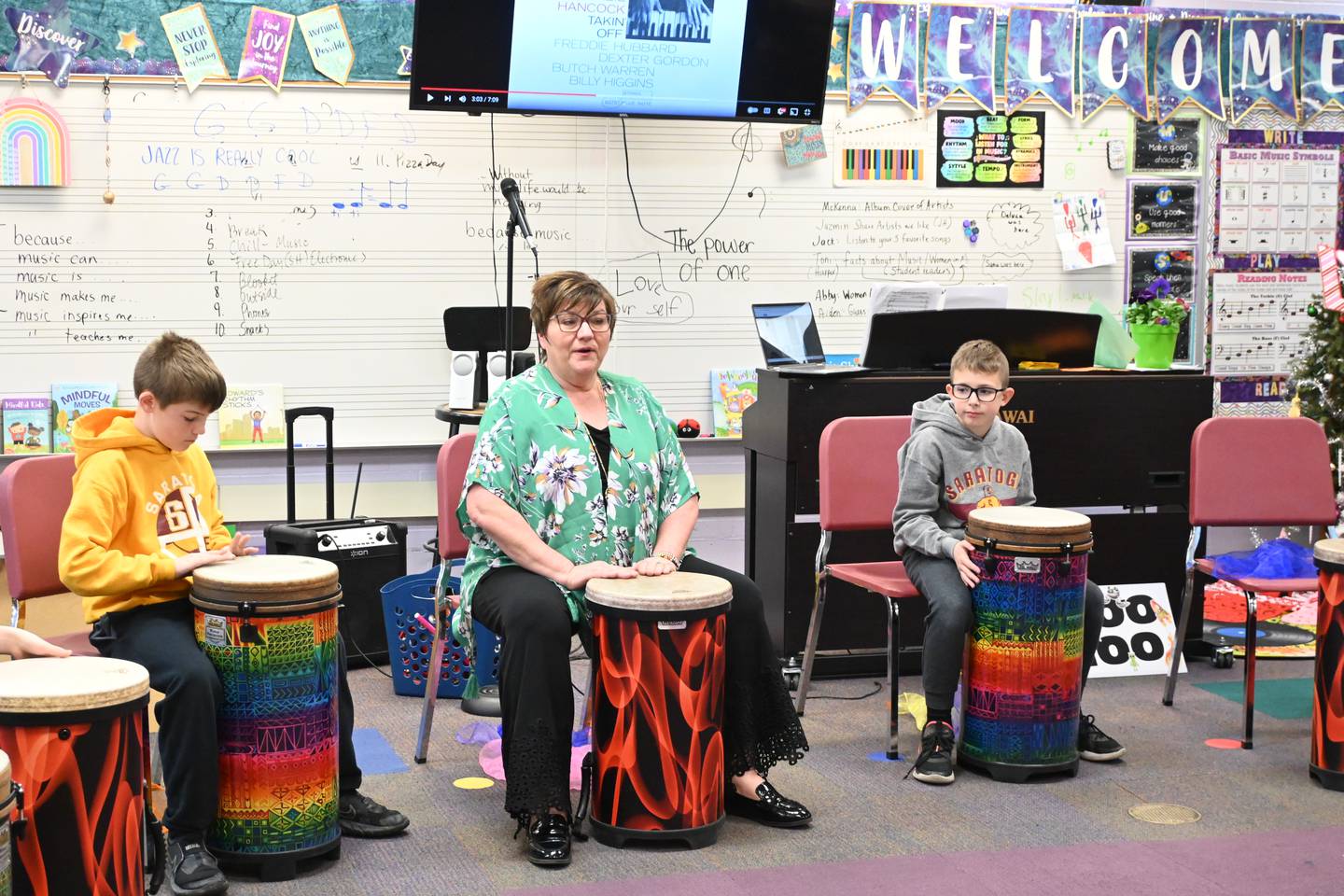 Struck uses her classroom for more than just teaching music. For her, music is culture and she strives to bring those concepts to her students. To have them travel the world from inside her classroom every day.
"I want them to understand musical concepts and be able to show steady beat and read rhythms, and know the difference between their talking voice and their singing voice. But, I also want them to understand the beauty of the words and lyrics," she said.
"The cultural context, I did spirituals with first graders and kindergartens during Black History Month, and I did jazz with my older kids. I want them to understand the impact music has on their lives."
Recently, her class learned an African folk dance from Ghana. Her third-grade class stood in a circle in front of their drums, danced, and sang a song with hand gestures meaning "I keep you in my heart" and "I come in peace."
Grant Stoltz, a third grader in her class, said he loves Mrs. Struck's classroom because music makes him calm.
"I love music. It reminds me to calm down and makes me happy. It makes my heart a better person," he said.
Struck said teaching kids about music throughout the world is important because it shows them music is a universal language. In fact, she has a fourth grade student whose first language is Spanish, they hit it off right away because she could speak to her through the music.
"Music is for all ages and all people and children need to know that there is Asian music and that African music lead to jazz in our country, and that there is music and cultures from all around the world," she said.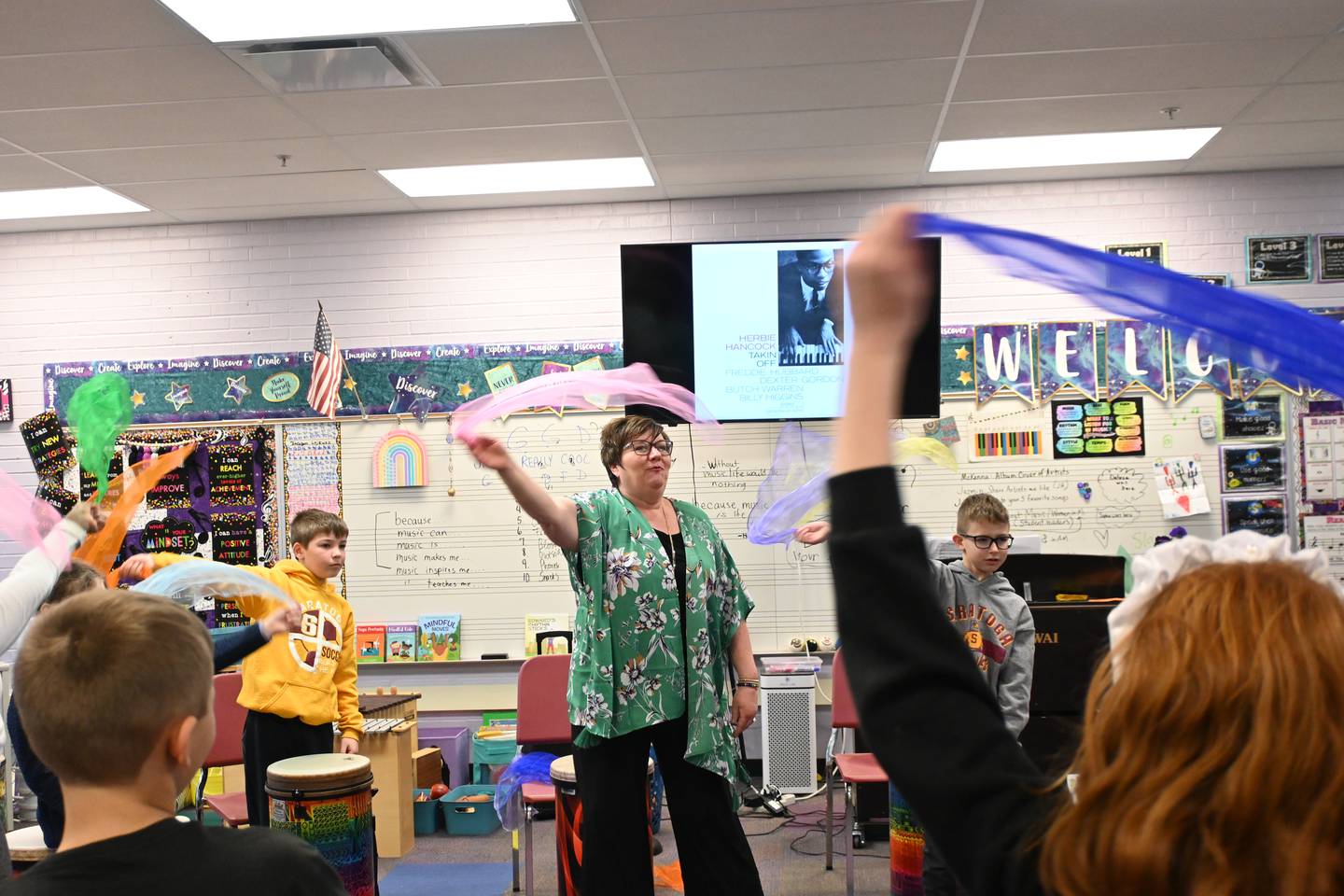 Struck said that aside from teaching students about cultures and basic music theory, she wants them to feel safe to be themselves in her classroom. She has karaoke days, where she allows the kids to express themselves through a song. She also has "Whoo hoo" moment days.
"They get to hold a sign and tell us a good thing that happened to them. It could be as simple as 'I got to go to my friend's house' or 'We went for pizza,'" she said.
Saratoga Principal Joe Zweeres said Struck will be retiring next year, but they won't be looking for her replacement as they "do not see that as possible."
"She is able to get the best out of her students which in many cases is more than the students even knew they had in them. She creates relationships and a purpose for students when they may not otherwise have this already," he said.
Struck said she will miss the children the most, but she won't be leaving music behind and hopes to do more with music education in a smaller capacity.
"I love incorporating social-emotional learning through music and lyrics through the emotions of music. Maybe I could teach special-ed music here," she said.
"Music is like the stories we heard growing up, the folk songs and the folk dances that are passed from generation and cultures need to be taught because we're losing a lot of that," she said.