MORRIS – What do math and art have in common?
For most people – nothing, the subjects are incomparable. But for high school math teacher Nick Murphy, the two subjects are one and the same.
"I love the artistic nature of geometry. I assign art projects in my classroom. We just finished these little scale models where kids can cut out glue together a tennis court or they can draw a crayon box. We are able to take some artistic talent that they might have and they might not have utilized," Murphy said.
Murphy said he grew up in a family that valued education and pushed him to do the best with whatever skills he had. His family, in combination with a few valuable teachers, led him to become a math teacher.
"I had some fantastic teachers growing up who inspired me to engage a little more critically than I otherwise would have with math, science and history. There are a handful of teachers that I could name, but those positive influences within the school system always made me think about becoming a teacher," he said.
His students learn how to take the dimensions and the measurements, and then scale them up or down to create a piece of artwork out of whatever material they choose. His students have made projects out of wood, metal and even cake.
His class also does a coloring project that involves tiling, teaching his students how to apply math to the real word in a way they are able to understand.
"Much like a carpenter or someone working in home remodeling might tile a floor. There is a lot of connection to Middle Eastern Art. A lot of mosques and synagogues in the Middle East are tiled beautifully with different shapes. So we have been talking about the way you can rotate or move the tile around to get different pictures," he said.
Aside from bringing history and art into his classroom, Murphy allows his students to see math from different perspectives by assigning them famous mathematicians if they choose to submit their work anonymously.
"I try to incorporate different communities, women and the LGBTQ community within mathematics. Whenever the students get a name they don't know, we can talk about the histories and biographies and take the extra five minutes, we can see how different cultures have contributed to math into society," he said.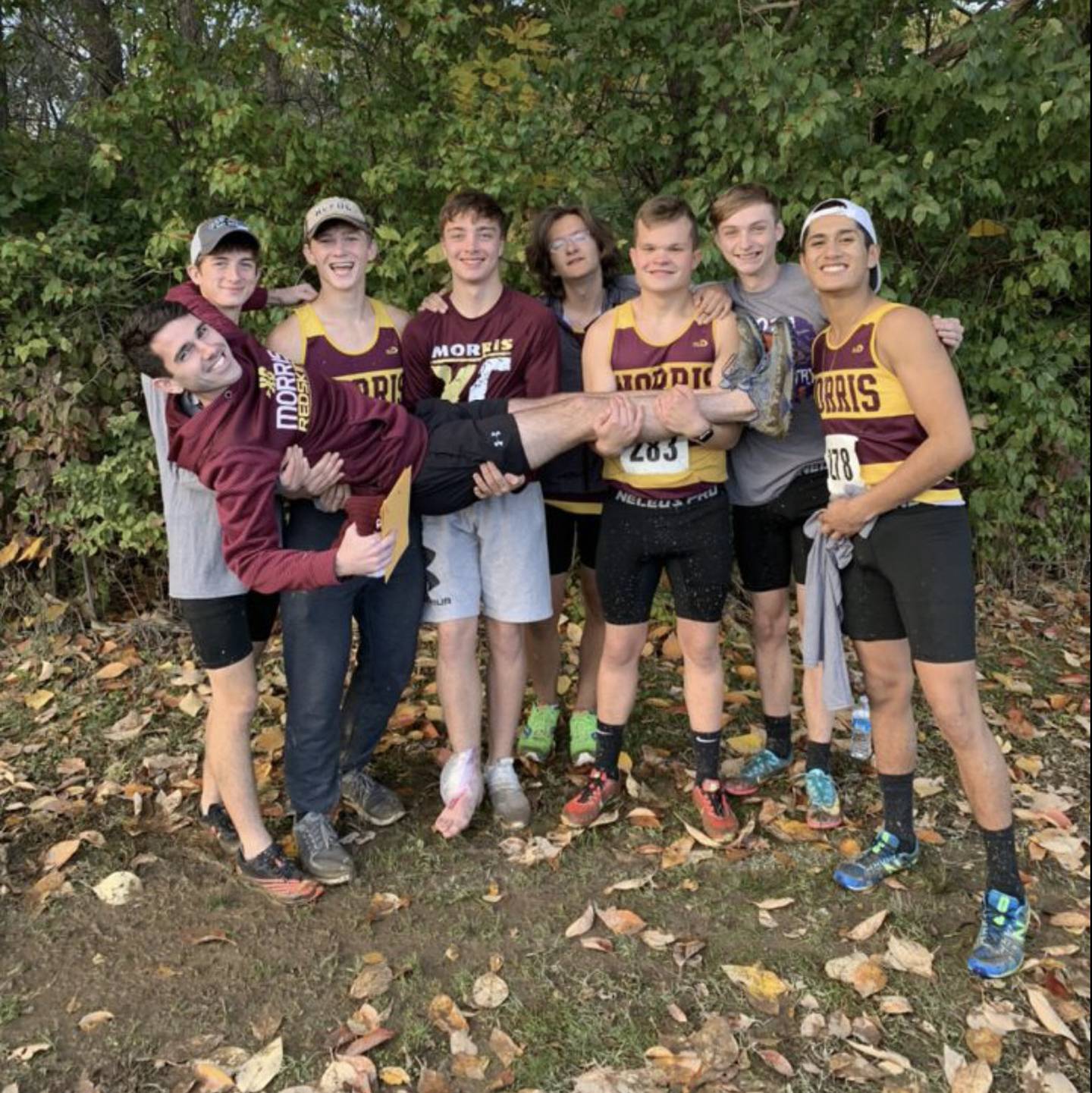 Morris Community High School District 101 Superintendent Craig Ortiz said Murphy's positive attitude and ability to adapt to teach each individual regardless of skill transcends education, he carries it with him as a coach.
"He is willing to teach any level of math, to try innovative ideas, and to challenge himself to continuously improve. He truly enjoys helping the students he teaches and coaches, and he has earned their respect by demonstrating patience and kindness," he said.
Senior athlete Kaden Welch attributes his success as an athlete and a student to Murphy and said if he could use one word to describe Murphy as a coach and person it would be dedication.
"It is pretty self-evident from his hobby of running 100-mile races that he is a dedicated individual and this devotion is shown through his coaching," he said. "I know no other coach that has team workouts and projections that go for several years into the future and are tailored to each individual athlete."
Murphy said he tells runners "failure is always an option, but giving up is not". He pushes them to be the best version of themself, regardless of the event.
"Whether in the freezing slippery winter or the blistering summer heat, you can guarantee Murphy is going to be running right next to you, helping push and train you to achieve your potential," Welch said. "This dedication to his runners is a direct cause of the team's recent successes in both seasons."