It was quite a week for the Spiezio family.
On July 20, the St. Louis Cardinals held a dual bobblehead day for Ed and Scott Spiezio. The Morris residents are the only father-son combination in Major League Baseball history to have won a World Series with the same organization – the Cardinals – and also are the only father-son duo to win two World Series rings each. Ed won his with the Cardinals in 1964 and 1967, while Scott won his with the Anaheim Angels in 2002 and the Cardinals in 2006. After signing almost 300 bobbleheads, the pair went on the field, and Ed threw the ceremonial first pitch to Scott.
And the honors kept coming. Three days later, Scott was inducted Friday into the Joliet Area Sports Hall of Fame, where he joins his father, who was a member of the hall's inaugural class in 2003.
Ed, who will turn 80 on Halloween, wasn't sure his voice would hold up for an introductory speech, so Scott's introductory speech was given by former (Joliet) Herald-News sports editor and Hall of Fame member and committee member Dick Goss. Because of COVID-19 restrictions, last year's class did not have an induction ceremony, so 2020 inductees also were officially inducted Friday night. Scott was the final inductee of the night, following 2020 inductees Pete Bercich, Keith Healy and Samantha Findlay and fellow 2021 inductee Alando Tucker. Scott is the third Morris Community High School graduate to be inducted, following Ed Brady (2014) and Erin (Hickey) Dransfeldt (2018).
At the start of his speech, Goss said it was unusual for Scott to be "batting last, but tonight, we'll say you're batting fifth."
Goss related a story about Ed being traded from the San Diego Padres to the Chicago White Sox during the 1972 season. The Sox finished 87-67 and second place in the American League West that season.
"Ed came to Chicago and helped the White Sox out a lot that summer," Goss said. "They took it down to the last week of the season, battling the Oakland A's for the division title. That was the year that Oakland won the first of three straight world championships. In that last week of the season, the Sox weren't going to be able to catch the A's. Ed said that Chuck Tanner, the manager of the White Sox, came to talk to him and said, 'Why don't you go home for the rest of the season? There's something more important that you have to take care of.' "
Tanner was referring to Scott being born Sept. 21, 1972.
"Chuck Tanner knew how important it was for Ed to get back to his wife (Verna) and his new son," Goss said. "I have a feeling that that was the beginning of Scott's baseball training."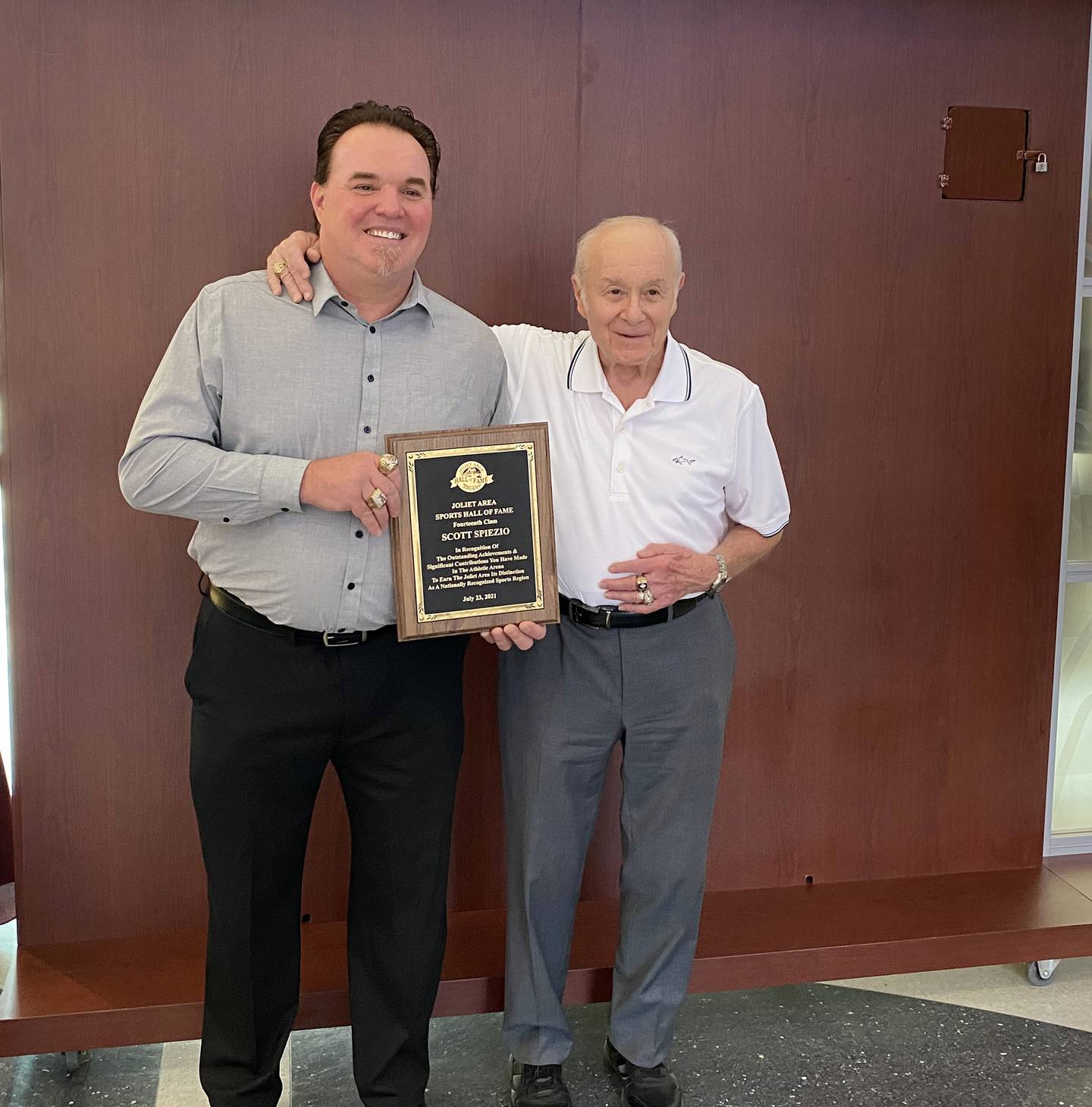 Earlier in the evening, Hall of Fame member Matt Senffner inducted Healey and noticed Ed in the crowd. He told Ed that he grew up not far from him in Joliet and remembered Ed's father coming home from work and pitching to Ed or hitting him ground balls in the yard.
Ed did the same for Scott.
"It started when he was young," Goss said. "I think Scott said he was maybe 2 years old when he had his first glove and took his first swings. By the time he was 7 or 8, he was dominating leagues and hitting with tremendous power from the right side, but Ed said, 'You have to learn to switch hit and learn to hit left-handed, too.' He wanted Scott to take every advantage possible.
"So Scott went on to be an outstanding youth player and high school player. He was MVP of his conference. Time for college, he goes down to University of Illinois, although the school that really wanted him was [Louisiana State University]. But Scott wanted to go to Illinois. He still holds the Illini home run record with 48, and that was in three seasons.
"During that time, he went and played in the Junior Olympics with the best players in the country. It was at that time he figured out that he belonged with that caliber of player. The country was divided into four zones, and Scott played for the North team, which won the gold medal.
"In pro ball, he played for the Oakland A's for a few years, then the Anaheim Angels. In 2002, Scott hit probably the most memorable home run in the history of the Angels in Game 6 of the World Series. Really, he should have been the MVP of the World Series, but they gave it to Troy Glaus. The people in the know know who the MVP was in that series. In his career, he played in 26 postseason games and had 25 RBIs in those games. A perfect example of someone coming through in the clutch.
"He played a couple of years with Seattle, which didn't go very well, but then he came to the Cardinals and won another World Series in 2006 and tied his dad with two World Series championships."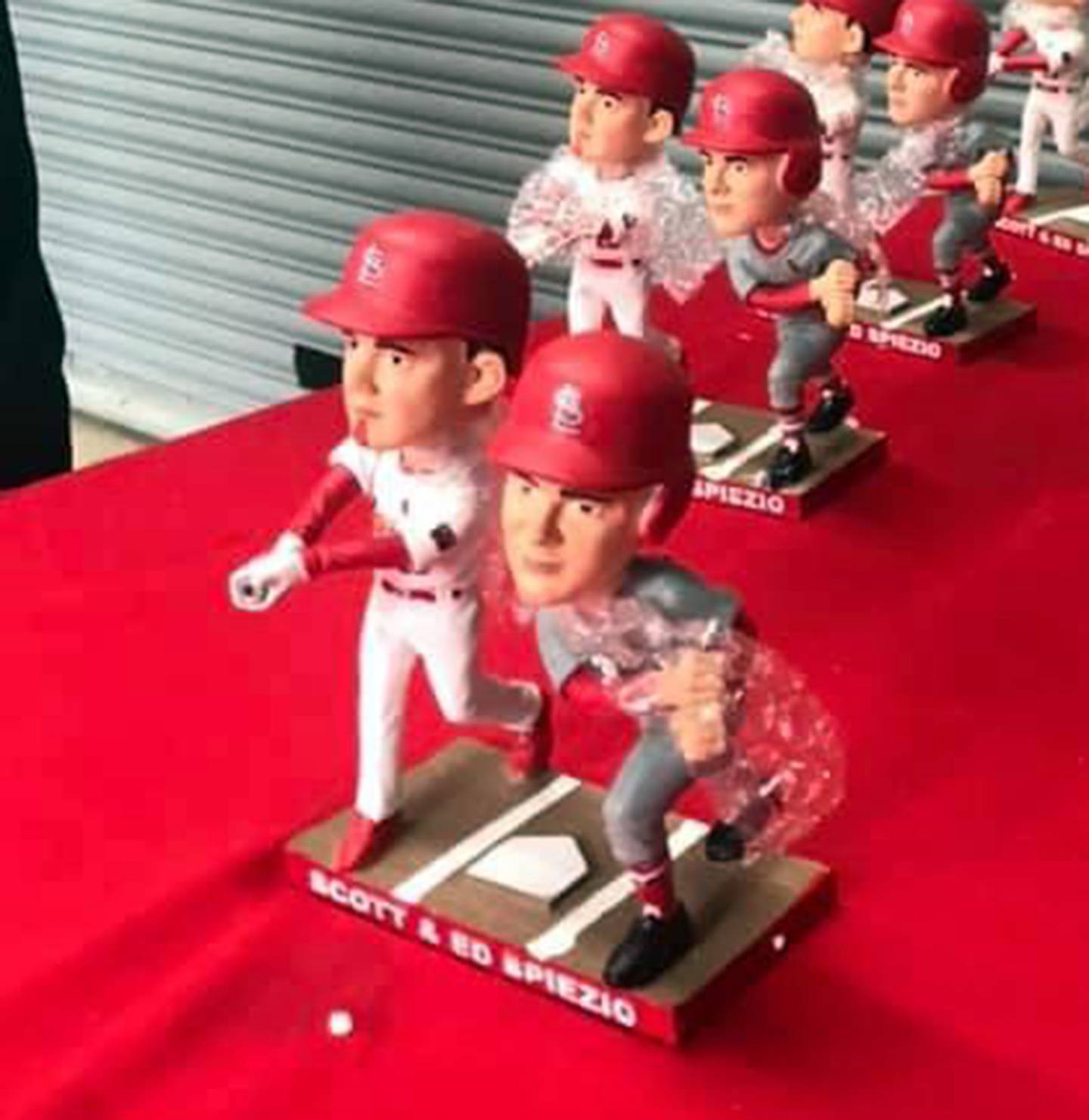 Before Goss brought Scott to the stage, he asked Ed to say a few words from his seat.
"I thought when Scott was younger that if I could teach him how to switch hit and play several positions that if he ever got near the major leagues, no one could stop him. When I was coming up, I had Ken Boyer in front of me and he was MVP of the league. When Scott was 8 years old, he put on a show. He hit four home runs in one game. I kind of knew then and there that he was destined to really achieve success.
"We spent a lot of time together, and he achieved even more than I thought possible. When you get to the World Series and star in it, everything seemed to turn out all right. What I am most proud of is the way he has turned his life around. That was the most difficult thing, I think, he has ever done."
Scott then took the stage.
"Well, I was trying not to cry, then that happened," Scott said while wiping away tears. "Thank you, Dad, for those kind words.
"Thank you to the committee and everyone involved with the Joliet Area Sports Hall of Fame. The museum is beautiful. I am going to have to come spend a few hours here. I love history. My mom was a history major; my son is going to be a history major.
"I am honored to be a part of this group. The list of players and coaches that are members is incredible, and it's mind-boggling that I am included in there."
Spiezio thanked his coaches, starting with his father.
"I had the greatest coach," he said as he pointed at Ed in the crowd. "Coach [Jay] Roth at Nettle Creek, Denny Steele and Todd Crose at Morris, incredible, hardworking coaches. Wayne King, I had the pleasure of playing for him. Don Reed in the Cape Cod League, Itchy Jones at Illinois, Gordie Gillespie, Tony Delgado, Joe Heinsen, Pat Sullivan. All those guys had a big impact in my life. There were things I used in the major leagues that I learned from their camps. My major league coaches and managers, Art Howe, Ron Washington, Mike Scioscia, Joe Maddon, Mike Hargrove, Bob Melvin, Don Baylor, Paul Molitor, Hal McRae and Tony La Russa. I got to end with a pretty good one."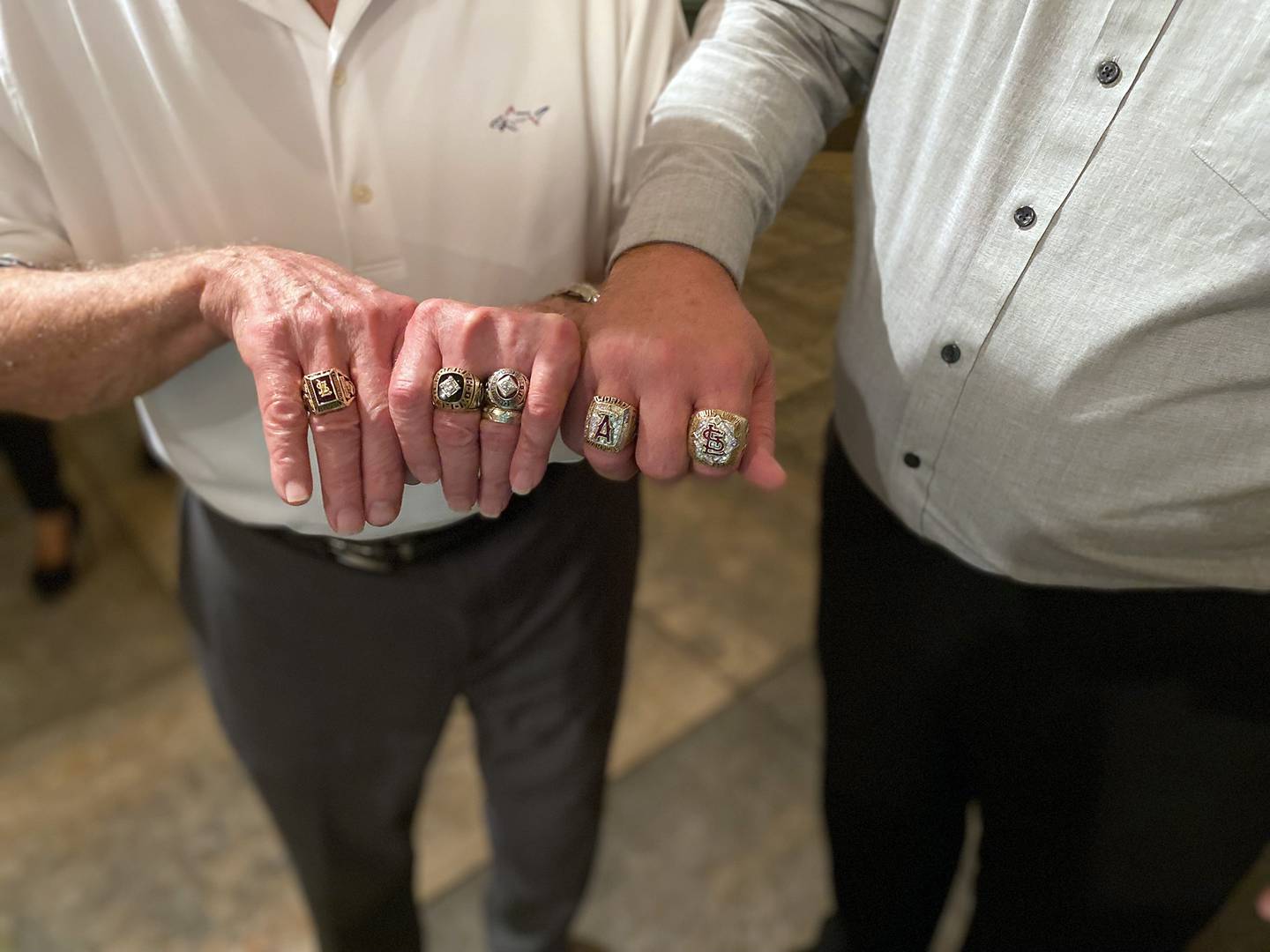 After mentioning a slew of household names he had as teammates, Spiezio talked about his family.
"My sisters, Debbie and Suzy, were the best sisters ever, that's for sure. My kids, Tyler, Cody, Tessa and Sully. Tonia Boyer for coming here tonight. It's really nice to be supported by family.
"My mom, it was just amazing that she put up with me and my dad. Between my sisters, my mom and grandmother, they picked up and shagged balls in the outfield from the time I was little up until the major leagues. Just amazing people. My grandpa, Ed [Spiezio] Sr., who was a great athlete. He was always telling me to squeeze balls to strengthen my fingers and do situps, and it worked. He was tough, and I am sure he was a lot tougher on my dad than my dad was on me.
"I had a live-in major league coach. I was lucky. My dad had unbelievable dedication to me. I wish I was able to have that dedication to my sons. He was just unbelievable in his dedication. I was trying to figure out the amount of pitches he threw me. A conservative estimate of 1,000 a week. If you take that over 30 years, he's well into the millions of pitches he threw me. He had hitting stations in the basement and mental training. When I was 12 years old, he was playing subliminal tapes for me. 'The drive and purpose of a winner flows through your body. You are great.' Visualization and breathing techniques. At a young age, my dad was ahead of the game, so I was able to focus and slow the game down. He made me play golf instead of football, which I wanted to play. But golf really is a mental game that helped me get to the big leagues and stay there.
"We had two mounds in the backyard and stations in the basement. My dad threw to me all the way up to the major leagues. Once, in my freshman year of college, we were at UNLV in a tournament. I had a really bad game. Between games, he said, 'Come here.' I said, 'Dad, we have a team meeting.' He just said, 'Come down here.'
"He had about 10 balls that he had found and he started throwing to me in the cage. 'Let's go. Let's hit.' I said, 'Dad, we have a team meeting. I'm a freshman. I'm going to get in trouble.' He said, 'I'd rather you sit than watch that because you stunk.' So he pitched to me and the next game, my coach made me sac bunt twice, but the other two times, I hit home runs. So all my teammates asked me, 'Hey, can you have your dad pitch to me?' "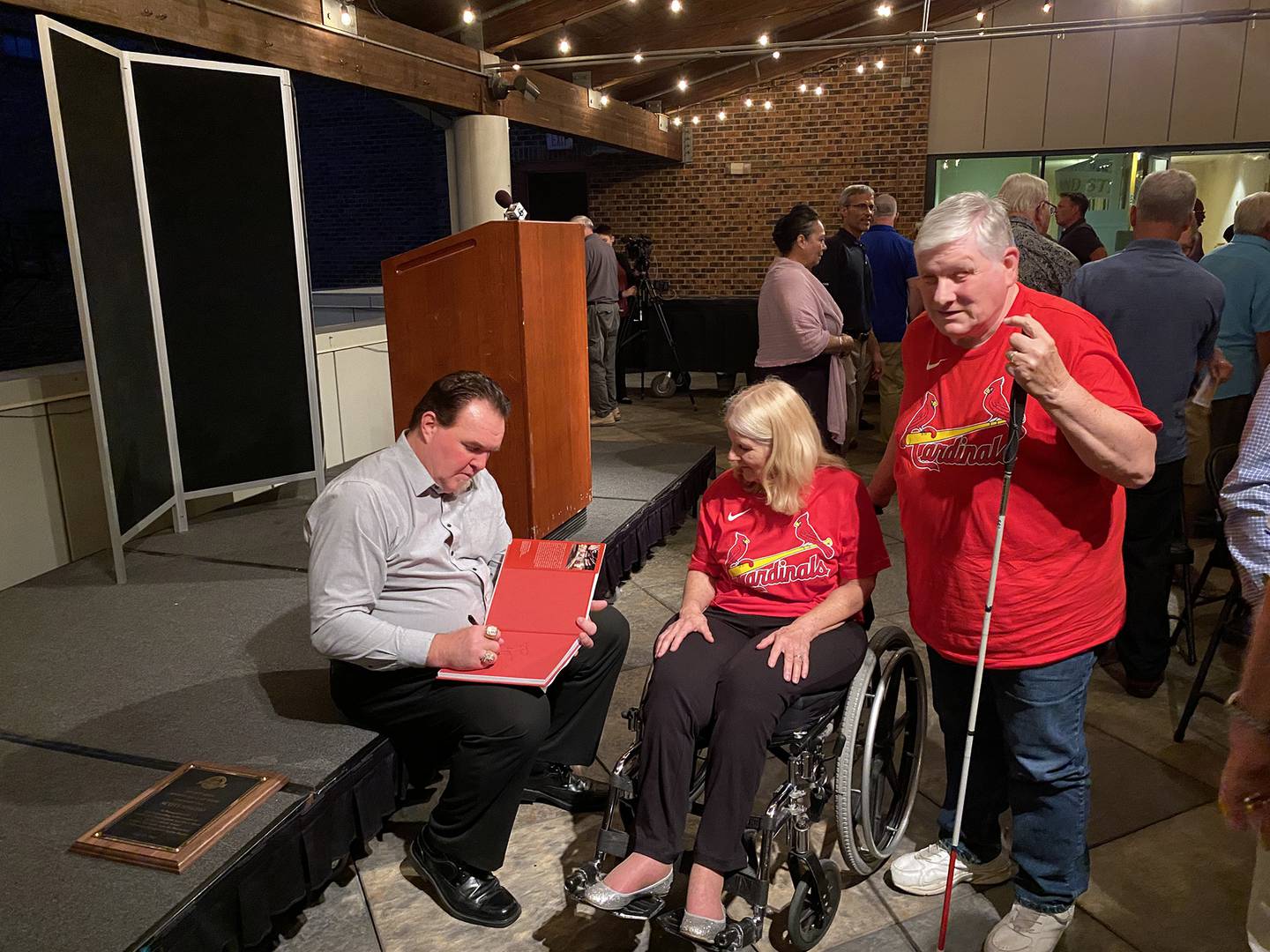 Scott also related a story in which, while he was in the major leagues, Ed flew to Oakland and asked Scott to buy some tennis balls and build a pitching screen before he got there. Scott built the screen, and Ed pitched to Scott while Scott's mother and grandmother shagged balls at a Little League field about 30 minutes away from Oakland's stadium.
"I was feeling pretty good and I heard a voice behind me, 'What are you doing, moonlighting on me?' I turned around and it was Billy Beane, our general manager, rollerblading. We were always practicing, no matter what. Dad would do situational hitting with me. '3-2 count, bases loaded, bottom of the ninth, down a run, Game 7 of the World Series. What are you going to do?' When I got to the playoffs and World Series, I felt like I had been there a million times. He put me in the place and taught me how to become clutch in pressure situations."
Spiezio then talked about his life in the major leagues, warts and all.
"1996-2003 were pretty incredible years for me," he said. "Then in 2004 and 2005, I was in Seattle. I got injured in spring training. I felt horrible. I had signed a big deal. I tried playing. Doctors were saying I might not walk again. I started drinking and making bad decisions. I had two horrible years and got released.
"About Feb. 10 in 2006, I was feeling pretty sorry for myself. There was a bird knocking on my window. I went down to see what it was, and I heard it upstairs. I looked again, and it was a cardinal. About three to four hours later, I get a call from my agent saying that the Cardinals want to bring me to spring training as a minor league invitee. Right away, I went to the hairdresser and asked her to dye my soul patch red. I told my agent and he said, 'Oh, no. St. Louis is a conservative town. It's a bad idea.' I said, 'Don't worry about it. It's my war paint.'
"So, I went to spring training expecting to be number 89 or something, but they gave me 26, which was my dad's number. So it's 2006; I am wearing number 26. I knew we were winning that thing. I made the team, and we won the World Series. It was amazing.
"In 2007, the Cardinals on Opening Day had my dad come out and present me with my ring. That was so special, especially with the Cardinals. Later that April, we lost a teammate, Josh Hancock, who I was pretty close with. I used that as a crutch and was hanging around not the greatest people and started drinking again and made some more choices and got released in 2008. It was a little tough for me. I call it my detour now, but it was too long of a detour. I had 10 to 12 years of battling, but I never gave up, and on April 5, 2018, I had my last drink and I have been completely sober since."
That comment brought a big round of applause.
"I couldn't have done it without my parents, sisters, Tonia, pastors, priests and true friends that endured tortured as I hit rock bottom. Thank you. Without you, I wouldn't have made it. I wouldn't have been here for sure without that foundation.
"My savior, Jesus Christ, never abandoned me, even when I abandoned him. He cured me. Thanks to my parents, an example of true faith, I found my way back to him, and he alone healed me. I finally got out of his way and let him do the work. My priorities were screwed up for a while. Now, they are back aligned properly. God, family, true friends. My walk with Jesus is stronger than ever.
"For those who are suffering with addiction of any kind, turn to God, family and true friends. Battle and never give up. Albert Pujols in 2007 knew I was struggling and gave me a book. It said the one thing you can't do in Heaven is bring other people to Christ. That's what I am focused on now."
Spiezio closed by acknowledging the area he comes from.
"I have also started Spiezio Baseball in Morris to teach kids and teams the knowledge my dad, his dad, my coaches and teammates have taught me over the years. This hometown area means so much, and it means so much to be recognized by your hometown peers. This area means so much to my family. All four of my grandparents and my parents graduated from Joliet Township High School, then I got to manage across the street from it last year in the Champions Cup. Both of my sisters had multiple letters from MCHS, and my kids have multiple letters from MCHS.
"The dual bobblehead day in St. Louis and Dad throwing the first pitch to me was a true Field of Dreams moment and now this. What a week. I am truly honored and humbled."