MORRIS — Another weekend, another big event for downtown Morris.
Two weeks ago, Liberty Street was turned into a version of Hogwarts during the Harry Potter-themed Magic in Morris event. Last week, of course, saw the return of the Grundy County Corn Festival.
This weekend, specifically Saturday, Oct. 2, will see the Liberty Arts Festival, which makes its return after being cancelled by COVID-19 last year.
The Liberty Arts Festival, hosted by the Morris Downtown Development Partnership, promotes and celebrates work by local artists, who will be showcasing their work in the downtown area.
Some streets will be closed during the event.
Liberty Street will be closed from Washington to Main Street, and Washington Street will be closed between Franklin and Wauponsee Streets for the Art Walk. Washington Street from Liberty Street to the alley one-half block south also will be closed for food vendors. Food vendors will be BBQ & Baker, Laki Hawaiian Ice and the Fraternal Order of Eagles.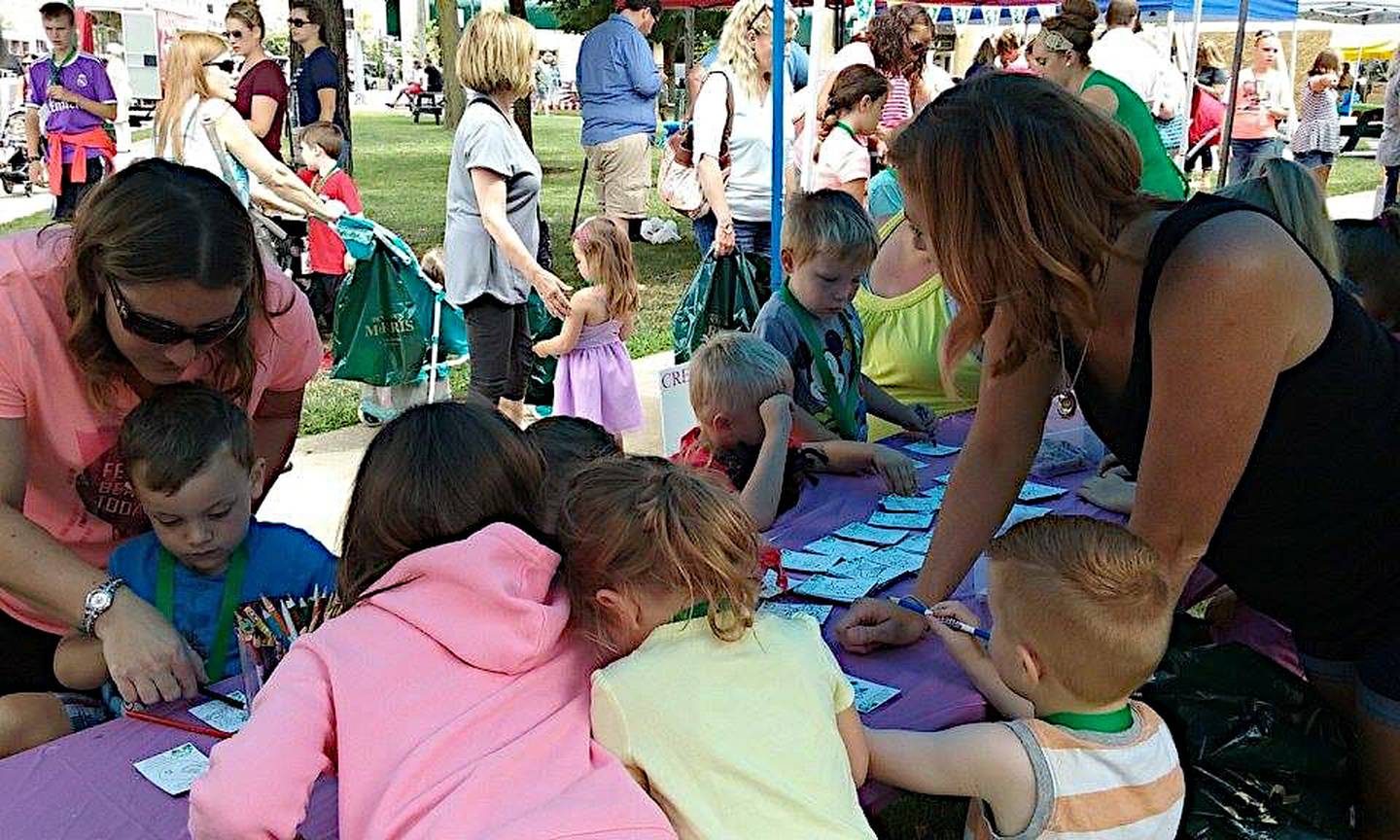 "Things have been great for the downtown businesses with Magic in Morris and Corn Fest," Morris Downtown Development Partnership Executive Director Julie Applegate said. "We hope that continues this weekend. We decided to do it all in one day this year. Our hope is that it will bring some crossover interests. Say someone is interested in quilting, they can visit that exhibit, but also see everything else that is there and maybe find another interest.
"We have about 60 artists registered, which is a pretty good number. We had around 70 the last time, but we understand that some people might still be a little concerned. Our Creator's Village has about 16 business that are participating, and the same with Sip n Shop.
"We are just excited to be back and be able to hold this festival again. And, it looks like the weather will be nice, so we hope to see some good-sized crowds."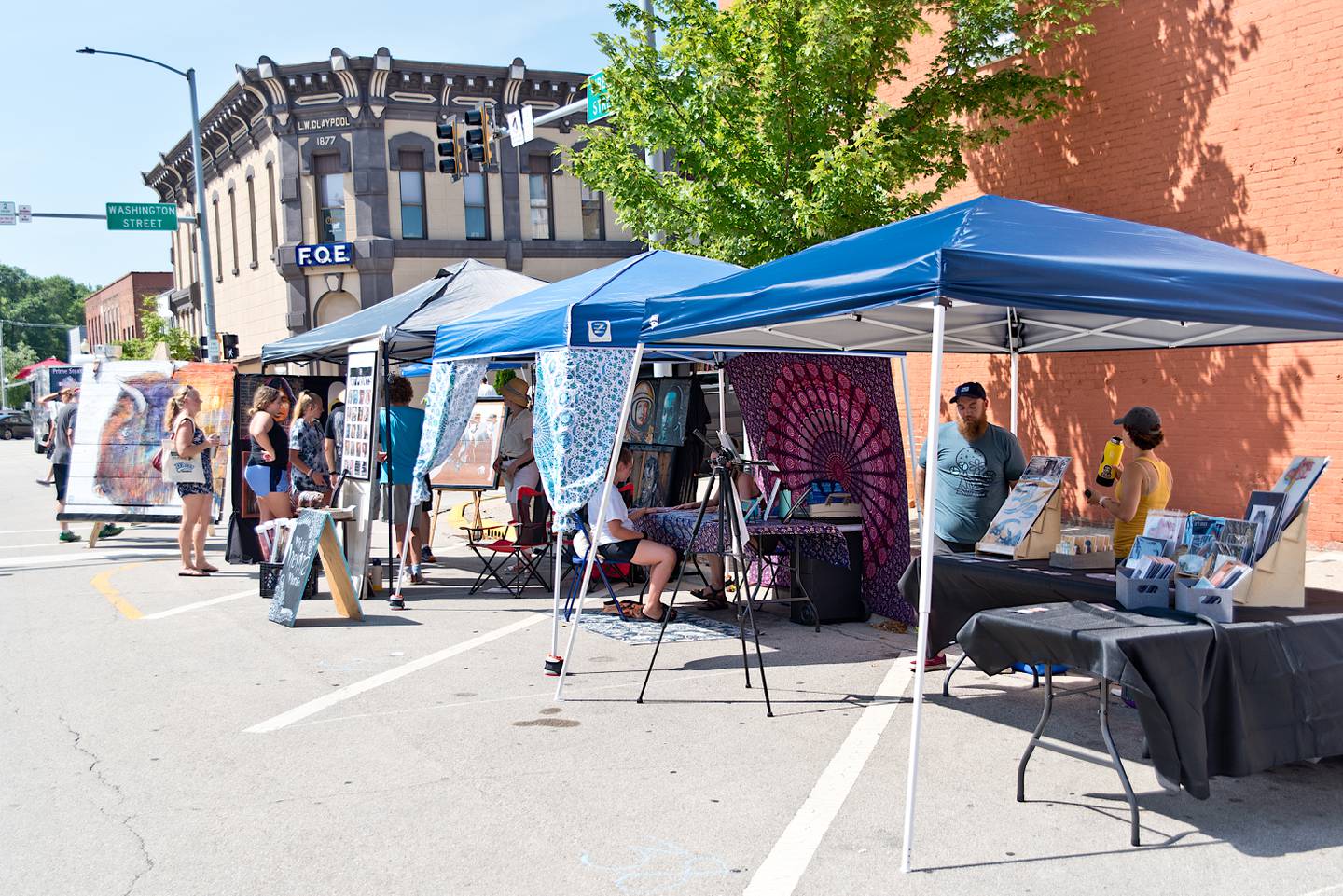 The schedule of events for the festival is as follows:
9 a.m. – 5 p.m. – Chalk the Walks – Visit your favorite downtown businesses for great shopping and more. Many businesses will have sidewalk chalk and art related activities throughout the weekend.
10 a.m. – 4 p.m. – Art Walk – Washington Street one block east and west of Liberty, and Liberty north of Washington Street – Visit the Fine Art Walk and separate Maker's Market. The Fine Art Walk is juried and 1st, 2nd, and 3rd place winners will have ribbons displayed.
10 a.m. – 3 p.m. – Artistic Pets Photo Contest – Washington Street, east of Liberty – Stop by and vote on the photo of the most artistic pet! Interested in nominating your pet? Check out the Facebook page "Liberty Arts Festival Artistic Pets Photo Contest" where you will be able to submit a photo of your pet. Your pet must be in its best artistic form (painting, dancing, singing, etc.) or admiring their favorite piece of artwork. Judges from Bone-ifide Care and Blackbird's Bowl will select the top five finalists prior to the festival. Prizes will be awarded to the top three pets at 3 p.m.
10 a.m. – 4 p.m. – Typewriter Tarts – Grundy County Courthouse Lawn – Give the Typewriter Tarts a word, and they will recite and give you a poem on the spot.
10 a.m. – 4 p.m. – Morris Quilt Guild Show – First United Methodist Church – 118 W. Jackson
10 a.m. – 4 p.m. – Morris Watercolor Guild Show – The Wesley Center – 111 W. North Street
10:30 a.m. – 2:30 p.m. – Troubadour – Strolling through the Art Walk and downtown area. You will love this trio, bringing you vocals, accompanied by guitar and violin.
11 a.m. – 3 p.m. – "Creator's Village" – Courthouse Lawn – Pick up your Creator's Village Passport at the "Greeting Booth" and let your adventure begin. Kids of all ages can express their creativity with a variety of mediums. Be sure to have your passport stamped in each booth to receive a prize to take home with your bag full of art projects.
11 a.m. – 4 p.m. – Sip 'N' Shop – Visit your favorite Morris retailers and sample great cocktails while shopping. Pick up your complimentary glass and list of stores in front of the Grundy County Courthouse. Don't miss this opportunity to wet your palette during the Liberty Arts Festival. You will also have the opportunity to vote for your favorite cocktail. The three stores with the most votes will receive a donation to their favorite charity. (Please be prepared to present ID. Must be of legal drinking age to participate).
11:30 a.m. – Morris High School Poms – Grundy County Courthouse Lawn – You won't want to miss this performance.
1:30 p.m. – Donna Mueller's School of Dance – Grundy County Courthouse Lawn – Don't miss the Pizazz Dancers.