NEW LENOX — A week before volleyball tryouts last spring, Providence Catholic's Juliana Warfield suffered a torn ACL and missed the entire spring season.
She then missed the first part of the fall season as she worked hard at rehabbing her knee.
She was cleared to play four weeks ago, and she was one of the main reasons why Providence defeated Morris, 25-21, 25-20 in the Class 3A Providence Catholic Regional championship game Thursday night.
Warfield led the Celtics (16-20) with nine kills and helped them overcome some early mistakes to claim the regional crown in front of a raucous home crowd.
"This was definitely the motivation for me," Warfield said. "I wanted to put on that Providence jersey again. It was a lot of hard work, but it was worth it.
"There is nothing like high school volleyball, and to win a regional championship on our home court, there is just nothing like it."
Morris, which finishes the season with a 21-16 record, took advantage of some early Providence mistakes, as the Celtics committed four serving errors to help Morris take a 14-8 lead in the first set. Morris also got a pair of aces by Haylee Dunne and one by Jaelyn Wiers in the stretch.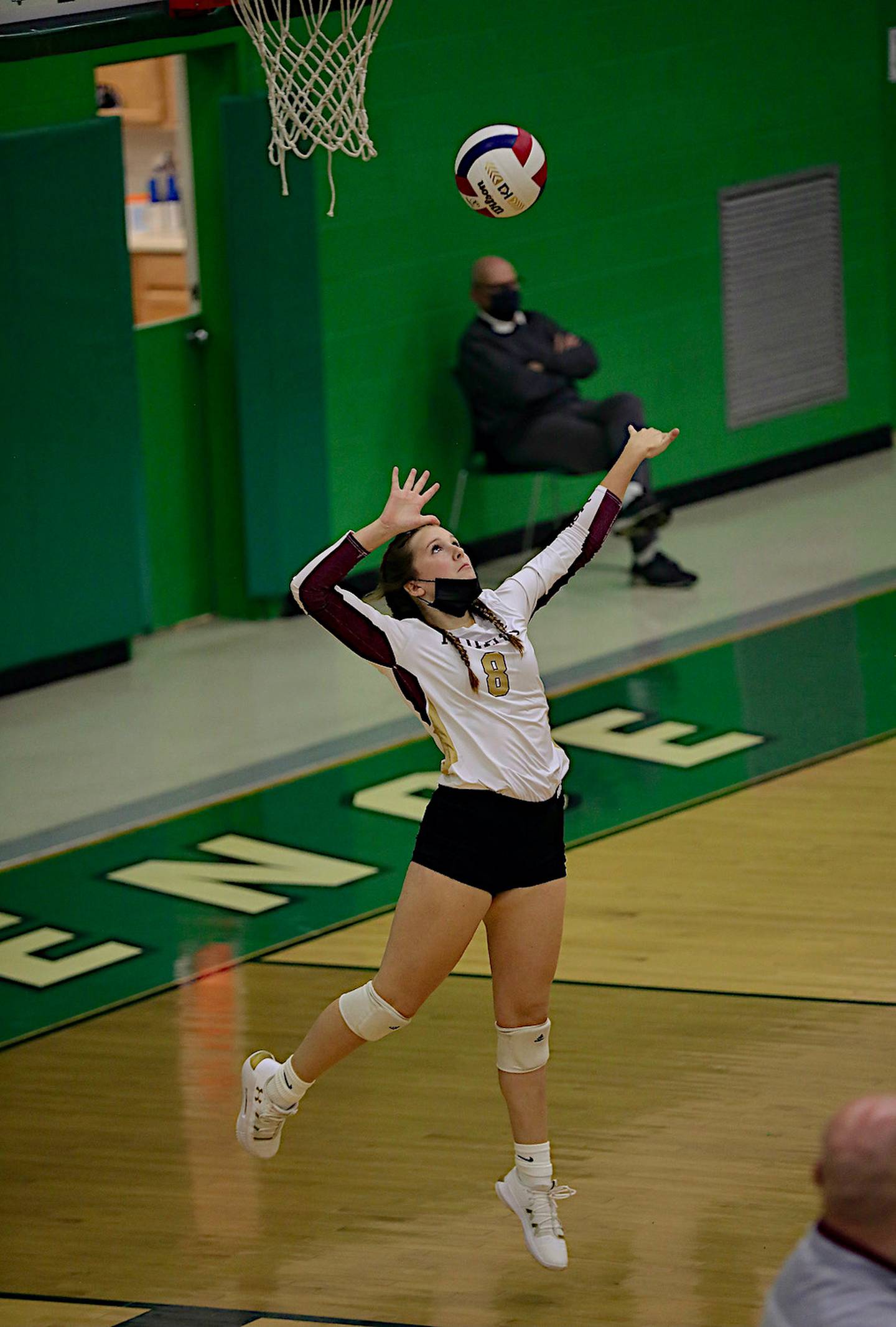 "I think we were a little too amped up at the start," Providence coach Lee Rucinski said. "All of our serving errors went long and a lot of our hitting errors were long. We were ready to play, and it was a great atmosphere with Celtic Nation showing up strong, but we were a little too ready.
"Once we calmed down, we were fine. We finished the first set strong and outscored them 17-4."
A lot of that was due to Warfield, who along with Natalie Papes, had three kills in the rest of the first set.
"We were a little frantic at the start," Warfield said. "But once we got the nerves out of our system, we got on a roll and played well."
Morris did not go away, however, and opened an 8-6 lead at the start of the second set, getting a block by Hanna Lauterbach, a kill by Ava Smith and another ace by Dunne.
Providence, which will play Joliet Catholic Academy in the Hinsdale South Sectional semifinals Monday, tied the game at 8 before Warfield recorded back-to-back kills and combined with Olivia Cosgrove on a block to put the Celtics ahead 11-8. They never trailed again, although Morris did tie it at 20 on an ace by Dunne. Providence, however, scored the final five points of the match, with Warfield adding another kill in the run.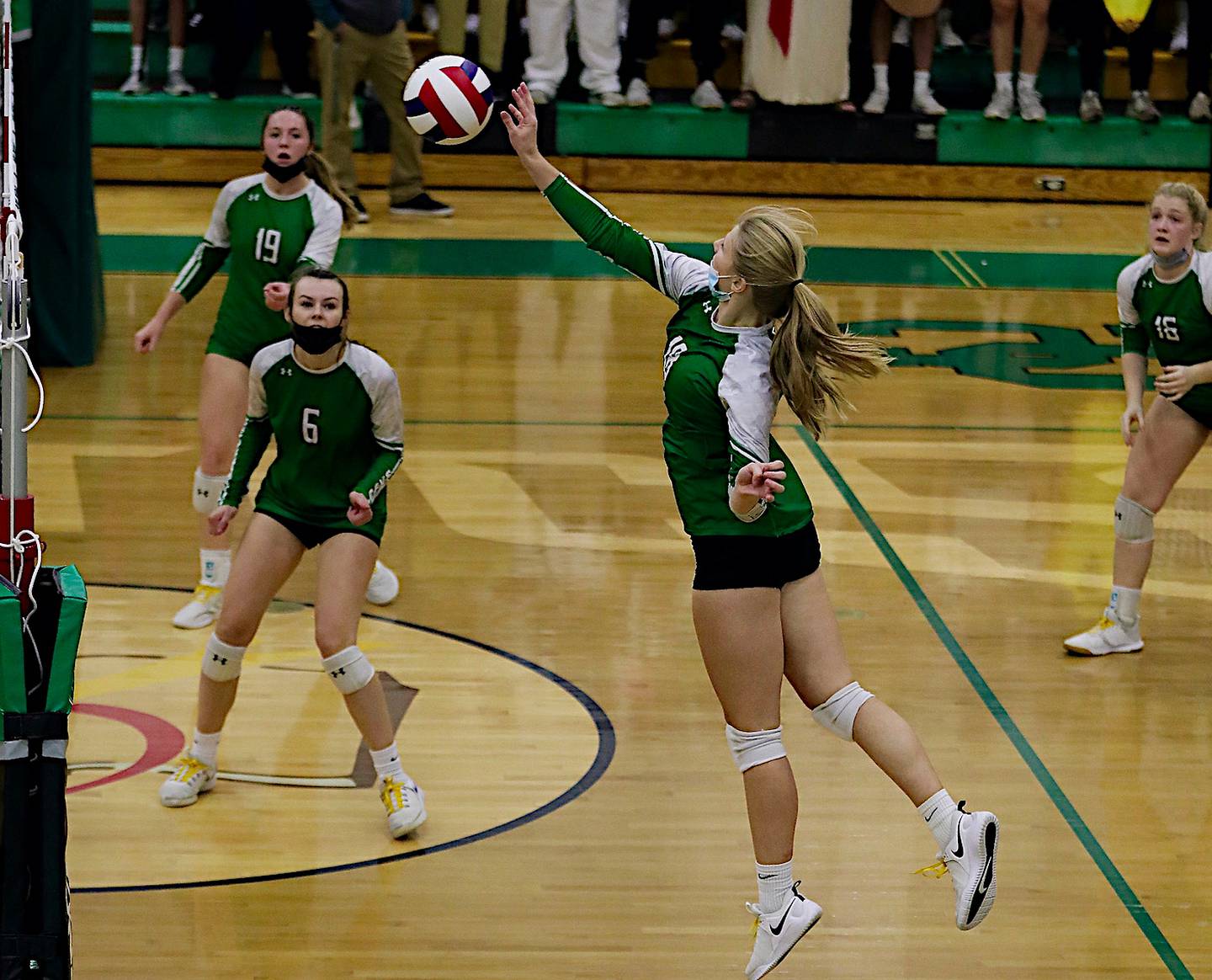 "I can't say enough about Jules," Rucinski said. "When she was cleared four weeks ago, we just took off. We know that she can take over a match, and we just let her. When she got hurt in March, we thought her career was over. But, she worked hard and came back.
"We knew we couldn't relax against a good team like Morris and they played us tough. But, we play in one of the toughest conferences in the state. Just this month, we played five of the top seven teams in the state. Playing against those teams got us ready for the postseason."
Morris was led by Katherine Halcomb, who had two kills and a block, while Natalie Lawton also had two kills. Providence got nine kills by Warfield, while Papes and Erin Vallone each had four. Bree Duffy had 10 assists for the Celtics and Kylie Williams added nine.
"We gave them a good fight," Morris coach Scott Howell said. "I can't fault our effort. All the girls, especially the seniors, fought hard and showed we can compete with a team like this.
"We are building something here and we want to fight for regional titles year in and year out. We give props to Providence. They played a great match. We fought hard, but we just came up short."
"