MORRIS — Despite having most of the girls on the team play in Wednesday night's Powder Puff football game, the Morris volleyball team still found enough energy Thursday night to upend Interstate Eight Conference rival Sandwich, 25-16, 23-25, 25-19.
"All of the seniors and most of the juniors played in the Powder Puff game last [Wednesday] night," Morris coach Scott Howell said. "They didn't get a chance to even have the Powder Puff game last year, so I was not going to say no to them. They all deserve that opportunity.
"I did notice quite a few fingers taped up tonight, though."
Morris breezed through the opening set, never trailing en route to the victory. Morris (9-5, 3-1) got three kills each from Katherine Halcomb and Natalie Lawton, and two each from Hanna Lauterbach and Ava Smith. Halcomb finished with 12 kills and 12 digs for Morris, while Lawton and Smith (12 digs) had seven kills, Lauterbach added five kills and Kayla Jepson had eight digs.
Sandwich (9-10, 1-3) took control early in the second set and owned a 12-6 lead after back-to-back aces from Maddie Hill. Morris countered with two kills by Lauterbach and one by Halcomb, along with a pair of Sandwich hitting errors, to pull to within 12-11.
The momentum continued on Morris' side. With Alyssa Schultz at the service line, Lawton sandwiched a pair of kills around a Schultz ace, then Halcomb put down three straight kills for an 18-13 Morris lead. Sandwich recovered and outscored Morris 11-4 to take a 24-22 lead. Audrey Rome, the Indians' 6-foot-3 outside hitter, had three of her 12 kills in the stretch. Halcomb got a kill to pull Morris to within 24-23, but Sandwich's Alana Stahl ended the set with a kill.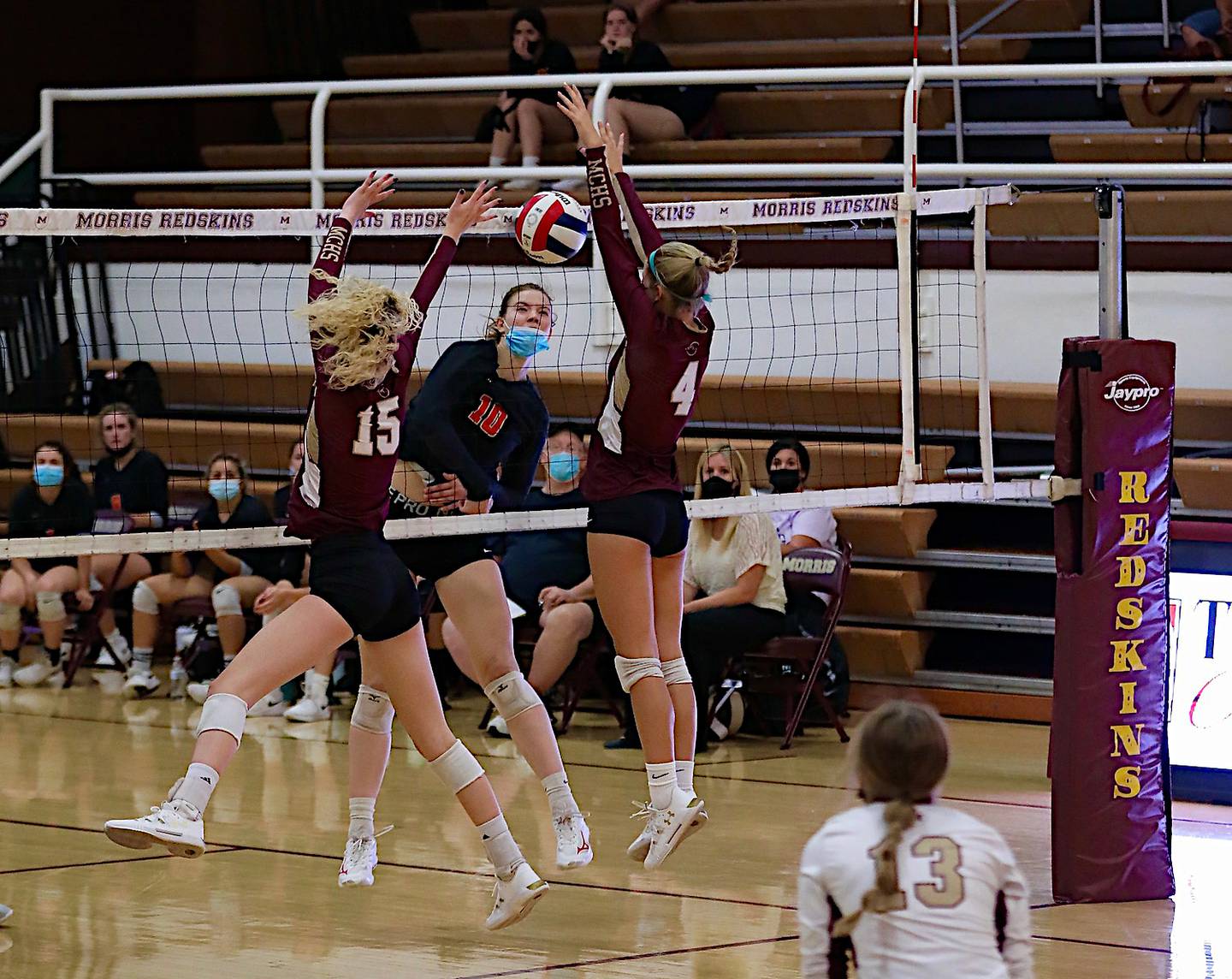 "We didn't have much rhythm in the second set," Howell said. "We started slow and we just couldn't pick ourselves up. With this being Homecoming Week, there's a lot going on and their minds are in a lot of different places."
Morris left little doubt in the third set, racing out to a 14-6 lead as Halcomb had three kills, Latwon and Maddie Shannon each had two and Jaelyn Wiers one. Halcomb and Smith each had an ace as well in the stretch. Sandwich got as close as 22-17 on a block by Claire Allen, but Morris quickly put the match away.
Rome had 12 kills and four blocks to lead Sandwich, while Alexis Sexton had 22 assists and Breanna Sexton had 13 digs.
"We switched liberos yesterday," Sandwich coach Selynda Kern said. "So, we had a little different lineup on the floor. But, Maddie Hill did a nice job and that was good to see.
"We just struggled with our hitting and blocking. That was a big issue for us. It was an off-night for us."
Howell was pleased with the job his front line did against Rome.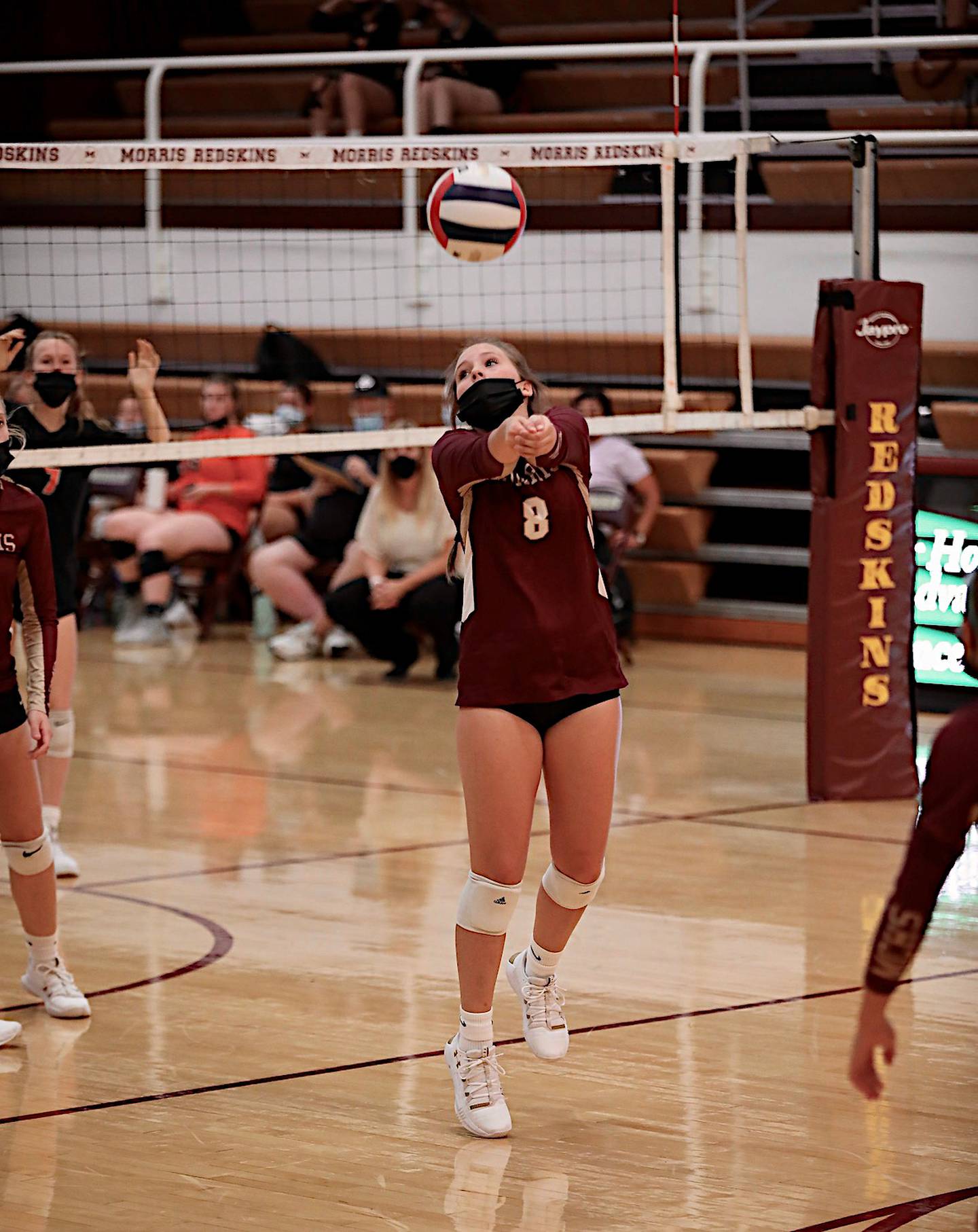 "We did a good job against No. 10 [Rome]," Howell said. "She is going to get her kills, but we got a lot of touches and blocks against her.
"It was nice to see us get through a little adversity. Any time you can get a conference win during Homecoming Week with all that's going on, we'll take it."