COAL CITY — At halftime of Friday night's boys basketball matchup between Morris and Coal City in the final round of pool play at the Coal City/Manteno Thanksgiving Tip-Off, Morris held a scant 17-13 lead.
Once the second half started, Morris cranked up the defensive intensity and scored six points before Coal City could get off a shot as Morris forced turnovers and turned them into baskets. Morris (3-0) held a 23-13 lead when Cason Headley got the Coalers (1-2) on the board with a steal and a layup with 5:37 left in the third. Morris continued to pull away in the third quarter, taking a 34-18 lead into the fourth and finishing with a 45-28 victory.
"I liked our defensive effort," Morris coach Joe Blumberg said. "We had a good start to the third quarter, but we needed our defense because we weren't very clean offensively. Give Coal City credit for the way they played their zone defense.
"We are still trying to find our identity offensively without [injured point guard] Myles [Johnston], but in three games, our defense has allowed 30, 35 and 28 points."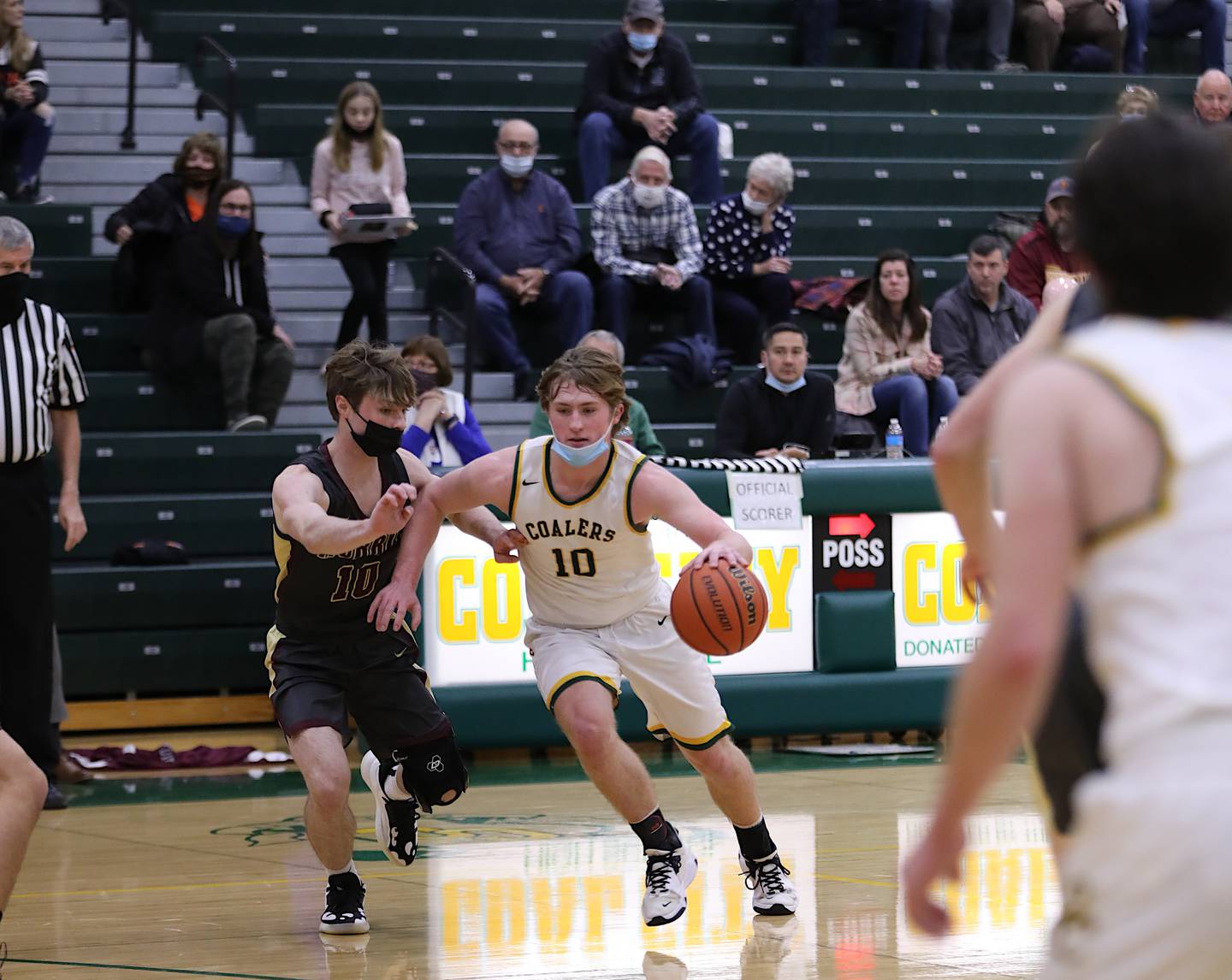 Henry Hansen led Morris with 14 points, and scored the first two baskets of the game, one on a putback of a teammate's miss and one on a steal and dunk. Coal City, however, answered and got a tip-in by Headley (10 points) and a three-pointer by Aiden Hansen to take a 5-4 lead. Hansen countered with a three-pointer of his own for a 7-5 lead, but back-to-back hoops by Hansen and Carter Garrelts (6 points, game-high 11 rebounds), followed by a three-pointer by Nolan Berger, put Coal City ahead, 11-7. A.J. Zweeres (8 points, 6 rebounds) got a steal and a layup to pull Morris to within 11-9, and Matt Munsell hit a three-pointer with :10 left in the quarter to put Morris ahead, 12-11.
Both teams struggled to score in the second quarter, as Morris owned a 5-2 scoring edge to take the 17-13 halftime lead.
"We hung tough in the first half," Coal City coach Glenn Pacek said. "In the second half, they made some nice adjustments. Give them credit. They saw a weakness and took advantage of it. They were able to get some rebounds and kick them back out for open looks."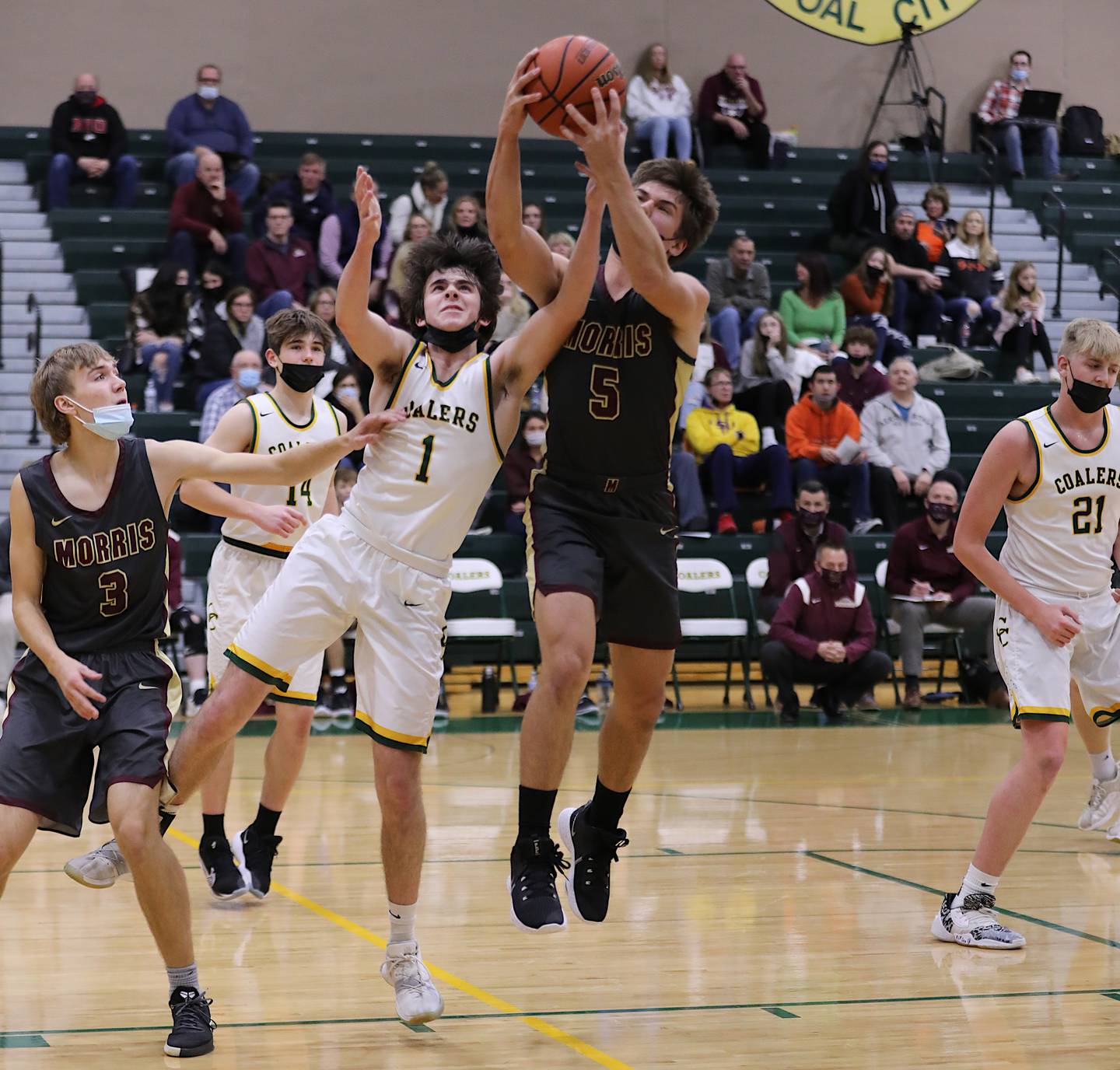 Gage Phillips (12 points) went 4 of 5 from three-point range for Morris, including a 3 for 3 showing in the second half.
To start the third, Hansen scored off an assist from Zweeres before Zweeres knocked down a three-pointer and later hit 1 of 2 free throws. After Headley's basket, Morris went on a 9-0 run that featured two baskets by Hansen, a putback by Zach Romak and a three-pointer by Phillips, to take a 32-15 lead.
In the fourth, Coal City scored the first eight points on a three-pointer by Berger and a basket by Headley and a three-pointer by Headley to pull to within 34-26. Morris, however, closed the game on an 11-2 run that began with back-to-back three-pointers by Phillips. After a basket by Coal City's Colin Hart, Morris got a free throw by Hansen, a steal and layup by Zweeres and a basket by Matt Munsell to cap the scoring.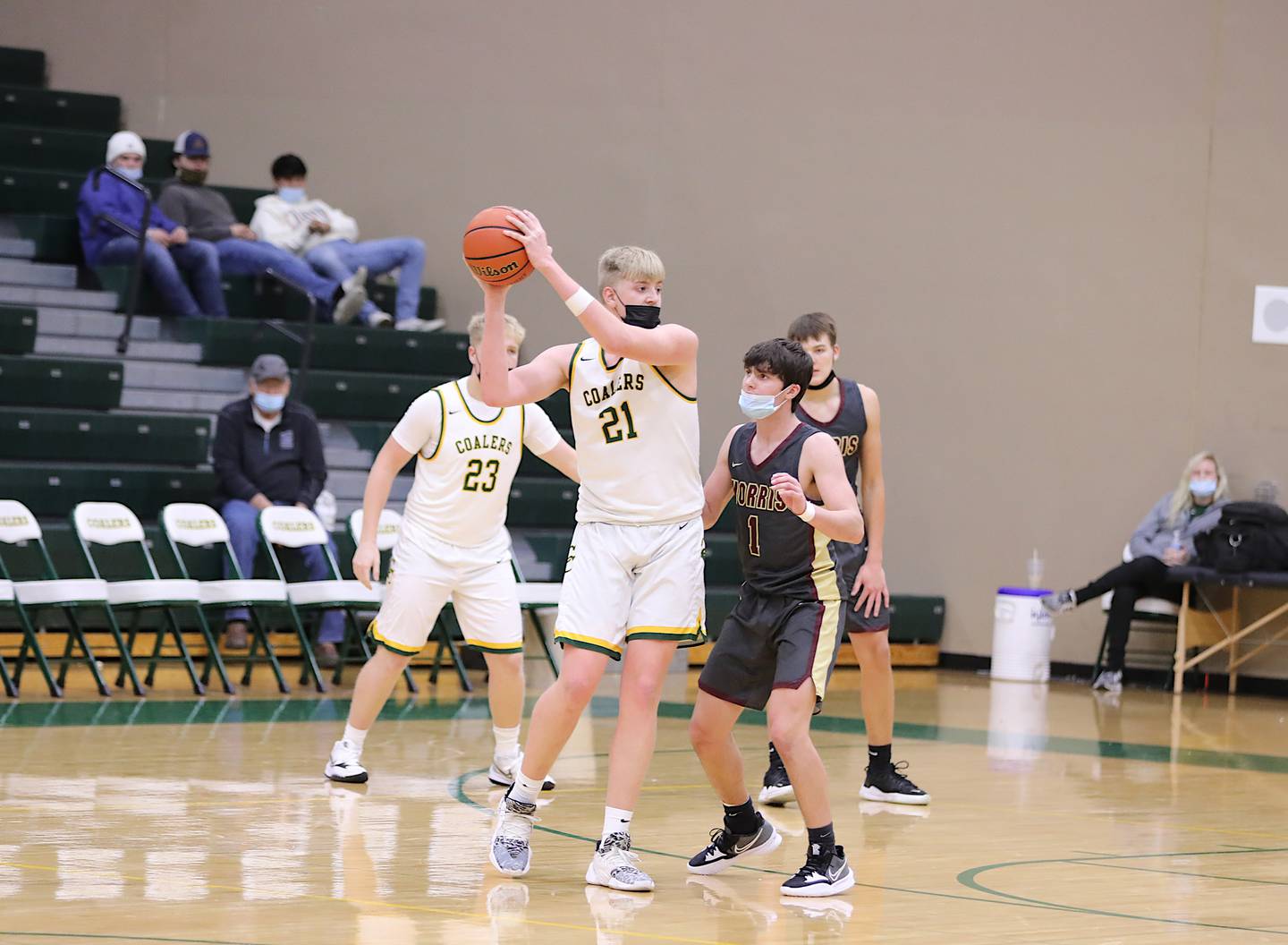 "Gage hit some big shots for us," Blumberg said. "But, we still have to get more consistent with our interior scoring. Garrelts is a big presence for them, and at times we shied away from taking shots underneath instead of taking it to the rim and finishing.
"But, we're 3-0 and we are still learning."
On Tuesday, Morris scored a 57-35 win over Serena. Hansen led Morris with 13 points and eight rebounds, while Zweeres (5 assists), Zach Romak (7 rebounds) and Phillips all scored 10 points.