SYCAMORE – A Sycamore woman suffering from congestive heart failure said she's been given peace of mind after becoming the first patient to receive a new type of heart implant at Northwestern Medicine Kishwaukee Hospital in DeKalb.
Considering she was the first to undergo the operation at Kishwaukee Hospital, Diana Morrasy-Carls said she was a little nervous before she was implanted with the device. She said she's found, however, that it transformed her ability to be at ease regarding her health concerns.
"I was a little nervous when I was going to have it done because I was the first one," Morrasy-Carls said. "And I hope that people that are considering this will do it. You have to get on the pillow daily – I've skipped a few days but not many – and I just feel, like it gives me peace of mind."
Congestive heart failure can cause shortness of breath, swollen legs and fatigue, with a higher risk of fluid in the lungs caused by a buildup of blood because of the heart not pumping properly. The device Morrasy-Carls had implanted in her heart can monitor artery pressure in the heart daily, providing timely data to her doctors to help troubleshoot issues.
Dr. Christopher Berry, interventional cardiologist and director of the cardiac catheterization lab at Kishwaukee Hospital, performed the operation on Morrasy-Carls. Berry said the procedure to implant the novel device shares similarities to a common procedure he does often: a right heart catheterization
"The difference is, rather than pulling all the equipment out, which is what we would do with a normal right heart catheterization, we leave a small transmitter behind, which has two coils at the end of it that allows it to adhere to the arterial wall," said Berry, who performed his second CardioMEMs device at the end of February.
"When you think about where we were at – my first husband died of a heart attack – and where we're at now, in comparison to where we were then, he would have lived a longer had we had these."

—  Diana Morrasy-Carls
Berry said the CardioMEMs gadget he implanted into Morrasy-Carls' heart is a paperclip-sized pressure monitoring device that uses modern communication technology to allow doctors to keep an eye on Morrasy-Carls without a hospital visit.
"It basically has the ability to provide continuous, real-time monitoring of the pulmonary artery pressure, and on the basis of that we can adjust therapy to improve basically fluid balance and keep people more symptom free and keep them out of the hospital," Berry said.
In order for Berry and other Northwestern Medicine doctors to monitor her health through the device, Morrasy-Carls has to lay on a device (that's too heavy to be considered a pillow but too soft to be called anything else) that uploads data collected by the CardioMEMS device to them.
The data is reviewed at least weekly, but Berry said it's looked over more often if adjustments are being made to a patients health plan.
For the device to work, Morrasy-Carls has to lay for a minute once a day, but she said that's "an easy-peasy thing to do."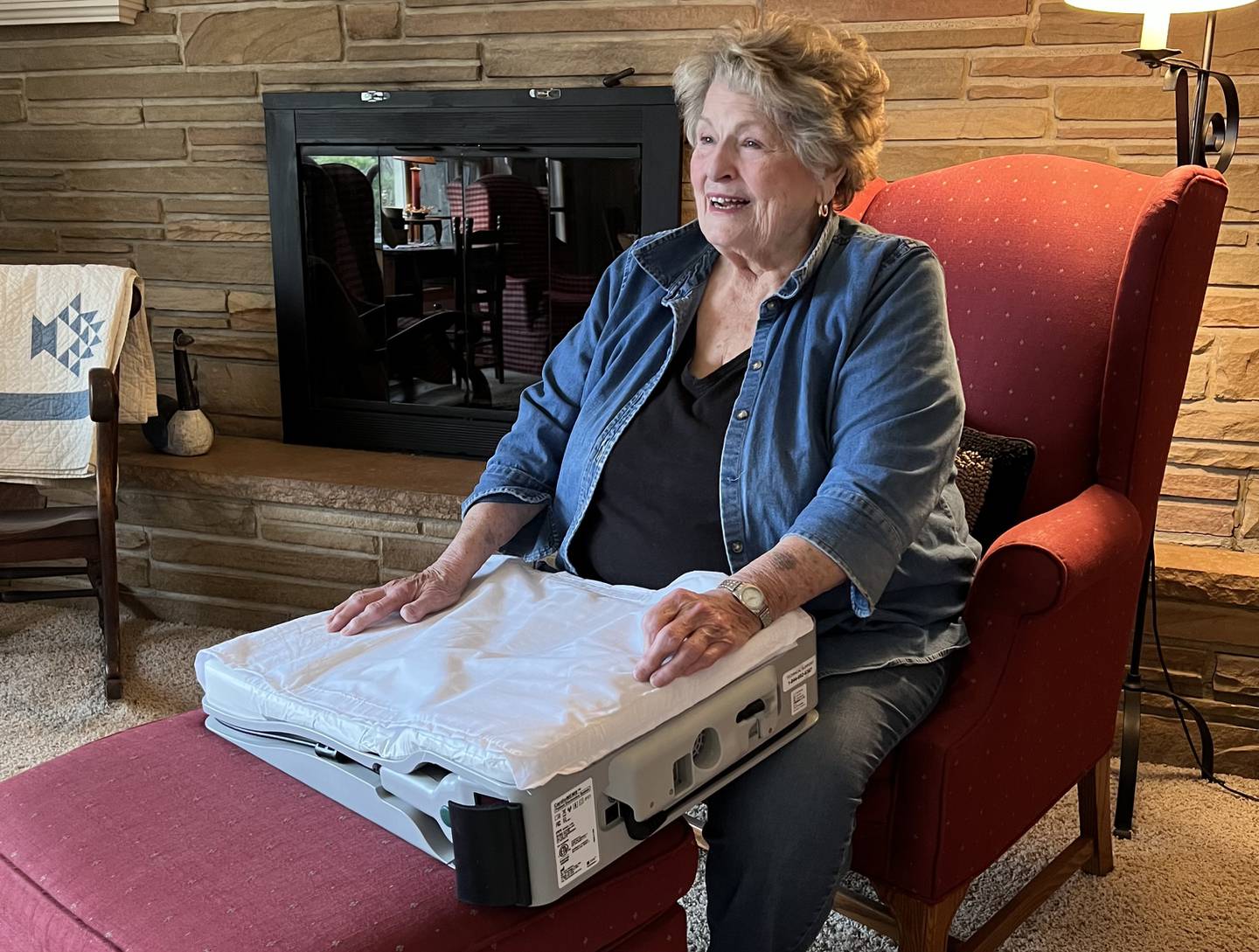 Berry said he typically views new technology in medical science through a lens of skepticism. But now that the device has been available to the public for a few years, he said he's confident in the data that demonstrates CardioMEMs devices create a reduction in heart failure hospitalizations and improved quality of life for patients.
"And, of course, when you do that, there's a sort of cascade of benefits to it, including obviously reduction in healthcare costs that are associated with hospitalizations," Berry said.
Reflecting on how technology has evolved during her life, Morrasy-Carls called the CardioMEMs a miracle and marveled over what additional health care advancement younger generations might see in their lifetimes.
Morrasy-Carls also wondered what life would have been like for her had the technology come along a few decades earlier, before her first husband died from something her device is supposed to help reduce the likelihood of – a heart attack.
"When you think about where we were at – my first husband died of a heart attack – and where we're at now, in comparison to where we were then, he would have lived a longer had we had these," Morrasy-Carls said.