Ashley Porras is a second grade teacher at the Oswego School District 308′s Grande Park Elementary School in Plainfield.
Her résumé reads like a glittering litany of academic achievement, topped by a 2022 Meritorious Service Award from the Illinois State Board of Education.
Porras distinguished herself at Illinois State University with high grade-point averages and dean's lists, graduating cum laude with a bachelor's degree in education in 2011.
Since then, the young woman's teaching career has been marked by numerous awards and recognitions, including selection as one of two Oswego SD 308 classroom teachers to be nominated for 2022 Illinois Teacher of the Year.
But none of that is what makes Ashley Porras a special teacher.
Her real achievement is creating a classroom learning environment where students feel safe, valued and loved.
"All of your childhood shapes you and the adult that you will be," Porras said. "That's a big responsibility. Hopefully, something I do will have a positive impact on who they want to be," she said.
Porras wanted to become a teacher ever since she was an elementary school student, influenced not only by her mother, a second grade teacher, but also the positive experiences and warm glow she received in the classroom.
"It has forever been my dream," Porras said.
Born in Naperville, Porras lived with her family in California and Wisconsin before returning to Naperville as a sixth grader.
"I could name all of my elementary school teachers," Porras said. She recalls a fifth grade teacher who reached out and helped her with a difficulty in reading comprehension, encouraging the young Porras to use the simple strategy of reading aloud.
"Her demeanor and tone made me feel better," Porras said. It was an experience that influences how Porras treats and teaches her students today.
"I want them to grow and be successful, with self-confidence and pride, knowing they are loved and have friends," Porras said.
Porras graduated from Naperville's Neuqua Valley High School in 2007 before heading off to ISU.
Immediately after graduation, Porras started teaching at an elementary school in Lombard.
"I was very lucky to get a job right out of college," Porras said
A year later, Porras found herself at Lakewood Creek Elementary School in Montgomery, where she taught first and second grade for four years.
"Second grade is where my heart is," Porras said.
Porras came to Grande Park in 2016 and quickly set about creating the classroom of her dreams.
The walls are covered, floor to ceiling, with colorful displays and lessons. She spends her own money to come up with some of the materials she needs.
What for the children might seem like a garden of delights filled with singing, dancing and games is in reality a carefully structured series of lessons punctuated with encouragement and positive reinforcement.
Porras turns even the simple act of taking attendance into an opportunity for connecting with her students, greeting each by name before hearing the rejoinder: "Good morning, Mrs. Porras!"
The students sing the "Grizzly Growl" school song, co-authored by Porras, with lyrics featuring Grande Park's grizzly bear mascot and a positive message about the good behavior they are expected to show.
It's the first day of school after the spring break and Mrs. Porras wants to know what her students did on their vacation. She gives them a sheet of paper with empty lines on which to write and blank spaces for drawings.
Porras shows the students how to fill in the blanks by telling them about her own spring break with her husband, before setting them about their task. The main goal is three complete sentences.
When it's time for the students to put down their pencils, Porras issues the friendly command: "Hands on top!"
The students place their hands atop their heads. "That means stop!" comes the rhymed reply.
Porras has created songlike chants for seemingly every situation, designed to keep the day's activities flowing smoothly and to provide the positive reinforcement for good work.
When a student provides the correct answer to a question, Porras wants the entire class to offer a compliment.
"Give her a pencil sharpener!" Porras implores her students.
"Bzzzzz. ... You're sharp!" the students respond in unison.
Another right answer produces this exchange:
"Give her our seal of approval," the teacher asks.
The students bark like seals, extending their arms straight ahead like flippers to offer their applause.
By this point in the school year, the students have all the songs and chants memorized. Porras said the investment of some time when class gets underway each fall pays dividends as the school year progresses.
Porras is mindful of "the way teachers can make children feel."
For example, "I don't ask them questions to catch them out or embarrass them," she said.
"They grow up so fast. I want them to be able to just be kids," Porras said, adding that she worries about "the pressures that they have to be like whatever they see on social media. Now they have technology in their hands earlier. Kids have so much on their plates."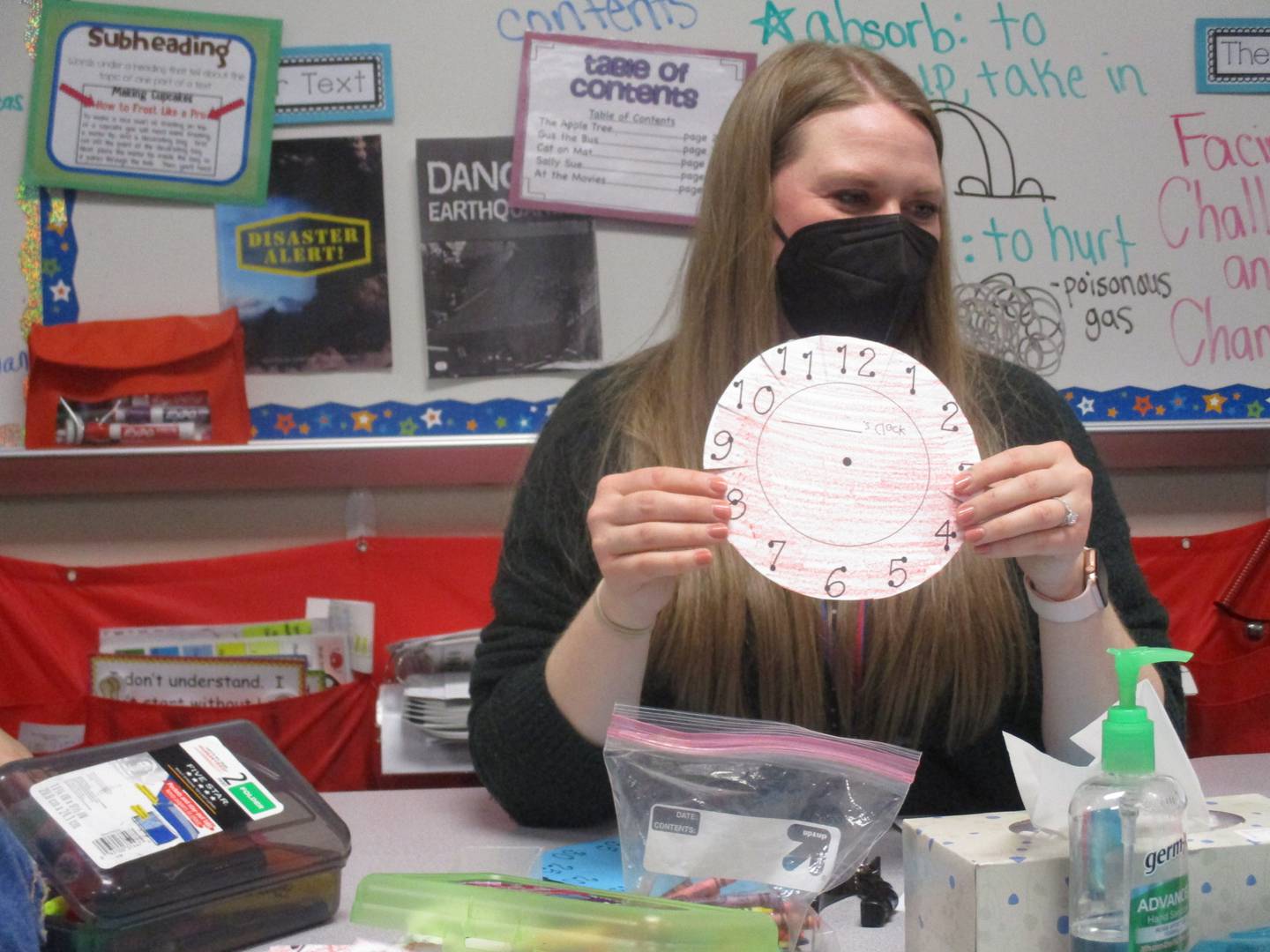 Porras takes a simple lesson such as learning to read a clock and turns it into performance art.
"Tick-tock around the analog clock!" Porras rhymes in a sing-song voice. "The short hand tells the hours. ... the long hand tells the minutes. ..." she continues, raising both arms directly over her head in the 12 o'clock position.
Moments later, the students are reciting the ditty and drawing the hands onto blank clock faces to show the hour specified by their teacher.
Time for professional development has not escaped Porras since coming to Grande Park.
Porras studied at the University of California-San Diego and completed graduate courses focused on serving students with special needs, classroom management and building student character, along with anti-bullying strategies.
She also has served on myriad District 308 committees and task forces, including work to analyze data for developing instructional strategies.
Porras and her husband, Juan, make their home in Yorkville.
VIGNETTE
Ashley Porras, second grade teachers at Grande Park Elementary School in Plainfield.
Q: Can you name a book that has had an influence on your teaching?
A: "I've chosen a book that inspires me as a teacher. It is titled "Thank you, Mr. Falker" by Patricia Polacco. Patricia Polacco writes many children's books, and in this book, she tells her own story of when she was young and in school and unable to read.
In this story, Tricia's grandma and Mr. Falker saw her for more than a struggling reader. They saw her for all of the things she could do. One of the things her grandma tells her is, 'To be different is the miracle in life.' This idea is something I try to instill in my students.
Mr. Falker, her school teacher, went the extra mile to support her. Tricia describes her teacher with the following: "But right from the start, it didn't seem to matter to Mr. Falker which kids were the cutest. Or the smartest. Or the best at anything. Mr. Falker would stand behind Tricia whenever she was drawing and whisper, 'This is brilliant. ... absolutely brilliant. Do you know how talented you are?'"
By the end of the story, Mr. Falker and a reading teacher helped her learn how to read. She says that Mr. Falker had changed her life and now she writes books for children. She actually got to share that with him when she saw him at a wedding years later!
That's my inspiration for teaching. I'm honored to be a part of my students' life journey, and I hope that our year together can make some small difference in their lives. I know that the experience I provide my students will shape them into who they become as an adult, just as Patricia Polacco's teacher did for her."