ROMEOVILLE – Griffin Sleyko had no interest in a meeting at the mound with two out and the tying run on second base in the ninth inning Saturday.
So much so, he tried to push his coach away.
"I almost feel like it ices me sometimes when the coaches come out," Sleyko said. "I did not want him to come out. I was so locked in."
Nothing, not even that break in the action, could break Sleyko. Oswego East's senior right-hander struck out Oswego's Chase Gerwig with his 105th and last pitch, flung his glove skyward as he stalked off the mound and was engulfed by teammates.
Sleyko's seventh strikeout sent the Wolves past their crosstown rivals 2-1 in the Class 4A Romeoville Sectional final for the first sectional championship in program history.
[ Photos: Oswego vs. Oswego East, Class 4A Romeoville Sectional final ]
Mike Polubinski's bases-loaded sacrifice fly in the top of the ninth provided the winning run. Oswego East (24-11), which had not even won a regional title before this year, moves on to face defending Class 4A champion Edwardsville in a supersectional at 6 p.m. Monday at Illinois Wesleyan.
"It feels great. Took a long time, I'm not going to lie," Polubinski said. "We had our chances throughout the game but our guys brought the energy in every inning."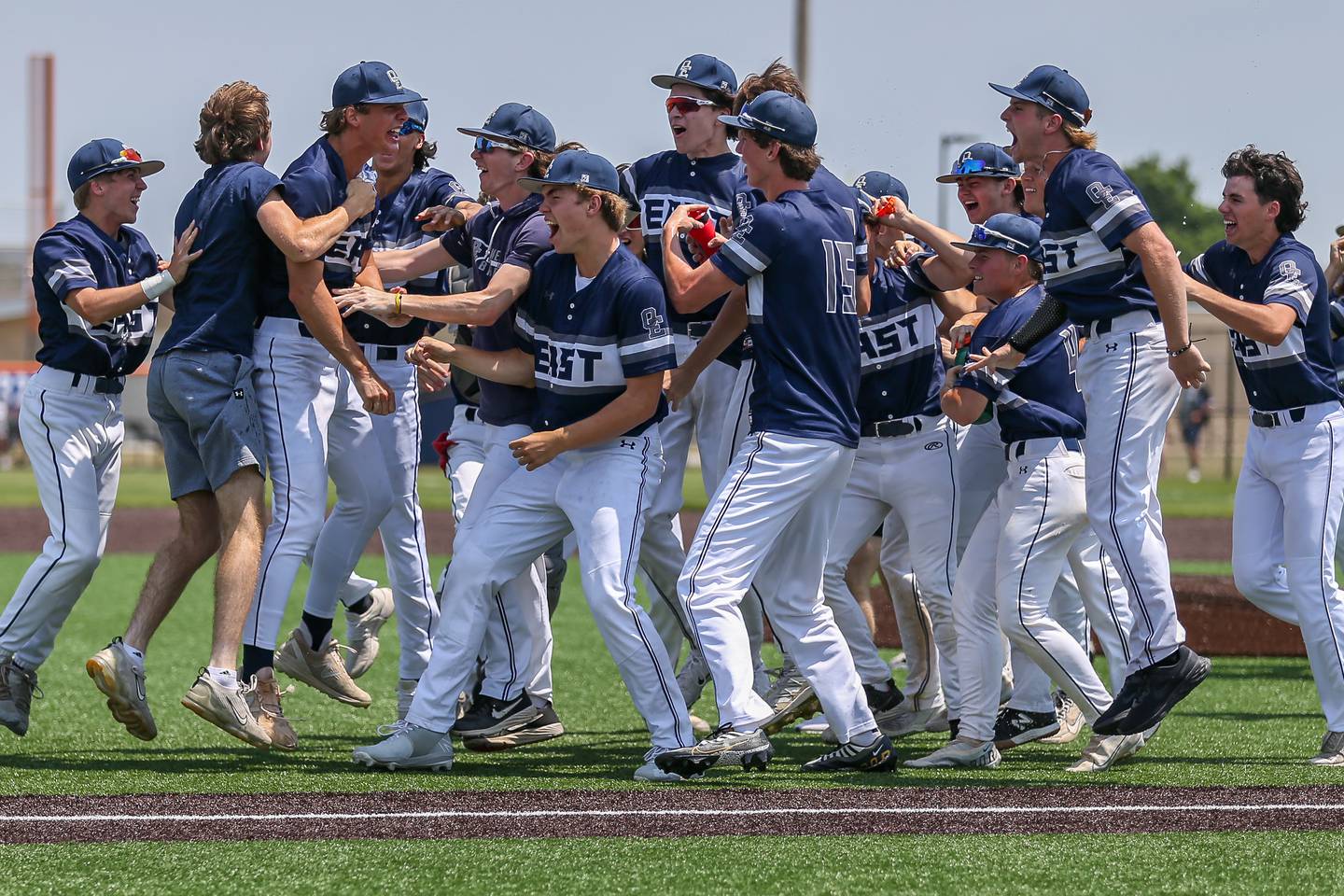 Sleyko (6-3), meanwhile, brought it with his latest heroics from the mound. He scattered nine hits with just one walk, and threw his ninth complete game in 10 starts. And was efficient in doing so. Sleyko retired 12 straight batters through the second and sixth innings, and was at just 55 pitches through five innings.
"He knows what to throw. He was competing and he was efficient," Oswego East coach Brian Schaeffer said. "I think what helps him is normally he gets ahead in the count, he's able to battle, he gets guys out front. He gets hitters to get themselves out, and he does that very well."
Sleyko does not plan to play baseball next year while attending Miami of Ohio, but may walk on. If this was his last-ever start, it was a memorable one that was days in the making.
"I'm visualizing what I'm going to do when I'm on the mound days away. I just wanted this so bad," Sleyko said. "My mental game is strong. No matter what happens, I'm going to do my thing. I trust myself, I trust my defense. I know I can go however long I need to go."
Sleyko looked a little rocky out of the gate, allowing first-pitch singles on two of Oswego's first three batters of the game. He adjusted, and settled in.
"Fastballs down the middle, I felt like my mechanics were slightly off," Sleyko said. "I switched back to my four-seamers where I have more control and a little less movement."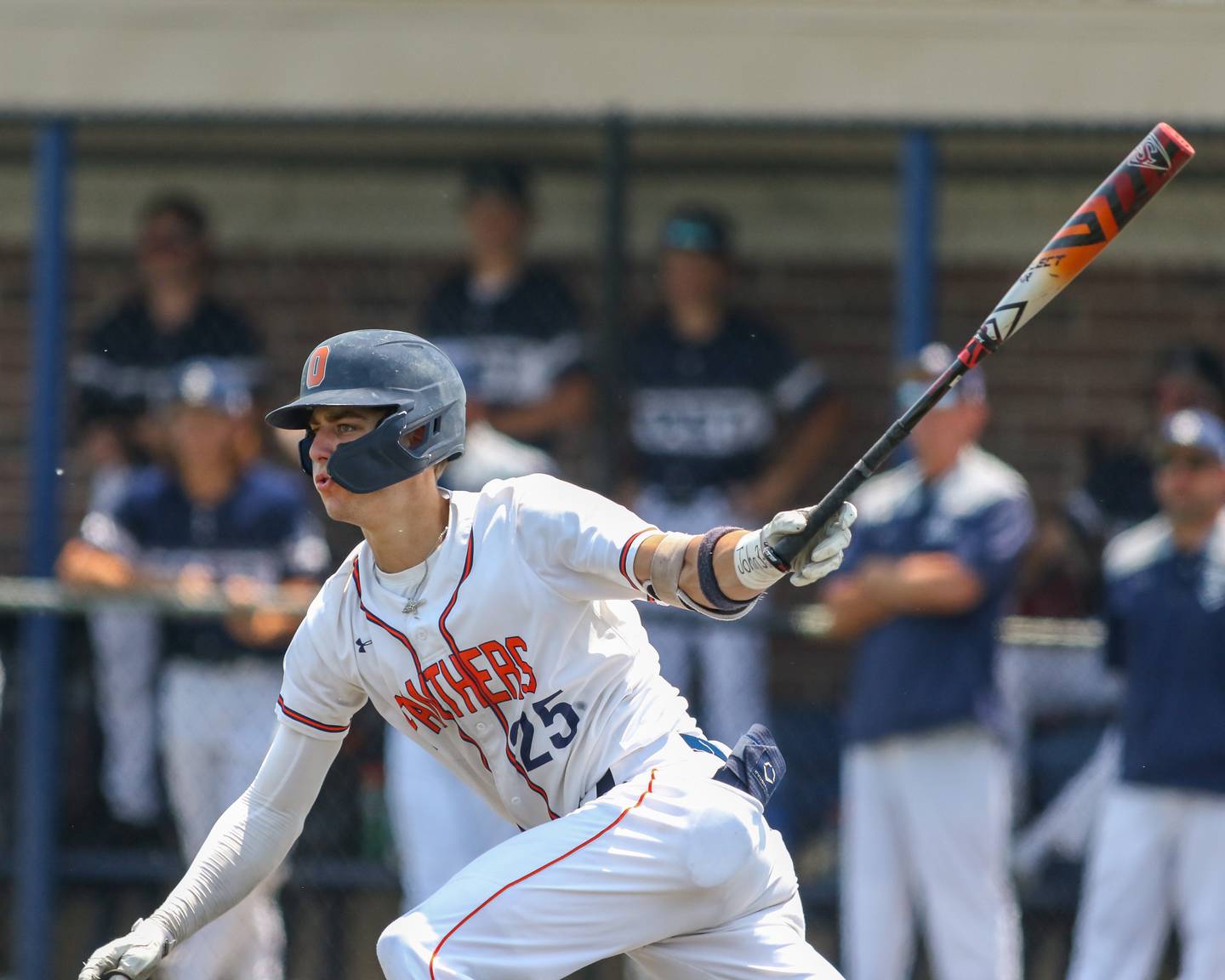 Oswego (26-12) nicked Sleyko for his lone run allowed in the sixth. Cade Duffin, who had three hits, singled, and with two outs, Tyler Stack doubled to the gap in left-center to bring in courtesy runner Kenny White to tie it 1-1.
But Sleyko bounced back to beat the Panthers for the second time this year. He threw a nine-strikeout 4-1 complete game at Oswego in May.
"We can't figure him out, I guess. He's a good pitcher," said Oswego coach Joe Giarrante, whose team left nine on base. "We had opportunities. We just couldn't cash them in."
Giarrante's Panthers themselves had thrown three straight playoff shutouts coming in, but Oswego East touched them for a run in the first.
Cody Haynes, who was 3 for 4 and reached base four times, reached on an infield single, Mike Polubinski singled and Josh Polubinski drove in Haynes with an RBI groundout.
The winning rally in the ninth started with Eric Lewis getting hit by a pitch with two strikes, and Dylan Kubek reached on an infield single. Haynes' bunt single loaded the bases for Mike Polubinski, who managed to connect on a two-strike pitch for his sacrifice fly to left.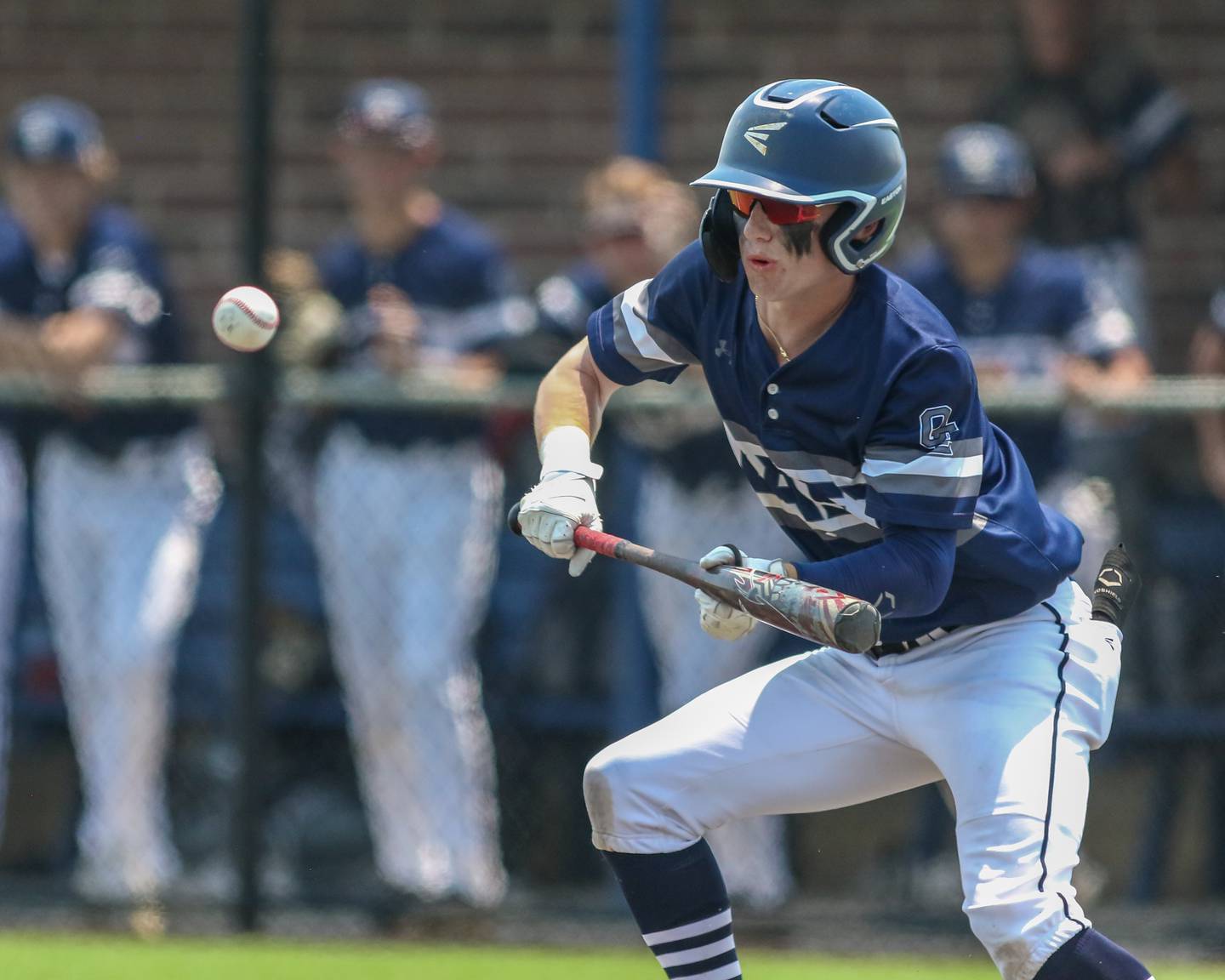 "Pretty much anything close, I'm swinging at it. Just trying to put it in the air far enough to get a sacrifice fly and score that run," Polubinski said. "Slider away, was able to slap it."
And turn the game over to Sleyko, who Polubinski and the the Wolves have the utmost confidence in.
"Griffin was shoving for us all game. To go nine innings is insane," Polubinski said. "His pitches just move so much. His changeup drops two feet. It looks like the hitters are right on it but it vanishes right into the glove."
Stack and Luke Voelker, who had a one-out single in the ninth and stole second, each had two hits and starting pitcher Eddie Scaccia struck out six over 5 2/3 innings for Oswego, which lost an extra-inning sectional final for the second straight year.
Despite that, the Panthers could appreciate a team and senior class that won Oswego's second conference title in three years, and made a second straight deep playoff run.
"I'm so proud of our guys and what we accomplished. They have paved the way," Giarrante said. "It's a tough pill to swallow to get here two years in a row, but they gave it their all and that's all we can ask as coaches."