AURORA – Griffin Sleyko had a delayed response to the text message Wednesday night that he'd be pitching Saturday if Oswego East advanced.
With good reason.
"I think I was asleep," the Wolves' senior said. "Last minute change, they texted me 9 p.m. Wednesday asking if I minded pitching the regional final if we win. I'm like, 'Sure.'"
Sleyko sure answered the bell.
He struck out seven in a complete-game five-hitter, and was at his best with runners on base. Mike Polubinski had two run-scoring hits, the second in a three-run Wolves' fifth. Fifth-seeded Oswego East went on to beat 13th-seeded Waubonsie Valley 5-1 on May 27 in the Class 4A Waubonsie Valley Regional final for the program's first regional championship.
"I was not aware until a week ago – I thought we at least got a regional before. It means a lot," Polubinski said. "We've grown a lot as a team. We don't let the expectations burden us. We just come out and do our thing. It speaks to how much we've grown."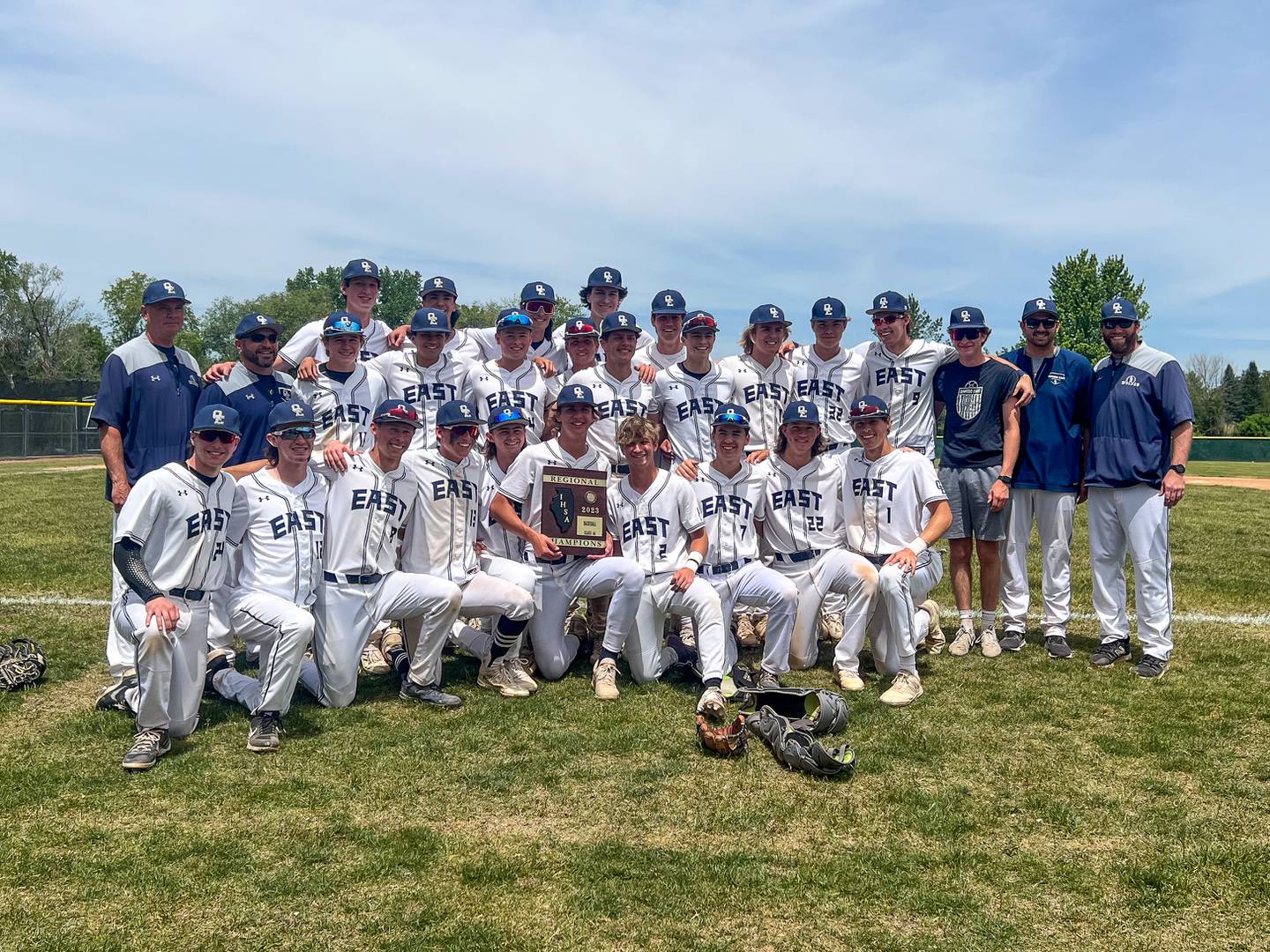 Oswego East (22-11) had great expectations last season, with the buzz of future MLB draft picks Noah Schultz and Ashton Izzi atop its rotation. Perhaps it was the pressure of potential, but it never came together in a 10-19 season.
This Wolves' team, flying under the radar, became the one to make program history. Oswego East advanced to face top-seeded Downers Grove North in a sectional semifinal May 31 at Romeoville.
"There was a lot of pressure on us last year with the hype," Sleyko said. "I feel like this year, it was our time. It was the big-time show before, and now it's time for us. We're killing it now."
Sleyko, unflappable with a nasty slider in his back pocket, was the perfect man for the job.
Waubonsie (13-19-1) put runners on base in six of seven innings, but he never broke. A textbook example of that came in the fourth inning when Ben Ford reached third with one out in a 1-1 game on a single and two-base error in the outfield.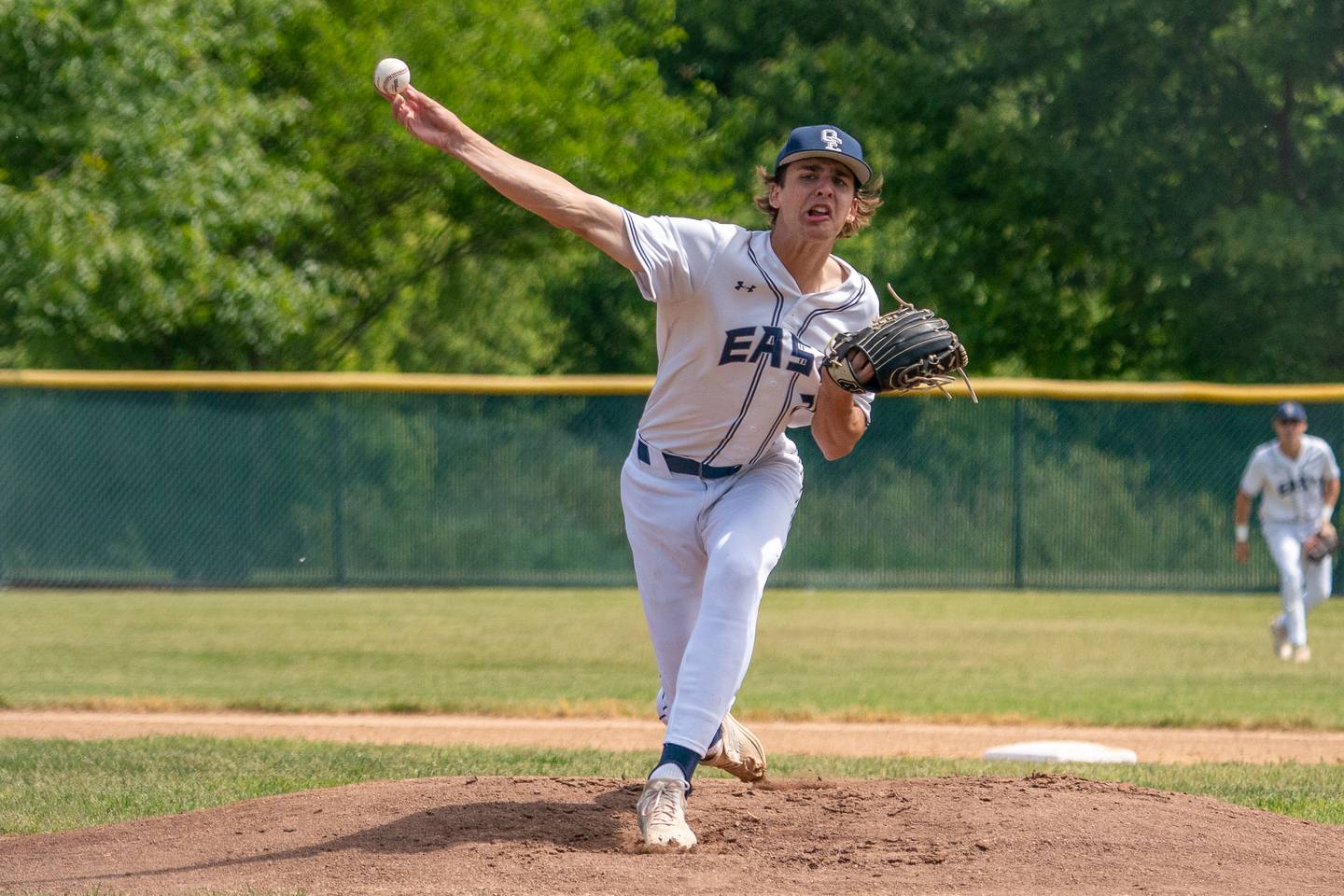 Sleyko came back to get a swinging strikeout on a slider, and coaxed an inning-ending fly ball to keep the game tied.
Par for the course for Sleyko, forever loosey-goosey.
"I really come out here and play for fun. I don't let things get to me," Sleyko said. "I'm having a blast on the field every time I play. Yea, there's pressure, but when I'm on the mound I don't let things get to me. I'm just locked in. Guy on third, one out, you just have to wash it and attack the batter."
Oswego East coach Brian Schaeffer said his original plan this week was to throw Sleyko in the May 25 regional semifinal. He made a midweek audible, going with Patrick Flynn in noting Flynn's penchant to pitch well in colder, windy conditions.
Flynn did the job, leaving Sleyko as the ace in the hole May 27.
"When he needs it, he bears down and throws his best pitch," Schaeffer said.
Waubonsie's lone run came in the second inning, when Ford tripled and scored on an interference call on a rundown. The Warriors left a runner on second in the fourth, fifth, sixth and seventh.
"We had opportunities, we had guys in scoring position. We just didn't do a good job of getting them in," Warriors coach Bryan Acevedo said. "Their pitcher did a great job of throwing strikes, good curveball. He made it tough on us. He kept us off balance."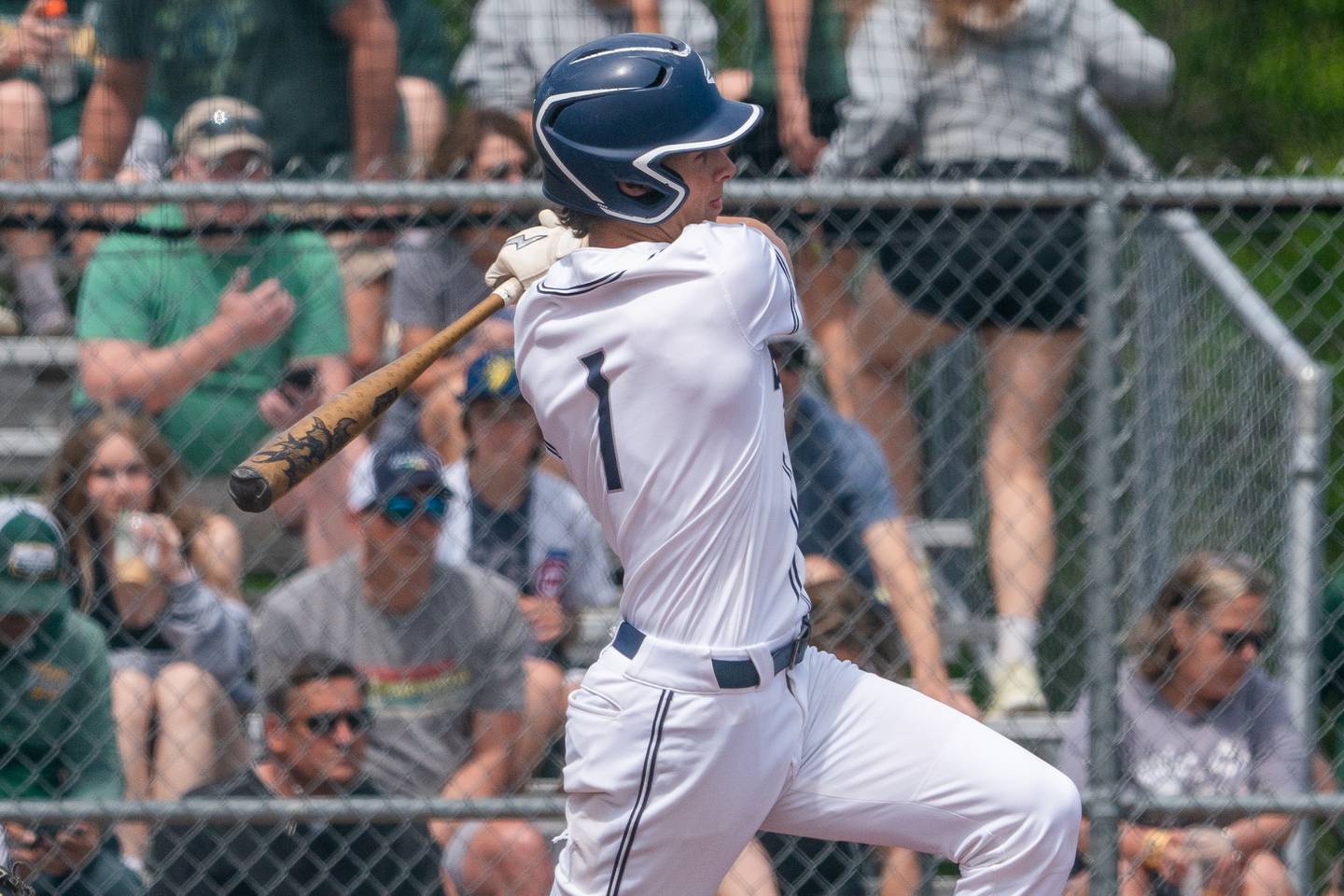 Oswego East scored the go-ahead run in the fourth, Jackson Petsche scoring on an error on a grounder hit by Liam Mitchell.
Waubonsie's Ryan Morton, in his second start of the year, held it there over four strong innings. But the Wolves broke it open in the fifth off two Waubonsie relievers.
Dylan Kubek, who was 2-for-3 and reached base three times, walked, stole second and scored on a single by Mike Polubinski, who doubled in Oswego East's first run in the first. Josh Polubinski followed with a double to bring home his brother, and Andy Lewis singled in Josh Polubinski.
"Winning this, it's a weight off of their shoulders. They've been thinking about it all season," Schaeffer said. "Last year, with the talent they had, they felt that air, that we deserve it. That's not how it is. You have to earn it. These guys have worked extremely proud to be here. So proud of them."
Mike Polubinski said the Wolves indeed earned it. While Oswego East may have entered the season unheralded, they internally had high expectations – and met them.
"Offseason workouts, some people didn't like getting up early but we were there," Polubinski said. "It started way before the season. We put expectations on ourselves. We had personal goals and team goals. We're realizing it now."
Fittingly, the final out, with two runners on base, came on a nice backhand stab by Josh Polubinski at third base and a nifty scoop by Zach Polubinski, the third of the triplets.
"The past four years they've probably been the heart and soul of the athletic department. Their work ethic is hard to ignore," Schaeffer said. "They set a very good example for our school as a whole. I'm glad they get to experience this."