PLANO – Throughout their first four softball games of the season, the Plano Reapers were red hot, registering 58 runs during a 3-1 start while knocking home an impressive 14.5 runs per contest.
That was before freshman pitcher Izzy Podnar and Somonauk came calling.
In her first start in the high school circle, Podnar cooled down the Reapers in a big way, allowing one earned run, three hits, two strikeouts and three walks that turned her prep pitching debut into a beauty as the Bobcats, who co-op with Hinckley-Big Rock and Leland, came away with a 7-2 nonconference victory Monday.
"I was a little nervous at first, and then I kind of settled in, went with it and kept pushing through any tough spots to get our team a win," Podnar said. "I honestly never thought my first game pitching at this level would ever turn out like it did, so I'm pretty pleased with how I pitched today against a tough team."
So was her coach.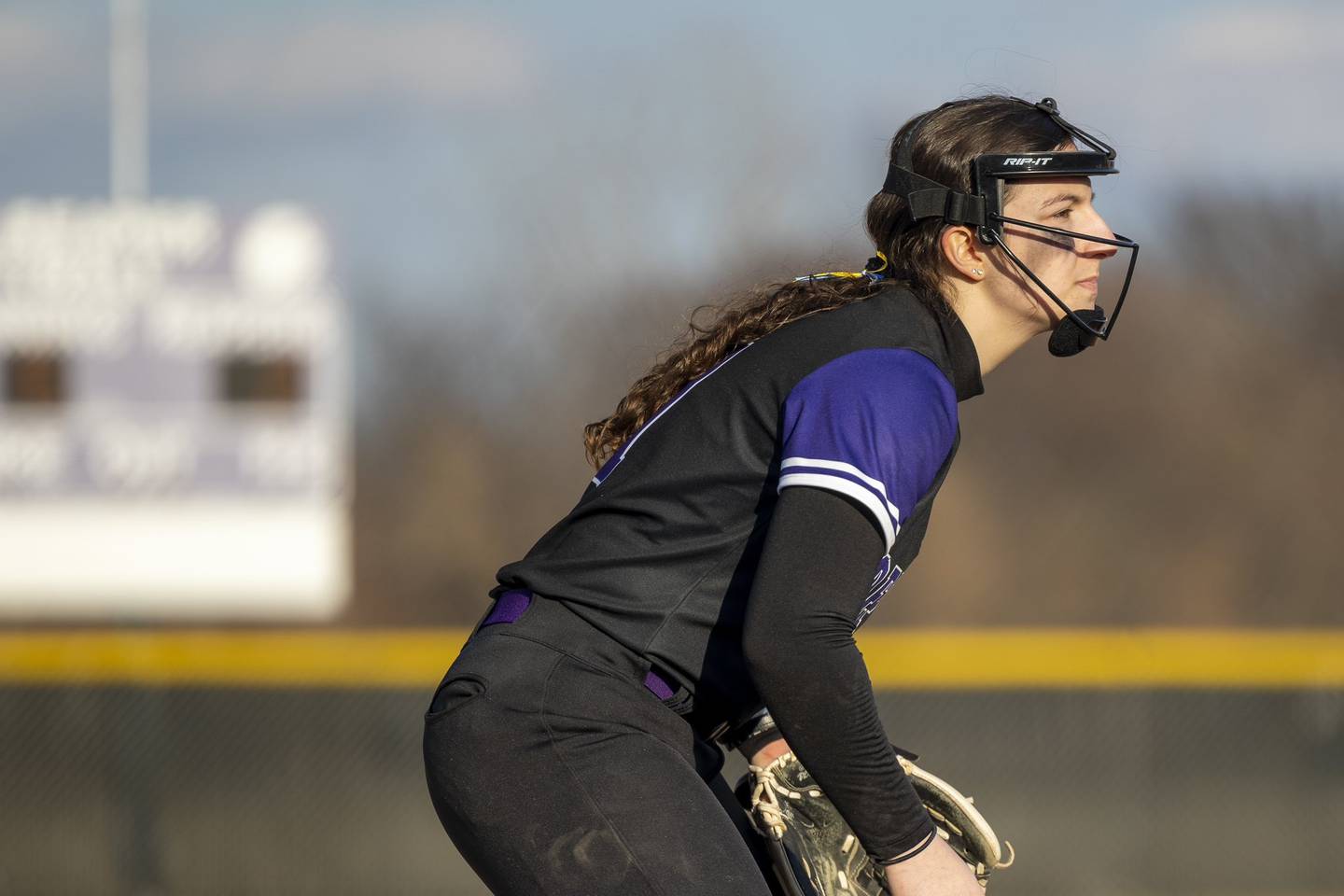 "I'm not sure if she [Podnar] actually knew Plano's record or how many runs they'd scored coming into today, and I wasn't going to tell her," Somonauk coach Hannah Bazan said. "I'm so proud of her and she had no reason to pitch so well in her first high school game but she really did. We all trusted her today, and she sure came through for us."
Podnar is one of 14 freshmen, three sophomores, four juniors and no seniors that comprise the youthful Bobcat contingent, which capitalized on a tough day for the Reapers at the plate and in the circle. Plano's starting and losing senior pitcher Alyssa Dubinski surrendered six earned runs, 10 hits, seven walks, one hit batsman and seven wild pitches while the Reaper offense was stuck in the mud against Podnar.
"She [Podnar] threw so much off-speed stuff that kept us on our toes so you have to give a lot of credit to her," Plano coach Dwayne Love said. "We had too many mental mistakes all the way around but I'm proud of our pitcher [Dubinski] despite a tough game. I'm still happy with the start we've had and we'll survive to play another game and get stronger."
Somonauk (1-1) got on the board first in the top of the second inning when Podnar led off with a walk, went to third on junior Olivia Taylor's single to right field and scored the first run of the game after freshman Macey Kinney's RBI groundout to first base that put the Bobcats on top 1-0. Taylor scored soon thereafter on a wild pitch to put Somonauk ahead 2-0.
Plano countered in the bottom of the second when, with one out, sophomore Brianna Clark tripled to the fence in right and scored on freshman Annabelle Solis' sacrifice fly to center.
Somonauk added two more runs in the top of the fourth when Taylor led off with a walk followed by an infield hit from Kinney before each would score – Taylor on another wild pitch and Kinney after a sacrifice fly off the bat of junior Felicity Thornton – that put the Bobcats ahead 4-1.
Reapers senior Kensi Kensel reached on a fielder's choice in the bottom of the inning and scored on an error to make it 4-2.
But Somonauk tacked on a run in the top of the sixth when freshman Laynie Wold (two hits) singled and scored on an error. The Bobcats scored two more in the top of the seventh after a booming RBI triple from Taylor, who scampered home for the third time on a wild pitch for the final run.
All that was left from there was for Podnar to complete her stellar pitching debut, retiring the Reapers in order to end the contest in style.
"I knew I had to close things out, and maybe I was a little nervous just like when I started today," Podnar said. "But in the end, we all got the job done, and it's a great feeling for me to have performed so well."