YORKVILLE – A firefighter with the Bristol-Kendall Fire Protection District has been dismissed for refusing to comply with an order to either be vaccinated for the COVID-19 virus or submit to weekly testing.
The fire protection district's five-member board of trustees voted unanimously to terminate the employment of firefighter-paramedic George Richter on three counts of insubordination during a meeting on Oct. 14 at Station 1 on Route 47 in Yorkville.
Fire Chief Jim Bateman said that Richter, a probationary firefighter who was hired on May 3, had refused three separate orders beginning in September to get the vaccine or begin testing for the virus.
Bateman said 40% of the department's firefighters and paramedics are vaccinated for COVID-19, while the rest are undergoing weekly tests for the virus, in compliance with Gov. JB Pritzker's executive order.
A crowd of about 50 people gathered outside the firehouse in support of Richter before entering the station. In anticipation of a large group, one of the station's fire apparatus floors had been cleared to hold the meeting.
Richter, 31, of Marseilles, delivered a fiery speech before the board, declaring himself "firm in conscientious objection" to the order and asserting that getting the test is as invasive as receiving the vaccination.
"Any forced asymptomatic medical assessments, medical testing, interventions and treatments without express, or even implied consent of the patient is illegal and an invasion of an individual's bodily autonomy, integrity and privacy," Richter said, his voice rising, while reading from a prepared statement.
Richter appealed directly to the board to retain him.
"I stand before you tonight as an able-bodied, healthy firefighter-paramedic, ready and eager to work in a world that does not seem to want to work," Richter said.
"I do not wish to be terminated from Bristol-Kendall and I will not be resigning. I must remain true to my values, morals, ethics and conscience…I cannot comply with an order, I believe strongly, to be infringing, immoral, unethical, illegal and frankly, evil," Richter said.
Prior to Richter's remarks, numerous supporters spoke on his behalf.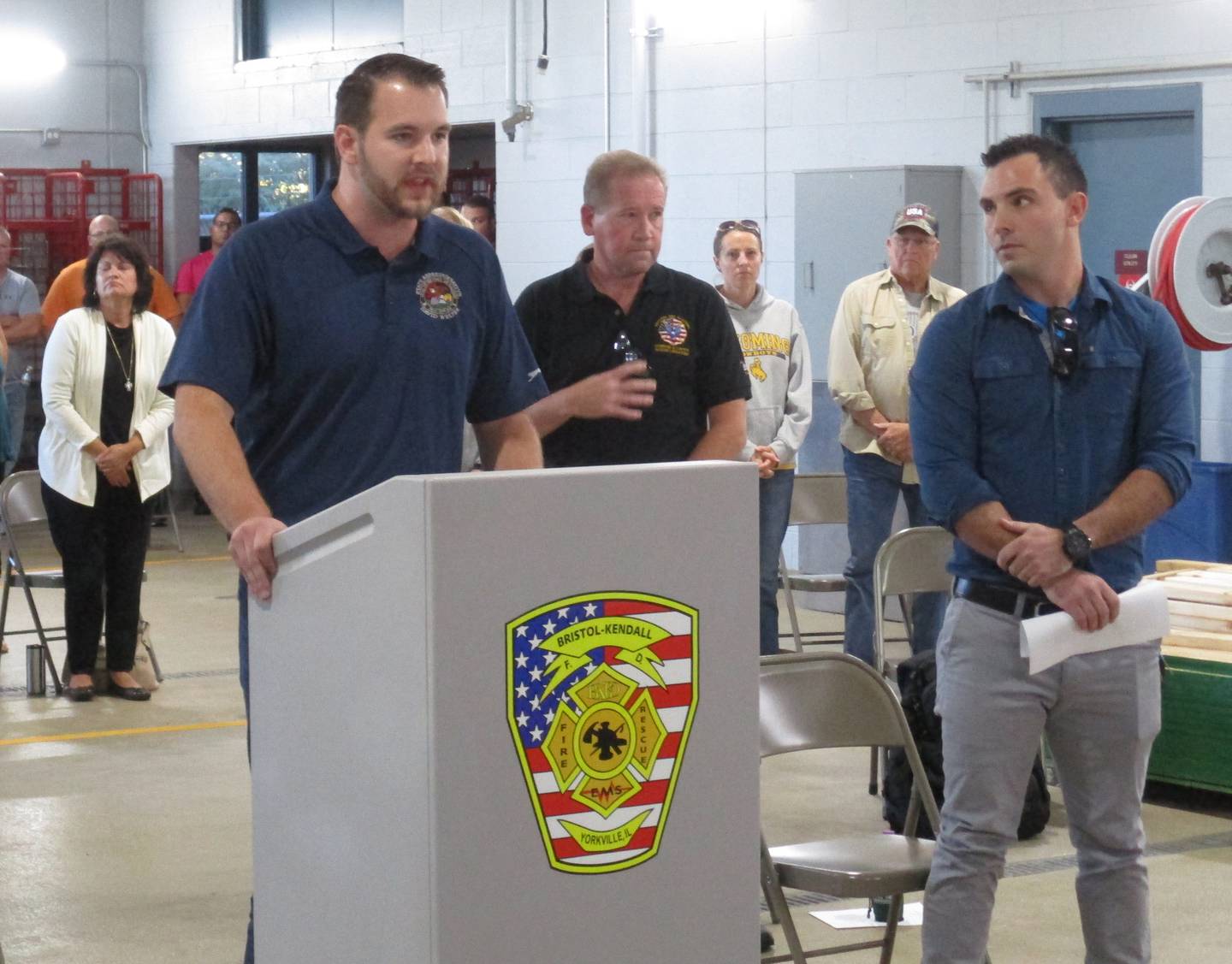 They included state Rep. David Welter, R-Morris, who said Pritzker's order constituted government overreach.
Others were retired firefighters from Yorkville, including Fred DuSell, who served 30 years with the Aurora Fire Department, and Darin Peterson, who started his career with Bristol-Kendall before serving 25 years with the St. Charles Fire Department.
Both men said the board was being unfair to Richter.
"This goes against his religious beliefs and it is not ours to question," Peterson said.
After the public comments, the board left the room to deliberate Richter's fate in closed session. The board includes President Ken Johnson and trustees Jeff Farren, Marty Schwartz, Gary Schlapp and Phyllis Yabsley.
After about 45 minutes, the board returned and all five voted to dismiss Richter.
Several supporters called on the board to explain their decision.
"We need to follow the guidelines that the state sets for us," Schlapp said, adding that the board members had found the decision difficult but believed themselves bound to accept the advice of their legal counsel.
Schwartz noted that Richter could have remained with the fire district had he simply agreed to the testing routine.
Earlier, Richter had taken care to say that he respected the trustees, but his disappointment at the decision became evident when he called the trustees hypocrites, pointing out that of the five, only Yabsley was wearing a mask.
"I'm a good firefighter and I'm a good paramedic," Richter said. "This is your loss."
The Bristol-Kendall Fire Protection District covers the city of Yorkville and surrounding unincorporated areas. The district maintains three fire stations and is staffed by 24 full-time employees, 30 part-time individuals and nine contract paramedics.