PLANO – Republicans showed that they are energized for the 2022 election during a campaign rally in Plano.
"I see a red wave," declared Little Rock Township Trustee Becky Nelson of Plano, who served as master of ceremonies for the March 3 event that attracted more than 150 of the GOP rank and file to The Venue at Protocol.
Sponsored by the local Stamp Act political action committee, the rally featured dyed-in-the-wool conservative candidates who emphasized small government, Second Amendment rights and religious freedom.
Gov. JB Pritzker's policies on masks and vaccines were at best described as "government overreach," but more often characterized as "tyranny."
They included local Republican primary candidates for Kendall County Board, the Illinois House and the U.S. Congress as well as hopefuls for Illinois governor and attorney general who traveled long distances from their downstate homes to the rally.
State Sen. Darren Bailey of downstate Clay County, a gubernatorial candidate, reveled in the indictment of Democrat Mike Madigan, the former Illinois House speaker from Chicago, on corruption charges.
"This is an amazing opportunity to root out corruption and evil in the state of Illinois," Bailey told the enthusiastic crowd.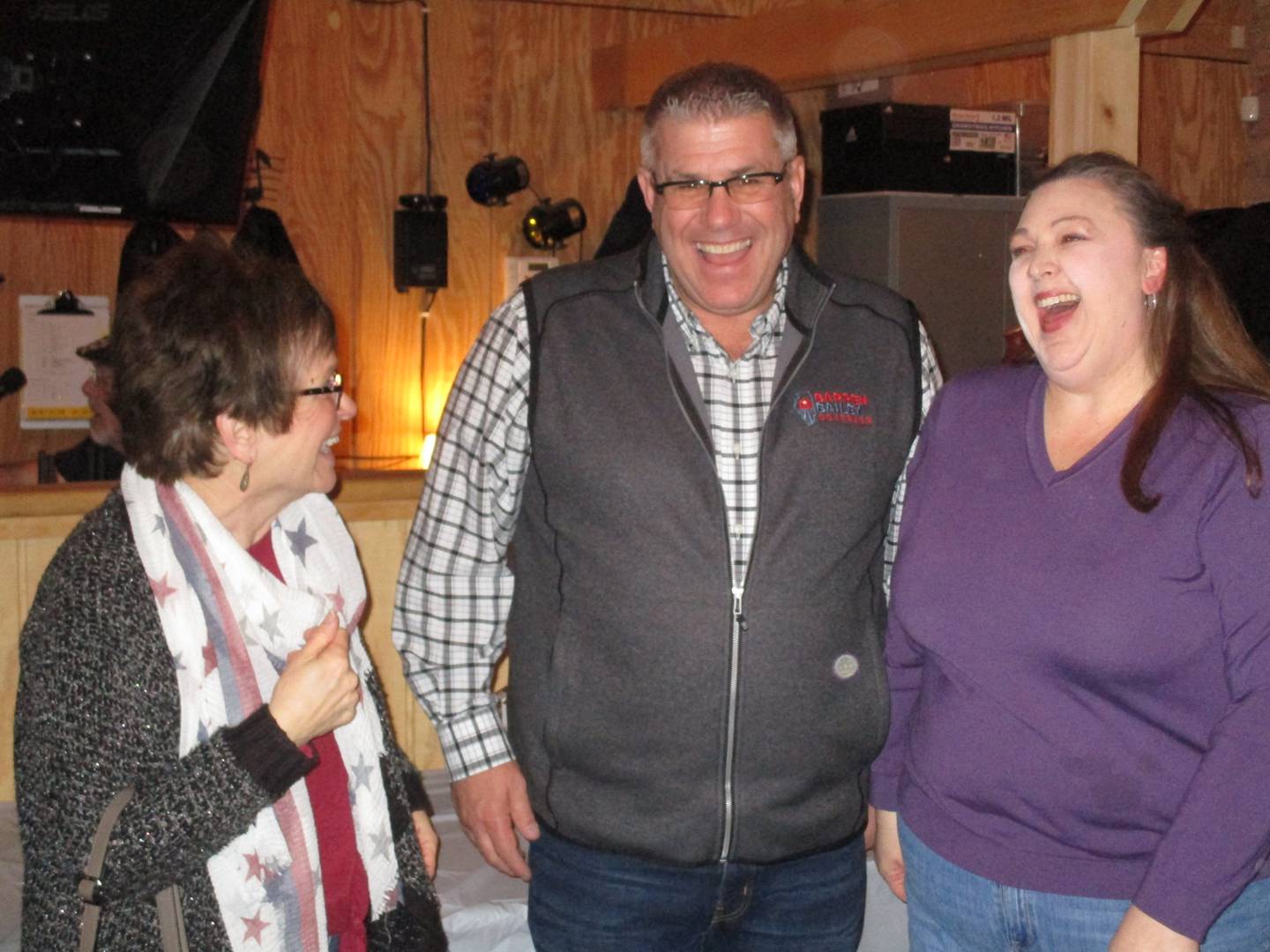 Sounding similar themes of government corruption and tyranny was attorney general candidate Thomas DeVore, the attorney who won a restraining order from a Sangamon County judge, effectively blocking Pritzker's executive order for masks to be worn in schools.
"Put me in that seat and there will be no safe haven for corrupt politicians," DeVore said. "It will prove that God and justice does exist."
Kendall County Republican Party Chairman James Marter of Oswego, a candidate for the 14th Congressional District seat, made his case for being the Republican hopeful with the best chance of defeating the incumbent Democrat, U.S. Rep. Lauren Underwood of Naperville.
"She's voting to destroy our country," claimed Marter, who is running for the GOP nomination in a crowded field that also includes Kendall County Board Chairman Scott Gryder, who was not present at the event.
Marter also took plenty of shots at President Joe Biden's domestic and foreign policies, pointing to Russia's invasion of Ukraine.
"The Russians didn't invade anybody when President Trump was in the White House," Marter said.
In an interview before his speech, Marter was asked about the 2020 presidential election and the subsequent Jan. 6, 2021 Capitol riot.
Marter called the rioters "deplorable and despicable, and they should be prosecuted. We don't need this kind of bad acting."
However, Marter said the initial gathering outside the Capital was legitimate, and that then-President Trump was not responsible for the protest turning violent.
Moreover, Marter cast doubt on the results of the presidential election.
"I want to see a full audit," Marter said. "We know there was fraud in Illinois. We have to know what happened. We don't know all the facts. The results clearly are in question."
Marter carried that theme into his remarks before the crowd, referring to the election as having been stolen.
Another crowd-pleaser was Jed Davis of Newark, the president of Yorkville Parkview Christian Academy's school board, which is still litigating its now moot refusal to require its student and faculty to wear masks.
Davis is challenging Republican incumbent state Rep. David Welter of Morris for the 75th House District seat.
Speaking to the crowd, Davis charged Welter with having voted along with Democrats to raise the state gasoline tax.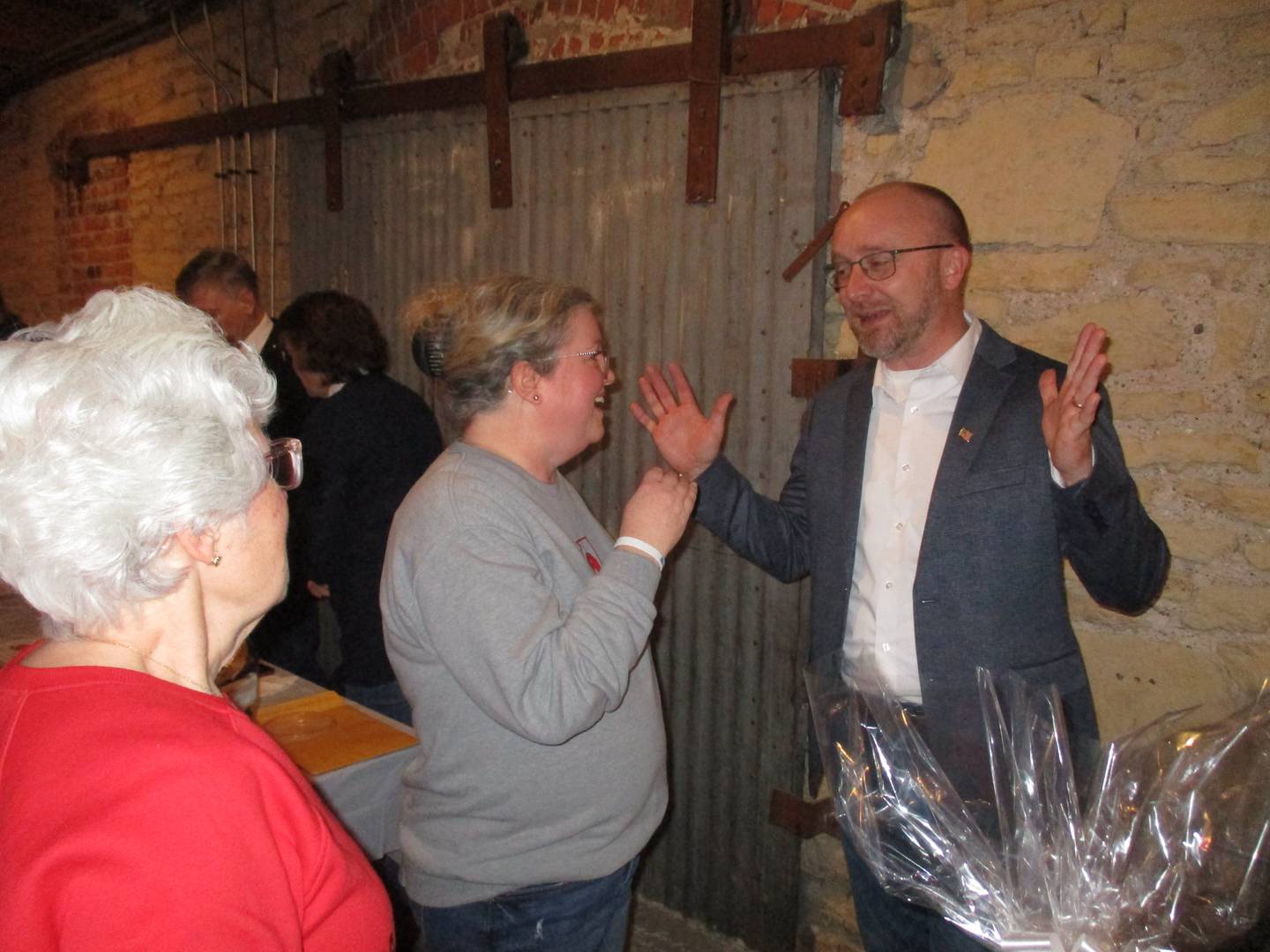 "We have the second highest gasoline tax in the nation here in Illinois," Davis said.
Davis said communities are tired of mandates from Springfield.
"Leave us alone!" Davis shouted, a phrase resonated with the crowd and was picked up by other candidates that evening.
Candidates for seats on the Kendall County Board from District 1 included incumbent Brian DeBolt of Plano, Yorkville Alderman Jason Peterson and Yorkville businessman Tommy Okapal.
DeBolt emphasized responsible fiscal stewardship of the county and pointed to major improvements such as the Eldamain Road bridge project.
At the same time, DeBolt reinforced his conservative bonafides by declaring, "I do not believe in forced mandates," and being very clear that he supports the Second Amendment "to own guns."
Likewise, Peterson talked about his work on the Yorkville City Council, including the new city hall building project and the decision to tap into Lake Michigan for the city's water source.
"My goal is to assist, protect, grow and preserve," Peterson said.
Okapal said he would focus on helping Kendall County's small businesses to grow.
"I'm not a politician," Okapal told the crowd to cheers.