PLANO – While it found a way to limit Plano's Mason Accidentale during Wednesday's Interstate Eight Conference game, Kaneland's Troyer Carlson was finding the bottom of the net from long-range in a 56-43 victory.
Kaneland (17-7, 10-3) kept its conference title hopes alive, receiving a game-high 20 points from Carlson. The Knights remained a half-game behind Rochelle, which beat La Salle-Peru to clinch at least a share of the title.
The Knights finish up at Morris Friday.
"We knew they weren't going to go away," Knights coach Ernie Colombe said. "They're a good team, well coached, they're tough."
The Knights certainly were tough on defense, holding the Reapers to just 17 points in the first half while not allowing Accidentale to score in bursts, holding him to 16 points with Johnny Spallasso, Nick Mitchinson and Carlson among those defending him.
"We know Mason is a great player," Spallasso said. "We just tried to isolate him on one side of the court the whole game and make their other players beat us. I think we did a really good job of that because help defense was there."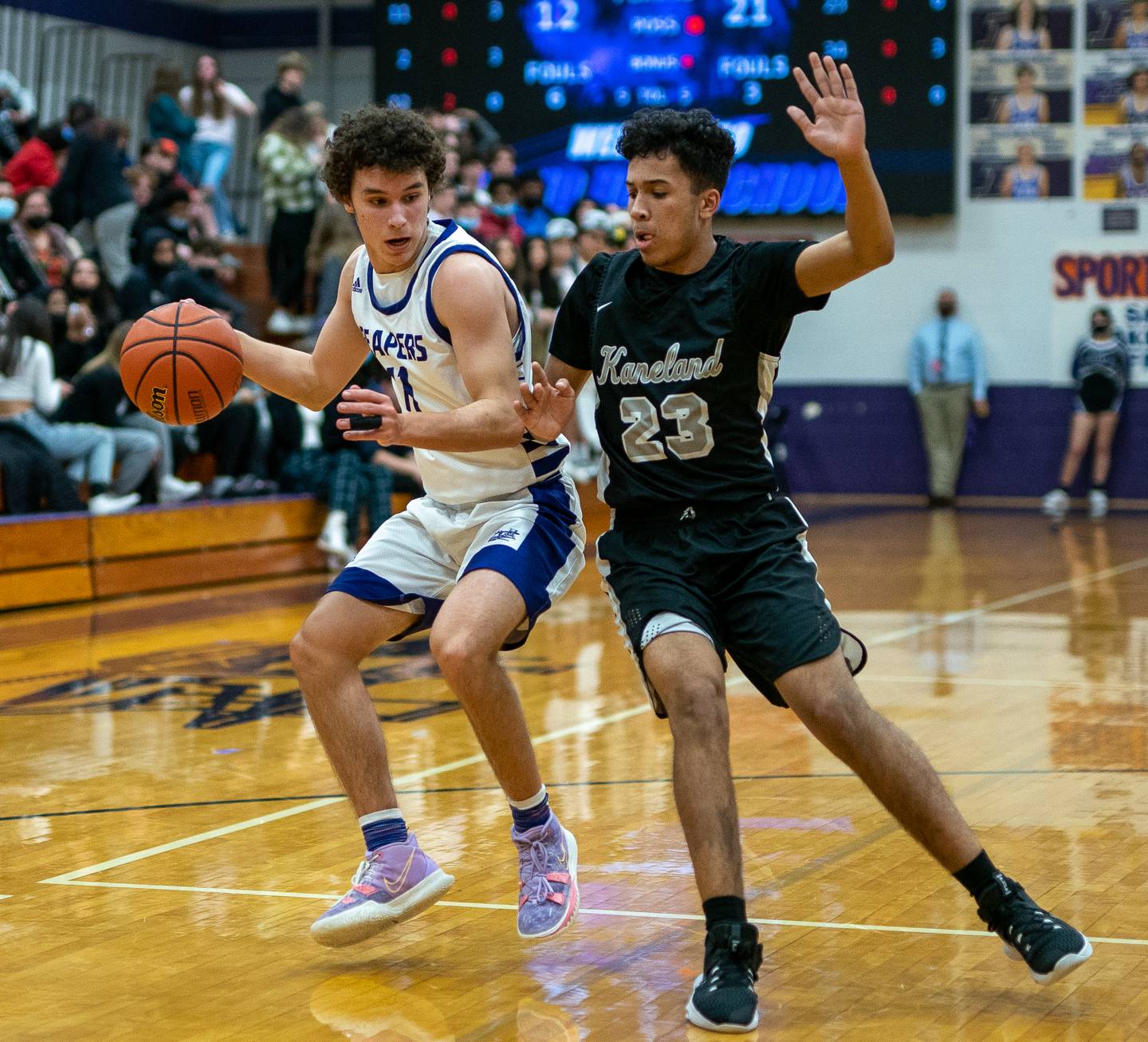 Recognizing the daunting task of sticking to Accidentale, the Knights went at him collectively.
"I felt all our guys gave good minutes and we just tried to rotate guys on him," Colombe said. "He's too tough to stop with one guy and to ask one guy to chase him around all night because he's so active. He hit somet hrees where guys were right up into him and pulled up right off the dribble and hit them. He's a great player."
As is Carlson, who punished the Reapers early and often, opening the game with back-to-back threes. He also hit them in timely fashion, such as when he answered Accidentale's three-pointer with one of his own after the Reapers had pulled to within 42-38 with 4:52 left to play. Carlson made six three-pointers overall.
"We know (Carlson) is their main shooter and we lost him," Reapers coach Kyle Kee said. "On some of our rotations on the side between our wing and bottom we just lost him a few times and they run good stuff and they make you think and we just couldn't find him a lot of the time."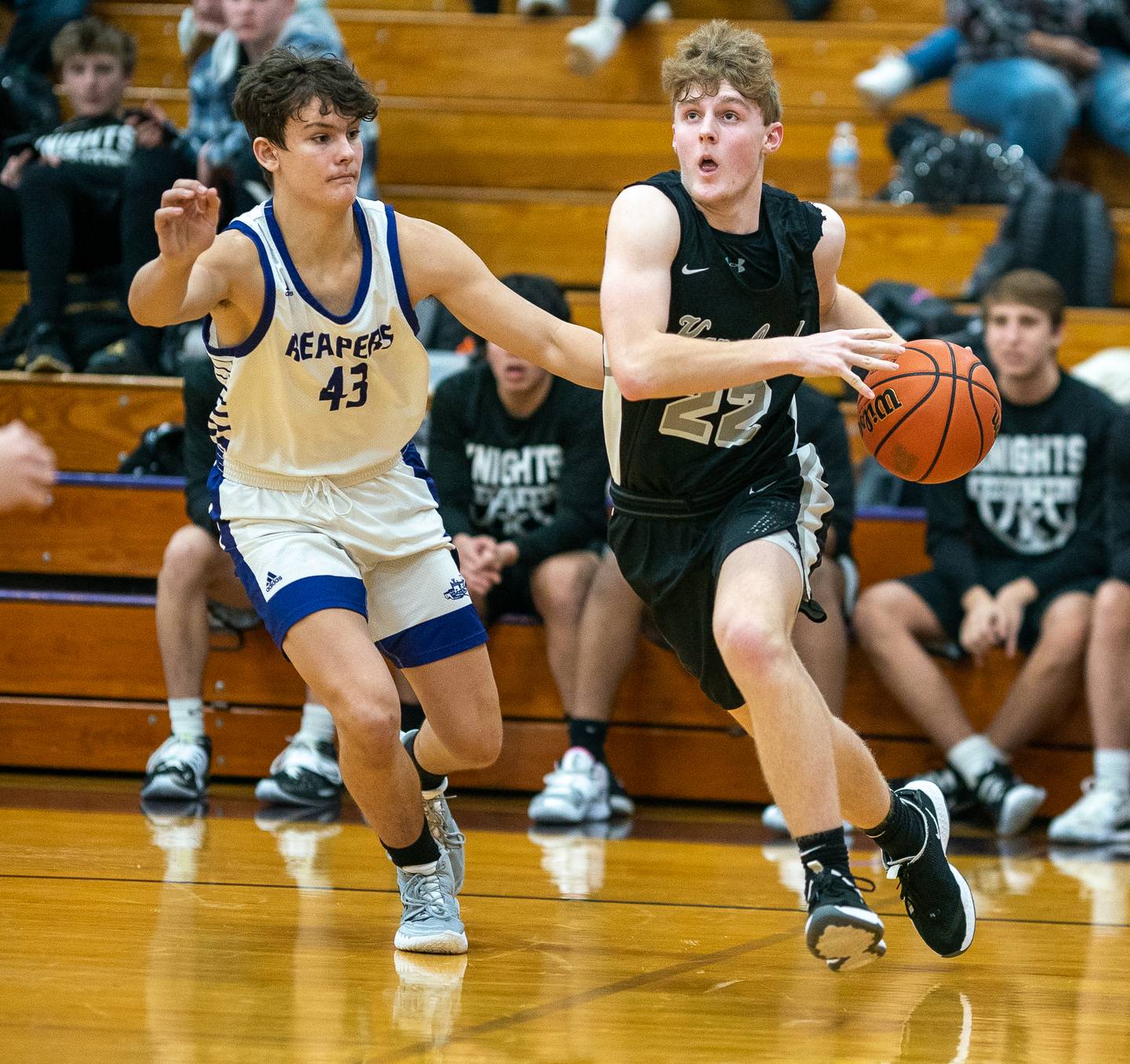 The Knights may have been doing most of their scoring from beyond the arc early, but that also opened things up inside as the game progressed.
"We were trying to work it inside and out and we did that and that's why we were able to hit some threes," Colombe said. "The ball was going in and coming back out and we were trying to do that. They did a nice job of being unselfish on the inside and kicking it out against their zone and our shooters were ready to go."
Jacob Harrison scored 13 points and Spallasso and Parker Violett each scored seven for the Knights.
"We were very unselfish tonight and didn't care who made the baskets," Carlson said. "We just played as a team and played good team defense."
Carlson's three-pointer with 4:40 remaining started an 11-0 run in which the Knights broke the game open.
"It's Kaneland's defense," Kee said. "They get after you and we struggled with it. We've struggled with it all year. We were unable to really run much and beat them off the dribble. We just couldn't get by guys but they're an awesome defensive team."
Carion Hale scored 13 points and Josh Padilla had 10 for the Reapers.