LANARK – The Galena Pirates got off to a hot start against the Newark Norsemen Monday evening in their Class 1A Eastland Sectional semifinal. Although the Norsemen (33-5) got going later in the first set, they couldn't keep pace, losing 25-20, 25-18.
Galena (32-4) built a 12-4 lead in the first set, led by a six-kill barrage from junior Gracie Furlong.
[ Photos: Newark vs Galena Class 1A volleyball sectional ]
Newark rallied to within 16-15, getting three kills from senior Lauren Ulrich during an 11-4 run, but the Pirates found answers soon after. Furlong had two more kills around a Mya McCoy block and a Galena serving error to move the margin to 20-16. Freshman Nevaeh Hauber and Furlong then stuffed back-to-back blocks to finish the first set.
"I thought we played really good. I think they just had a really good outside hitter, and I think that was difficult for us to block and get around," Ulrich said. "I think we were pretty evenly matched, and I think that we played a good game altogether. I'm really proud of how we played."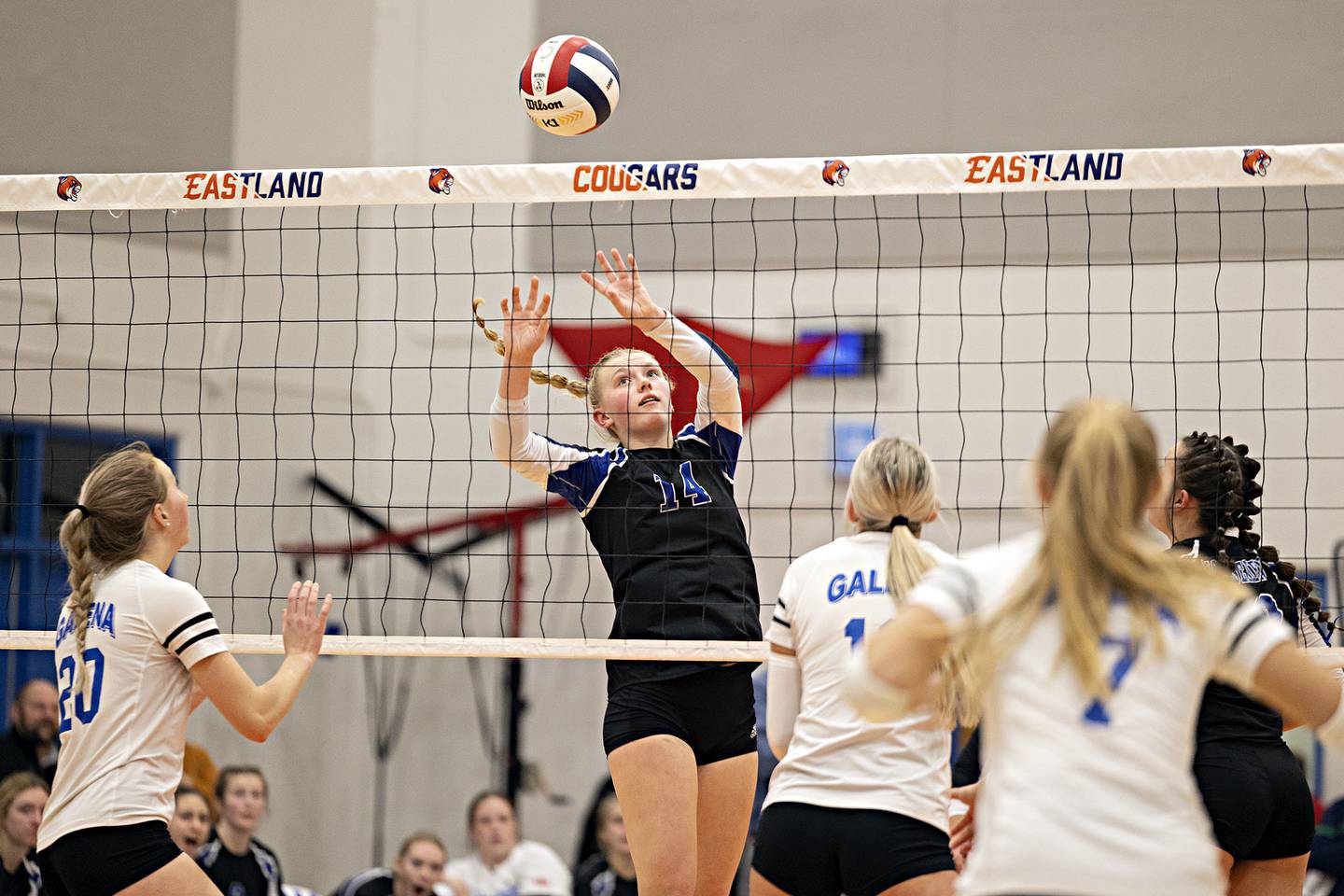 The Norsemen controlled most of the second set, and for a while it looked like they'd force a third. Newark grabbed a 2-0 lead after Ulrich pushed a kill and junior Elle Norquist served an ace. Later, senior Kiara Wesseh slammed a kill to stretch it to 16-11 – Newark's largest lead of the match.
But again, Galena found answers. Furlong had two kills around a Norsemen hitting error, then McCoy came up with another kill to draw within 16-15. A double-hit on Newark knotted the set 17, then McCoy had a kill to take the lead. Furlong added four more kills over a six-point stretch, and McCoy got a block and a kill for the final two points of the match.
Ulrich finished with six kills, 10 digs and 13 assists; Norquist tallied 15 digs and four assists; Wesseh supplied eight kills and six digs; Addison Ness had five kills; Danica Peshia contributed 12 digs; Julia DiClementi totaled eight digs; and Adrianna Larson chipped in eight digs and three kills for the Norsemen.
"I think we surprised a lot of people with how good we came out being," Ulrich said. "We got over 30 wins easily. We won our regional. We won quite a few tournaments. I think we're just really proud of how we played."
Furlong totaled 15 kills and one block, Addie Hefel tallied five kills, Abigail Merritt dished 22 assists and McCoy added four kills for the Pirates.
No. 2-seeded Galena will face No. 1-seeded Lena-Winslow in the Eastland Sectional championship at 6 p.m. Monday.