Oswego East's boys tennis team continued two traditions this week.
First, the Wolves won conference. Then they celebrated with a meal at Olive Garden.
"Only two of the players were on varsity before," Oswego East coach Kristin Rude said, "but they didn't forget."
Rude did not know what to expect this season, with just two varsity players back from 2019, the last time a boys tennis season was held, and six members of the team who had never played high school tennis at any level. But Oswego East went unbeaten in duals, its closest match 4-3 with Oswego, and this week in Plainfield won its third consecutive Southwest Prairie Conference title. Oswego was second.
Oswego East senior AJ Johnson won the title at No. 2 singles, beating Plainfield South's Aiden Abshire 3-6, 6-0, 6-2 in the final. The No. 1 doubles team of senior Hamza Shaikh and junior Ryan Briguez won their bracket, beating Oswego's Barry King and Stefan Ninic 2-6, 6-1, 6-4 in the final. And the Oswego East No. 3 doubles team of juniors Brock Stanley and Keegan Mottet won its division, beating Oswego's Collin Pope and Avery Kincaid 6-1, 6-4 in the final.
"I knew we had an advantage, we were going in undefeated, all of our players were seeded and the brackets were sort of in our favor but the matches we had to play, we knew it would not be easy," Rude said. "Most of the championship-round matches did go to three sets. At one point three matches were still out there, us and Oswego, which was stressful."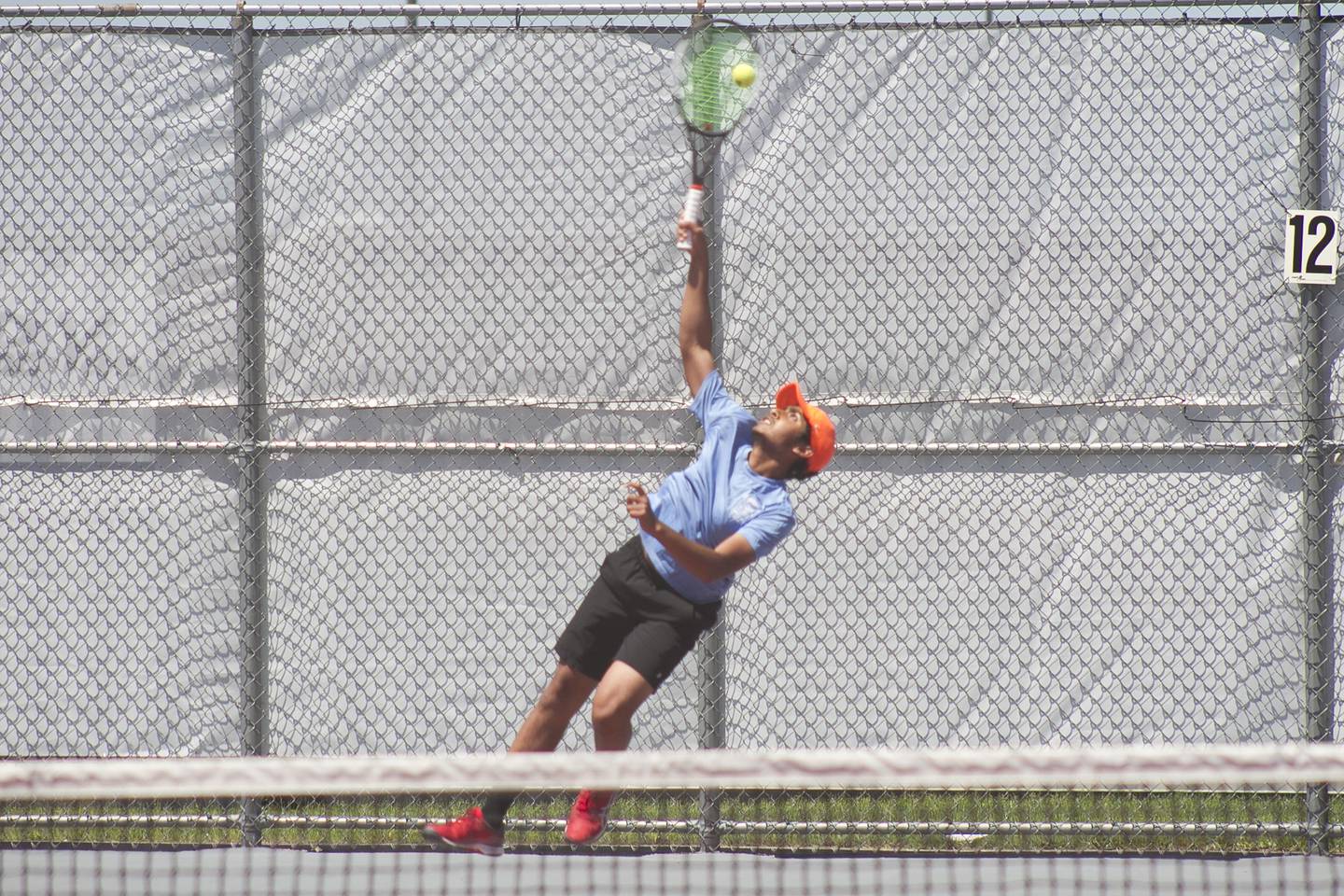 At No. 1 singles Oswego East senior Vivek Parashar, with Shaikh the only returning varsity players from 2019, took third place, beating Plainfield South's Jed Bondoc 6-3, 6-3 in the third-place match. Oswego East freshman Aver Dahm was second at No. 3 singles, as was the No. 2 doubles team of senior Varun Sivasubramanaian and sophomore Arjun Ramesh.
"We were low on numbers this year, we had nine seniors graduate and it was a year of rebuilding – every school was low on numbers this year," Rude said. "I was really proud of them, they're such a great group of guys, fun to be around."
Oswego, like Oswego East, had three entries win their respective brackets.
At No. 3 singles Oswego's David Seeger beat Dahm 6-2, 6-2 in the final.
"There was much debate at the seed meeting where to seed my guy [Seeger]. The first round he played the No. 4 seed from West Aurora, beat Romeoville who was the No. 1 seed and then Oswego East," Oswego coach Ryan Parr said. "My guy did not get seeded and came out and rolled everybody."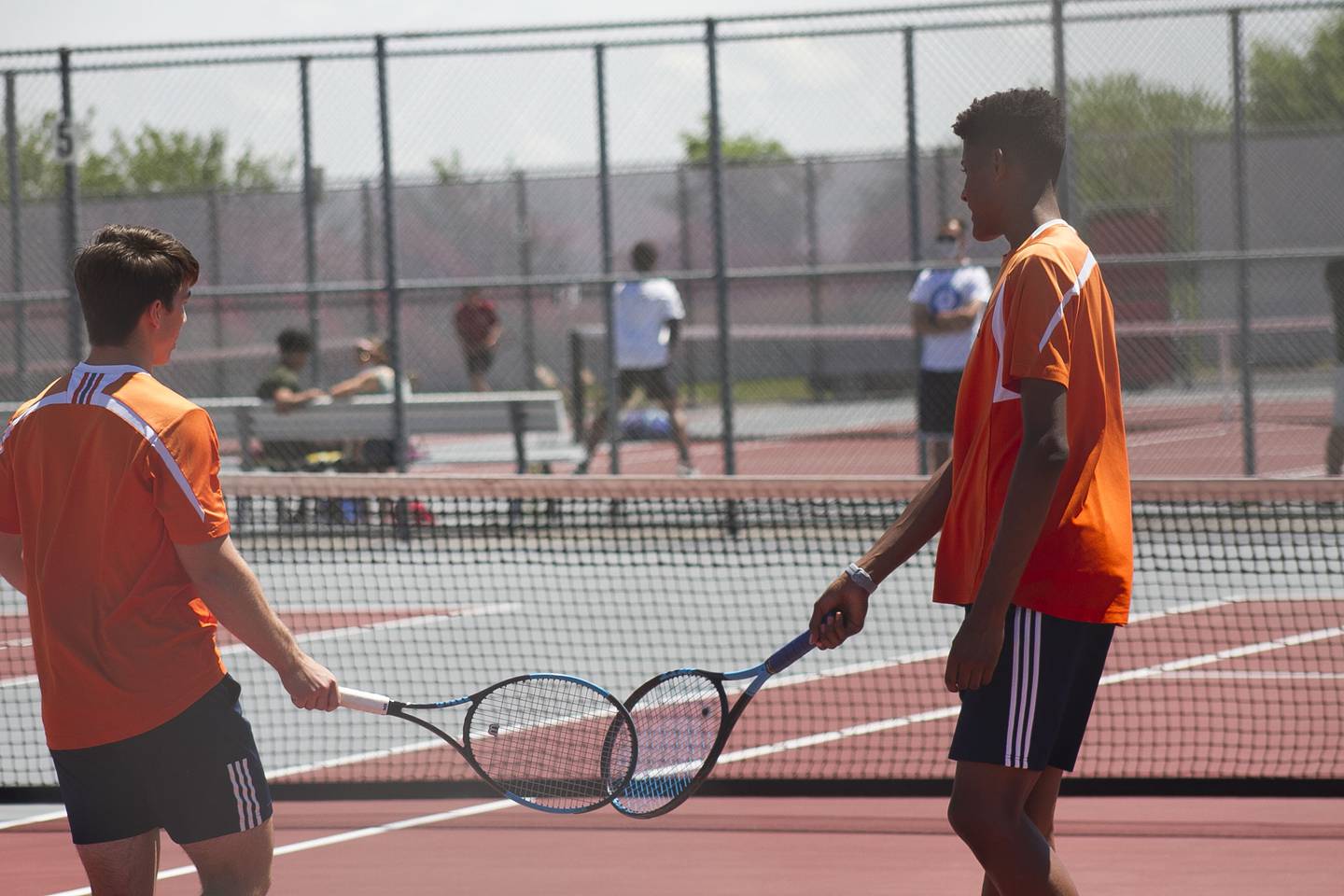 Oswego's No. 2 doubles team of Jacob Tsang and Ben Kuehner beat Oswego East's Varun Sivasubramanaian and Arjun Ramesh in the final 4-6, 6-1, 6-2. At No. 4 doubles Oswego's Brendon Merlo and Eric Murgas, unbeaten in conference, beat Plainfield North in the finals 6-1, 6-1.
Oswego's Kaleb Pope took fourth at No. 2 singles. Oswego, like Oswego East, came into the season short on experience, Ninic the only player back.
"It [conference] came down to the last match," Parr said. "It was a good battle. It's been an amazing season with a great group of guys. They had no experience and they literally came to work every day. Nothing but positive vibes for these guys. They really started clicking and they played their best in the tournament. I'm not disappointed with how it turned out. Nobody expected us to be there and they turned it on."