YORKVILLE – Madi Reeves held the regional plaque high above her head and led a mad rush of Yorkville girls from the circle to the backstop and adoring fans.
The Foxes certainly charged forward Friday.
Reeves was in peak form, firing a no-hitter with 10 strikeouts. Sam Davidowski and Regan Bishop homered as part of a 19-hit attack, and top-seeded Yorkville had it all going in a 10-0, six-inning win over eighth-seeded Plainfield North in the Class 4A Yorkville Regional final.
"We can go all the way this year, I have no doubt. If we keep playing like we did today, no doubt."

—  Sam Davidowski, Yorkville senior
It's the third straight regional title for Yorkville (32-2), which advanced to face Oswego East in Tuesday's sectional semifinal at Oswego.
By the looks of things, the Foxes could be just getting started.
"We can go all the way this year, I have no doubt," Davidowski said. "If we keep playing like we did today, no doubt."
Davidowski got things going for Yorkville, homering over the fence in left field to lead off the second inning. Talk about timing, it was her first varsity long ball of the year.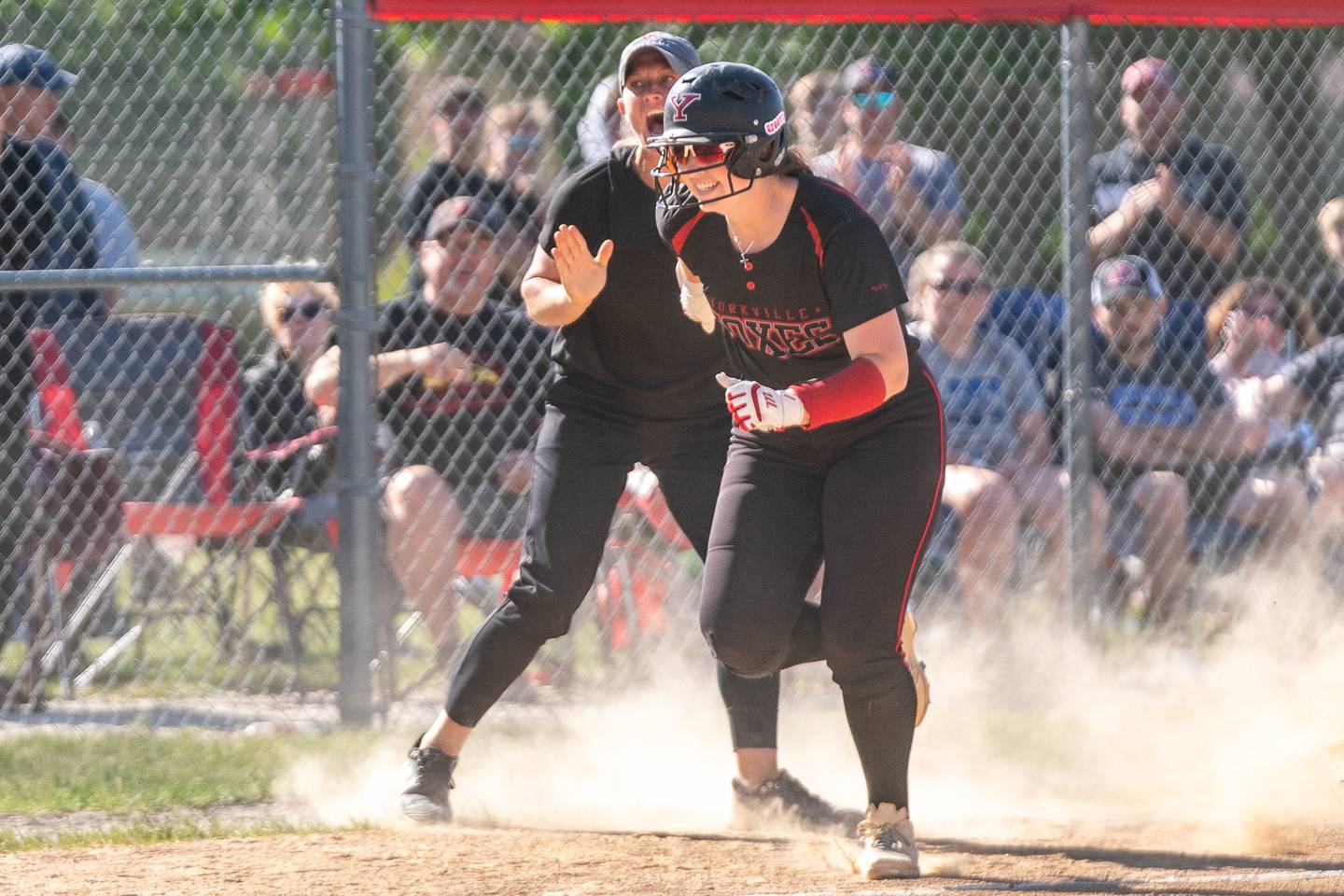 "Honestly, it felt great. The energy was great today," Davidowski said. "I just trusted in what I've done during the season to work."
Plainfield North (17-16) kept Yorkville from breaking the game open for the first three innings with the help of four runners thrown out on the bases. The scoreboard didn't correlate to the volume of traffic on the bases.
But the Foxes poured it on in the fourth, sending 10 batters to the plate off two Plainfield North pitchers in a five-run inning for a 7-0 lead.
Yorkville, ranked second in the final Illinois Softball Coaches Association Class 4A poll, looked the part.
"You have to respect them – they're a great hitting team up and down the lineup," Plainfield North coach Julie Ann Czerniakowski said. "They have so many great hitters who can find an open piece of grass. They're always on, and their pitcher Madi is phenomenal."
Wisconsin-Green Bay recruit Sara Ebner was 3 for 4 with run-scoring hits in the third, fourth and fifth for Yorkville. Kayla Kersting went 3 for 4 with a two-run single in the fourth and Katlyn Schraeder had two hits and two RBIs.
Every Yorkville girl got in on the fun, even ones who didn't start.
Regan Bishop pinch-hit with a single in the five-run fourth, then crushed a solo homer to straight center in the fifth.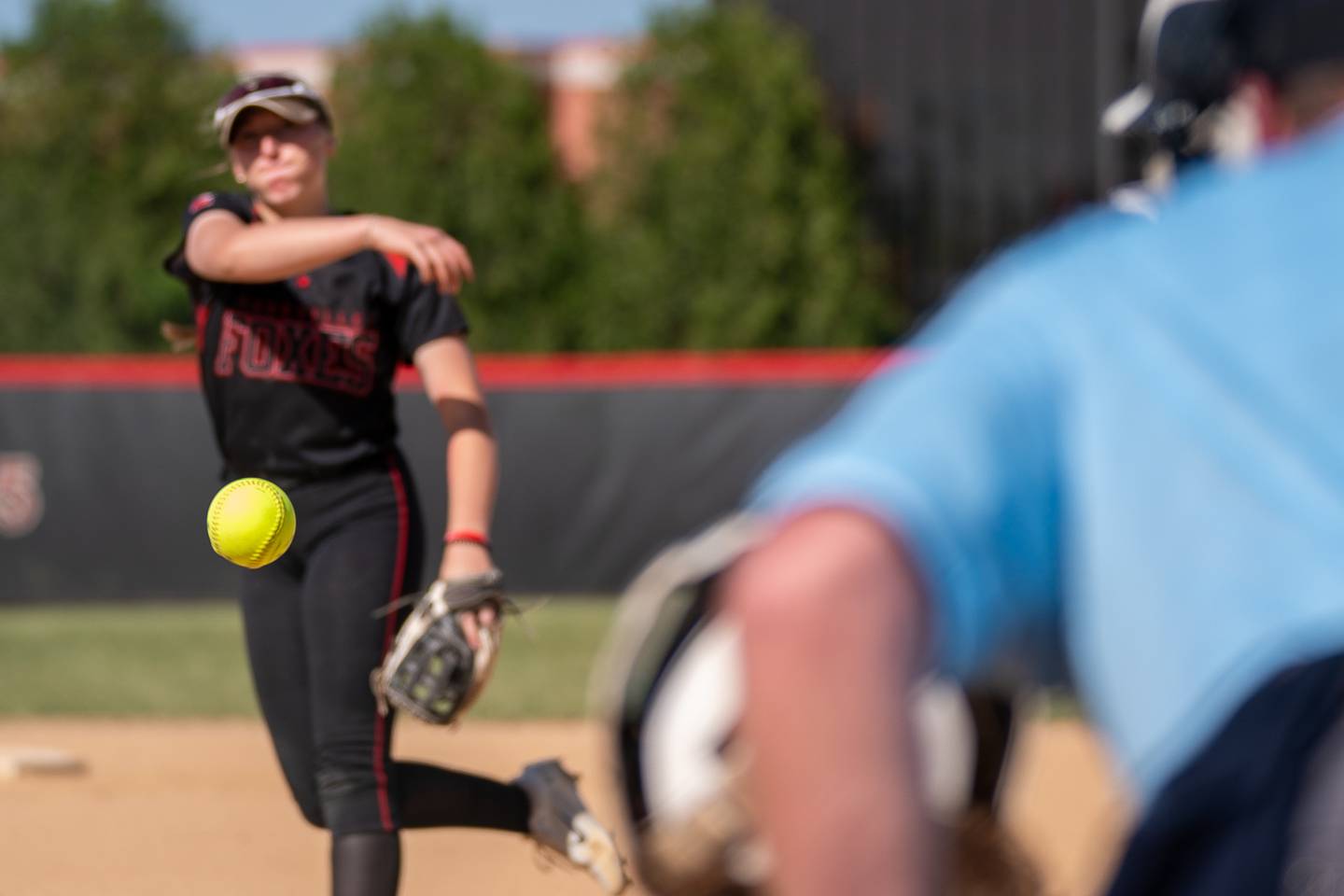 "I can't ask for anything more," Yorkville coach Jory Regnier said. "A couple girls pinch hit, and they did exactly what we needed them to do. It was very much a complete win. The girls have put in a ton of work to get to this level. They come in every day to work and it shows."
Miami of Ohio recruit Reeves (22-1), meanwhile, retired the first nine batters she faced. Plainfield North's Keira Suntken walked to lead off the fourth for her team's lone baserunner, but Reeves came back to set down the last nine batters she faced.
She got some help, too. Kaitlyn Roberts, who had two hits at the plate, preserved the no-hitter with a diving catch in deep center off a drive hit by Suntken with two out in the sixth.
"I was excited with how we did today," Reeves said. "When bigger moments come up, I feel like I focus more on what I'm doing and know that my team behind me is trusting me. It was a complete team win."
Reeves seemed to have a little extra zip on her pitches, blowing hard stuff by Plainfield North hitters up in the zone. Regnier noticed, and wasn't surprised.
"She definitely felt good," Regnier said. "Coming off playing 4-5 games a week to two games in a week, it's a little different with rest. You come back and feel strong."
Reeves and the Yorkville girls last year watched West Aurora surprise them in a sectional game on their home field.
That memory isn't lost on the Foxes, who this time celebrated in their final home game, but they're not dwelling on it.
"The elephant in the room is we knew what happened last year, and there's a lot of girls that were on that team," Regnier said. "But our focus is not on other teams. Our focus is on us. That is the philosophy we're taking. We're worried about us and that's the only thing we have control over."
The Foxes next get Oswego East, a team like Plainfield North that Yorkville beat twice during the conference season.
"We're not taking anything for granted, not letting anything get to us," Reeves said. "We need to work harder than every team in the state if we want to go far."
Czerniakowski, completing her first season as Plainfield North coach, looks forward to better days ahead with a very young group.
"We did a lot of growth this year, a lot of rebuilding as a first-year head coach trying to give kids opportunities," she said. "Seventy percent of our kids are not seniors. We have a bright future with a lot of these kids."