When Josh Pugh toes the blocks on the blue track of Eastern Illinois University's O'Brien Field this weekend, the Yorkville senior will do so with the confidence of familiarity.
And the hunger of a runner with unfinished business.
Pugh, third in the Class 3A 400-meter dash last year, is back in Charleston as one of the favorites in the event. He'll also anchor Yorkville's 4x400 relay that posted the state's top time at sectionals last week, and is undefeated on the season.
"I'm prepared to do whatever it takes in order to get there," Pugh said of the prospect of winning a state championship. "This year it's almost going to feel like home court for me, being one the top returners in the 400. I have something to prove this year."
Pugh leads the area's medal hopefuls at the boys state track meet that began Thursday with Class 1A preliminaries, continues Friday with prelims in Class 2A and Class 3A and concludes Saturday with finals in all three classes.
Pugh's owns the state's fourth-fastest 400 time this spring of 48.20 seconds, a school record he ran at conference May 10. He was unbeaten in the 400 until sectionals, when his 48.57 – fourth-fastest run in sectionals statewide – was only good enough for second behind Joliet West's Billy Bailey, who ran the state's fastest sectional time of 47.73 seconds.
"It wasn't Josh's best race of the year by any means," Yorkville coach Nolan McCue said. "He didn't get a great warmup if we're being honest. Another mistake is we had our kids out in the sun too long; if he had shade it would have helped. But our focus has always been the state meet. We've been training Josh so he can run at an elite level. I think with Josh you will get an A-plus effort in four races both days. I think he has a real shot to win the 400, and come back and win the 4x400."
Pugh has always been a sprinter, but McCue said that this year they've trained him as more of a long sprinter, borderline middle distance runner. It's the types seen at state running two, three or four races, with more mileage rather than just speed workouts. It's made him a stronger runner, and set Pugh up for a heavier workload in Charleston.
"It's helped me with building my base. Last year I qualified for the 400 and the 200, and after running the 400 prelims I was gassed," Pugh said. "Now, running a low 48 seconds for the open 400 and mid 47 seconds split for the relay, I feel I'm in a good position."
Pugh is still uncommitted college-wise, adding an additional variable to the weekend's races.
"I think he's gambling on himself at the state meet, which I have a lot of respect for," McCue said. "He knows he will drop some great performances and then have more options than now."
In the 4x400 relay, Yorkville's season-best sectional time of 3:22.31 was tops in the state by a second, and the the third-fastest time all spring. Hinsdale Central ran a 3:19.33 in April.
"As crazy as it sounds, we haven't really been pushed much. That will change at state," McCue said. "It's the best of the best, we're all going to push each other to run elite times. If you look at the results, a lot of those teams that we have already beaten, not to sound arrogant, but I'm not afraid of the competition. I think they're going to get it done."
Elsewhere in 3A, Oswego East senior and UIC recruit Alexander Das comes in with the seventh-fastest 1,600 time of 4:18.93 from sectionals and Oswego's Matt Padilla and Oswego East's Parker Nold had the 14th and 15th-best times, respectively, of 9:20.15 and 9:21.51 in the 3,200.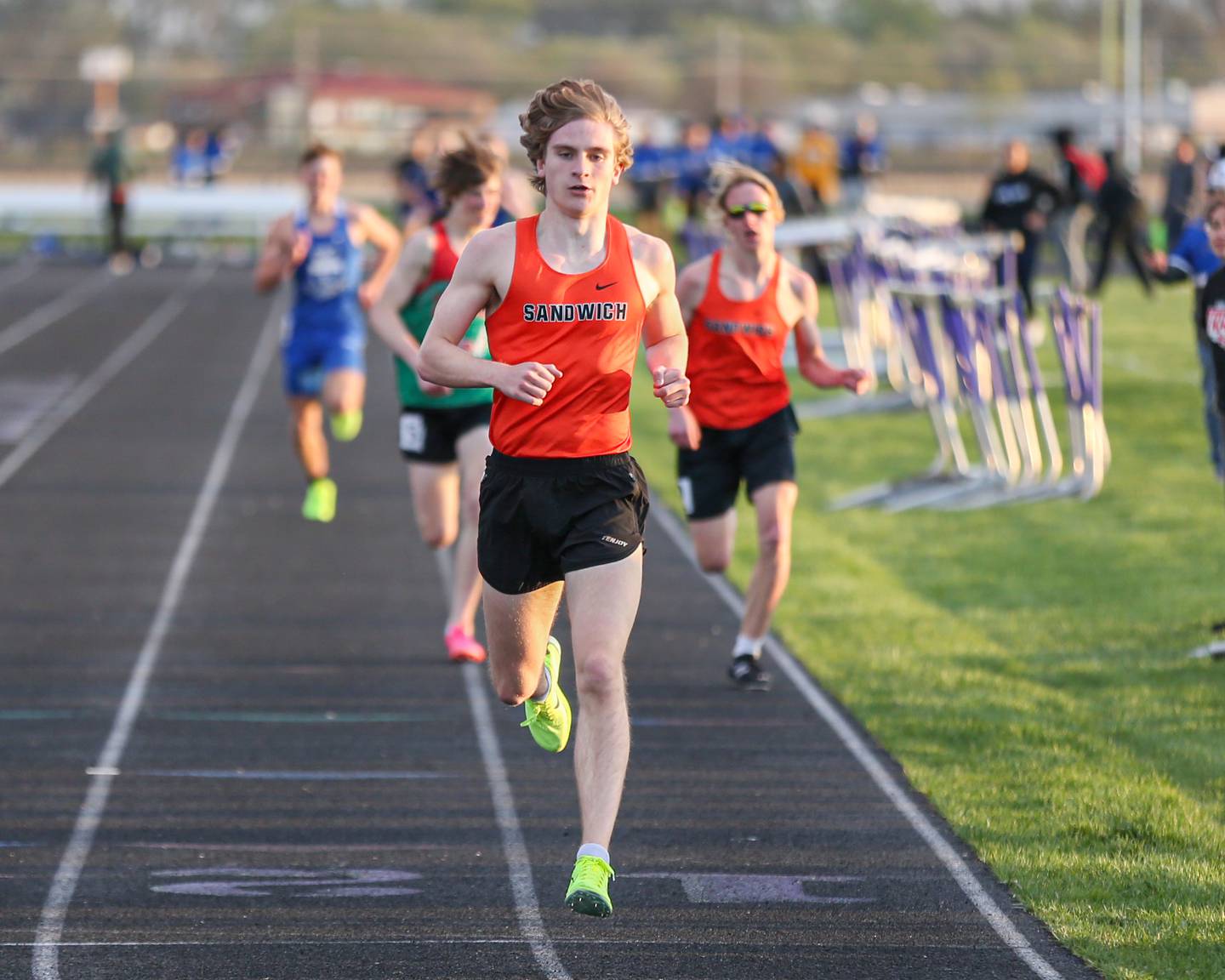 In Class 2A, Sandwich is bringing eight total athletes down to Charleston. The best medal hope from that contingent is the 4x400 relay of Dayton Beatty, Wyatt Miller, Luis Baez and Simeion Harris ran the state's fifth-fastest time at sectionals of 3:25.77. Max Cryer's 1,600 time of 4:28.89 was 11th-fastest run last week statewide and Miller's 800 time of 1:58.27 was the ninth-best, putting him in position as a medal hopeful.
"That 4x4 has been peaking at the right time," Sandwich coach Michael Lee said. "It's been one of the goals of the kids to get their time down, and they hit the qualifying time for the 4x4 finally. No matter how we do this weekend it's fantastic that they have been able to accomplish that goal and get to state."