Kaneland Harter Middle School students who make their own clock while learning about drafting, safety and hands-on tool use in Michael Livorsi's sixth grade Industrial Arts class often have such a good time that they sign up for another similar class the following year.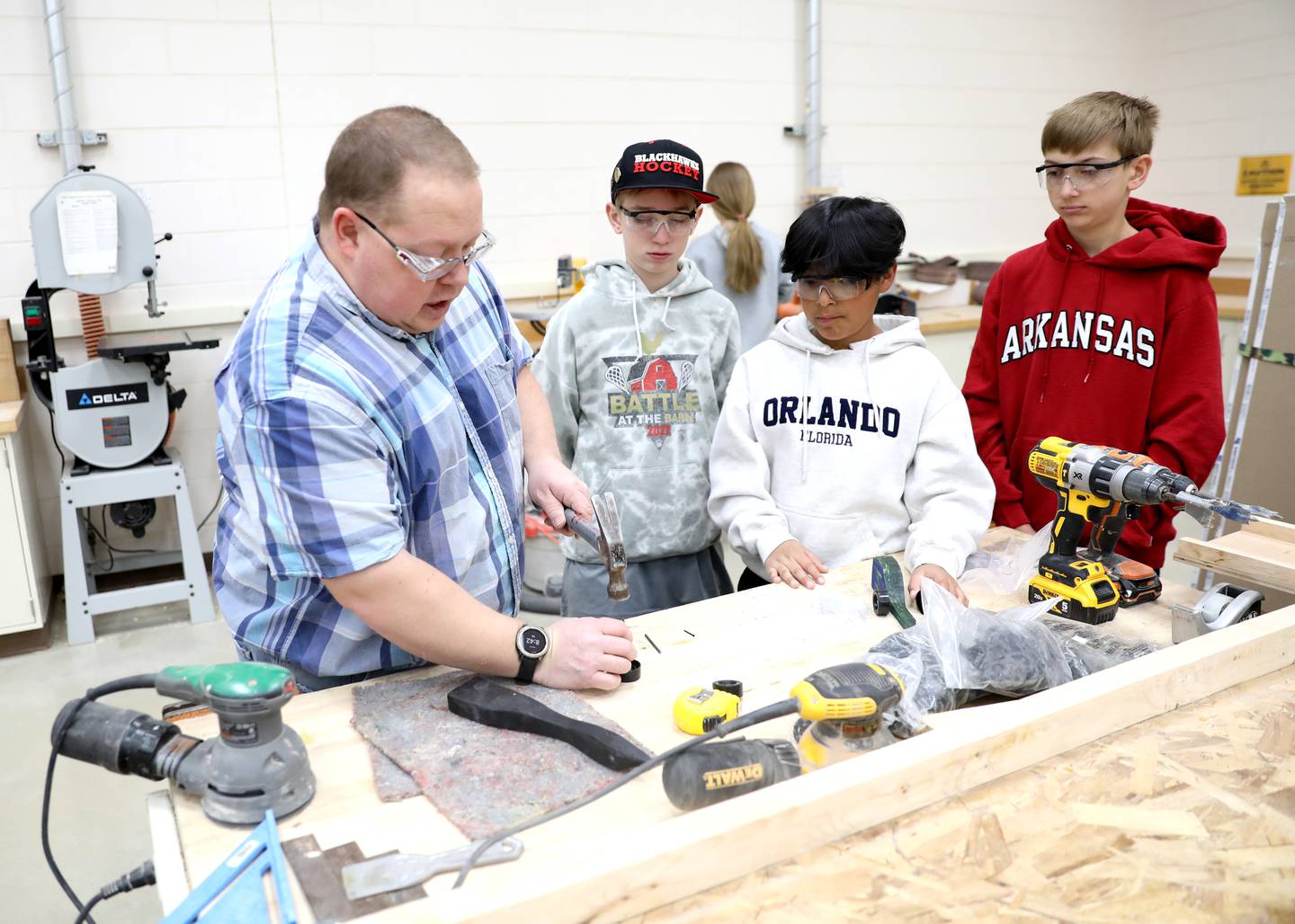 In seventh grade, they are introduced to 3-D computer design using the programs SketchUp and TinkerCAD. They create CO2-powered drag cars out of wood and race them against one another. They build birdhouses and produce a chess game piece using Dremel 3d40 printers.
By eighth grade, students are doing actual residential construction, albeit at a much, much smaller scale. They build a form and mix and pour concrete. They run a switched electrical circuit to an outlet. They drywall, tape and mud and prime and paint the wall.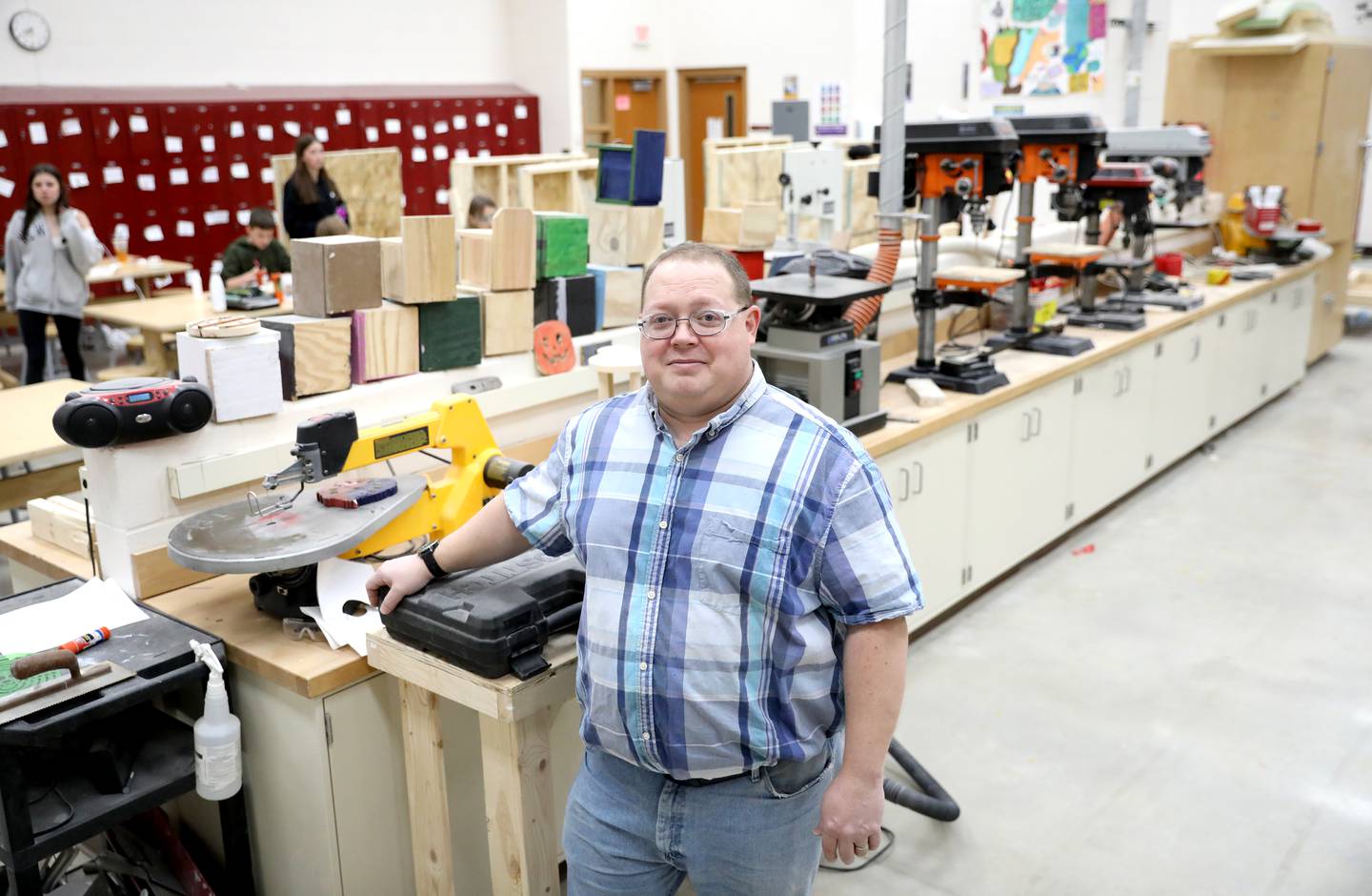 Without a doubt, Livorsi is making learning fun. His passion for teaching has swept over Harter, and others outside the school have taken notice as well. Livorsi recently was nominated for an Educator of the Year award from the Kane County Regional Office of Education.
"When we announced this at an all-school assembly, it was so loud that my ears still hurt from it," Harter Middle School Principal Brian Faulkner said. "The roar from the kids for him was so deserving."
While kids learn how technical drawings are made, how Newton's Laws apply to real-world problems and solutions, and even how to build a home, they also learn right away that they have a teacher who truly is invested in learning.
"Mike is one in a billion," Faulkner said. "He's that awesome. I've never met someone so student-centered and so selfless. He is willing to do whatever it takes to help a kid. It doesn't matter. And today you don't see industrial arts as much. He has a passion, is very talented and knows how to teach."
Livorsi also knows that middle school is his home.
"When I went into education, I thought I wanted to teach high school, and in college I had to do clinical classes and did one at a high school and I enjoyed it, but I didn't love it," Livorsi said. "The next class I did was a middle school and when I walked in, there was this excitement. It was where I wanted to be. I get along so well with the middle school kids. My sense of humor with them and treating them like humans goes a long way, and at that age, they're still excited to learn. It's so much more fun."
Livorsi started substitute teaching in 2012. He took over the Industrial Arts program in 2015 and recently was surprised with news of his nomination for the teaching award.
"It was a huge honor and big surprise," he said. "Talking to people about this letter of recommendation from students and families makes you realize what you do is important, more than you even thought. Hearing from students in the past that I didn't realize I made such an impact on them is very heartwarming."
Students may not build hearts in any of Livorsi's classes, but even if they did, they couldn't construct one any bigger than his own.
"There was a student I never had, but I knew him a bit from being a sub, who got diagnosed with lymphoma in the seventh grade and I actually went through a rare form of leukemia in 2010," he said. "When I found out about this student and his family, I offered my advice and worked with the core teacher. We were able to find him a [Green Bay] Packers jersey, his favorite football team, to give him when he came back to school."
They keep in contact today.
"When he was a senior in high school, he came into my classroom with another teacher and I hadn't seen him in four years," Livorsi said. "He gave me a big hug and invited me to his graduation party. Now he's graduating college. It's amazing the relationships you have as a teacher by treating kids with respect."