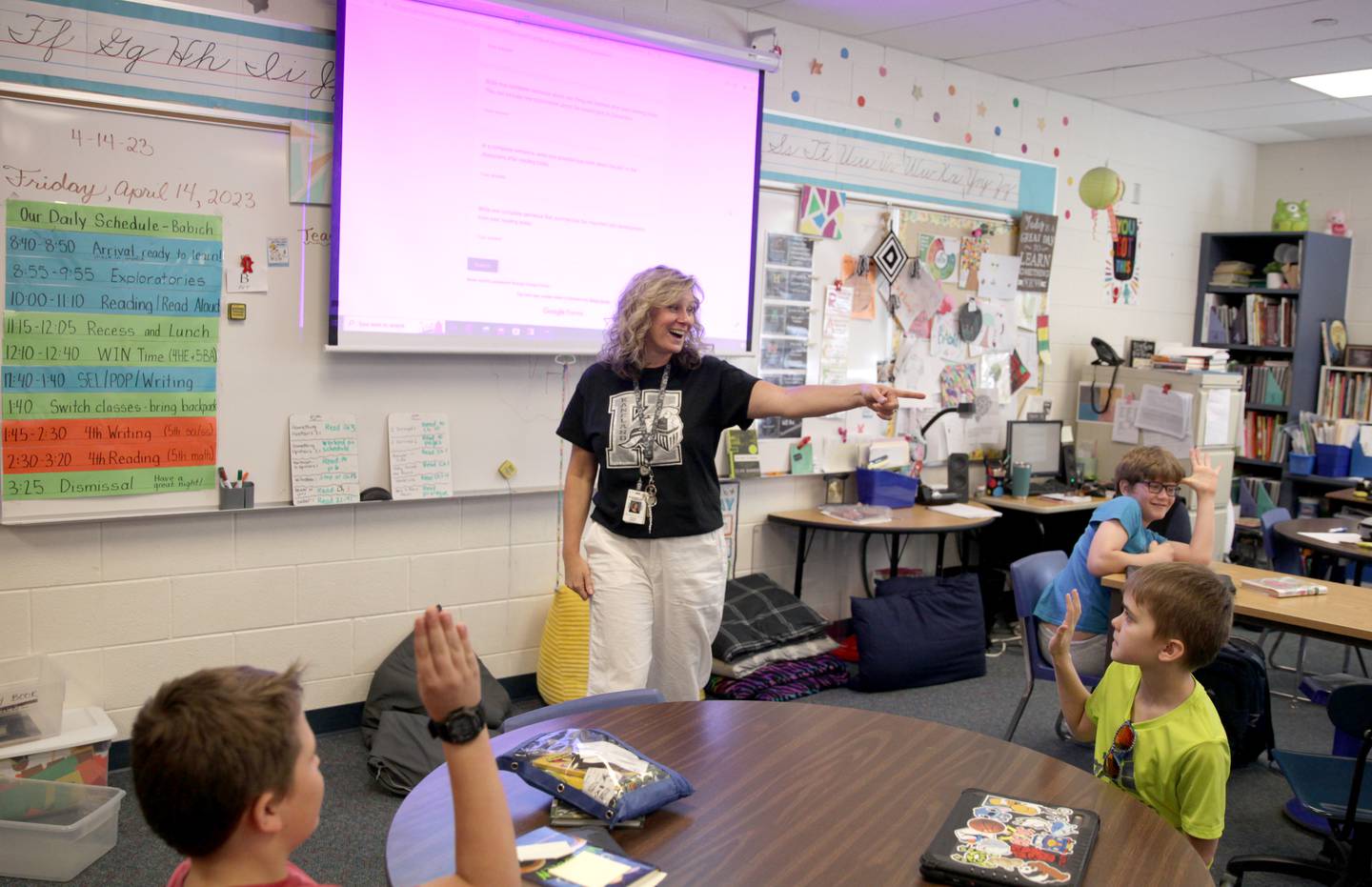 Change can be hard, but change also can be good.
Cindy Babich, who has been an English teacher in Kaneland School District 302 for about 10 years, will leave her classroom at Blackberry Creek Elementary School for the new IgKnight Personalized Learning Academy in the fall.
The new IgKnight Academy, which will be located in the former middle school building in Maple Park, will welcome students in fourth through eighth grades for the first time in August. The academy is part of the Kaneland school district and will have the same curriculum as the other schools, but will provide an alternate learning structure compared with a traditional school day, allowing students to work through lessons at their own pace.
"I'm excited, but it's bittersweet," Babich said. "I'm sad I'm going to be leaving, but I'm excited. It's hard enough at the end of the school year because they aren't just leaving the classroom, they are leaving the building. A lot of the kids I've had for two years and in homeroom and we get really close. It's sad, but it's exciting."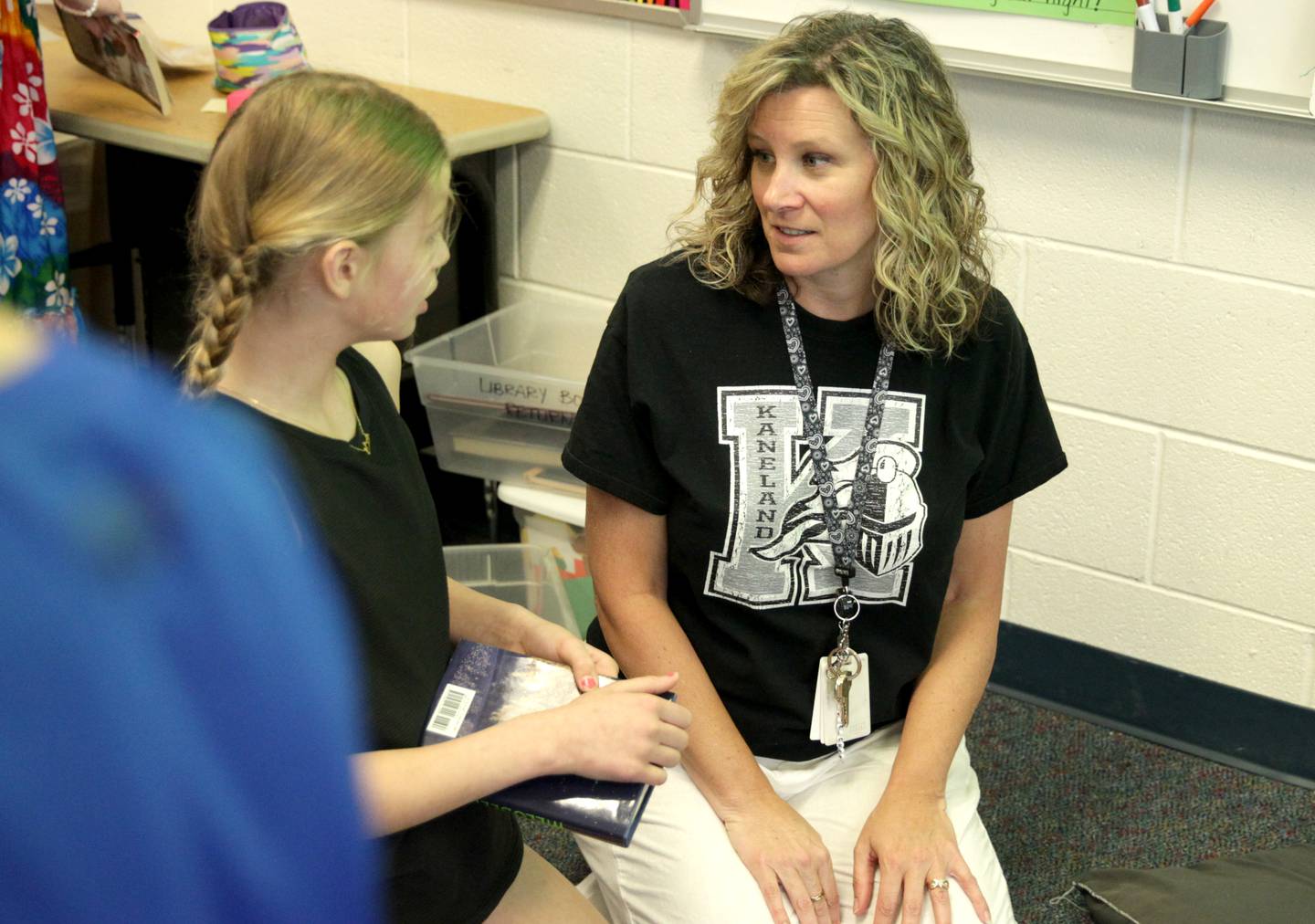 Laura Garland, personalized learning coordinator for the district, said she is excited for Babich to make the jump to the academy to work with students in a more personalized way.
"Not only does she have solid knowledge of content standards and an ability to develop strong relationships with students, she understands the power of partnering with students to drive their own learning," Garland said. "Her desire to serve as a facilitator of learning and to collaborate with colleagues to develop interdisciplinary learning experiences makes her a perfect fit for IgKnight.
That's not the only exciting thing Babich has to look forward to career-wise.
This year, she has been nominated for an Educator of the Year award from the Kane County Regional Office of Education.
With her ability to build relationships with her students and staff and to inspire learning, it was only a matter of time before a full-time teaching job and such recognition came her way.
"She's an integral part of our school community and she exudes warmth and kindness on the students and even the staff," Blackberry Creek Principal Courtney Ward said. "Her bottom line is always doing what's best for the students. She opens up her classroom for other teachers to come in and learn from her. She does a great job of establishing a rapport with the students and parents and staff and has an open door policy."
Babich got her start in teaching in Georgia. After four years, she relocated to Aurora and taught for a couple of years in Oswego before moving to Sugar Grove and having children. After about 10 years out of the classroom, she eased her way back into education by subbing and serving as a reading assistant when her children began attending school.
"The last few years have been hard for educators, for everybody," she said. "So to be recognized means a lot. I put in a lot of time, been on a lot of committees. I've been learning a lot about personalized learning for the district and some of those things. I share it with my team totally because we are pretty collaborative. We do very little isolation work. I have a great group of people, a supportive administration and an awesome school to work at. I'm proud to be recognized and share it."
She may even dance, which is something she'll do in class to ensure the kids are having fun while learning without taking themselves too seriously.
"I do dance a lot," she said. "I can be kind of silly in the classroom. Being goofy and laughing at myself helps."
It has helped her win over her students.
"Content is important, but you must have this passion for learning in school," she said. "We do a lot of community building activities and we try to make sure we have some fun, too. And then every week we do different things so they can talk about themselves. They love to share a bit about themselves."
They also learn while working with one another in Babich's classroom.
"It's teaching them how to find info and problem-solve and how to think and create more and to collaborate instead of just memorizing facts," she said. "They can find information pretty easy these days, so the world of education has shifted a bit now."