GENEVA – Jamie Dunlap became a business teacher at Geneva High School because of a boring accounting instructor – and she took a circuitous road to get there.
"This was, seriously, the best place to teach business classes," Dunlap said of working at Geneva High School. "I'm so passionate about it. I love every aspect of business, and I feel like being in Geneva – I feel like I'm in the Disneyland of business education. … It's just awesome that the administration sees the value in business classes."
In her early days, right out of high school, Dunlap wanted to be a fashion designer.
But she dropped out of college, got married, had children and then ran two small businesses out of her house.
"Deep down, it was always about business for me," Dunlap said. "I was always entrepreneurial."
She ran a cake and dessert business when her children were young and then started a business making Irish dance dresses for solo performances.
Dunlap went back to school for a business and accounting degree while she was in her 30s.
"I was getting close to graduating to be an accountant. I had this one teacher who was just awful," Dunlap said. "It was a business management class and the guy had been a business owner and he had a lot of stories. But when It came time to actually teach, he would sit with a book and read out of a book. I thought, 'I could do this.'"
By then, she told her husband she didn't know if she wanted to be a CPA.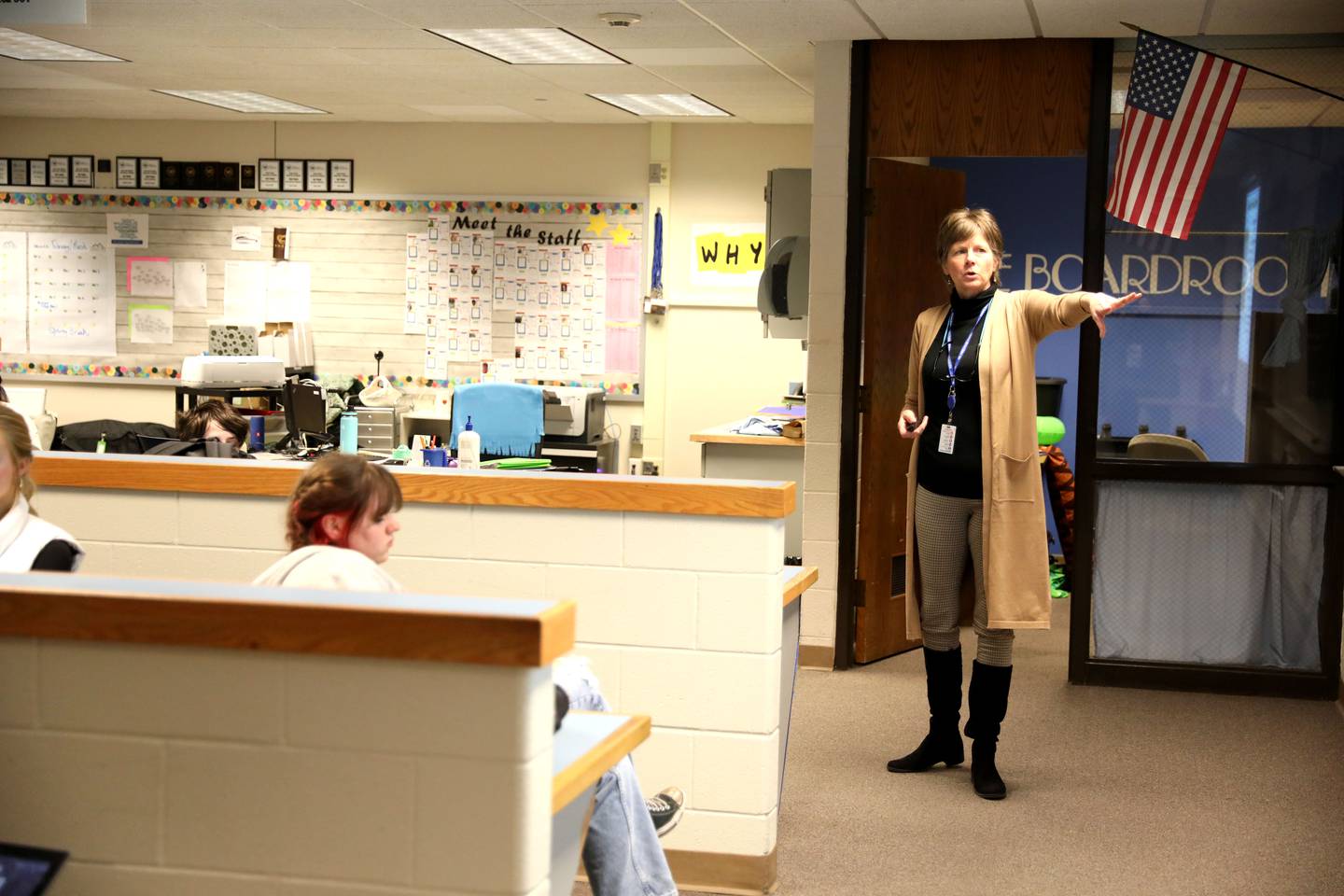 "I was getting this bug for education. I started subbing while my kids were in high school and there was just something that connected," Dunlap said. "I still loved business. I was getting a master's degree in secondary business education from Roosevelt University."
She pulled back on her baking and dressmaking work to focus on teaching – and began teaching in 2008 when she was 44.
Dunlap was laid off from her first two high school teaching jobs – two years at Dundee-Crown and a year at Sycamore. At Dundee-Crown, the district had someone who could teach German and business. At Sycamore, she was let go because of budget cuts.
She started part time at Geneva High School in family and consumer science and then became full time teaching business.
"This opportunity has been golden for me," Dunlap said.
Among the courses she teaches are personal finance and business law. The capstone is the Virtual Enterprises International class, which are student-run corporations.
"They are getting real experience," Dunlap said.
Former student Nour Fayad, 18, praised Dunlap as "the best teacher I've had in Geneva."
"I love Mrs. Dunlap. She is one of the nicest people I've literally ever encountered," Fayad said.
Fayad is a freshman majoring in marketing and management, with a minor in international business at the University of Illinois-Chicago.
Fayad said she learned the nonprofit business model in Dunlap's Virtual Enterprises International class and now is taking it to the next level.
"She helped me get an internship with Virtual Enterprises International," Fayad said. "I'm actually going to the Youth Business Summit in New York."