AURORA – Libby Saloga heard the chorus of a small group of fans cheering her down the runway, clapped her hands together in joy after soaring over the bar and bounced off the landing pit.
Quite an encore to quite a day.
The Rosary senior and two-time state pole vault medalist finalized her college plans earlier April 27, signing her letter of intent with Indiana.
Then, on an ideal evening for competing at West Aurora, Saloga added another chapter to her decorated career. She cleared a career-best 12 feet, 6 inches, matching a 17-year-old record at the 46th Kane County Meet.
"It's been a great day," Saloga said with a wide smile. "My sophomore year I came to Kane County and I jumped pretty well, jumped 12-3. I was going for the record that year and they said 12-6 is the one to beat.
"The 12-6 jump, I really just was focused on the technical process rather than thinking about that it was 12-6 and that I was trying to get that record and that's what made the 12-6 happen. When they put the bar to 12-9, that's when I lost a little focus. But I'm happy with it."
Batavia, which last year won the "Triple Crown" of county, conference and sectional championships, took the first step toward a repeat by taking the Kane County team title with 131 points. Burlington Central was second (81), St. Charles North was third (76) and St. Charles East (67) took fourth.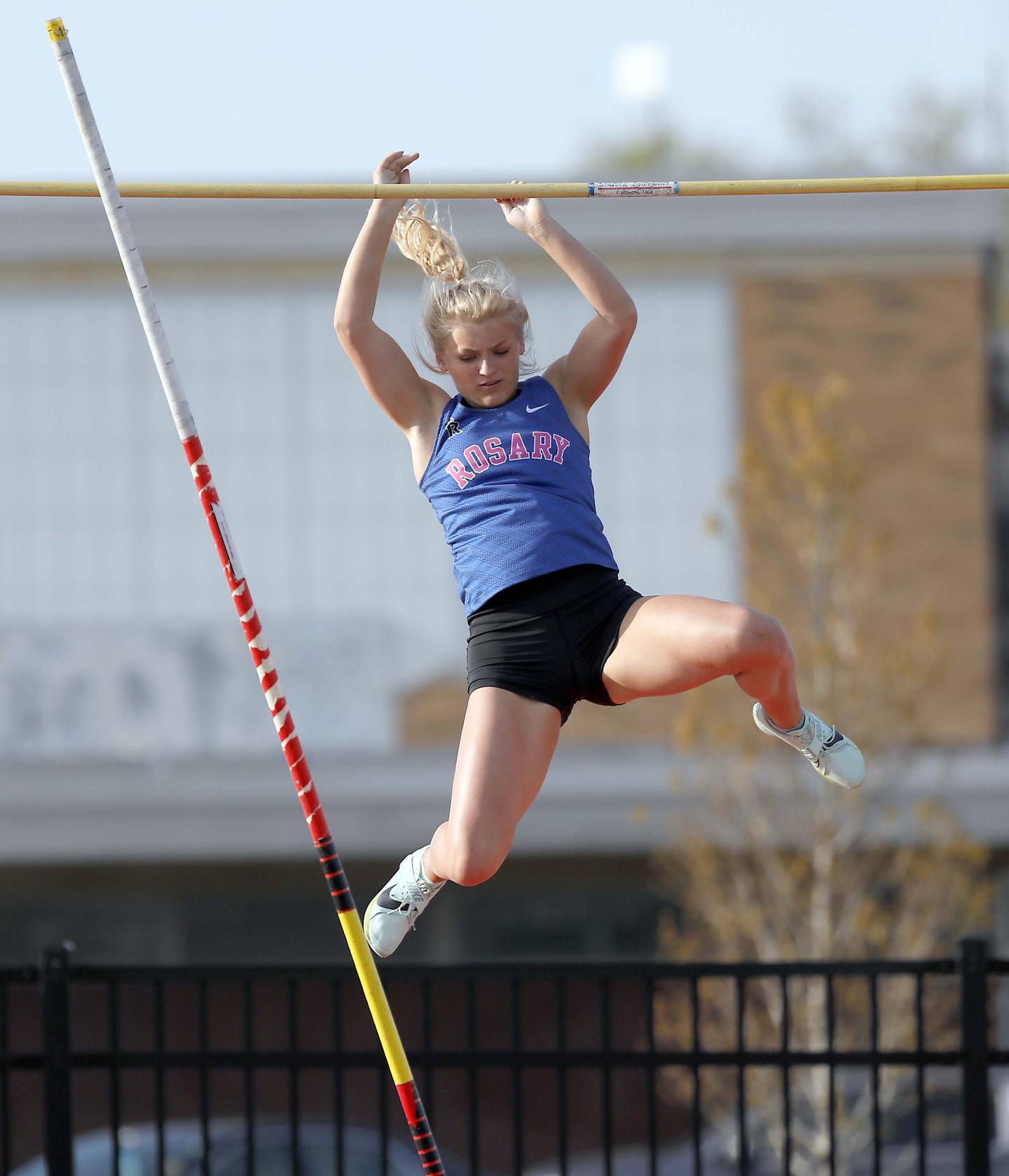 Saloga, second at Class 2A state as a sophomore and fourth as a junior in the pole vault, on April 27 edged her previous career best of 12 feet, 5.5 inches set at New Balance Nationals in March.
The conditions and competition were ripe for a record night.
Saloga was matched against fellow returning state medalist Jessica Phillip of Kaneland, who like her Knights teammate Cora Heller and St. Charles North's Hannah Wallace cleared 11 feet while Saloga raised the bar.
"My first outdoor meet was the Kaneland Invite and me and Jessica are really good friends. It's always fun competing with her," Saloga said. "Today was the best conditions I could have asked for. The last few meets have been cold and rainy. We had a little bit of a tail wind tonight. The weather hasn't been ideal for jumping super high, but now that the weather is getting nice, this makes me excited for what is possible."
On the track, Batavia showcased its speed in the sprint relays and hurdles to run away with the county title.
The Bulldogs, who last year had three relays medal at state, won the 4x100 relay with Mariah Wilson, Elizabeth Wende, Madison Wilson and Izzy Taylor (49.04 seconds), the 4x200 relay with Madison Wilson, Wende, Katie Solano and Delia Fulton (1:47.55), and the 4x400 relay with Brooke Silbernagel, Wende, Alli Olson and Taylor (4:07.86).
"Really great night. We all contributed a lot, double-scored in a lot of events," said Madison Wilson, part of the 4x100 relay state team last year. "We're using this lineup to prepare for conference and sectionals and the other important meets as well."
Wilson, who said she usually runs the 4x400 relay as well, finished her night in style, taking the 300-meter intermediate hurdles in 48.19 seconds – like her two relays a personal record.
"I feel pretty good. Hit a hurdle down there, which wasn't ideal, but proud of how that race turned out," Wilson said. "I probably could have gone out a little harder, but that's for next meet. Usually I have the 4x400 relay, so I was able to use the rest of my energy.
"It's pretty great. This has been a really happy meet for me."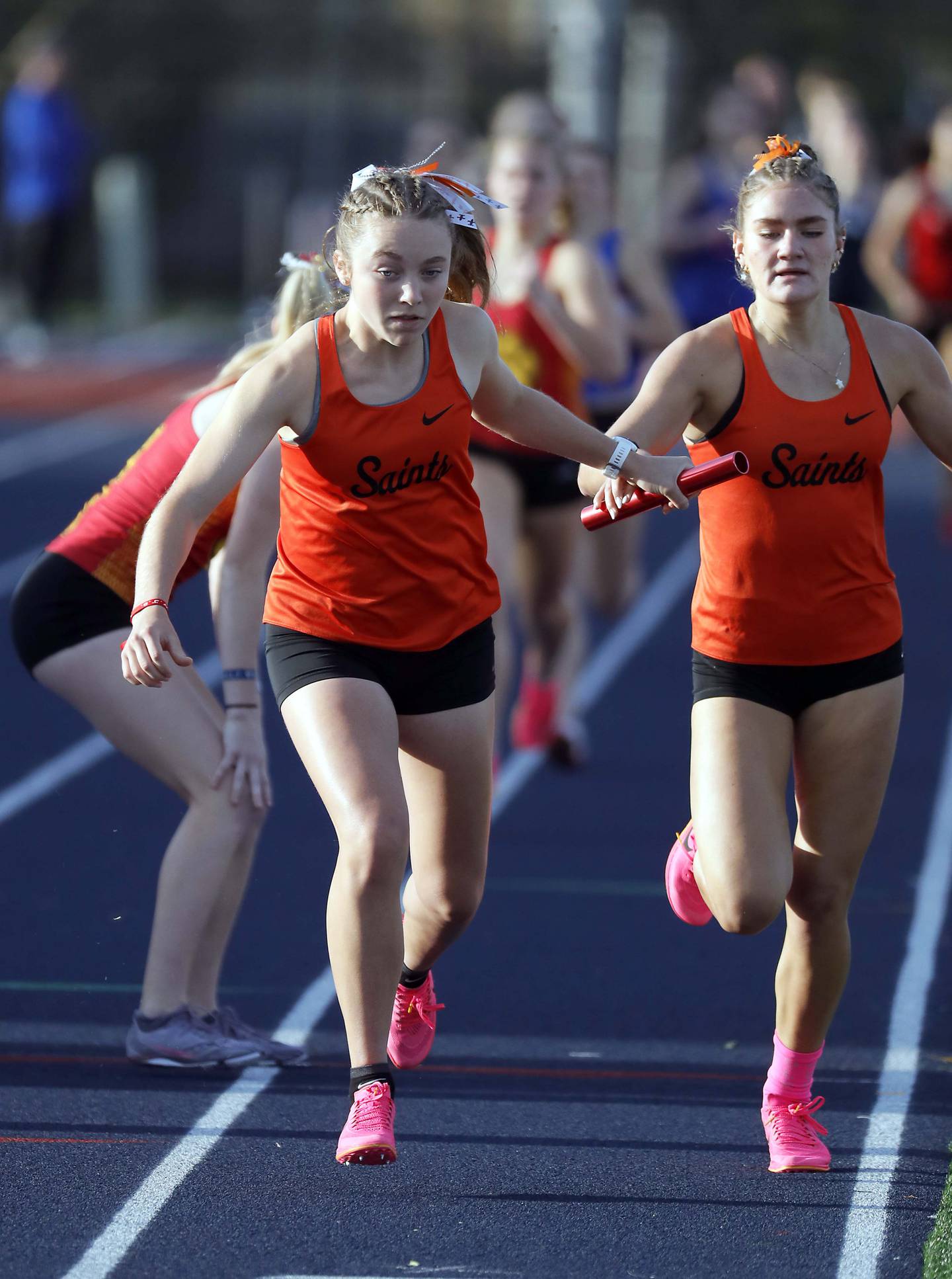 Aurora Central Catholic senior Isabella Orozco likewise turned in a memorable night in her final Kane County meet.
The DePaul recruit won the 800 in 2:18.43 and the 400 in 58.51, then finished the evening off by racing to a 26.28 first-place finish in the 200.
"It's really nice, really cool," Orozco said. "I know I'm competing with a lot of good athletes here. It's a pretty great accomplishment for my last year. The weather was super nice, wasn't really cold like days prior, good running weather. Wish I could have finished stronger in the 800. I always like the 400. It's a full-on sprint."
St. Charles East distance standout Marley Andelman had bookend stellar races on the track.
Andelman ran the lead leg with Lauren Lewison, Morgan Sandlund and Claire Van Lue to deny Batavia a relays sweep. The Saints had three of the four girls PR in taking the 4x800 relay in a season-best 9:40.26.
In the 1,600, Andelman turned on the jets over the final 250 meters, running away from the challenge of Sandlund and Geneva's Sofia Borter for a first-place time of 5:11.08.
"I feel like this year I've been working on my last kick at the end," Andelman said. "It's hard to do without anybody around, but I was really happy with how that went. I found it within myself."
Batavia's Bridget Kosky swept the 100 hurdles (16.69) and long jump (5.49 meters, beating her school record).
St. Charles North's Tosin Oshin won the shot put (11.70 meters).
Burlington Central's Tiana Foreman won the discus (37.75 meters).