PRINCETON – The Putnam County girls basketball team turned the ball over on its first two possessions of the season, but a 3-pointer by Gabby Doyle on the Panthers' third trip down the floor helped right the ship.
The Panthers scored the first 11 points of the game and cruised to a 46-13 victory over Mendota on the second day of the Princeton Holiday Tournament.
"We had those two turnovers to start the game. We had a little bit of jitters there," PC coach Jared Sale said. "Once we got it going, we were really able to push and get things out of transition, which obviously makes our lives easier. Anytime you can get out and get easy layups, that's what you want. I thought our transition offense was really good. Defensively, we controlled the glass, which is something we we talk about on a nightly basis.
"It's the first night, so there's still a ton to work on, but overall, it's kind of what we expected to come out and do tonight."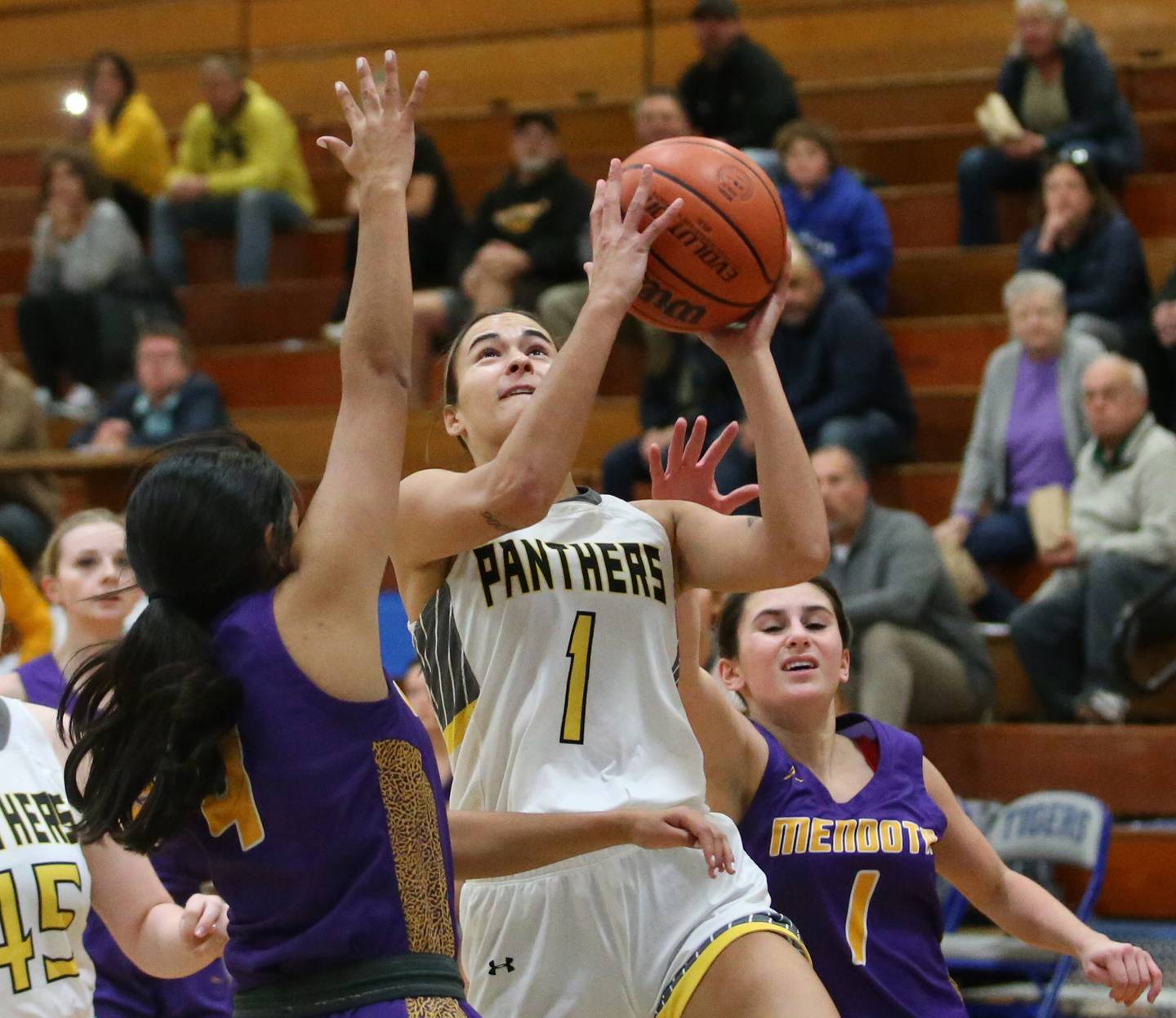 After Putnam County built an 11-0 lead, Mendota got on the board with a jumper by Bria Frey with 1:12 left in the first quarter.
The Panthers led 13-4 after the first eight minutes.
"I thought we played really well for our first game," PC senior Ava Hatton said. "We got out from the beginning and didn't let up. We pushed the ball down the floor and got a bunch of layups, so that really helped.
"It's a good starter game. It's good to get the jitters out and get back into that game feeling sop we'll be ready for [Wednesday] and other games, too."
The Panthers widened the gap early in the second quarter when senior guard Gabby Doyle fed it down low to senior forward Maggie Richetta for three consecutive post buckets.
Putnam County then pushed it down the floor off defensive rebounds on the next two possessions with Doyle scoring on an assist from Eme Bouxsein and Richetta scoring on an assist from Hatton.
"We talk about Ava and what she's able to do, but to have a post presence like that alleviates so much from Gabby and alleviates so much from Ava because now you have to worry about that, and now you have to double that," Sale said. "She's capable of doing that on a nightly basis, and that's huge for what we want to do offensively."
The Panthers kept Mendota off the scoreboard in the second quarter, extending the lead to 25-4 by halftime.
"I thought we rebounded really well, and we didn't give them any second or third chances," Sale said.
The Trojans scored two points in the third quarter and got a putback and 3-pointer from Gracie Wasmer on the first two possessions of the fourth quarter.
"That wasn't us," Mendota coach John Hansen said. "We didn't compete the way we want to compete. We didn't compete the way we competed [Monday]. To come out and get two turnovers to start the game and then be down 11-0 is crazy to me. I don't know if the offense brought the defense down, but that wasn't the energy we had [Monday] night. That's not the energy we have in practice.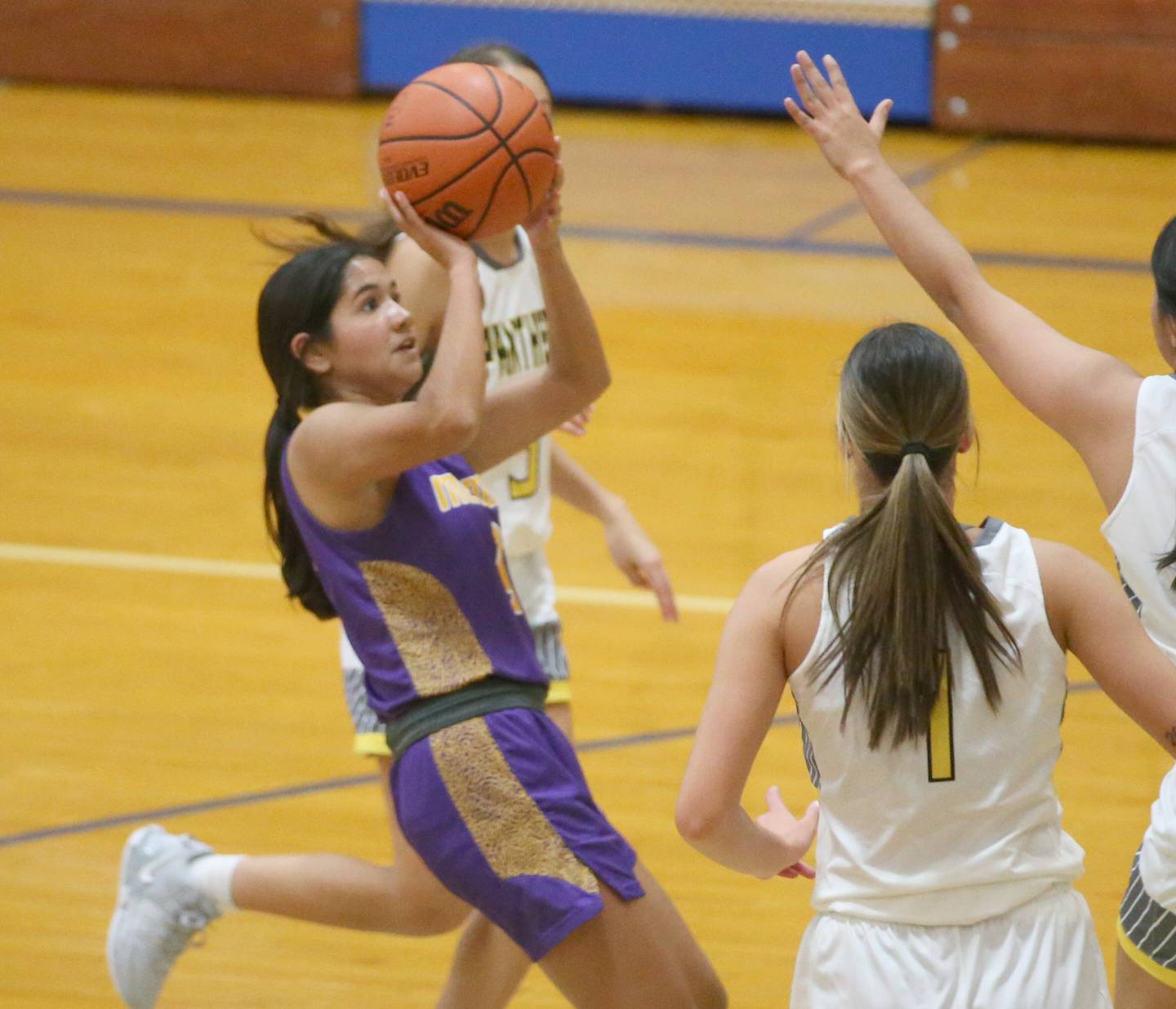 "That's the style of game we're going to have to play. We're going to be outsized. We're going to be a little bit out physicaled, but we can't get outcompeted and outhustled like that."
Hatton finished with a game-high 15 points for Putnam County, while Richetta had 14 points.
"It's funny because we didn't run any of our offensive sets because we just based it off the 1-3-1, so to come out and get transition layups and take what was given to us was really nice to see," Sale said. "It means we don't have to rely on that set every single time. When you look at it that way, I'm really happy with the way we played off each other."
Wasmer had five points for Mendota, which finished 0-2 in pool play.
"I'm excited to watch film with them because there are so many little things that we were very close to things going a lot better if we accomplished, and I want them to see that and hopefully learn from it," Hansen said.