With the Seneca football team preparing for its quarterfinal playoff game the same week as the start of official boys basketball practices, Fighting Irish basketball coach Russ Witte said it was a "we just did what we could" situation.
"We just did a lot of shooting and just worked on the basics with the guys that were available," Witte said of the handful of players not on the football team. "I've had to deal with this situation before, I think 2013. But back then I had more kids that weren't footballs players, so it wasn't the same. To be honest, I was hoping to not get any of those guys back until after Thanksgiving, but it didn't quite work out. Most of them are back, but many of them are still a little banged up from football.
"I believe success breeds success. We are hoping coming off a terrific football season we had that's the case for basketball."
We may not be in top form until the middle of December or even before the Christmas tournament. Basketball legs are way different than football legs, but we will get there eventually."

—  Russ Witte, Seneca boys basketball coach
Seneca is coming off a 28-5 season, the third-most wins in the program's history, in which it finished 7-1 in Tri-County Conference play. Along the way the Irish captured the Seneca Turkey Tourney and Marquette Christmas Tournament championships while reaching its own Class 2A regional championship game before falling to Kankakee Bishop McNamara.
The Irish lost starting guards Braden Ellis and Calvin Maierhofer to graduation and their combined 20 points and eight rebounds per game.
"I feel like the biggest key for us is going to be the guys as a whole having a complete buy-in over the next four months of what we are trying to accomplish, especially on the defensive end of the floor," said Witte, who begins his 15th season. "If we can do that, I think our practices will be much more productive and our games more competitive as well."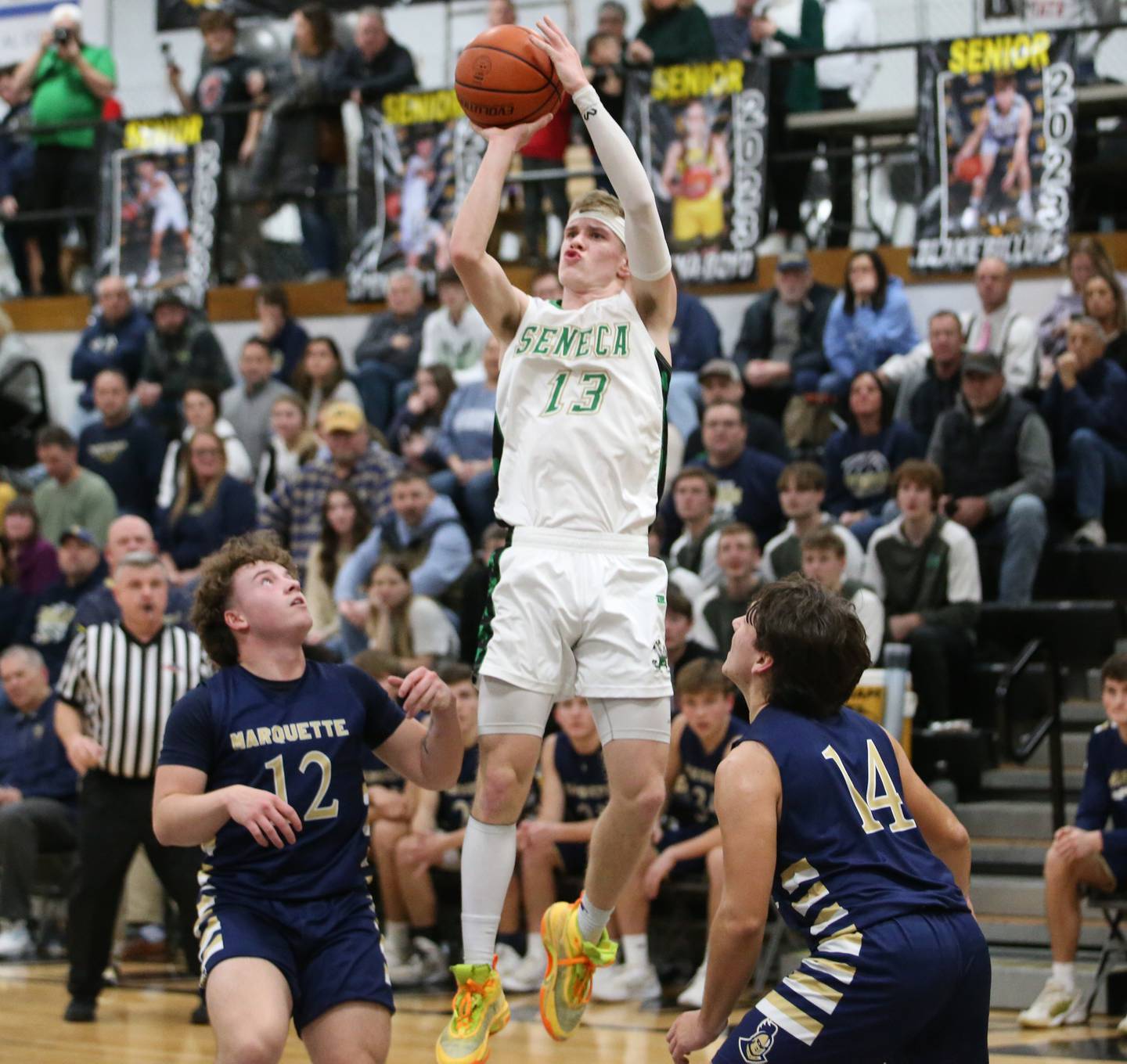 Returning in starting roles for Seneca will be The Times 2022-23 Boys Basketball Player of the Year in 6-foot junior guard Paxton Giertz and senior big men Lane Provance (6-6) and Kysen Klinker (6-4). Giertz, an Associated Press Class 2A All-State honorable mention selection, averaged 18.8 points, 5.6 rebounds, 2.6 steals last year. Provance posted 11.1 ppg, 7.9 rpg and 1.2 blocks, while Klinker registered 6.1 ppg, 5.8 rpg and 1.2 bpg.
"Even with Lane, Kysen and Pax back, we lack some depth as far as varsity floor experience goes," Witte said. "We lost a couple of good players in Braden and Calvin, kids that really filled the roles they had. That said, we have back [6-2 sophomore] Brady Sheedy, who is a tall, lanky kid who got some minutes as a freshman for us and can really shoot the basketball. We also have [5-9 senior] Kenny Daggett, who is a strong, gritty kid who had a really great offseason and is striving to be that slasher-type player we need."
The Seneca roster also will feature seniors Sam Kleich (6-0) and Josh Lucas (6-3), the latter expected to miss some time early in the season after a foot injury suffered late in the Irish's final football game.
Witte is also expecting contributions from juniors John Farcus (6-1), Sebatian Deering (6-5) and Grant Siegel (6-2), as well as sophomores Cameron Shriey (6-1) and Bradyn Simek (6-2).
"Offensively, we are going to have to find better ways of adjusting when teams decide they are going to focus on stopping Paxton or Lane," Witte said. "Defensively, we are still going utilize our ball press, but I think we are also going to mix up our defenses a little more this season."
Seneca opens at its own Turkey Tournament at 7 p.m. Tuesday against Herscher before playing Hall at 5:30 p.m. Wednesday, against Somonauk at 7 p.m. Friday, and bracket play Nov. 25.
"We may not be in top form until the middle of December or even before the Christmas tournament," Witte said. "Basketball legs are way different than football legs, but we will get there eventually."