Princeton moved one step closer in defending its championship of its own Holiday Tournament, defeating Putnam County 56-32 Thursday night at Prouty Gym.
Down 25-21, the Tigresses outscored the Panthers 35-7 in the second half to roll into Saturday's finals in which a win over Erie-Prophetstown will give them a repeat championship.
"We were just fired up (in the second half) and we really wanted to win. We want to win this tournament. We'll do anything to it takes to win," senior Miyah Fox said.
PHS coach Tiffany Gonigam said it was nice to see her team take off like that.
"That was the kind of basketball that people are used to see them play and these kids are used to playing," she said. "I think we saw tonight, they don't like to lose. They came out with a lot of fire second half and I was really happy to see them battle back."
Sophomore Keighley Davis (21) and Fox (17) combined for 38 points to lead the Tigresses in victory. Davis also had a team-high seven steals and five rebounds.
The Panthers (2-1) had the upper hand at halftime, leading 25-21 behind Maggie Richetta's 13 points. They scored first in the third quarter to go up six.
Then the Tigresses turned the tide.
PHS closed the third quarter on a 17-2 run, capped by a Olivia Mattingly's 3-pointer to go up 38-28 at quarter's end.
The Tigresses kept their foot on the gas pedal with a pair of 8-0 runs, with Davis running the break for eight points. Fox added six points with an assist to Paige Jesse for the final hoop of the night.
"I know we went into the locker room and had certain goals that we had to meet. We held them to seven points in the second half," Fox said.
On a night they didn't shoot particularly well, especially behind the arc (2-20, 10%), where they had been red hot in their first two games, Gonigam said PHS really needed their defensive pressure to get its offense going.
"We were able to put them in the fullcourt again and I think that really sparked things on defense," Gonigam said. "We held them to about seven points in the second half. When we're getting steals on defense that helps us convert better on offense."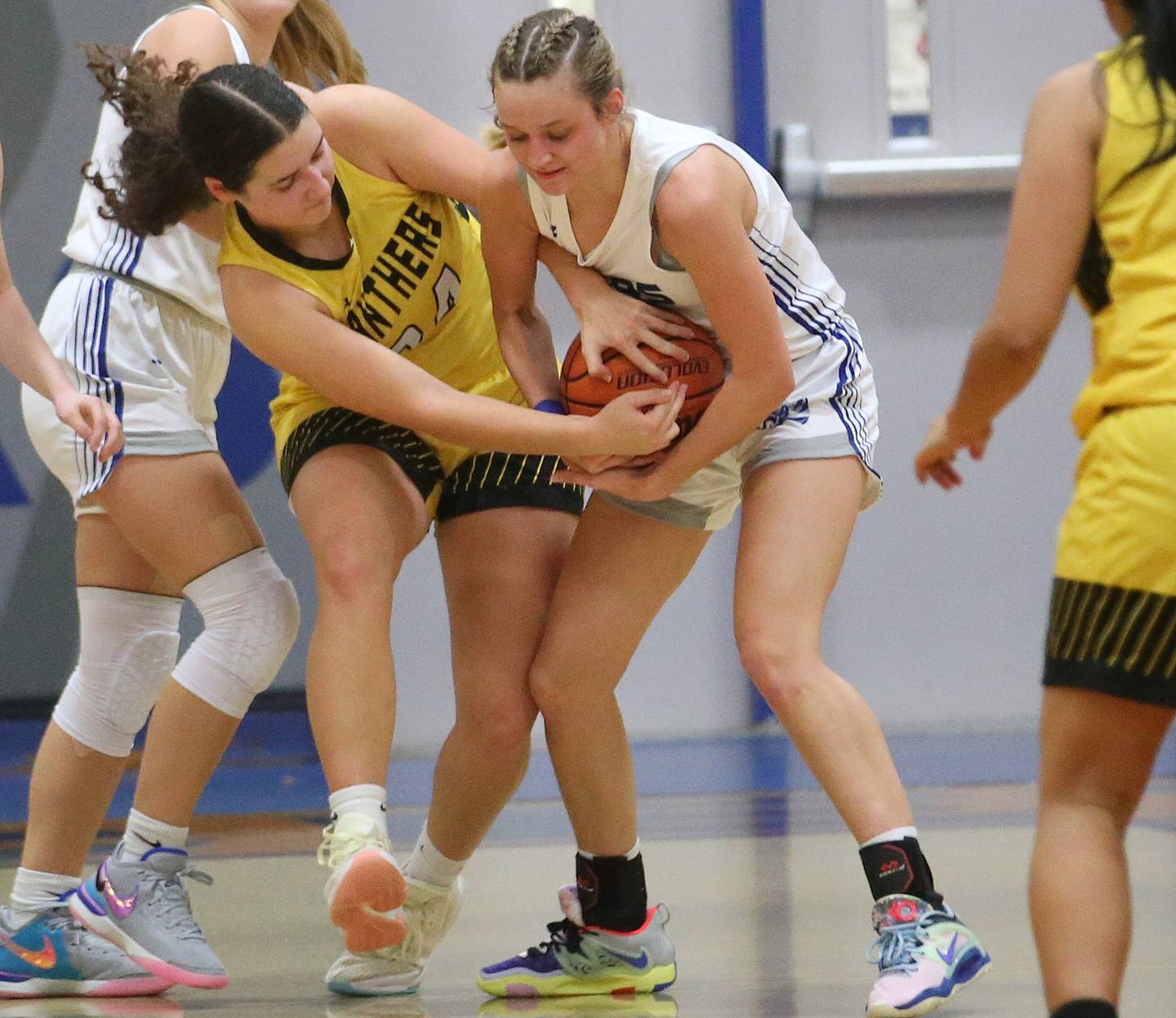 PC coach Jared Sale said the Princeton pressure got the best of them in the second half.
"We had them on the ropes there in the third quarter. We had broken their press earlier in the game. Made them get out of it, right? We just kind of let it consume us a little bit," he said. "It's not a secret we struggled with that previously. We've got some work to do there. We handle the pressure a little bit better, obviously it's a completely different game.
"You've got to give credit to them. They created some momentum for themselves and they just kept it rolling. It's hard to get the train off the tracks once it got going."
Richetta was held to three points in the second half, finishing with a team-high 16.
For Princeton, now it's on to the championship game Saturday against E-P, which will meet PC on Friday.
"I'm thrilled and I'm sure the girls are, too. To be honest we really haven't talked about it a lot," Gonigam said. "We knew this was going to be a tough challenge for us tonight. It was kind of focus on this game plan and tomorrow and get to work and talk about the opportunity we have to play for the championship."
In other games Thursday, Mendota beat Streator, 23-16, and Midland beat Stark County
The tournament finals will start at 4 p.m. Saturday with the seventh-place game and the Princeton/Erie-Prophetstown game to decide the championship at 7 p.m.
Bureau Valley and Midland will meet for the F/S championship at 1:30 p.m. Saturday.