It's finally here.
Four state champions will be crowned Saturday as part of the IHSA's new format for its basketball state tournaments. The first Championship Saturday in Champaign.
The IHSA could not have scripted a better finale.
Glenbard West (36-1), No. 1 all season, against Young (25-9), the preseason No. 2. A four-time state champion from the city against the suburban sensation that's been the story of Illinois basketball all season.
For Glenbard West, it's the culmination of a journey that goes back to grade school. Senior starters Caden Pierce, Paxton Warden and Ryan Renfro have played together since fourth or fifth grade, with Braden Huff since sixth grade. The four boys won a state championship as eighth-graders. Glenbard West lost just one game during the shortened 2021 season and has not lost a game to an Illinois team this season.
"We've finally got to the point where we can finish what we started and set out to do back in sixth or seventh grade, when we talked about it," Glenbard West coach Jason Opoka said. "In eighth grade we met about it and tomorrow we have an opportunity to obtain it. It's really special."
Glenbard West dominated the summer scene last June, and came into the season No. 1, an unusual distinction for a suburban school known more for football. The Hilltoppers have more than lived up to the hype. Of their 36 wins, 29 have come by 20 or more points, including every playoff win.
Bolingbrook coach Rob Brost, whose team lost to Glenbard West 77-47 in Friday's semifinal, can bear witness to just how difficult it is to compete with the Hilltoppers.
"You can prepare all you want, get pool noodles and do all the stuff that we did," Brost said. "But on the floor live it's a different beast, and when they're hitting shots like they were (in Friday's semifinal) they're almost impossible to beat."
Glenbard West's most impressive win of the season was its 74-59 win over Young on Jan. 22 at the When Sides Collide Shootout. Gonzaga recruit Braden Huff and Princeton commit Caden Pierce were both spectacular in that one, with 31 and 25 points, respectively, in a game that the Hilltoppers dominated from the start.
It was a humbling loss for Young. Dolphins' head coach Tyrone Slaughter talked to his players in the locker room afterward for at least an hour.
Since then, Young has been a different team. It beat Kenwood for the city championship, and again in a supersectional. The Dolphins rallied from seven points down at halftime Friday to beat Barrington, a team that had upset second-ranked Glenbrook South in the supersectional.
The Dolphins, with 6-foot-8 Miami (Fla.) recruit AJ Casey and 6-8 NIU commit Xavier Amos, have size that few teams possess to match Glenbard West's. Daniel Johnson, a 6-foot-6 junior, who did not play in the first Glenbard West game because of an injury, was big in the city championship and had 10 points and four rebounds Friday.
"They're obviously a great team – they have made it to a state championship for a reason," Pierce said. "And they're also obviously a lot better than when we played them in January and they were missing one of their starters so they're a completely new team. It's going to be a challenge for us. We're excited about the opportunity."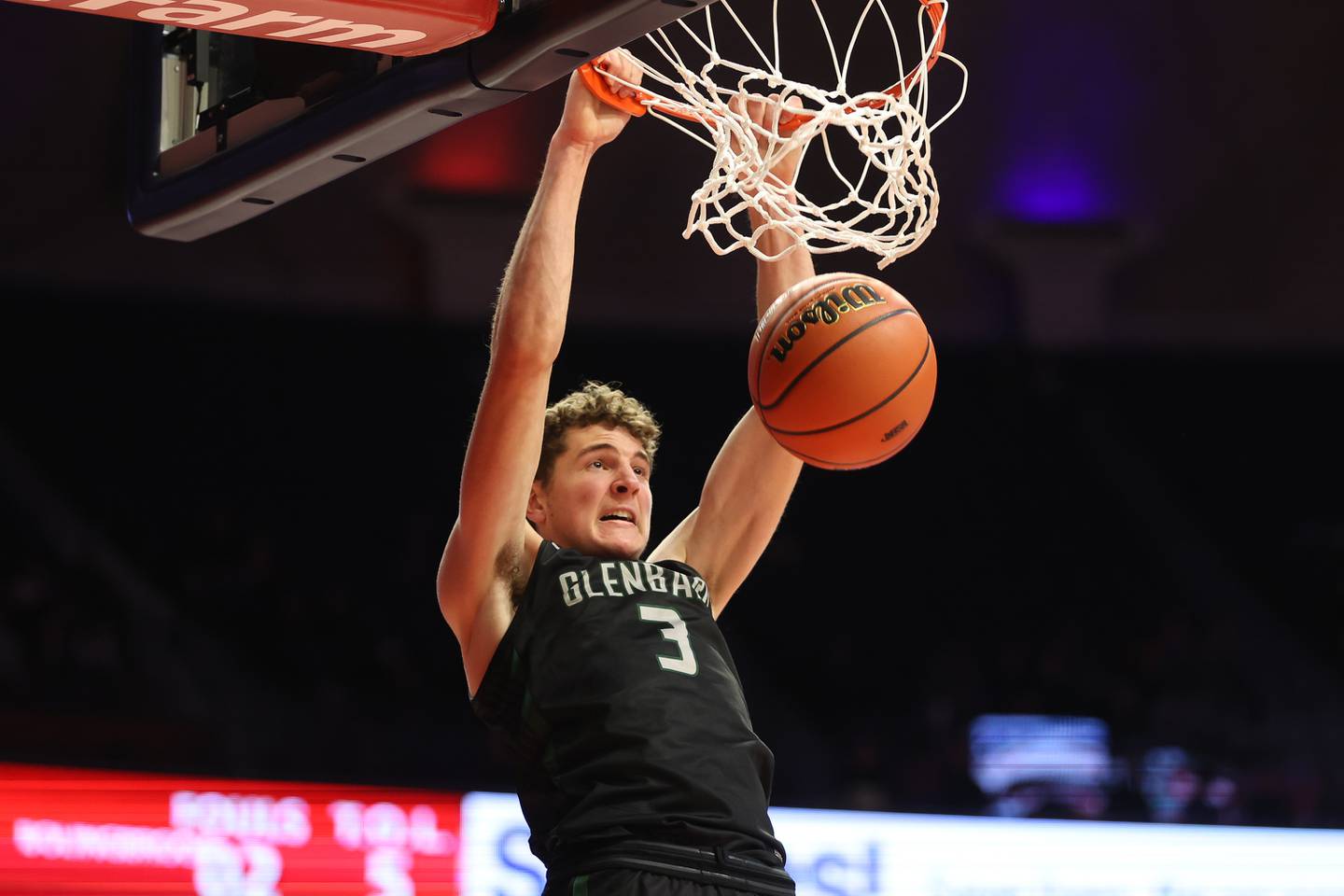 Here is a breakdown of the two teams:
Glenbard West
Record: 36-1
Scoring leaders: Braden Huff (16.2 ppg), Bobby Durkin (12.6 ppg), Caden Pierce (12.0 ppg), Paxton Warden (11.3 ppg)
Rebounding leaders: Braden Huff (5.9 rpg), Ryan Renfro (4.9 rpg), Caden Pierce (4.9 rpg)
Assists leaders: Caden Pierce (5.3 apg), Bobby Durkin (3.5 apg)
NOTE: Stats going into the weekend.
Path to championship game: Defeated York 64-26 for regional championship; Defeated Wheaton Warrenville South 68-41 for sectional championship; defeated Larkin 60-34 in supersectional; beat Bolingbrook 77-47 in state semifinal.
State Finals history: First state tournament appearance.
Worth noting: Of Glenbard West's 36 wins, 29 have come by at least 20 points – including all six of the Hilltoppers' playoff wins. Glenbard West could become the first boys state basketball champion from the West Suburban Conference since Proviso East won back-to-back titles in 1991 and 1992. Glenbard West can join some pretty lofty company with a win, state champs unbeaten against Illinois teams. The last to do so was E.J. Liddell led Belleville West in 2018. Prior to that, it was Simeon led by Jabari Parker in 2012. Braden Huff was one of two Illinois players across all four class to be named on every Associated Press All-State ballot, the other being Yorkville Christian's Jaden Schutt in Class 1A.
Young
Record: 25-9
Scoring leaders: Xavier Amos (11.4 ppg), AJ Casey (10.7 ppg), Dalen Davis (10.5 ppg)
Rebounding leaders: AJ Casey (8.0 rpg), Xavier Amos (6.3 rpg)
Assists leaders: Dalen Davis (6.0 apg), Xavier Amos (3.0 apg), AJ Casey (3.0 apg)
Path to championship game: Defeated Downers Grove North 59-40 in regional championship; defeated Lyons 67-54 in sectional championship; defeated Kenwood 75-62 in supersectional; beat Barrington 51-47 in state semifinal.
State Finals history: DNP in 1997 (AA); 1st in 1998 (AA); DNP in 2000 (AA); 1st in 2009 (4A); 2nd in 2010 (4A); 1st in 2014 (4A); 1st in 2017 (4A); 2nd in 2018 (4A).
Worth noting: AJ Casey, a 6-foot-8 Miami (Fla.) recruit, is the fourth-ranked senior in Illinois, according to 247Sports, behind Thornton's Ty Rodgers, Yorkville Christian's Jaden Schutt and Huff. He was the second-leading vote getter behind Huff on the Class 4A AP All-State team. Xavier Amos, a second team All-Stater, will play collegiately at NIU. Of Young's nine losses, seven came to out-of-state teams – including Sierra Canyon, who also handed Glenbard West its only loss. The Dolphins avenged a December loss to Kenwood with a win in the Chicago Public League championship game, and again in the supersectional Monday. Young is the only Chicago Public League team in a final – the last time the Chicago Public League did not have a state champion was in 2005. It's never happened since the IHSA expanded to four classes.