Prairie Ridge senior Sam Schultz could be considered the consummate teammate.
Schultz is there to pave the way for running backs on the offensive line for the 3-0 Wolves, who were No. 7 in The Associated Press Class 6A poll.
He also is there on the defensive line, plugging gaps for a unit that has allowed 21 points over the past two games.
And if any teammate ever needs help with math, Schultz is willing and quite able to be their man.
"When we have the eligibility lists and any kids are getting poor grades, he's like, 'I will tutor you in math. Come and see me,' " Prairie Ridge coach Chris Schremp said. "You don't have many high school kids who would make that blanket announcement. That's the kind of kid he is."
Schultz took a job this year at Mathnasium in Cary, where he works with younger students on math. He also has helped Prairie Ridge students at the school's STEM Center. He wants to pursue something in engineering architecture in college where he can utilize his love of math and design.
Schultz scored in the top 3% on the SAT and has a 4.5-plus GPA.
"I like tutoring math. It's not anything high-stress," Schultz said. "I'm fairly good at math, so if kids are confused on certain topics it's really fun to help them show patterns and figure stuff out through different methods."
Illinois, Minnesota, Virginia and Virginia Tech are some of the top schools on Schultz's list for next year.
So far, no teammates have asked Schultz for math help, although he takes that as a sign that they are faring well in their classes.
Meanwhile, Schultz and his linemates have been proficient at moving defenses out of the way. The Wolves have three 100-yard rushers in their first three games and running back Zach Bentsen broke loose for 218 yards and three touchdowns in Friday's 27-7 win at Huntley.
"It's nothing too unique," Schultz said. "We've been coached up all summer on how to run our offense really effectively and how to get good push off the line of scrimmage. Coach Schremp does a good job keeping us humble with Saturday film sessions, letting us know what we've done wrong and what we need to improve on."
An incredible half: Cary-Grove demonstrated why it is ranked No. 1 in Class 6A with a first half that was unheard of. The Trojans had the ball for 2 minutes, 15 seconds, and scored four times on seven plays in their 48-14 win over Crystal Lake Central.
"I've never seen anything like that," C-G coach Brad Seaburg said, walking off the field at halftime.
Central moved the ball at times, but could not finish any drives until the second half. When the Trojans got the ball, they made it all look too easy, scoring on drives of three, two, one and one play. The defense also scored on Richard Moser's 65-yard interception return.
"We were pushing them up front and opening those holes for the running backs," offensive lineman Zach Petko said. "It worked. The energy was definitely there."
Tough situation: CL Central lost senior quarterback Colton Madura to what appeared to be some kind of hip injury just a few plays into the game. Tigers coach Jon McLaughlin did not have an update yet on Madura as of Saturday.
Sophomore Jason Penza, who started at wide receiver, moved to quarterback. Given that it was his first varsity game, on the road against a state powerhouse, Penza played well. He completed his first seven passes and finished 21 of 28 for 315 yards and two touchdowns. He was intercepted twice.
"Normally, he's our backup quarterback," McLaughlin said. "His [practice] snaps are limited. Colton gets the majority of them. We try to keep [Penza] ready.
"He's going to be a good one for us in the future. I don't know if the future's now or if it's a year from now. It was tough. I thought he did well being thrown into that situation at the time."
Making his point: A 5-foot-7, 150 pounds, Prairie Ridge quarterback Mason Loucks's physical stature probably doesn't strike fear into the hearts of opposing defenses.
But when the shifty Loucks has the ball in his hands, everyone takes notice.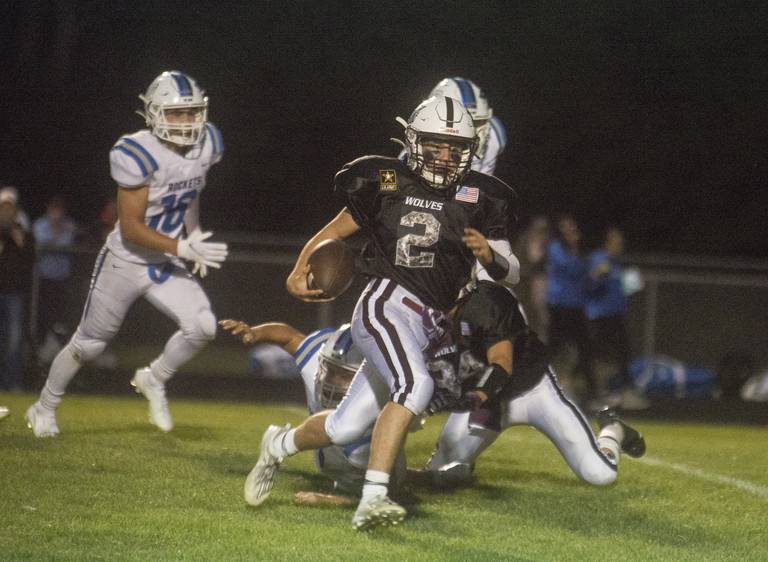 Loucks, who rushed for 82 yards and one touchdown in Friday's win over Huntley, was pressed into service just before the season began when Tyler Vasey went down with an injury. Loucks's quick development has led Prairie Ridge to once again looking like one of the top teams in Class 6A.
"It's really kind of crazy how well he has adapted," Schremp said . "He got no – none – reps during the summer, but one thing we know about Mason is that he's a gamer. He's a point guard on our basketball team, and he distributes the ball there very well. He does the same thing for us. He's done whatever we have asked him to do."
Loucks has rushed for 325 yards and six touchdowns, and the Wolves have reached 400-plus total yards in every game.
On the board again: Huntley's offense has struggled to put points on the board. When quarterback Sam Deligio hit Joshua Witt with a 41-yard scoring pass in the fourth quarter Friday night, it ended a string of eight quarters without an offensive score. The Raiders scored 16 points in Week 2 against McHenry, but one of the touchdowns was an interception return and the other came on a blocked punt return.
In its past two games, Huntley has rushed for 132 yards on 59 carries, a 2.2-yard average.
"In all of our games, we've seen the pieces, but we just need to put it all together," Huntley coach Matt Zimolzak said. "We have two sophomores on our offensive line, and they're starting to get their feet on the ground. And you have to remember that this was Sam's third game in our program. He is starting to learn it and starting to get better."
Huntley had two prime scoring opportunities go by the wayside Friday. The Raiders had a first-and-goal from the 1, but failed to score, and then later in the game fumbled on the Wolves' 1.
"When we get inside the 5-yard line we have to put the ball in the end zone, Zimolzak said."
• Sam Natrop contributed to this report.