Bears chairman George McCaskey laid out his plan Monday afternoon, hours after firing general manager Ryan Pace and head coach Matt Nagy.
The Bears have created a panel of five individuals who will oversee the hiring process for both positions. That process will begin immediately. Four of the individuals on the panel are full-time employees of the team, while another is an outside advisor.
Ultimately, the decision will fall on McCaskey to hire the right general manager and the right coach. But he will lean heavily on the fellow members of his panel.
Who are they and what exactly to they do? Here's a little bit about each of them.
[ George McCaskey on Bears coach, GM search: 'Decision on the hiring ultimately is mine' ]
George McCaskey
George McCaskey is the Bears' chairman and the team's top decision maker. He is the voice of the McCaskey family, which owns the team. He is one of 13 grandchildren of NFL founder and Bears patriarch George Halas, and he is the son of Ed McCaskey and Virginia Halas McCaskey.
He worked his first part-time job for the team when he was 14. McCaskey later worked in the ticket office for 20 years and served as the team's senior director of ticket operations before becoming chairman. He has been on the team's board of directors since 2004.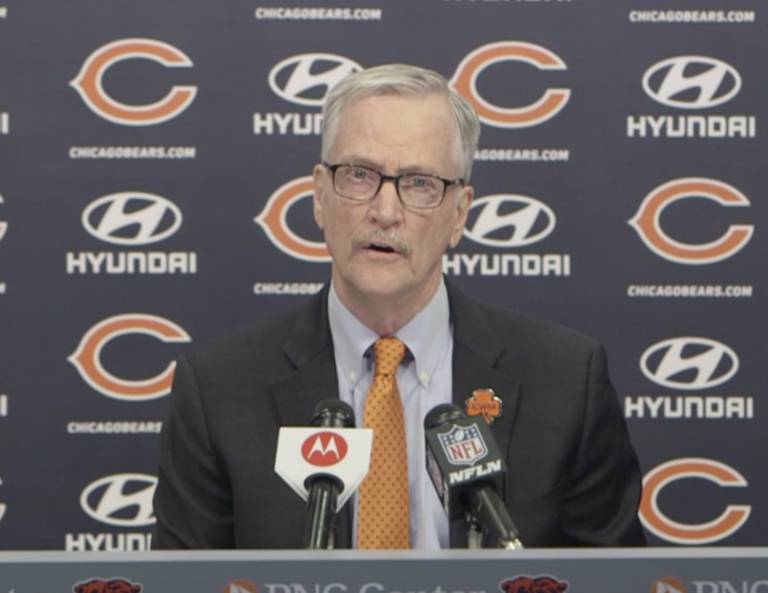 McCaskey earned a bachelor's degree in broadcasting from Arizona State in 1978 and a law degree in 1981. He previously worked in television news and as an assistant state's attorney in Lee and DeKalb counties before joining the Bears as a ticket manager in 1991.
McCaskey took over as chairman in 2011, taking the reigns of the team from his brother, Michael McCaskey, who held the job from 1999 to 2011. Since taking over, he has hired two GMs (Phil Emery and Pace) and three head coaches (Marc Trestman, John Fox and Nagy).
Ted Phillips
Ted Phillips has been the team's president since 1999. He is the fourth president in team history after Michael McCaskey, George "Mugs" Halas Jr., and team founder George S. Halas.
His role primarily focuses on the business side of the organization. That being said, he has participated in the hiring process for head coaches and general managers since becoming president.
Phillips has worked for the team for more than 35 years. He was first hired in 1983 and served as the director of finance from 1987-93. He was the vice president of operations from 1993-99. During that time he handled contract negotiators and team finances, according to the team.
He was instrumental in negotiating a deal for renovations at Soldier Field two decades ago. In recent years, he has overseen the renovations at Halas Hall, the team's training facility in Lake Forest, and he is currently spearheading the effort to purchase land in Arlington Heights for a new stadium.
McCaskey made it clear, again, that the organization has no intention of distancing itself from Phillips. McCaskey said Monday, "I trust Ted implicitly."
"I have great respect for his judgement, his analytical skills, his instincts when it comes to the people that we're interviewing, and in the end he'll be negotiating the contract of the general manager and the head coach," McCaskey said.
Bill Polian
Bill Polian was a longtime NFL executive who previously served as the general manager of three different NFL teams. Notably, he oversaw the late 1980s and early 1990s Buffalo Bills teams. During his tenure, the Bills lost in the Super Bowl three consecutive seasons. He was fired after the third trip to the Super Bowl before the Bills went on to reach another Super Bowl the following year.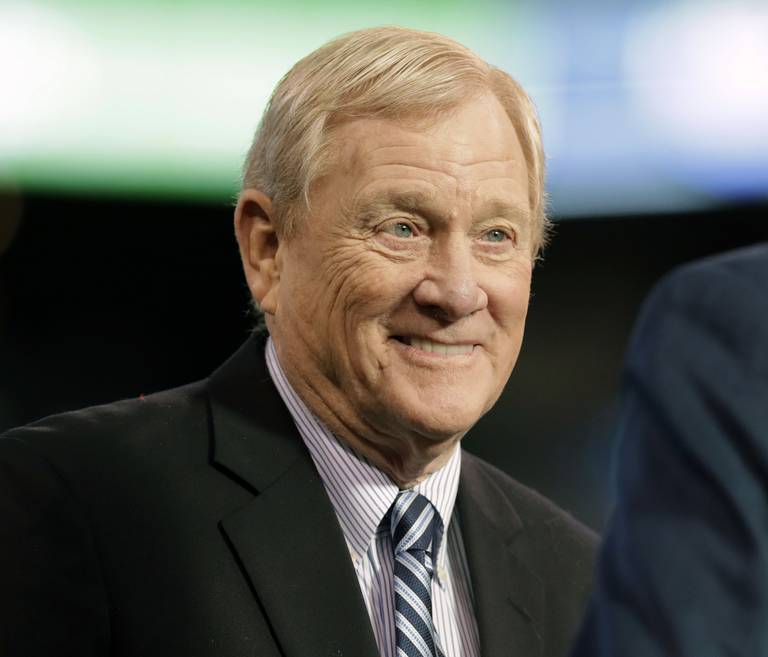 Later, he was the GM and team president of the Indianapolis Colts from 1998 to 2011, overseeing a highly successful period for the Colts that included a Super Bowl XLI victory over the Bears.
He has not worked in an NFL front office since the Colts fired him in 2011. Polian was an ESPN analyst from 2012-19. He co-founded the Alliance of America Football in 2018, a spring league that ultimately shut down before its first season was completed in 2019.
He has a new book out "Super Bowl Blueprints: Hall of Famers Reveal the Keys to Football's Greatest Dynasties," which McCaskey referenced several times during his news conference Monday.
McCaskey said he began speaking with Polian for advice sometime during the 2021 season, but did not specify when.
"When we called him out of the blue, he was asking us detailed questions about our roster, about our injury situation with particular players," McCaskey said. "He was very much up on the game in general and the Bears' situation in particular. So I think we'll be in good hands leaning on Bill to help us make this decision."
LaMar "Soup" Campbell
LaMar "Soup" Campbell has been the Bears' director of player engagement since 2017. He played cornerback for the Detroit Lions from 1998-02. He grew up outside of Philadelphia before playing college football at Wisconsin. He signed with the Lions in 1998 after going undrafted.
As a player, Campbell appeared in 64 games for Detroit. He had one interception in his career, a pass from Green Bay quarterback Brett Favre that he returned 42 yards for a touchdown during a game in 2000.
Campbell earned an undergraduate degree and a Master's from Wisconsin. The Wisconsin athletic department hired him as an intern in 2015 before making him the assistant athletic director of student-athlete engagement in 2016.
In his current role with the Bears, Campbell helps players navigate life on and off the field. He serves as the liaison between the football, business and game day operations. He assists the front office in evaluations of college and professional players. He also helps create opportunities for players to advance their careers through community service, entrepreneurship, financial literacy, media relations and assists in the transition to life after the NFL. He is a co-chair on the Bears' diversity, equity and inclusion team.
"The primary responsibility for [Campbell] will be can this person, both the general manager and the head coach, lead these players?" McCaskey said.
The glue that holds our team together.

LaMar "Soup" Campbell's role as director of player engagement has never been more crucial - and appreciated - than right now.

— Chicago Bears (@ChicagoBears) June 5, 2020
Tanesha Wade
Wade is the Bears' senior vice president of diversity, equity and inclusion. She has worked in sports for more than 20 years and has been with the Bears since 2013. She previously worked as the team's director of events and entertainment.
Wade grew up in Des Moines, Iowa, and earned a business degree from Oregon State in 2000, according to an article on the team's website. She began working for the Iowa Barnstormers arena football team first as an intern in 2000 and later as a full-time business assistant. She later worked full-time jobs with the Chicago Rush of the Arena Football League and the athletic department at the University of Minnesota before landing a job with the Bears in 2013.
She is also a professor at Northwestern, where she teaches sports management.
"She's just getting her feet under her in her new role as senior vice president of diversity, equity and inclusion," McCaskey said. "This will be a great learning experience for her. But these hires are so important that I felt it was important to involve her in the process."