The Bears made significant additions at wide receiver and offensive line, but this offseason was largely devoted to upgrading their defense.
One can argue the plan makes perfect sense considering the Bears had the NFL's top-ranked run game – their only significant success in 2022 – and the league's 32nd-ranked run defense.
No one can argue upgrading the run defense wasn't a must. It had to be done.
But feeling good about the offense's top-ranked ground game would have been a risky proposition. The Bears didn't, and that makes great sense, too.
The Bears' ground game was the best in the NFL last season because quarterback Justin Fields was the best rushing QB in the league, racking up 160 carries for 1,143 yards and eight touchdowns.
Take away Fields' ground success and the Bears drop well into the bottom half of the league running the ball.
There is nothing wrong with having a great rushing QB. In fact, finding one appears to be a trend in the league. But it can come with great risk to your passing game and can significantly increase the odds of getting the most important player on your team – the QB – hurt.
If Fields is to become the player the Bears are dreaming about, he needs to run the ball less. A lot less. But if they are going to notably improve the league's worst passing game, they can't afford a step back in the running game.
Quietly and inexpensively, that is exactly what general manager Ryan Poles has worked to ensure over the past few months.
It just might work out well.
Poles let starter David Montgomery leave via free agency because he would have been expensive to keep. Montgomery also was just better than average. Over four seasons, he averaged a little less than 4 yards per carry, and despite the fact he was an excellent leader and benefit in the locker room, Poles knew he could get more for less.
In fact, he did.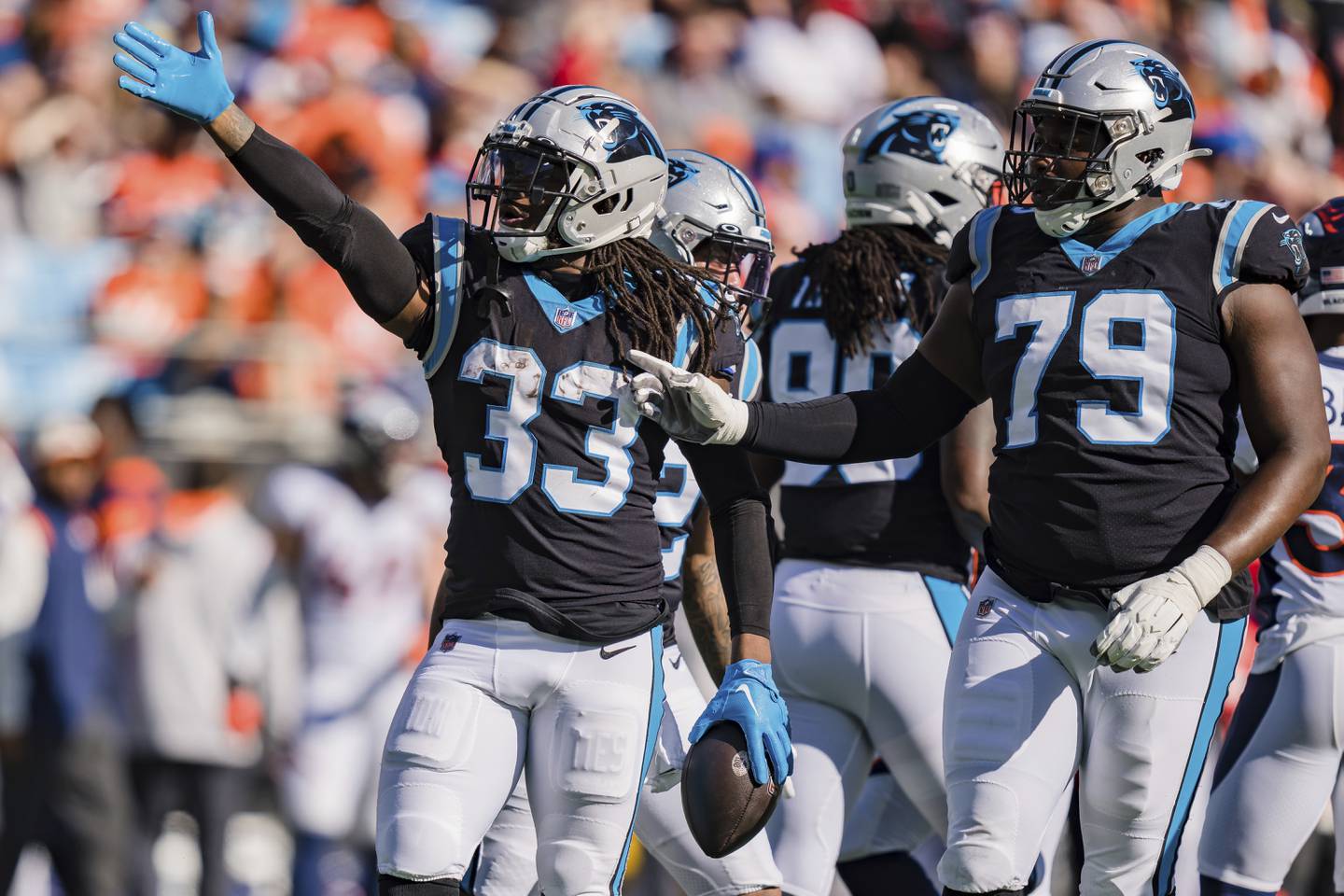 The Bears didn't sign D'Onta Foreman in free agency just because he was Carolina teammates with DJ Moore, Fields' new No. 1 wide receiver.
They added more size, with Foreman checking in at 6 feet, 235 pounds. They also added more production after he rushed 203 times for 914 yards – more than half a yard per carry more than Montgomery last season.
Foreman has a lot more tread left on his tires, having notched only 43 games and 443 carries over the past five seasons because of injuries. That's less than half the carries of Montgomery, who also comes with injury risk.
It also is time to start paying more attention to Khalil Herbert, who last year in only his second season as a Bear rushed for 731 yards and four TDs on 129 carries. He led NFL running backs in yards per carry at 5.7.
Yes, Herbert has been a nonfactor as a blocker and receiver, but his average per carry suggests a special athlete who can improve there. At only 25 years old, it could be pretty exciting having a big play waiting to happen in Herbert behind a 235-pound Foreman in the starting lineup.
What can we expect from fourth-round draft choice Roschon Johnson out of Texas? No, he's not his Texas teammate Bijan Robinson, the player I kept dreaming about.
But Johnson did rush 392 times for 2,190 yards and 23 TDs as a backup in four seasons. He is 6-2, 223, an excellent special teamer, blocker and receiver. A potential steal, he also is the reason teams have become reluctant to spend first- and second-round picks on running backs.
If the Bears' offensive line is vastly improved – and it has a chance to be – they could once again be one of the league's best running teams with Fields running the ball half as often or even less than he did last season.
Why is that important?
Because it will dramatically enhance the Bears' chances to significantly improve the league's worst passing game.
With defenses forced to deal with a top running game, Fields would be able to stand in the pocket far more often and allowed to read the field and develop into a weapon throwing the ball rather than running with it.
Are there a ton of ifs in this plan?
Sure, but they are all necessary if the Bears are going to complete a successful rebuild and Fields is going to become a franchise quarterback.
Is there any question that should be Poles' plan?
• Hub Arkush is the senior Bears analyst for Shaw Media and ShawLocal.com.