One hometown hero is coming home and there's a new Pro Bowl-level talent in Chicago. One thing is clear at Halas Hall: The Bears are investing in their defense.
The organization reportedly agreed to contracts with former Philadelphia Eagles linebacker T.J. Edwards, who grew up in the north suburbs, and with former Buffalo Bills two-time Pro Bowl linebacker Tremaine Edmunds.
For Edmunds, it was a four-year, $72 million contract with at least $50 million guaranteed, according to the NFL Network's Ian Rapoport. For Edwards, it was a three-year, $19.5 million deal, with $12 million guaranteed. The two should be starting alongside each other for the next several years.
For a Bears defense that ranked near the bottom of the league, they are needed reinforcements. The NFL free agency negotiation period opened at 11 a.m. Monday, but none of these deals can become official until 3 p.m. Wednesday at the earliest.
Edmunds is only 24 years old, and will be 25 when the season begins in September. The Bills made him the 16th overall draft pick in 2018. He played five seasons in Buffalo, starting 74 games. Last season, he totaled 102 combined tackles, six tackles for loss, one sack, seven passes defended and one interception.
Edmunds fits the mold of what head coach Matt Eberflus is looking for in an off-ball linebacker – he's 6-foot-5 with 34.5-inch long arms. He has played for one of the best teams in football over the past five seasons and brings postseason experience with him.
Edwards, a Lake Villa native, spent the past four years with the Eagles after going undrafted out of Wisconsin in 2019. As a multi-sport athlete at Lakes Community High School, Edwards played quarterback for the Eagles under former coach Luke Mertens.
At Wisconsin, he eventually emerged as a two-time first-team All-Big Ten linebacker and an AP first-team All-American in 2017. He started 52 games in four seasons at Wisconsin.
About 10 yrs ago, I had to convince this guy to not give up 🏈 to concentrate more on basketball. My message: Only 1 chance to be a HS athlete so don't limit your opportunities at greatness.

...now the All-Pro is heading to the SB (& I'm still having the same conversation) pic.twitter.com/JxsEhCKDxx

— Luke Mertens (@LukeMertens) February 1, 2023
Edwards will now join a Bears' defense where he will play alongside another undrafted linebacker out of Wisconsin: Jack Sanborn, who also grew up in the Chicago suburbs. Edwards, 26, finished tied for seventh in the NFL with 159 combined tackles in 2022. He also totaled two sacks, 10 tackles for loss, seven passes defended and one fumble recovery.
The Bears and Edwards agreed to their deal within 20 minutes of the negotiating period opening, indicating it was a no-brainer for both sides. Edwards wanted to come home, and he appeared to be a priority for Poles and his front office. Assistant general manager Ian Cunningham previously worked for the Eagles before joining the Bears in 2022, and has a familiarity with Edwards.
The two linebackers fill a glaring hole for the Bears created when general manager Ryan Poles traded away linebacker Roquan Smith. Last year's dramatic contract dispute between Poles and Smith resulted in hurt feelings and the 25-year-old linebacker being traded to Baltimore at the November trade deadline.
From a team-building perspective, Poles and Eberflus now have found themselves two talented inside linebackers who together will cost about $24.5 million per season, rather than giving one player $20 million per year, as Smith was seeking. They also received a second-round draft pick in exchange for Smith.
The Bears began the day with $75 million in available salary cap space and probably aren't done adding players.
Report: Bears sign former Titans guard Nate Davis
The Bears are signing former Tennessee Titans offensive guard Nate Davis to a three-year, $30 million contract, according to Rapoport.
The 26-year-old former third-round draft pick has started 54 games over the past four seasons for the Titans. He played right guard in Tennessee.
It's unclear how the Bears will reshuffle their offensive line with Davis in the mix. The offensive line found some consistency with veteran Cody Whitehair at left guard and second-year pro Teven Jenkins at right guard during the 2022 season.
Signing Davis could mean Jenkins is being relegated back to a reserve role. Or it could indicate the Bears might be ready to move on from the 30-year-old Whitehair, who is under contract through 2024 and due to be paid $14 million this season.
Broncos swoop in ahead of Bears for RT Mike McGlinchey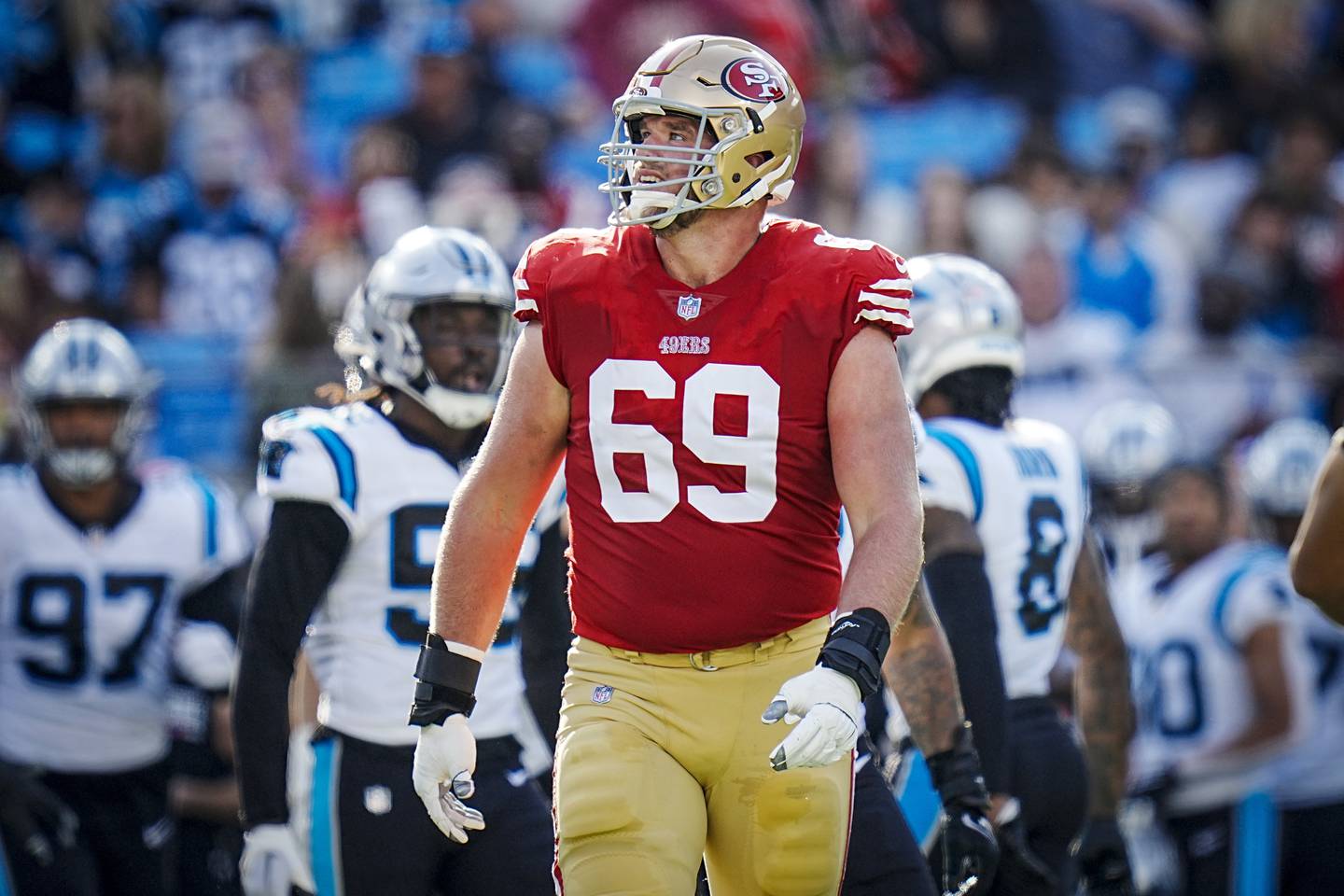 The Bears seemed hopeful that a deal with former San Francisco 49ers right tackle Mike McGlinchey could materialize Monday. The two sides were "talking and hoping to get a deal done," according to ESPN's Dianna Russini on Monday morning.
Within an hour, however, that changed. Russini later reported that the Broncos also were holding discussions with the 28-year-old McGlinchey. At 12:20 p.m., Russini reported that McGlinchey to the Broncos was a done deal.
McGlinchey is widely considered one of the top right tackles on the free agent market. He was the ninth overall draft pick coming out of Notre Dame in 2018. He spent the first five years of his NFL career in San Francisco, starting 69 games, mostly at right tackle.
McGlinchey might've been the best run-blocking tackle on the free agent market this year. He played in a similar offensive scheme in San Francisco to what Bears offensive coordinator Luke Getsy is trying to emulate in Chicago. The Bears also have a need at right tackle. Last season, second-year tackle Larry Borom and 11-year veteran Riley Reiff split time starting at right tackle.
RT Mike McGlinchey is expected to sign with the Denver Broncos, per sources.

— Dianna Russini (@diannaESPN) March 13, 2023
But the Bears were forced to pivot after the Broncos swooped in.
The NFL Network reported that the deal between McGlinchey and the Broncos was for five years and $87.5 million, with $50 million guaranteed. That $17.5 million annual salary is about what was expected for a top-end right tackle, but a five-year deal for a 28-year-old might've been a bit surprising.
Poles has been adamant that he would be selective in free agency and use caution when signing deals that could impact his team well into the future.
"We don't waste this opportunity and do something that's not sound, that doesn't allow us to have this flexibility in years to come," Poles said last month at the NFL Combine. "So that's the balance: Take advantage of now, but still not trying to hurt you do the road."
Committing $17.5 million per year to a tackle who will be 32 in the final year of the contract seems to be exactly the type of deal Poles is trying to avoid.