When it was all said and done, the Bears added seven new players to their roster during last weekend's NFL draft. Bears general manager Ryan Pace was a busy man, trading up twice in the first two rounds. Grabbing Ohio State quarterback Justin Fields at 11th overall was one of the draft's biggest splash moves.
Here's what to know about each draft pick – facts, key stats and where to find them on social media.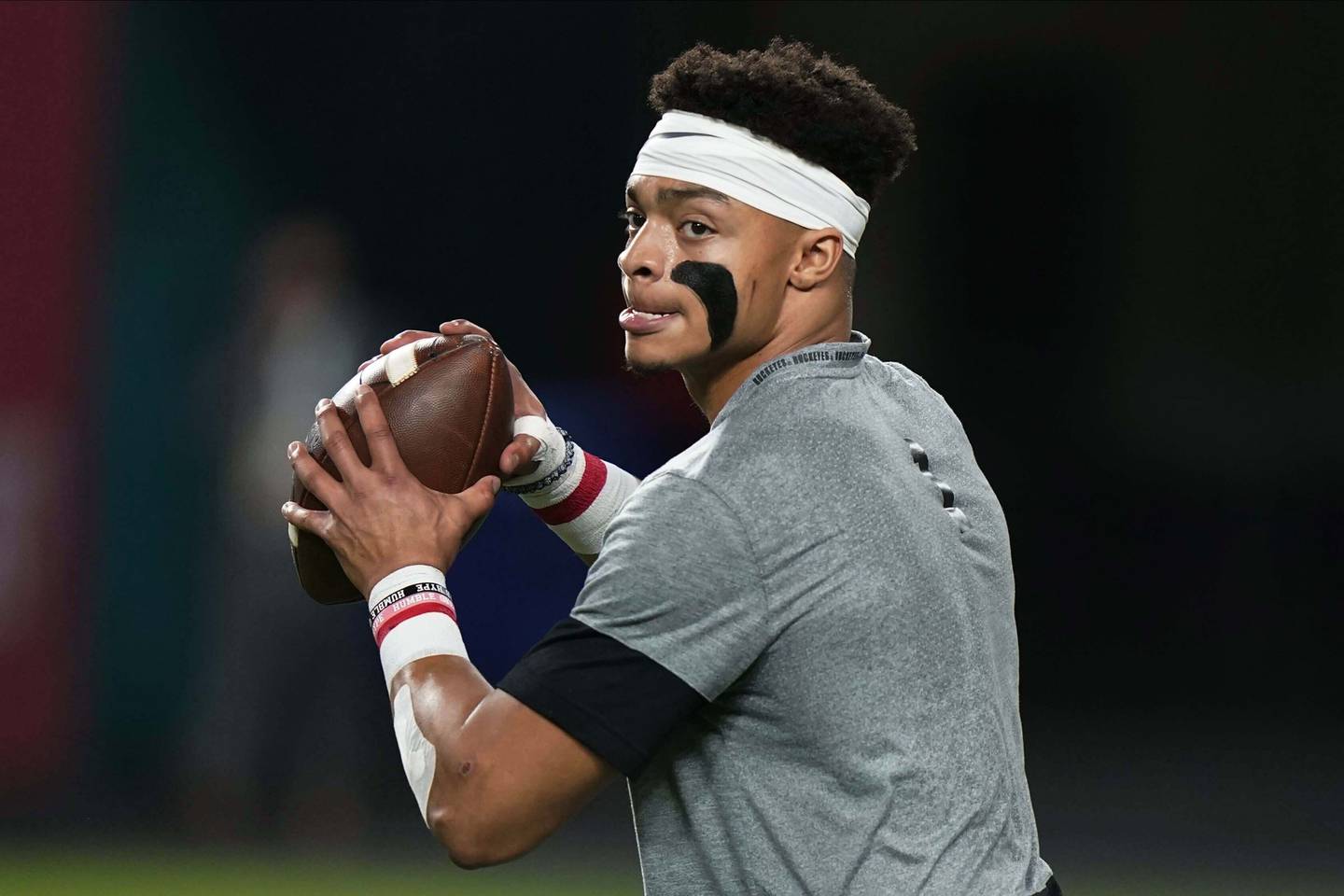 QB Justin Fields (first round, 11th overall)
College: Ohio State
Fast facts: Fields is the Bears' highest quarterback drafted since Mitch Trubisky in 2017. The Bears traded with the New York Giants to move from No. 20 overall to No. 11 in order to grab Fields during Thursday's first round. They gave up next year's first-round draft pick in the process.
Bears general manager Ryan Pace said the plan is to have Andy Dalton be the starter in order to give Fields time to develop. Ultimately, it might come down to how well Dalton performs in the starting role. If he struggles, the pressure will be on head coach Matt Nagy to promote Fields.
Fields led Ohio State to back-to-back appearances in the College Football Playoff, including a runner-up finish in 2020. He finished third in Heisman voting in 2019 and seventh in 2020. The college numbers speak for themselves: 67 career touchdown passes with just nine interceptions, 1,133 rushing yards and 19 rushing touchdowns, 4.4 40-yard dash time.
Key stat: 9. In 34 career college games, Fields threw only nine interceptions. In 2020, he completed 70.2% of his passes.
Quick quote: "We feel really fortunate to be able to get Justin in the area of the draft we were able to select him. The excitement throughout our whole building, you could feel it." –Ryan Pace
Social media: Fields is on Twitter and Instagram.
[ Bears trade up to No. 11 to select Ohio State QB Justin Fields ]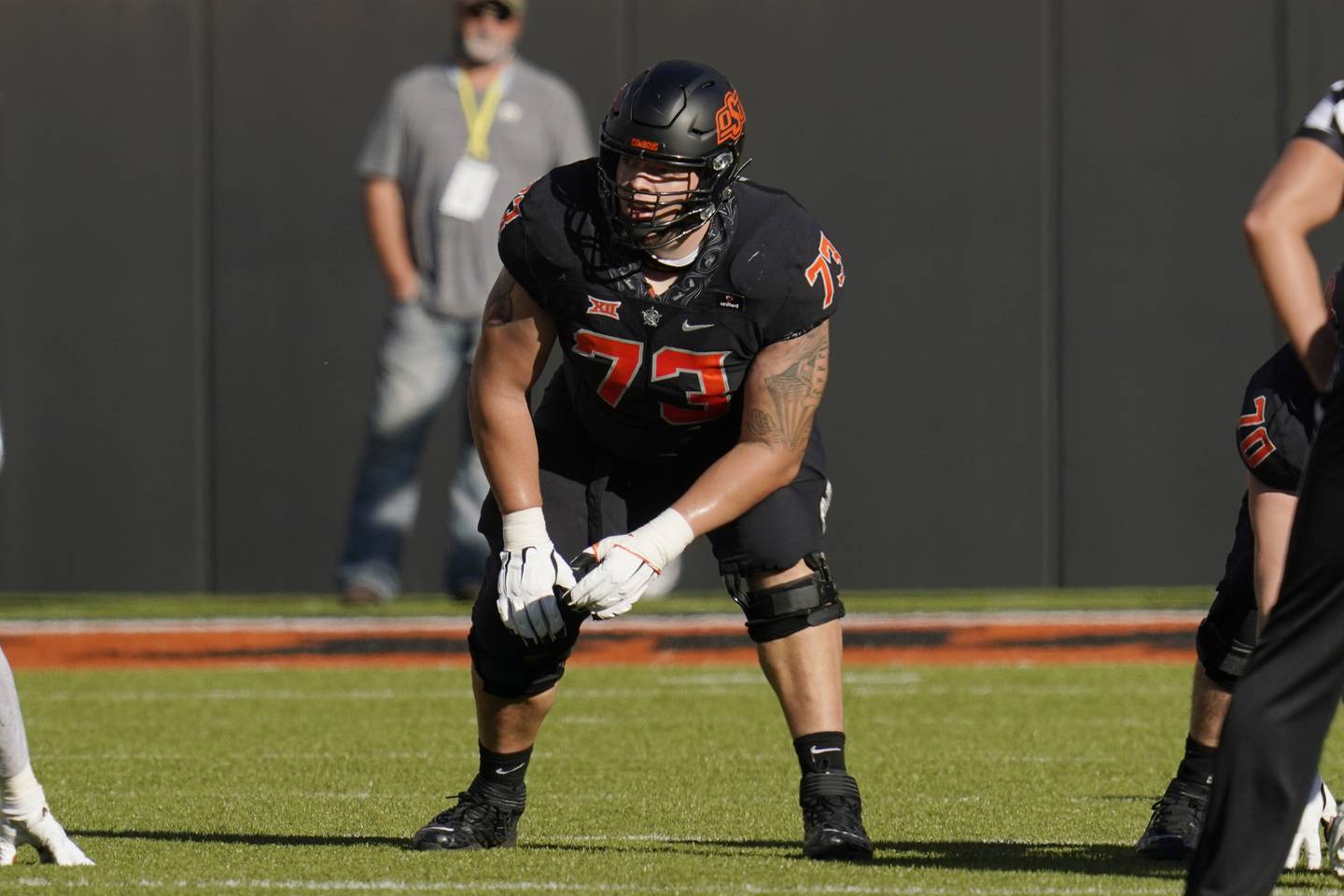 OT Teven Jenkins (second round, 39th overall)
College: Oklahoma State
Fast facts: The Bears traded up (again) in Friday's second round to grab Jenkins 39th overall. They swapped a number of picks (including giving up their 2021 third-round pick) with Carolina to move from 52nd to 39th. Pace said Jenkins was their highest-rated player on the board entering Friday. When the first six teams passed on Jenkins, Pace knew it was time to make a move.
Jenkins (6-5, 317) is a monster of a tackle who the Bears envision playing either right tackle or left tackle. With the release of left tackle Charles Leno on Monday, it likely frees up a path for Jenkins to start on the left side come Week 1.
The Bears hadn't drafted an offensive lineman this high since they took center/guard James Daniels 39th overall in 2018. It has been much longer since they selected a tackle this high. They used a first-round pick on Kyle Long in 2013, envisioning him as a tackle even though he ultimately spent more time at guard. The last true tackle to go this high was in 2011 when the Bears picked Gabe Carimi with the 29th overall pick.
Key stat: 26. College starts at right tackle.
Quick quote: "I went to sleep with the mindset that everybody who passed on me – 32 picks, I'm going to be able to make sure everybody rues that day they didn't pick me." –Teven Jenkins
Social media: Jenkins is on Twitter and Instagram.
[ Bears trade up again, select Oklahoma State offensive tackle Teven Jenkins ]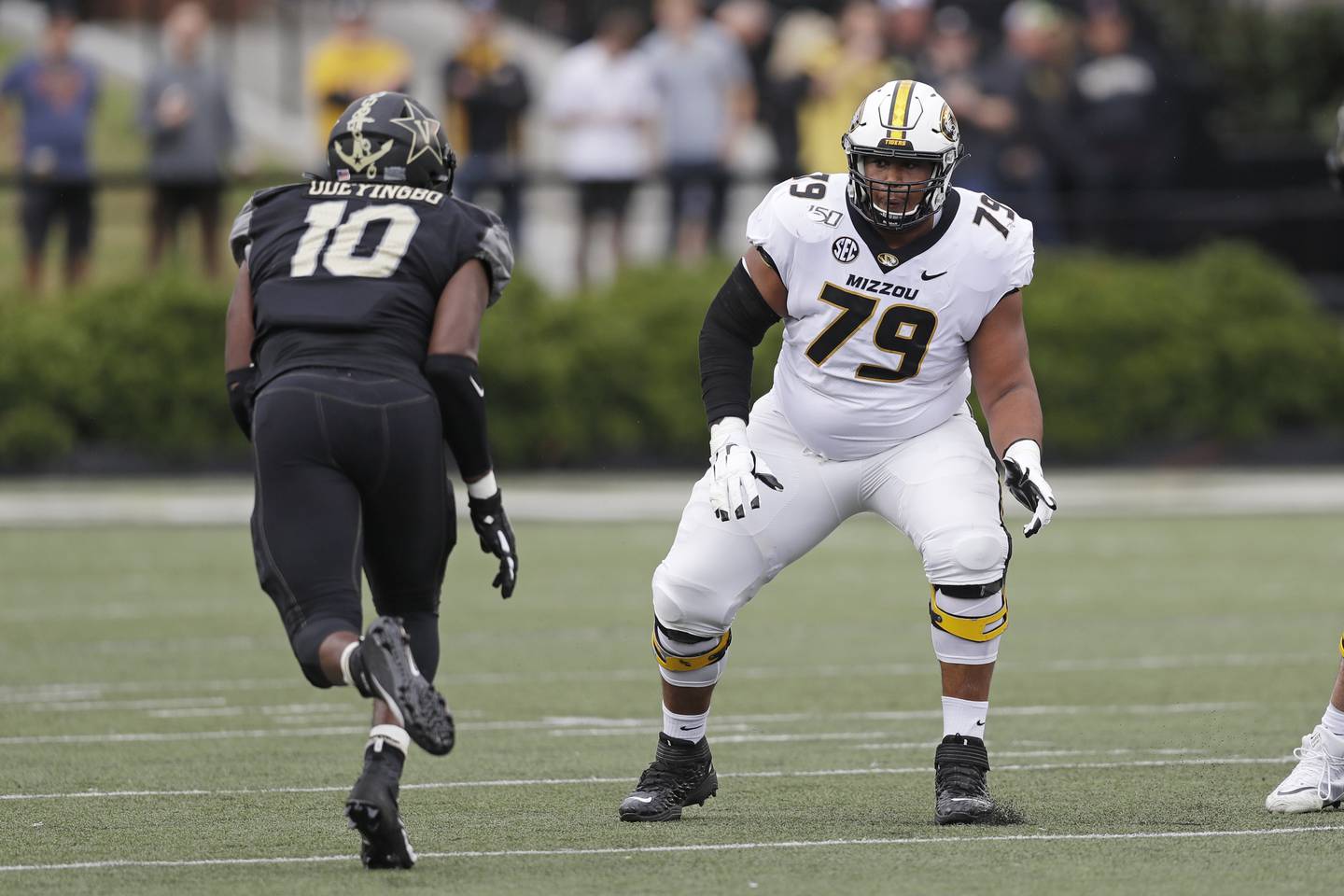 OT Larry Borom (fifth round, 151st overall)
College: Missouri
Fast facts: Borom (6-4, 322) started 19 games over the past two seasons at Missouri, including 16 starts at right tackle. The Bears like his versatility because he can play the tackle position or inside at guard. Borom's arms (33 1/8 inches) are a little bit short for the tackle position, which ultimately might land him inside at guard.
Pace said addressing the offensive line was a must in this draft, and taking two tackles in their first three picks indicates as much. With Charles Leno on his way out, Borom could compete for playing time at right tackle or could serve as a backup to Germain Ifedi, who started at right tackle during the final few weeks of 2020.
Key stat: 16. Career starts at right tackle.
Quick quote: (On training with Justin Fields during the pre-draft process) "He's a real friendly, goofy guy. He's like any old person at the end of the day. He's caring, he's helpful, he's looking to help people any chance he can." –Larry Borom
Social media: Borom is on Twitter and Instagram.
[ Bears draft day 3 updates: Bears select Missouri OT Larry Borom, make 3 picks in 6th round ]
RB Khalil Herbert (sixth round, 217th overall)
College: Virginia Tech
Fast facts: Herbert ran for 1,182 yards in 11 games in 2020. He was the first Virginia Tech running back to reach 1,000 rushing yards since 2011. He spent the first four years of his college career at Kansas. He redshirted and announced his intent to transfer after four games in the 2019 season, saving a year of eligibility.
Herbert brings kick return experience to the table, which the Bears need after losing Cordarrelle Patterson to free agency. Herbert was born with 12 fingers and six toes. He had the extra fingers removed but still has six toes on his left foot.
Key stat: 23.5. Herbert averaged 23.5 yards per kick return over his college career.
Quick quote: "I'm able to do everything out of the backfield. Inside, outside zone, catch the ball. I feel like I can do everything. All purpose back." –Khalil Herbert
Social media: Herbert is on Twitter and Instagram.
WR Dazz Newsome (sixth round, 221st overall)
College: North Carolina
Fast facts: The Bears spotted Newsome on film as they were studying North Carolina receiver Dyami Brown (who went to the Washington Football Team in the third round). Newsome (5-10, 190) caught 72 passes for 1,018 yards and 10 touchdowns in 2019, leading the Tar Heels in receptions. His production slowed as a senior in 2020 (54 catches for 684 yards and six touchdowns), but he was still an honorable mention All-ACC selection. He has a lot of experience in the slot and in punt return.
Key stat: 2,435. Newsome is one of only five North Carolina players to reach more than 2,400 receiving yards.
Quick quote: "Dazz is my real, full name. My dad got the name, there's a rapper named Daz Dillinger, he just added a Z." -Dazz Newsome
Social media: Newsome is on Twitter and Instagram.
CB Thomas Graham Jr. (sixth round, 228th overall)
College: Oregon
Fast facts: Graham opted out of the entire 2020 season. He said he was getting nervous as he slipped down the draft Saturday. He knows Bears cornerback Jaylon Johnson because Graham's mom's side of the family is from the Fresno area, where Johnson grew up. They played in the same 7-on-7 tournaments as seniors in high school.
Graham started all three years at Oregon before opting out. He enrolled in Oregon a semester early as a 17-year-old and started as a true freshman the following fall. He had eight career interceptions and 40 passes defended.
Key stat: 40. Passes defended in his college career in 40 career games.
Quick quote: "That first day I put the helmet on like a month before the Senior Bowl I was like, 'Wow.' I forgot how it feels to actually go out there and train with a helmet on." –Thomas Graham (after opting out in 2020)
Social media: Graham is on Twitter and Instagram.
DT Khyiris Tonga (seventh round, 250th overall)
College: BYU
Fast facts: Tonga (6-2, 325) is a space-eater up front. He played in 50 games over four seasons at BYU. He was a team captain in 2020. Over four years, he totaled 7.5 sacks, 130 tackles, two forced fumbles and 12 passes defended. Like many BYU players, he went on a mission before enrolling in college, so he is a little bit older at 24 years old. He projects as a backup at the nose tackle position in 2021.
Key stat: 12. Passes defended in 50 games, which for a defensive lineman is rather remarkable.
Quick quote: "[I'm] somebody that tries to be powerful. That's something I pride myself in – being a powerful player and being disruptive and winning most of my one-on-ones." –Khyiris Tonga