John Dudley didn't know anything about his instructor when he first walked into his Leading Organizational Change course at Lake Forest Graduate School of Management in spring 2018.
He found an instructor at the front of the class decked out in Chicago Bears gear. Most of Dudley's classes at the graduate business school in Lake Forest were taught by current or former executives at large organizations. They were the type of business leaders who work 60 to 80 hours a week and respond to emails at 4 a.m. The instructor for Leading Organizational Change was no different in that regard.
His day job, however, was unique.
The instructor was Sean Desai, a longtime Bears assistant coach who was promoted to defensive coordinator last month. At the time, Desai was a defensive quality control coach for the Bears. He earned a promotion to safeties coach in 2019. His most recent promotion followed the retirement of defensive coordinator Chuck Pagano.
Dr. Sean Desai is Defensive Quality Control Coach for the Chicago Bears. Desai teaches, motivates and leads on a daily basis — bringing over a decade of experience as a football coach. Learn from proven leaders at Lake Forest. https://t.co/IdsaL1fx1Z pic.twitter.com/LvtBIujRFw

— LakeForestGradSchool (@LFGSM) July 5, 2018
"He was under the radar, not really on the sidelines at the time," said Dudley, 31, of Volo. "I didn't know who he was. I didn't even know that one of the instructors was a Bears coach until that first night."
Many of the players, coaches and staffers working at Halas Hall in Lake Forest call Desai by the nickname "Doc." Desai, 37, is a student of the game with a doctorate from Temple University in educational administration. He never played football past high school, although he helped Shelton High School in Shelton, Connecticut, to a state championship in 2000 as a defensive back. He has made a career out of teaching – on the football field and off.
His first coaching gig was with the freshman team at Shelton. Later he spent five years coaching at Temple, followed by a season at Miami and a season at Boston College before the Bears hired him in 2013. While coaching at Temple, Desai served as an adjunct professor in Temple master's and doctoral programs in education administration.
The move to Chicago didn't quash that desire to teach in the classroom. Desai has taught at Lake Forest Graduate School of Management since 2016.
Where football is concerned, Desai is tasked with resurrecting a Bears defense that underperformed during parts of 2020. The pieces are in place for the Bears' defense to compete. Many of the same players from the elite 2018 version of the defense still are here. According to at least one former player, Desai was the right-hand man to the 2018 defensive architect, former defensive coordinator Vic Fangio.
The Bears don't have to look far for their next DC. Sean Desai has been ready for that role for years. He was Vic Fangio's right hand man for 4 years, & helped craft that defense to greatness. Smart, talented, knows ball and has all the credentials. All he needs is an opportunity

— Sam Acho (@TheSamAcho) January 18, 2021
So what's it like to learn from the Bears' resident professor, the man they call "Doc," the man being given the keys to the defense? Desai hasn't yet been made available to the media since his hiring Jan. 22. With the season over, Bears players haven't spoken with the media either, although current and former players have vouched for Desai via social media.
But who better to answer the question than Desai's former students?
"I often wondered: What's the connection between working for a professional football team vs. teaching in an MBA school?" said Diana Booth, another student of Desai's in spring 2018. "They're not really related. But then I realized Sean's passion was to inspire and to empower and to guide others using similar principles to accomplish their own personal success, regardless if it was on a football field or if it's an organization. You probably use pretty much the same skills."
Booth, 63, of Zion, was working on her master's degree, and Leading Organizational Change was a required course in the MBA program. Booth also is the registrar at Lake Forest Graduate School of Management.
The class's description in the 2020-21 course catalog reads, in part:
"In this course students learn how to lead organizational change and effectively execute change strategies in dynamic environments. Students are introduced to frameworks and competencies required to identify change opportunities and determine the problem that needs to be solved. Students learn to lead small, medium or large scale change initiatives as well as how to lead change with or without formal authority."
Booth remembered walking into class one of the first weeks, and the opening slide on the projector read, "Today's game plan." Knowing Desai's background, she expected more football references throughout the course and maybe some good stories about the Bears. It turned out to be the opposite.
"He was all business," Booth said. "As an instructor, to me, I felt that he was tough – he expected performance – but he was fair, and he was generous with sharing his knowledge. I kind of view him as a perfectionist. He graded every assignment with direct feedback."
Desai frequently annotated papers with the words "how" and "why" at points where he felt Booth could've elaborated. She said she still thinks about those two words whenever she is writing something for her work.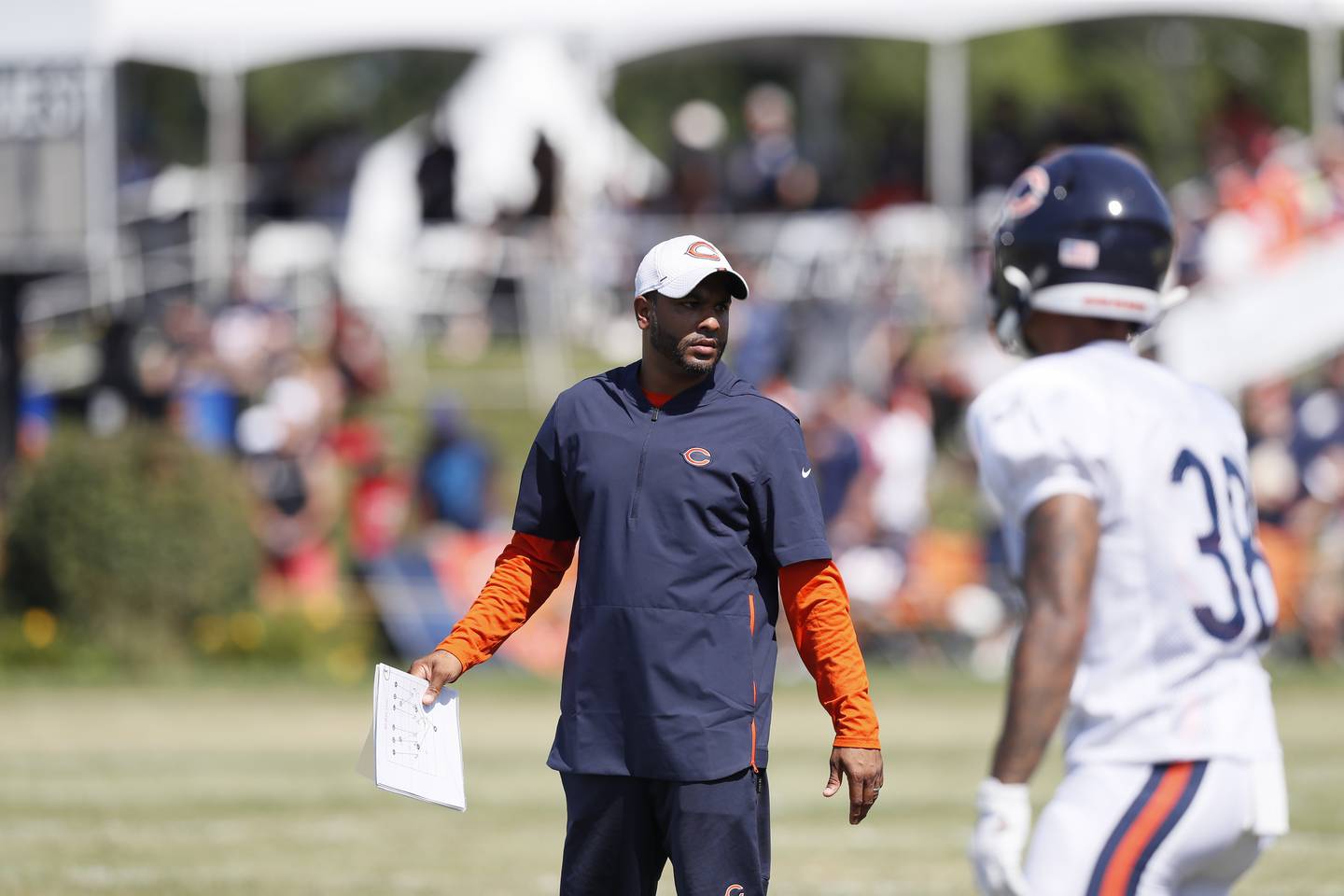 Dudley, who works in human resources at AbbVie, definitely saw the perfectionist in Desai. The in-person portion of the class – once a week for 3 1/2 hours – felt as if it were scheduled "down to the minute," Dudley said.
"He made sure we stuck to a set schedule to make sure that we got through the material," Dudley said. "I guess you could say he was very coordinated, which is good for his new role as a coordinator."
Dudley described himself as a diehard Bears fan. He can see what the Bears see in Desai. When Dudley saw reports that Desai was promoted to defensive coordinator, after the initial shock that his former teacher was taking on such a prominent role, he recognized the hiring as a quintessential Bears hire – a high-character coach who worked his way up the ladder and showed loyalty to the organization by sticking with it through three head coaches.
On the other hand, Noor Maqbool, 42, of Libertyville, doesn't follow football. Her husband and kids pay attention to the Bears, but the NFL isn't a big part of her autumn Sundays.
"Sean's quite young, and he's achieved so much in a short span of time," Maqbool said. "You can tell that he wants to go places. This is not just his end destination. He's got that whole end in mind thing going on, and you could tell."
But as far as strategic thinking is concerned, running a football defense and running a business aren't so different. Everyone must be on the same page. Desai brought a "fresh, young, different" approach to leadership, Maqbool said. There was nothing corporate about the way he led.
Maqbool earned an A in the class, but Desai wasn't simply handing out grades.
"You had to work for it," Maqbool said.
Dudley agreed. He also did well in the class, but he said some of his classmates thought Desai was a tough grader. Little things, such as being on time to class, mattered to Desai too.
"He practices what he preaches," Booth said. "From what I understand about his biography, he started at one of the lower level positions and worked hard, worked his way up. And he's fairly young, to me, to have his doctorate already."
Booth said Desai is still on the faculty bench at Lake Forest Graduate School of Management. His day job has kept him from taking on a bigger teaching load, and his promotion with the Bears probably will too.
But he'll be doing plenty of teaching at Halas Hall. His former students will be watching.
"I'm a diehard Bears fan, always will be a Bears fan," Dudley said. "I'm one that hopes they can bring a Super Bowl back to the city of Chicago, so I'm rooting for him to get the defense back to the normal defensive ways."