The true proper adjectives needed to describe "Cinderella," Paramount's second Broadway series production, have yet to be invented. In a word, the best I can come up with? "Cinderella" is just spectacular.
Based on the Charles Perrrault 1697 French version (although more than 1,500 variations exist, including the 23 A.D. Greek one of the slave girl Rhodopsis who married the king of Egypt), Paramount's "Cinderella" is the third version of the original 1957 TV musical by Richard Rodgers and Oscar Hammerstein II.
It's a stunningly beautiful production with a wonderfully creative team. Directed by Brenda Didier, who co-choreographed with Tiffany Krause, it features a live, 15-piece orchestra directed by Kory Danielson. And it's music you'll recognize and hum. Theresa Ham's costumes are breathtaking and opulent: bows, feathers, gowns, brocades, fur, glitter – all in resplendent shades befitting every character. And that set design by Angela Weber Miller, so surreal in its beauty and impact, showcases a growing twinkling forest, a colorful European style village, a haughty stepmother's residence, and the very regal ballroom.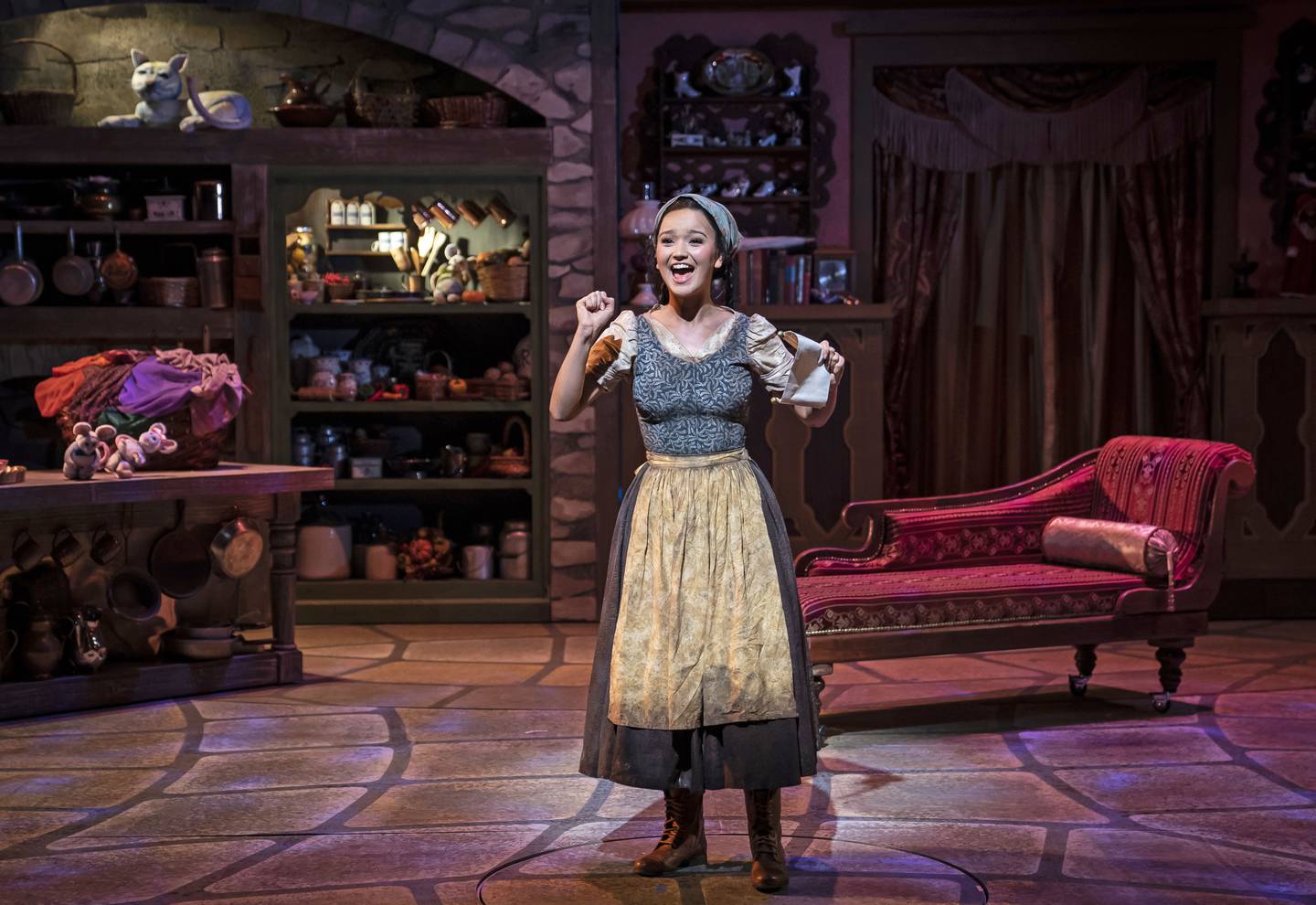 The enchanting Tom Briggs stage adaptation of the beloved fairy tale still appeals to contemporary audiences. The Fairy Godmother is more a mentoring character in this version, reminding Cinderella she has to take responsibility for her own destiny: "Everything starts with a wish, but it's what you do that makes a wish come true." And this Cinderella, petite and sweet as she may be, stands up to the cruel depravity of the stepmother. "I'm here!" she announces.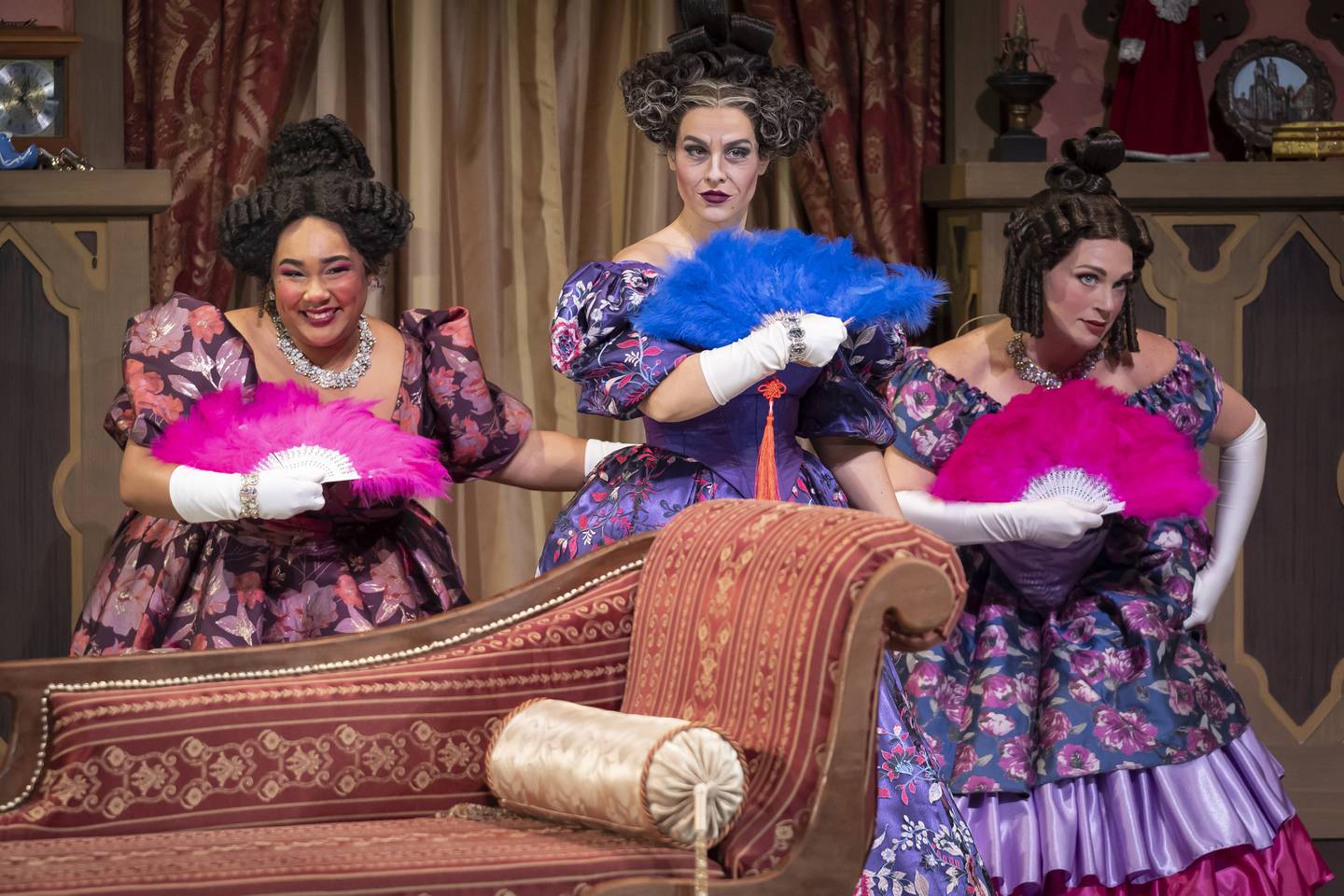 There are also plenty of humorous lines and situations for those of us more in the adult range. And the Prince's desire to find his own bride and live a life free from having everything decided for him is refreshing.
The cast of 27 (one and all) is an extremely appealing ensemble, with boundless ability to project joyous dancing and singing.
Mikayla Renfrow is the ideal Cinderella. She sings like an angel, dances like a prima ballerina, and can even act convincingly with puppets. Making his Paramount debut, Markcus Blair is the very elegant portrait of a Prince – in this case, named Christopher. His voice is silvery smooth and just flows. Blair's face is extremely expressive, showing perplexity, happiness, frustration and excitement. Renfrow and Blair's duet of "The Sweetest Sounds" is particularly engaging. They have a stunning chemistry, and we root for both their characters.
Jacquelyne Jones and Tiffany Taylor as stepsisters Grace and Joy are deliciously fun; Sarah Bockel is the epitome of the feared, cruel stepmother. The scene where Bockel educates and prepares the sisters for the ball ("restraint above all else") showcases all three's comedic talents. Happily, they are more comic than frightening, and just wait until the Prince comes calling.
Jerica Exum's Fairy Godmother is a powerhouse of energy and thrills, and far from the old incarnation we normally get in Cinderella.
But from the minute he steps on stage to sing "The Prince Is Giving a Ball," Lorenzo Rush Jr. as the royal steward Lionel is a commanding presence both in stature and voice. Fortunately, he has plenty of memorable scenes, albeit short ones: with the Prince (touching and diplomatic) and with the stepmother (sidestepping her advances, of course).
Michael Kingston and Rashada Dawan as the King and Queen, Prince Christopher's well-meaning and loving parents, are much more human and relatable than the standard royals I've experienced in other productions. Their rendition of "Boys and Girls Like You and Me" is sweet.
As I've come to expect, the Paramount's "Cinderella" is another sparkling and enchanting, cohesive production. It's family-friendly and appropriate for the holidays, as well as very entertaining. Apparently, the audience concurs, as the standing ovation began before the lights dimmed to dark after the finale "There's Music in You." But you best hurry or you might need a fairy godmother to grant your wish for tickets to a sure to be sold-out show.
[The performance runs two hours with one intermission, and is suggested for audiences age 5 and older. Proof of vaccination, photo identification and mask are required.]
• Regina Belt-Daniels met her Prince in the kingdom of Scotland, and when she's not traveling with him, she's perfectly content to act, direct, teach, attend live theater, and write theater reviews. She also currently serves on the RCLPC Theater Board and the It's Showtime Advisory Commission.
IF YOU GO
WHAT: "Cinderella"
WHERE: Paramount Theatre, 23 E. Galena Blvd., Aurora
WHEN: Wednesday through Sunday until Jan. 9
COST: $36 to $79
INFORMATION: 630-896-6666, ParamountAurora.com