OTTAWA — Entering the 2022 softball season, there was much anticipation at Serena High School as to what would come from a promising incoming freshman class loaded with talent.
Ultimately, eight first-year players earned spots on coach Kelly Baker's varsity roster, with one in particular stepping up front and center from Day 1.
Freshman pitcher Maddie Glade has been a dominant fixture in the circle all season for the Huskers, and was once again Saturday.
The 15-year old right-hander dazzled, facing only three batters over the minimum and allowing only one hit and one walk as the Huskers blew the game open with seven runs in the top of the seventh to defeat Marquette Academy 8-0 at June Gross Field in Ottawa.
"My defense really had my back today, both in the outfield and the infield, and I have a pretty good catcher [freshman batterymate RayElle Brennan] too," Glade said. "So I give most of the credit to them.
"It was a very good day for us as a team, especially when we can beat a very good team like Marquette."
Glade's deference to her own heroics was admirable, but in reality her pitch location was solid, throwing a total of 86 pitches, 59 strikes with a screwball that proved stealthy, forcing the Crusaders into 14 flyball outs including nine pop-outs out the infield.
Glade improved her record to 14-3 while upping Serena's overall mark to 14-4.
"Maddie's screwball was working, and her mindset was 100% a go against a team she's so competitive with because many of these girls have played together over the years before high school even started," Baker said. "Seeing Maddie shine in such a big game like this against players that are now her rivals was so great to witness, for her and for us.
"To beat a fine team like Marquette was truly an incredible experience for us, especially being as young as we are with the great bunch of freshmen that we have."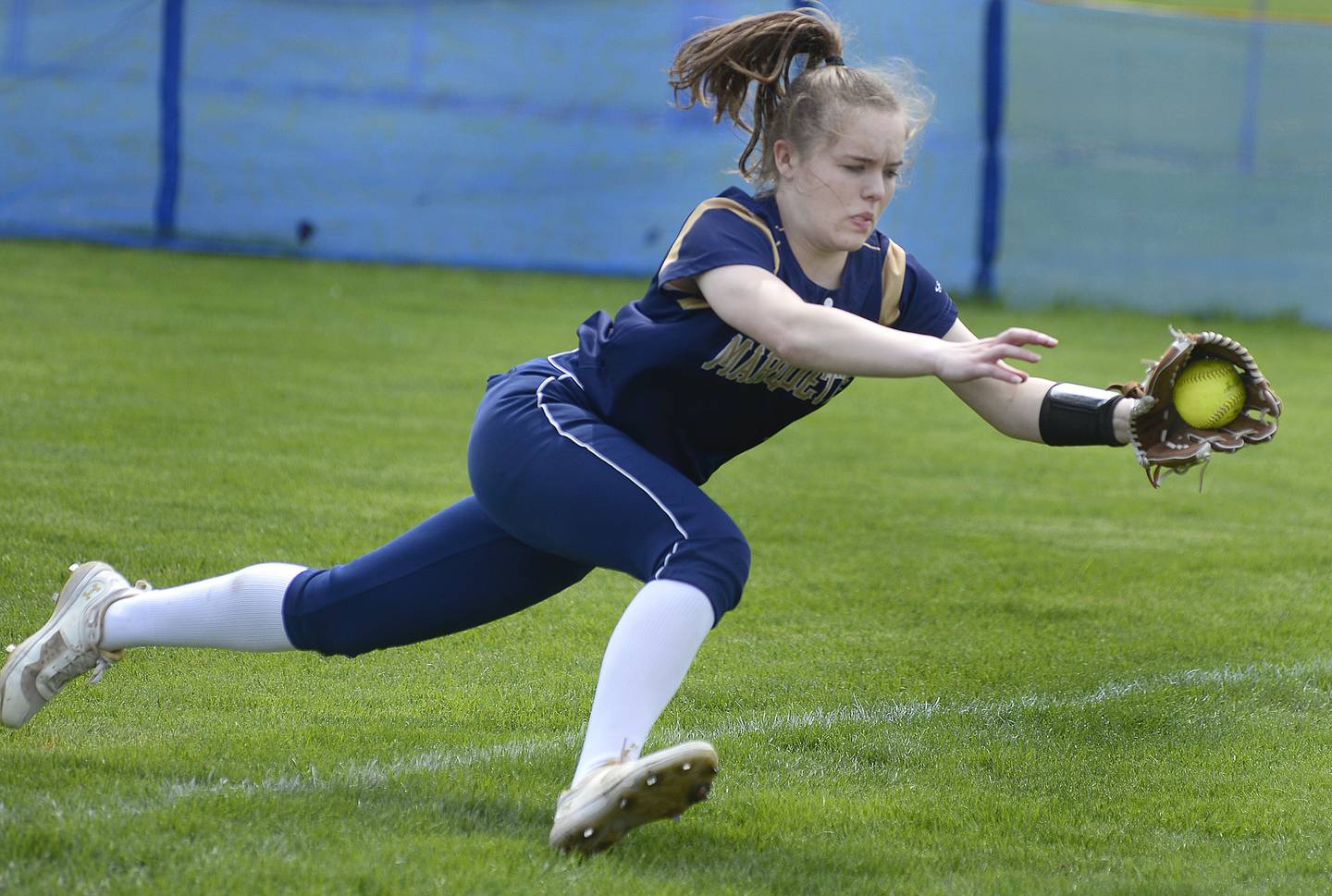 The Crusaders (9-8) struggled to solve Glade, but were also frustrated in the field, committing four errors — three of which came in the fateful top of the seventh when Serena put the game away against hard-luck losing pitcher Kaylee Killelea (7 IP, 3 ER, 4 H, 6 K).
"We couldn't get anything going today against [Glade], and then the wheels fell off in the seventh," MA coach Brad Oakes said. "Serena's a good team, but we struggled today even though Kaylee pitched very well.
"We'll just try to start over again next week and hopefully get better."
After a scoreless first frame, freshman Lanee Cole led off for Serena and was hit by a Killelea offering. Cole advanced to second on a wild pitch before moving to third on freshman Jenna Setchell's sacrifice bunt. Cole would tally soon thereafter on a wild pitch that put the Huskers up 1-0.
Marquette would get the leadoff runners on in the bottom of the third, fourth and sixth frames against Glade, but five subsequent sacrifice bunt tries all ended up in pop-outs to the infield.
The Huskers struck gold in the top of the seventh. Setchell led off with a walk and was sacrificed to second by a Glade bunt. Junior Alexis Linder walked, and senior Lauren McNellis reached on an infield error to load the bases.
Sophomore Makayla McNally then blooped a hit over the Marquette drawn-in infield that scored Setchell, while pinch runner Cali Edward — subbing on the basepaths for Linder — scored on the same play after a wild throw from the outfield resulted in Marquette's second miscue of the frame to put Serena up 3-0.
McNally followed scoring on a wild pitch to give Serena a 4-0 advantage before Brennan (two hits) produced an RBI single, senior Katie Baker a run scoring plate appearance — a result of the Cru's third error of the frame — with the Husker's now up 6-0. Then with Baker standing on second base, sophomore Paisley Twait bombed her fourth home run of the season on a 2-2 offering from Killelea well beyond the fence in straight center to put Serena ahead 8-0.
"My mentality was to just get a base hit," Twait said. "But I got every bit of the pitch, and all that was left was for Maddie to end things out with her great pitching today."
Glade did just that, sitting down Marquette 1-2-3 in the last of the seventh.