A 10-hour standoff ended shortly after sunset Saturday after a 55-year-old Sheridan man surrendered to authorities outside a Church Street residence where he had been holed up.
Jeffrey L. Plique was arrested without injury and was transported to the La Salle County Jail where he is being held without bond on charges for aggravated discharge of a firearm, the La Salle County Sheriff's Office said. Further charges will be pending once investigation is completed. Plique will have a bond hearing Monday, Oct. 24.
Multiple shots were fired in Sheridan early Saturday morning, striking an individual in the leg. The injuries to the person struck with the bullet were not believed to be life-threatening. The gunshot victim was taken by ambulance to Valley West Hospital in Sandwich where he was later transferred to St. Anthony's Medical Center in Rockford.
Sheriff's deputies converged on Sheridan shortly after 8 a.m. following reports the gunman, known to police though not publicly named, discharged multiple rounds in what appears to have been an outdoor spree.
Two vehicles were damaged by the gunshots and a live round was located at the shooting scene. Plique left the area driving a riding lawnmower where he returned to his residence.
La Salle County Sheriff Adam Diss reported at 10:15 a.m. the suspect has been located at the residence, after police had issued shelter in place warnings to residents.
A portion of Sheridan's city-center was cordoned off to traffic. Police tape could be viewed at the corner of North Robinson Street and East Si Johnson Avenue.
The massive response included squad cars from Peru, Spring Valley, Minooka, Hinkley, Ottawa and Sandwich, as well as ambulances from Oswego and Sheridan. Additionally, some of the cruisers established a perimeter.
The La Salle County Sheriff's deputies were assisted by the Sheridan Police Department, Kendall County Sheriffs, Grundy County Sheriffs Office, Illinois State Police and State Police Crime Scene, Illinois conservation police and other local police agencies responding through ILEAS.
A Sheridan ambulance was spotted approaching the house and, prior to the surrender, two weapons were ejected from the house.
These were described in scanner traffic as a long arm or rifle and a pistol thrown out of separate windows.
Additionally, some of the numerous police officers at the scene had lowered their arms or started to remove their tactical gear.
Events moved quickly as sunset approached, ending a long day in which authorities brought in special weapons tactical teams and heavy-duty equipment.
At 3 p.m., two heavy-duty command-style vehicles arrived on the scene. One was marked and the other was unmarked.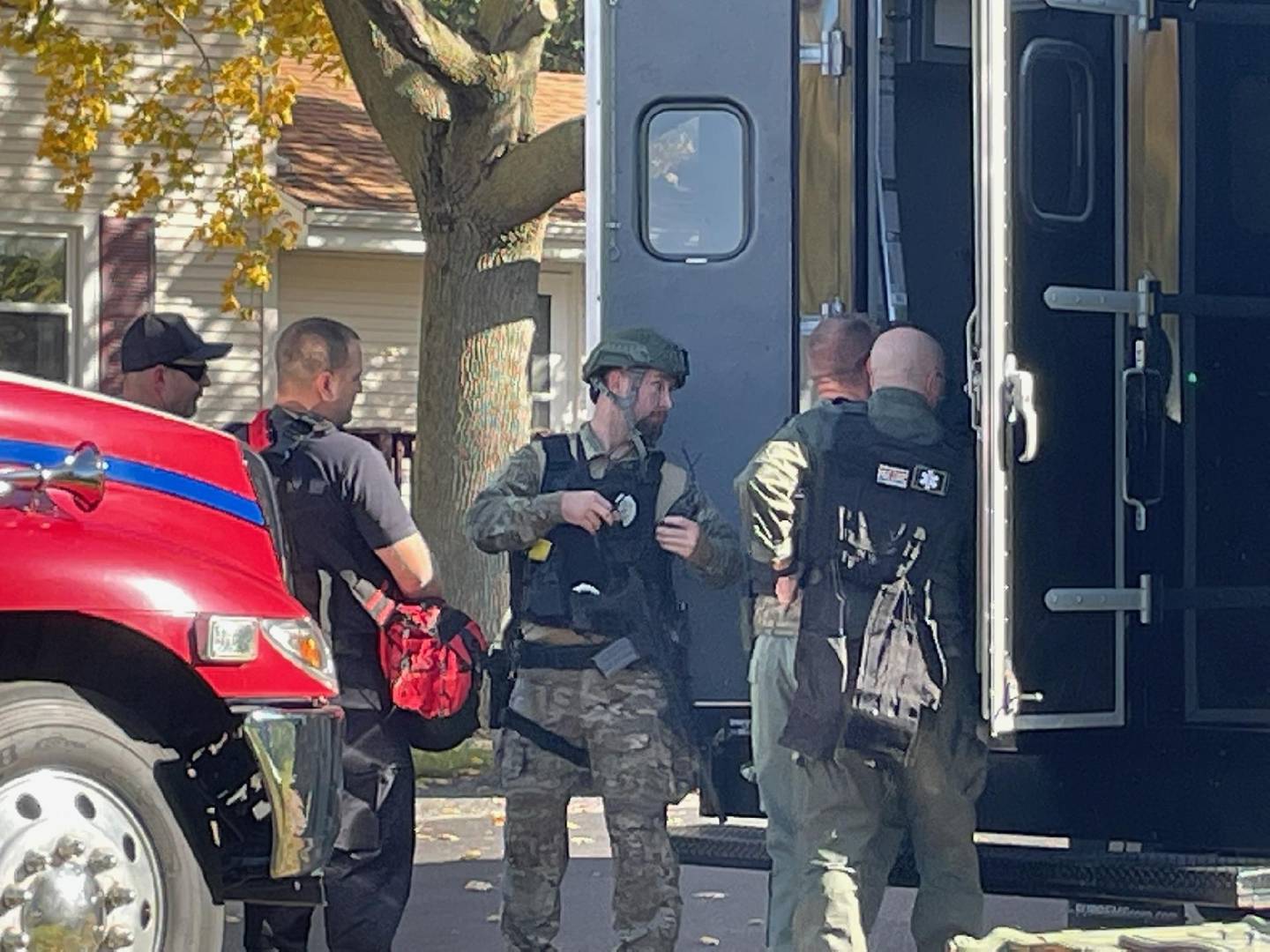 At 1:30 p.m., the standoff was concentrated in a residential area on Church Street between Dwight and Hickory streets. A heavy armored vehicle was stationed with heavily armed officers in camouflage milling about.
A smaller group of officers was combing the area near Sheridan's Food Mart. There, the officers were looking for bullets and or casings from where the shooting occurred.
At 11:30 a.m., a person believed to be an older relative of the suspect was released from the Church Street residence.