If there is one thing Downers Grove South High School Dean of Students Sheldon Davis wants to impart on his students it's this: Never stop learning.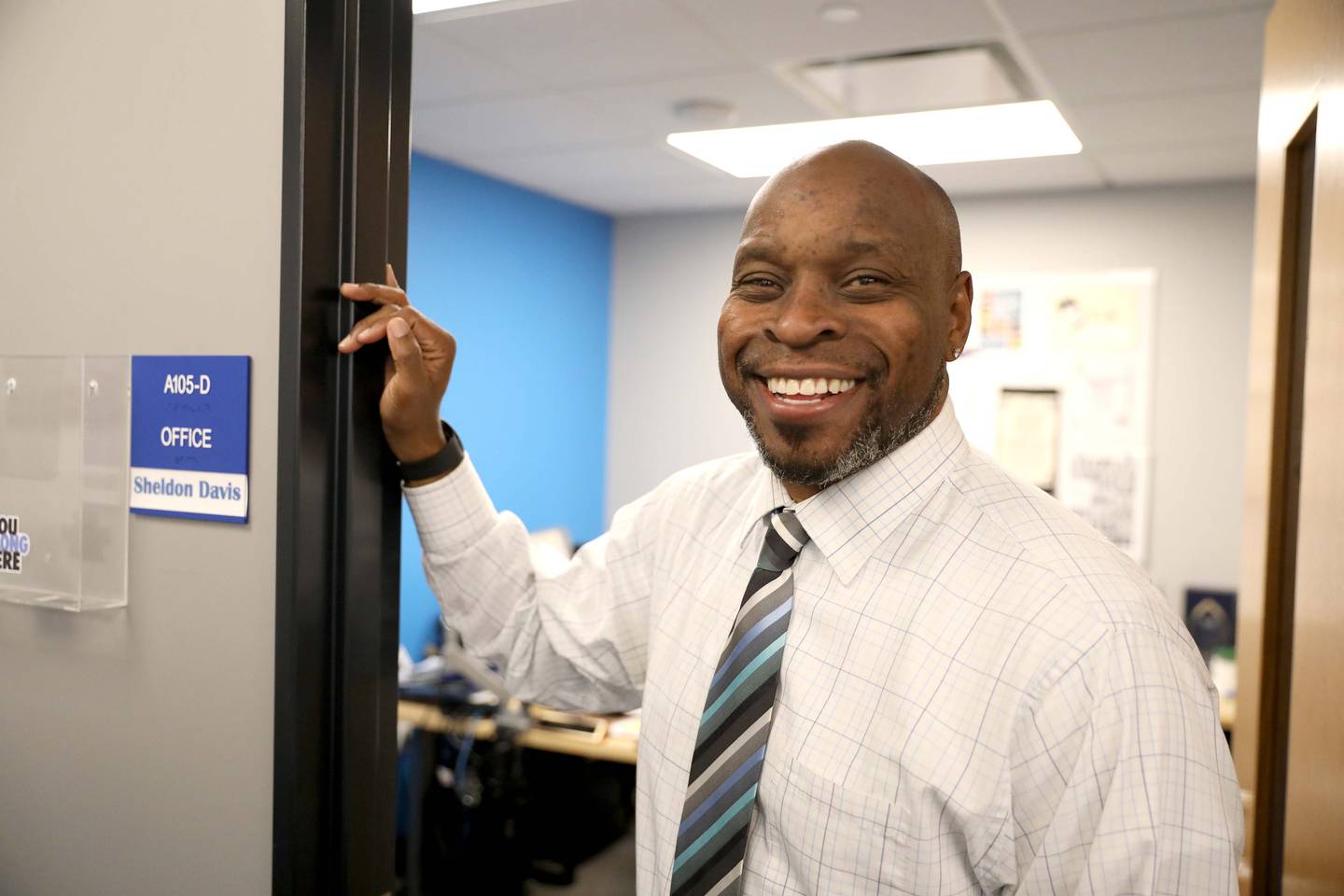 He's leading by example by pursuing a teaching endorsement in English as a Second Language (ESL) in order to better support the school's English learner students.
"I want to be an example for students that you're never too old to learn," Davis said. "I'm 49 and I'm still learning."
While Davis knew at a young age that he wanted to give back to his community and help people, he initially thought it would be through a career in health care.
"I started off as a nursing major at Millikin University. I always loved chemistry and biology but anytime you take those classes there's always labs with them," Davis said. "So I'd be in school all day and do labs at night."
Davis, who also was an athlete, joined the Millikin football team, where he went on to earn the Big Blue Athletic Award and four varsity letters.
"It was dark when I'd start the days and dark when I was done and I felt like, 'Man, I'm missing out on the college experience.' And by that I mean I had no time to join organizations or clubs and give back anywhere," he said. "But I also wondered, 'What else can I do to give back and help if it's not being a nurse?' "
Davis found that answer by switching his major to education. Instead of doing evening labs, he was able to volunteer with the Homework Hangout After-School Program, which served the area's low-income children.
"It really gave me a chance to bond with the community and give back to the kids there," Davis said. "Sometimes being in a college town you can feel isolated, but I wanted to give back to the kids."
After graduation, Davis taught and coached in Galesburg Community School District 205 for several years before earning his master's degree in education from Western Illinois University in 2003. He was the assistant director of Intercultural Life at Knox College in Galesburg for three years until he became dean of students of Rock Island High School.
In 2006, he accepted the position of dean of students at Downers Grove South High School.
Davis is the founder and sponsor of the school's Umoja Club, which seeks to empower all students and seeks equity and inclusion in all aspects of the high school community. He serves as the Community High School District 99 diversity adviser, working to help implement equity and inclusion initiatives.
Karen Taylor, associate principal for staff and students at Downers Grove South, has known Davis for seven years. She lauds the emphasis he places on connecting with students.
"Sheldon works hard to build and maintain positive relationships," Taylor said. "This comes through in his daily interactions with them and also his efforts to support their interests through showing up at their competitions and performances. Sheldon has started clubs and mentored students, all in an effort to help them feel that Downers Grove South is a place where they belong."
Recently, Davis was awarded the Excellence in Life Award from Millikin University's Football Alumni Advisory Board. The award recognizes outstanding achievements by former Millikin football players.
"I was just so humbled and honored because you look back and think, 'Are you making an impact? Are you helping kids?' I always kept that at the center," Davis said. "I don't do it for the glory or praise. But anytime peers or others decide to honor you, it's just a true blessing."