Terry Fischer served in a combat zone in Vietnam and had a tough assignment: Choppers would fly in wounded soldiers, and he whisked those clinging to life into triage.
He doesn't speak much about that.
But the Ottawa veteran who served in the 1st Medical Battalion, 1st Marine Division in 1966 and 1967 in Chu Lai and Da Nang, made one acquaintance in Vietnam about whom he now speaks freely. One of the chaplains who ministered to the wounded and dying was a Catholic priest, the Rev. Vincent Capodanno.
Although the scenes were "chaotic," as then-Cpl. Fischer recalled (he went home a sergeant), the 38-year-old priest moved about the triage briskly but with an inner peace that caught Fischer's attention and later reached Congress and the Vatican.
"On one such occasion we had casualties brought in, and I kind of saw firsthand what Father Capodanno meant to the troops who were wounded," Fischer said. "He had such a calming effect on them.
"As he was walking up to one, I just saw the face on the Marine, and it just seemed like he knew everything was going to be OK."
"What was impressive about him was he was so calm and so soft-spoken. He always seemed like such a gentleman."

—  Terry Fischer, Ottawa veteran talking about the Rev. Vincent Capodanno
Fischer also drove Capodanno to a military hospital, where Capodanno would visit and anoint the sick. Although they only made small talk during their short drives – Fischer estimated they spent less than an hour together – Capodanno made a lasting impression.
"What was impressive about him was he was so calm and so soft-spoken. He always seemed like such a gentleman," Fischer said. "He had an air about him, a calmness in what he was doing and what he was trying to do."
Fischer never saw Capodanno again, however. On Sept. 4, 1967, while serving with the 3rd Battalion, 5th Marines, Capodanno was administering medical and pastoral care to a fallen Marine during a North Vietnamese ambush. Capodanno, who was already wounded, had 27 bullet wounds and died in service to the Marines.
News of his heroic death reached Washington, D.C., where Congress posthumously awarded him a Medal of Honor. The news also reached the Vatican, which opened a cause. Capodanno became a Servant of God, two steps below sainthood.
Fischer is among those hoping to see Capodanno beatified and canonized.
Fischer still was in Vietnam when he got the news of Capodanno's death. He was saddened, mostly for the unit Capodanno served.
"What a devastating effect it must have had on the troops," Fischer remembered thinking.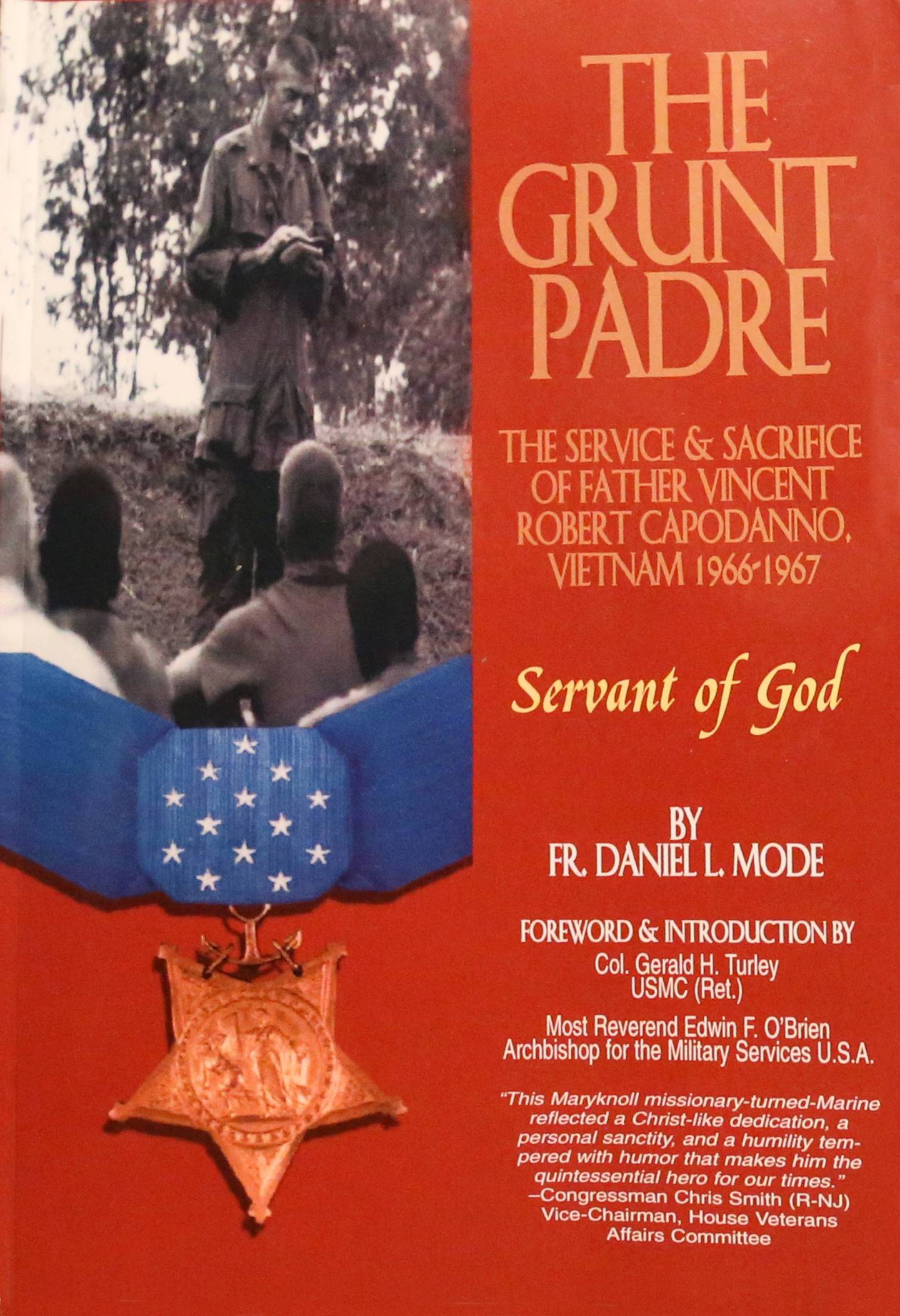 Years later, Fischer was alerted to a biography about Capodanno: "The Grunt Padre," written by the Rev. Daniel Model, another Catholic priest.
Fischer snatched a copy and found every word rang true.
"I thought it was fantastic," he said. "I wasn't aware, initially, what Father Capodanno went through to be in the field with the grunts. I was impressed what incredible shape he had to be in to be with the grunts in the field."
Capodanno had, in fact, learned to endure difficult conditions during his earlier service as a Maryknoll missionary in Asia, where he labored but enjoyed limited success. Only after getting his superiors to approve his transfer into the U.S. Marine Corps did Capodanno enjoy fulfillment. He adored his troops, and they returned his love.
Fischer never met a Marine who knew Capodanno as he did nor discussed his encounter after returning stateside.
"I've not really talked a lot about overseas," he said.
He does, however, hope to see Capodanno raised to the altars in light of his heroic service – "He gave the supreme sacrifice" – and to the interior life that was evident while ministering to the wounded.
It might be a long wait, however. Last summer, Catholic News Agency reported that outside consultants to the Vatican recommended the suspension of Capodanno's cause. In May 2022, CNA reported, an advisory panel of theological consultants considered the document prepared by the postulator and its arguments in favor of and against Capodanno's beatification. The consultants voted to recommend to the dicastery that Capodanno's cause be suspended.
Fischer said he was unaware of the suspension, but another Illinois native had followed the cause closely and expressed disapproval of the decision.
Joan Lewis, an Oak Brook native and longtime Vatican correspondent, wrote in her blog, "Joan's Rome," that she was "very disappointed" in the decision. Lewis had studied Capodanno's life and saw no reason to suspend his cause.
"However, this one particular reason really struck me: Father Capodanno should not be a saint because he was a military chaplain?" she wrote.
Lewis elaborated that there was a precedent for elevating a former military chaplain to sainthood in Pope St. John XXIII, who served as a military chaplain to Italian soldiers in World War I.