Boys golf
Ottawa wins fifth straight regional: The Pirates set a school record with a 3-over-par 287 in capturing the title of the Class 2A Sycamore Regional at Sycamore Golf Club.
Ottawa, which advances to Monday's Freeport Sectional at Park Hills Golf Club, finished ahead of runner-up Burlington Central (301) and third-place Kaneland (314), while Sandwich finished with a 348 to place seventh.
The Pirates' Chandler Creedon defeated teammate Drake Kaufman in a playoff to earn the individual championship after both shot even-par 71s. Bryer Harris finished third with a 72 and Seth Cooper was fifth with a 73, while Jacob Armstrong and Colt Bryson each had 79s.
Sandwich's Noah Campbell also advanced as an individual after shooting an 80, which was good for 18th-place.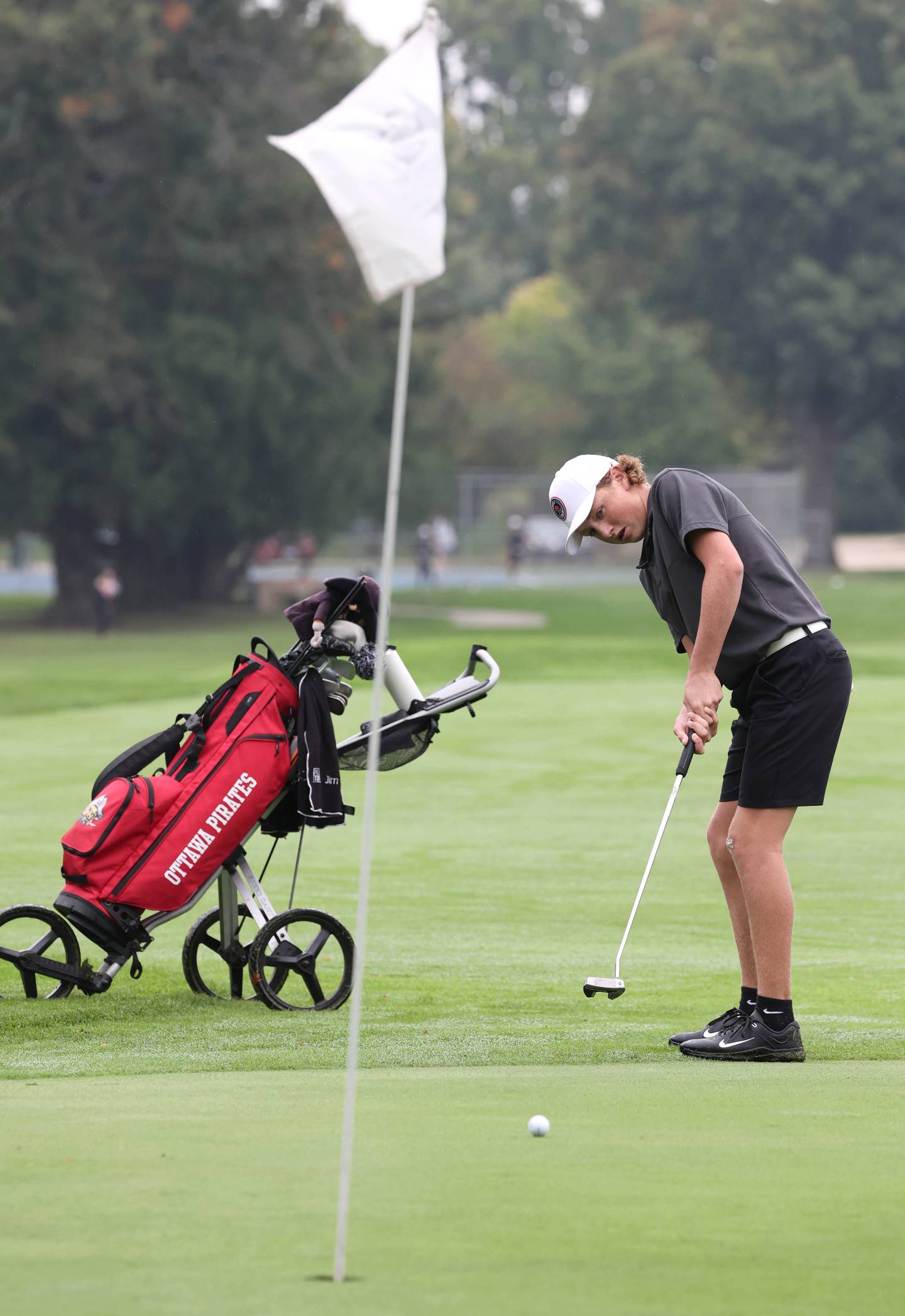 Streator to send four to sectional: The Bulldogs shot a team score of 338 to fall just seven strokes behind third-place Morris for the final advancing team spot at the Class 2A Pontiac Regional at The Oaks at River's Edge Course.
However, Cole Park (76, fourth), Jaydon Nambo (83, 13th), Logan Aukland (88, 24th) and Nolan Ketcham (91, 26th) will all be advancing to Monday's Peoria Richwoods Sectional at Kellogg Golf Course.
Earlville golfers, team fail to advance: The Red Raiders shot a team score of 378 to finish eighth at the Class 1A Riverdale Regional at Byron Hill Golf Course.
Aaden Browder led Earlville with a 90, followed by Ryan Browder (92), Trenton Fruit (96) and Rocco Morsovillo (100).
Boys soccer
Serena 5, Yorkville Christian 0: At Yorkville, the Huskers were led by two goals and an assist from Tanner Faivre in the win over the Mustangs.
Damien Gonzalez, Finn Rosengren and Beau Raikes also scored for Serena, while Carson Baker had three assists and Hunter Staton had an assist.
Johnsburg 9, Sandwich 0: At Johnsburg, the Indians fell in the Kishwaukee River Conference match.
Keeper Aiden Ferguson made four saves in net for Sandwich.
Girls volleyball
Marquette Academy 2, Serena 0: At Bader Gymnasium, the Crusaders improved to 16-4 on the season with a 25-7, 25-19 victory over the Huskers.
Marquette was led by Maera Jimenez (five kills, 11 assists), Kealey Rick (12 assists, two aces), Lilly Craig (six kills), Anna Hjerpe (six kills), Makayla Backos (four kills, three aces), Nora Rinearson (seven digs), Emma Rinearson (six digs) and Maisie Lyons (five digs, two aces).
Peoria Heights 2, Woodland 1: At Peoria Heights, the Warriors dropped a 25-21, 18-25, 25-19 decision to the host Patriots to drop to 12-7 on the season.
Woodland was paced by Shae Simons (25 assists, 11 points, four aces), Kaiden Connor (seven points), Gabby Jacobs (six points), Grace Longmire (13 kills), Malayna Pitte (eight kills, two blocks).
Johnsburg 2, Sandwich 0: At Johnsburg, the Indians fell 25-19, 25-17 to the Skyhawks.
Cross country
Ottawa girls 8th, boys 14th at El Paso: At the El Paso Invite on Tuesday, the Pirates girls squad finished eighth out of 14 teams, including six state-ranked teams. Top finishers for the Ottawa girls were Shaylen Quinn (22nd), Addy Miller (49th), Makenzie Blazys (61st), Hailey Larsen (81st) and Issy Liebhart (97th).
The boys team also faced six state-ranked teams in its field of 19 and came away 14th. Top finishers were Malachi Snyder (76th), Oliver Ruvalcaba (77th), Sean Farrell (95th), Grant Smithmeyer (109th) and Kasey Dose (114th).