GRANVILLE – In the first Tri-County Conference match between the Putnam County and St. Bede volleyball teams in more than a decade, the local rivals played before a full house Thursday at R.M. Germano Gymnasium.
"It's nice to have a bunch of fans show up and come support us," said Putnam County senior Ava Hatton, who called St. Bede a good addition to the conference. "It definitely helps to have backup when things get down and helps us to keep our heads up and just to keep us moving. It's good to have that support from our students and parents and everyone."
With a raucous student section cheering them on, the Panthers took control of the first and third sets to beat the Bruins 25-16, 24-26, 25-15.
"It was a great environment for volleyball," PC coach Amy Bell said. "The girls came out and really did a nice job hitting shots and changing up some swings. I think we found a ton of holes in the first set. The second set we got a little bit tip happy. In the third set we were ready to hammer again. I thought we played really great defense and stopped St. Bede in that third set in the times they were swinging. We had great serve-receive and were able to truly run an offense. That was really nice in the third set to capitalize, have a nice lead and kind of coast to the end."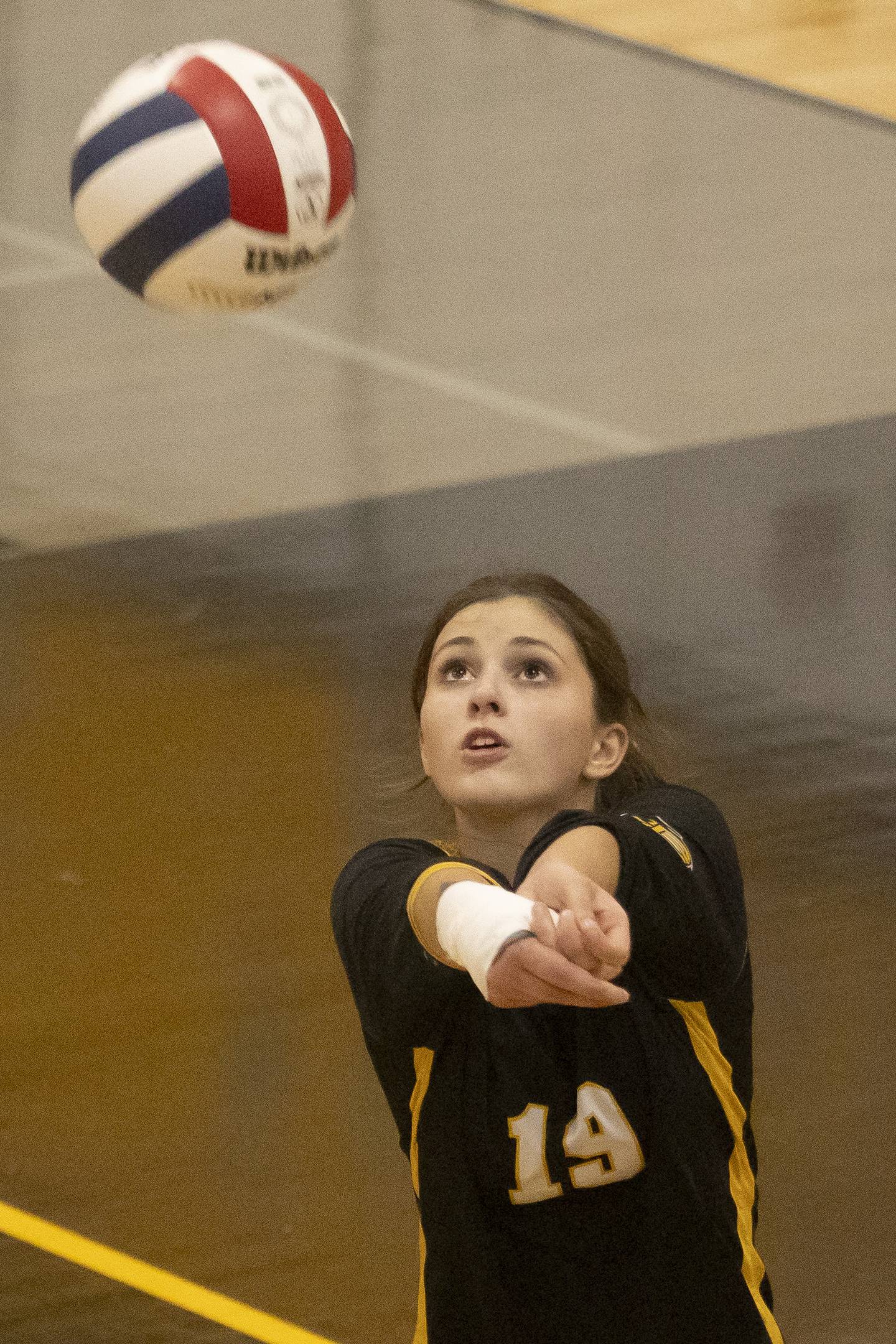 The first set was tight with 11 ties when the Panthers took control when the set was tied at 15-15.
Maggie Richetta pounded down a free ball and Hatton recorded a kill on back-to-back plays to jumpstart Putnam County's 10-1 closing run.
"I thought we swung when we needed to and didn't have a lot of tips," Hatton said. "We didn't let the ball drop a lot. We were fighting. We knew we had to come on strong and just finish it."
The Panthers had a strong start in the second set, as well, taking a 9-3 lead. Putnam County seemed to have the Bruins on the ropes, up 13-6, before St. Bede started to rally.
Consecutive kills by Ali Bosnich and another by Amanda Wojcik closed St. Bede's deficit to 14-12, leading to a Putnam County timeout.
After the break, an error followed by a kill and block from Bosnich gave St. Bede the lead at 15-14.
The set remained close, but the Panthers took a 22-19 lead before the Bruins rallied again. With the set tied at 24, PC had an error, and Wojcik served an ace to force a third set.
"When our girls are communicating and connecting, we can play with the best teams," St. Bede coach Abbi Bosnich said. "When we struggle to communicate and we get in our own way, we often fall short. I think in the second set, we really rallied together and played as a team."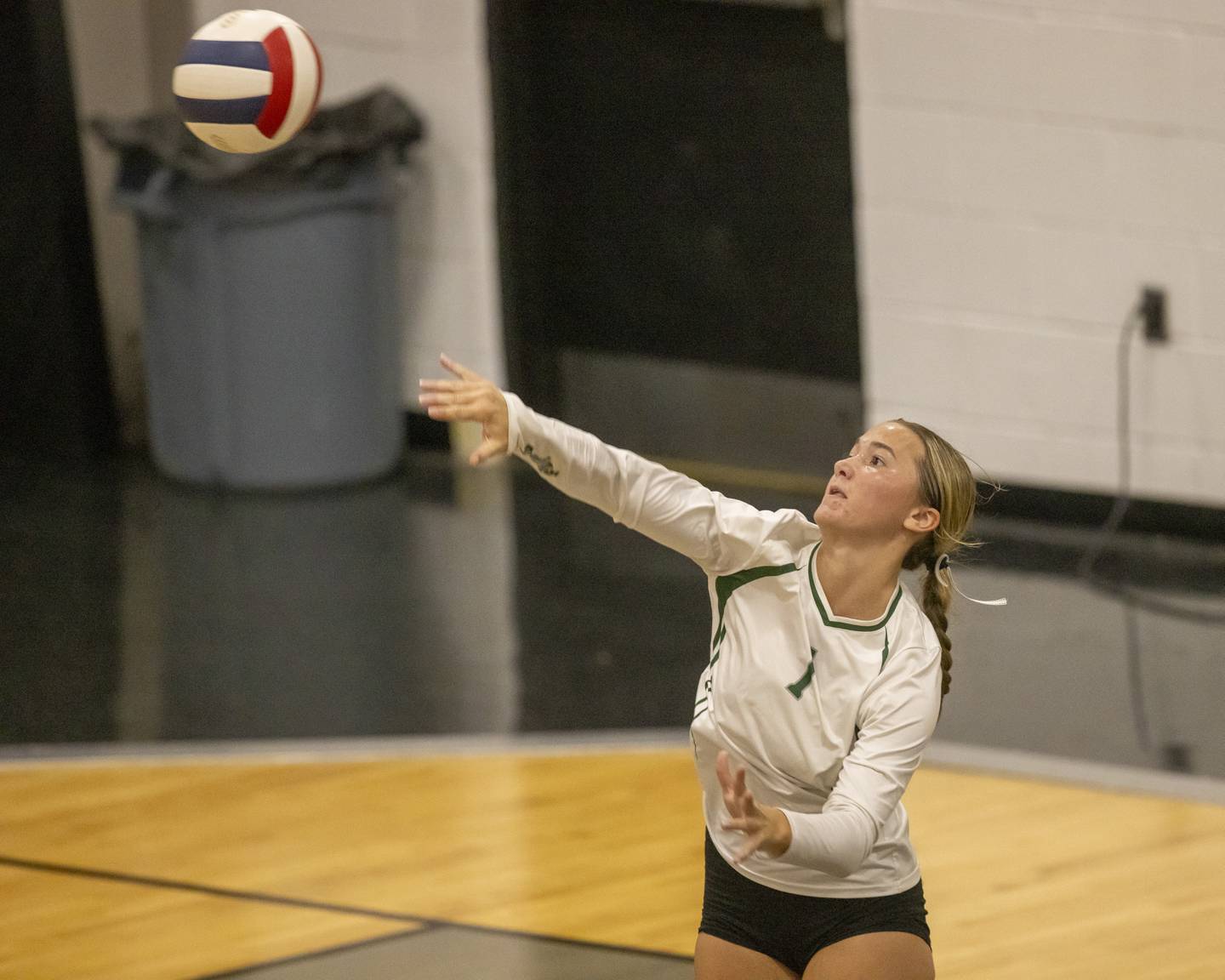 The Bruins couldn't carry the momentum to the third set.
Putnam County (11-5, 2-2 TCC) raced out to a 10-3 lead but didn't let St. Bede back in the set this time, leading start to finish, with Hatton slamming down a kill for the final point.
Hatton led a balanced PC attack with nine kills, while Maggie Spratt put down seven, Richetta had six, Sara Breckenridge contributed five, and Avery Moutray added four.
Richetta led the back row defense with 22 digs, while Hatton had 15 and Moutray had 14. Spratt had three blocks, Richetta had two. Megan Wasilewski had 27 assists and nine digs.
"We've really been working hard on having a balanced offense," Bell said. "Megan and I have been talking a lot about finding the hot hitter and taking care of business that night. The girls do a great job of supporting each other. Whether Maggie [Richetta] is the kills leader or Ava is the kills leader, just coming to play together is super important for them. Ava swung extremely well. Maggie had some great touches on blocks and she plays incredible defense in the back row. I just can't compliment enough the individual skills they have. It's cool to see each of them shine differently each night."
Ali Bosnich led the Bruins (8-12-1, 2-2) with eight kills and three blocks, while Aubree Acuncius had 15 assists.
"In rally scoring, errors kill you," Abbi Bosnich said. "I thought Putnam County had some great plays at the net. I thought their hitters did a nice job finding our holes on the court. But I also feel like tonight many of the points the other team scored were due to our errors."