Last fall, Seth Adams pulled double duty playing for the La Salle-Peru boys soccer and football teams.
He was NewsTribune All-Area in both sports as he scored 14 goals and had four assists for the soccer team and made 18 of 22 extra points and all four field goal attempts for the football team.
This year, he dropped soccer and is only playing football.
With his focus on football, Adams is doing more than kicking and punting for the Cavaliers this season.
Adams, who has made four field goals this season, also is playing receiver for the Cavs.
He's caught five passes for 121 yards and a touchdown this season.
Adams had his biggest game of the season last week, hauling in three catches for 72 yards and a TD.
He had two key plays in L-P's 20-15 comeback victory over Plano.
Adams caught the game-winning 52-yard touchdown pass from Brendan Boudreau with 45.2 seconds left. He also caught a pass on fourth-and-6 for a first down to keep the winning drive alive.
"Seth has been a great addition to the football program," L-P coach Jose Medina said. "His kicking has improved greatly along with his punting. This year he is all in to playing other positions as he has been taking reps at receiver for us and has been making plays to help the team win.
"He is a great young man who is eager to learn and lives for those pressure situations."
Playoff outlook
Almost halfway through the season, the playoff picture is starting to take shape.
La Salle-Peru and Princeton are in a good position at 3-1 needing just two more wins to qualify for a playoff berth.
The Cavaliers pulled out a key win last week by scoring with less than a minute left to beat Plano 20-15.
L-P has games against Woodstock (0-4) and Ottawa (2-2) but also have three tough games at Morris (4-0) this week, at Sycamore (4-0) in Week 8 and at home against Kaneland (2-2) in the regular season finale. The Cavs are 2-11 against those three teams since 2019 with both wins coming in the spring 2021 season.
The Tigers have their toughest remaining game this week at home against Class 5A Sterling (2-2) followed by Kewanee (4-0) but finish with three games against teams with a .500 record or below.
St. Bede, Hall-Putnam County, Bureau Valley and Fieldcrest all are in contention at 2-2.
The Bruins play at Westmont (1-3) and at home against Elmwood Park (0-4) the next two weeks, which should get them to 4-2. They then must win at least one of their final games at home against Dwight (3-1), at Marquette (3-1) and at Seneca (4-0).
The Red Devils have a tough road to the playoffs with games at Kewanee (4-0), at Newman (3-1), at home against Rockridge (3-1) and at Princeton (3-1).
The Storm also face an uphill battle with games at Newman (3-1), at home against Princeton (3-1) and at Morrison (4-0).
The Knights have a pivotal matchup this week at home against Heyworth (3-1) with games later in the season at home against Fisher (0-4) and at Alton Marquette (1-3).
Mendota is 0-4 and would need to win out to make the playoffs. The Trojans' final three opponents are a combined 10-2.
Running wild
Princeton sophomore Casey Etheridge continues to run all over opposing teams this fall.
In the Tigers' 42-0 win over Orion last week, Etheridge rushed for 291 yards and five touchdowns on 26 carries, bringing his totals for the season to 810 yards and 12 touchdowns on 76 attempts, an average of 10.7 yards per carry.
Etheridge ran for three touchdowns in the second half after the Tigers held a 14-0 halftime lead.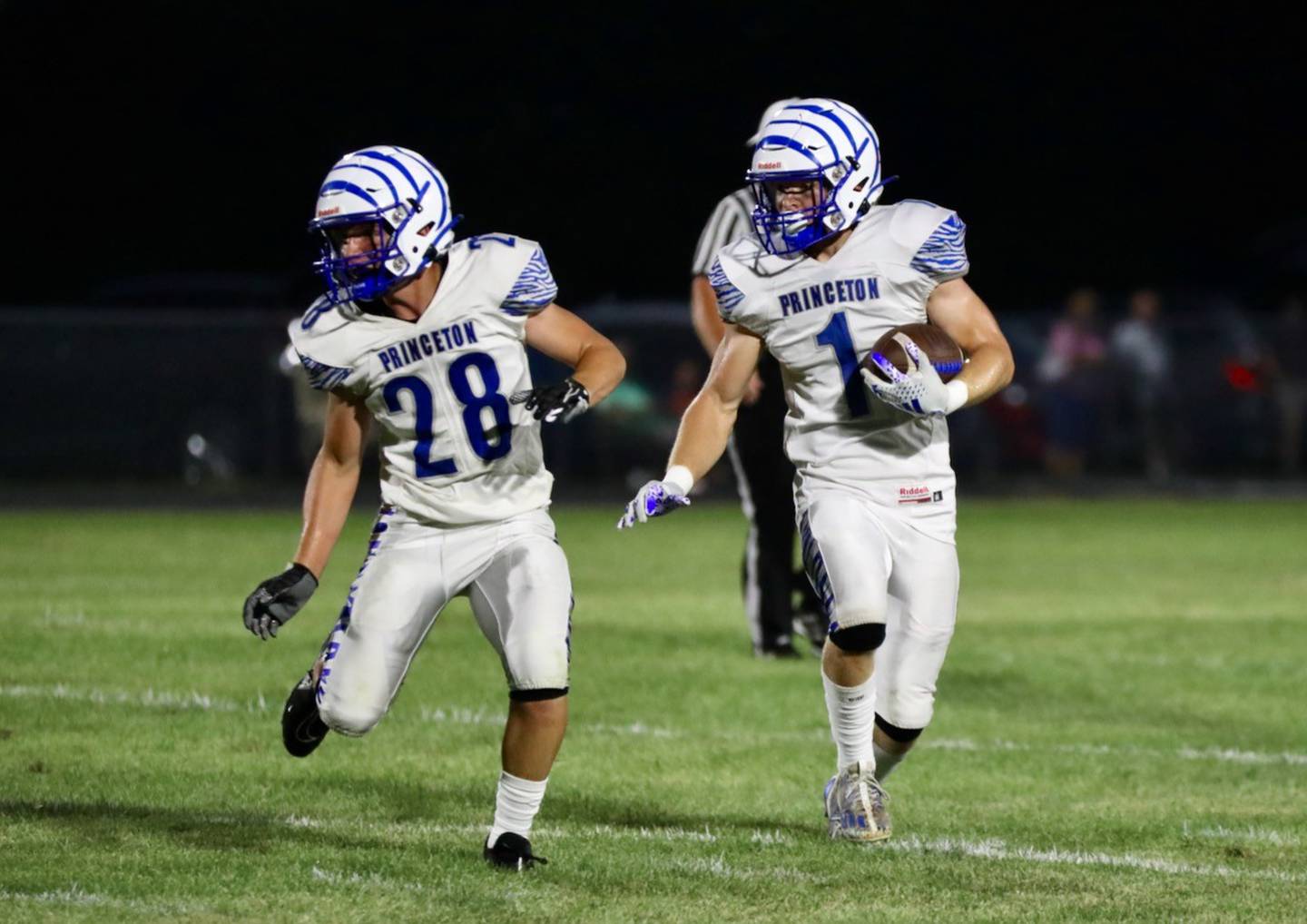 Showing improvement
Mendota had been outscored 151-8, and the Trojans had a running clock the first three games of the season leading up to last week's 34-7 loss to Hall.
Against the Red Devils, Mendota scored in the first half for the first time this season, the game was tied at 7 midway through the second quarter and the Trojans trailed 19-7 at halftime.
"There were a lot of positive signs and we saw significant growth," said Mendota coach Keegan Hill, whose team travels to Bureau Valley (2-2) this week.
Not how it was drawn up
The St. Bede vs. Ridgewood game featured two fumbles that led to touchdowns.
The Rebels' first touchdown came when running back Julian Luna ran the ball 12 yards before fumbling, but teammate Niall Kenny picked it up and ran the final 13 yards to the end zone.
St. Bede offensive lineman Joe Bima made a trip to the end zone in the fourth quarter.
On a second-and-goal from the 6, the Bruins fumbled, but Bima scooped it up and took it in for the score.
Familiar face
When Fieldcrest (2-2) plays host to Heyworth (3-1) in a Heart of Illinois Conference Small Division game Friday, there will be a familiar face on the opposing side.
Long-time Fieldcrest assistant Mitch Neally now is an assistant at Heyworth.