PERU - St. Bede football coach summed up his feelings simply after Friday's game.
"I'm not real happy," Eustice said.
The Bruins had three turnovers that led to Norridge Ridgewood touchdowns, allowed 394 yards of offense and gave up four long scoring plays in a 42-27 loss in a Chicagoland Prairie League game at the Academy.
"We did not play well and they did," Eustice said. "We need to do everything better. It's not one thing. We are not doing what we're supposed to be doing on a consistent basis. We're too inconsistent. We're just not doing it. We're not coming out and executing what we work on all week. It's plain and simple."
Ridgewood grabbed the momentum just before halftime.
With the game tied at 7-7 with just over a minute left, St. Bede quarterback Max Bray threw a pass that hit off a receiver's hands and into the hands of Ridgewood defender Majd Saleh.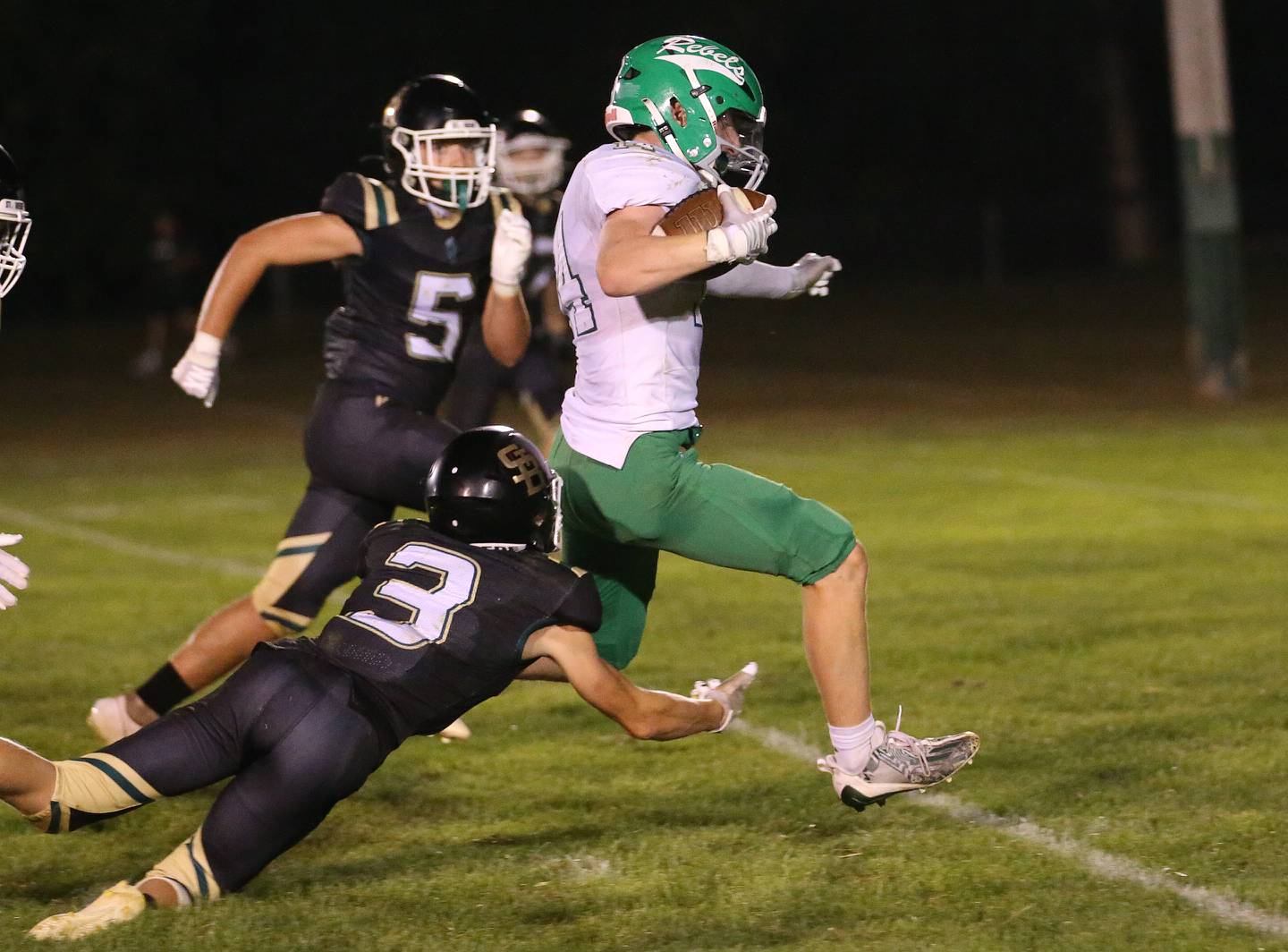 On the Rebels' first play of the ensuing drive, QB Jaden Rodriguez hooked up with Niall Kenny for a 52-yard touchdown pass with 49 seconds left for a 13-6 lead after the kick missed.
St. Bede looked to take the momentum back as the Bruins drove to the Ridgewood 9-yard line, but after an incomplete pass on first-and-goal, the Bruins missed a 26-yard field goal as time expired.
The Rebels took control in the third quarter as Ridgewood linebacker Julian Luna intercepted a pass at the Rebels' 17-yard line and returned it to the Bruin 49.
A 39-yard pass from Rodriguez to Lucas Melendez set up Luna's 3-yard touchdown run to extend the Rebels' lead to 21-7.
After St. Bede responded on a 12-yard TD run by Bray on which he broke a tackle at the goal line, the Rebels answered with another TD run by Luna.
Ridgewood capitalized on another turnover when Gilardo Mendoza recovered a fumble at the Bruin 41.
The Rebels had a 14-yard TD pass negated by a hold, but on the next play Rodriguez hit Saleh for a 24-yard TD strike over the middle then hit him again for the two-point conversion for a 35-14 lead.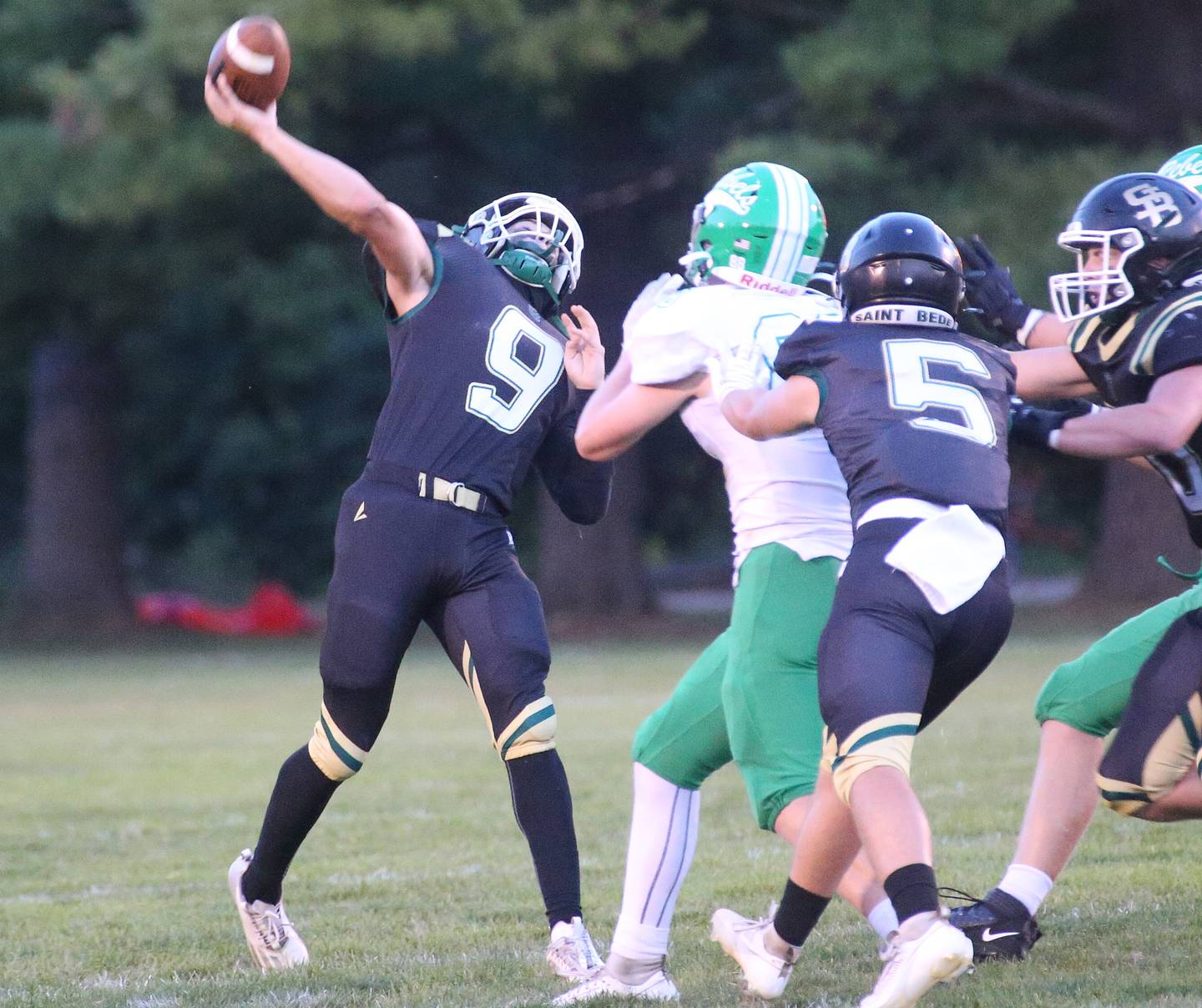 Ridgewood made a stop on fourth down and added a 63-yard TD pass from Rodriguez to Melendez to extend the lead to 42-14.
The Bruins added two late touchdowns when offensive lineman Joe Bima scooped up a fumble and ran 5 yards for a TD before St. Bede recovered an onside kick and Bray scored on a 12-yard run as time expired.
"We're making too many mistakes - physical and mental mistakes," Eustice said. "Ultimately, that lands on me."
In the first half, the Rebels (3-1, 1-1 CPL) got on the board first when a 12-play, 85-yard drive ended when Luna ran 13 yards before fumbling and Kenny picked it up and ran it the final 12 yards with 11:31 left in the second.
St. Bede tied it on a 4-yard TD run by Bray.
Bray completed 13-of-34 passes for 138 yards with two interceptions while rushing for 176 yards and three TDs on 30 carries.
Rodriguez completed 9-of-15 passes for 246 yards and three TDs, while Lunda ran for 71 yards and two TDs on six attempts.
The Bruins (2-2, 1-1 CPL) travel to Westmont (1-3, 0-2) in Week 5.
"We're lacking leadership right now," Eustice said. "At some point we have to start to develop some leadership. Right now we have zero."