Seth Adams hoped to score the game-winning points Friday.
It turns out that he did, but not in the way he expected.
With the La Salle-Peru football team down by two points with less than a minute to go in Friday's Kishwaukee River/Interstate 8 crossover against Plano, Adams – the Cavaliers' senior kicker who had already made two field goals in the game – this time caught the go-ahead, game-winning, 52-yard touchdown pass from senior quarterback Brendan Boudreau to give L-P a 20-15 come-from-behind victory.
"It was really exciting," Adams said of the catch and the win. "We just needed three points. So as long as we got those three points, it didn't matter how we ended up getting them. I made the field goals, but the catch was big."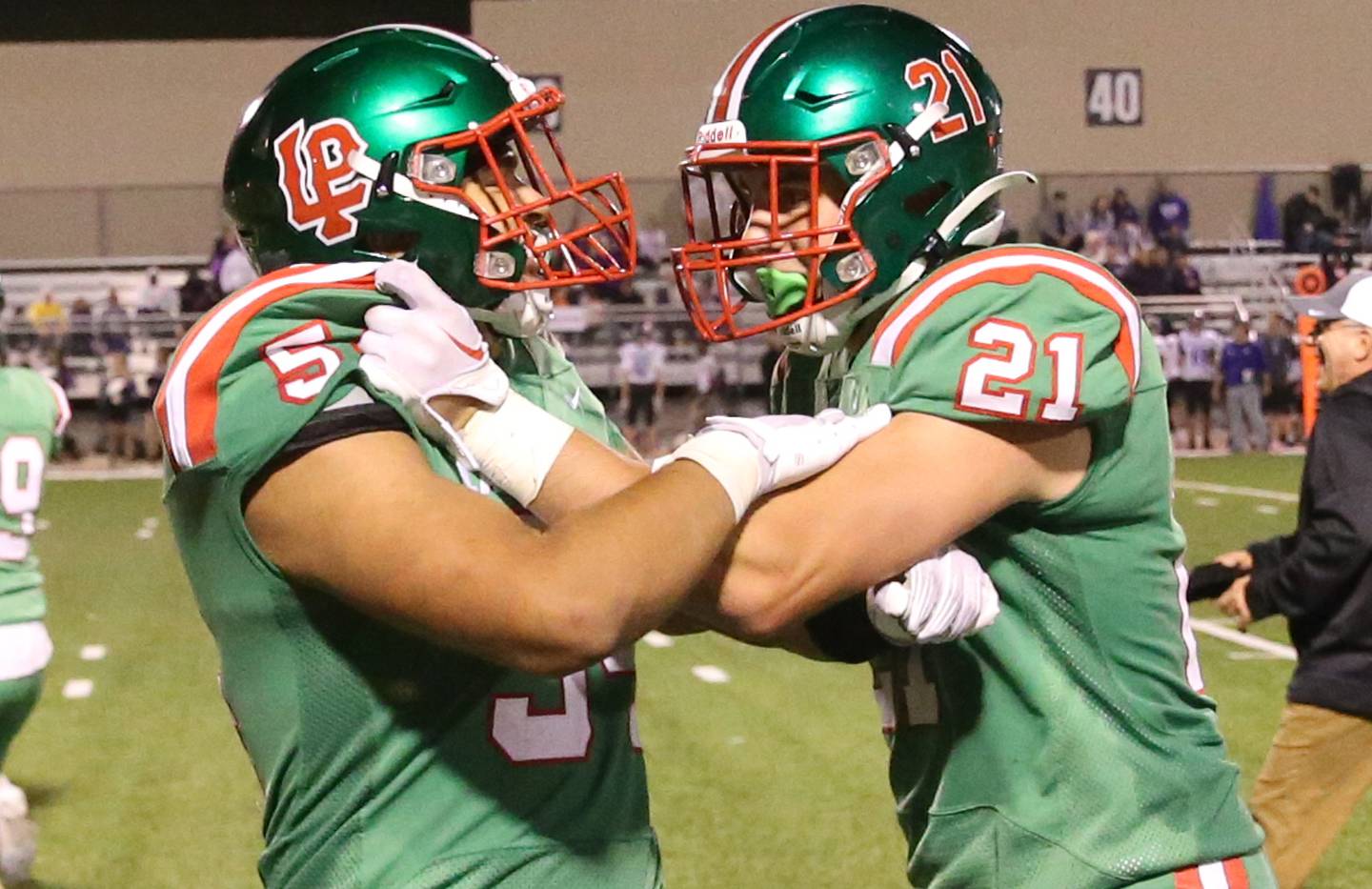 The game-winning TD toss from Boudreau to Adams was the sixth lead change of the game, the fifth in the fourth quarter and the third in the final five minutes.
After a frustrating first three quarters for the Cavs' offense that produced only three points, L-P (3-1) took off in the fourth quarter, scoring 17 points in the final 11:10 to rally for its second straight home win after beating Woodstock North last week, also a come-from-behind victory.
"Once again, it was the same thing as last week, a tale of two different games," Medina said. "Once again, we came out flat, left some points on the board and couldn't capitalize near the end zone, but it was exciting to see the kids battle through the adversity and come out with the win. Credit to them."
The loss was the second straight road defeat for Plano (2-2) after last week's 27-7 loss to rival Sandwich.
"You have to make the plays," Plano coach Rick Ponx said. "Games like this come down to 4 to 5 plays, and the teams that make them win, and the teams that don't go home sad."
After the Reapers' junior kicker Colby Byrd kicked the go-ahead, 22-yard field goal to give Plano a 15-13 lead with 2:43 left in the game, L-P took possession at its 27-yard line with 2:34 remaining.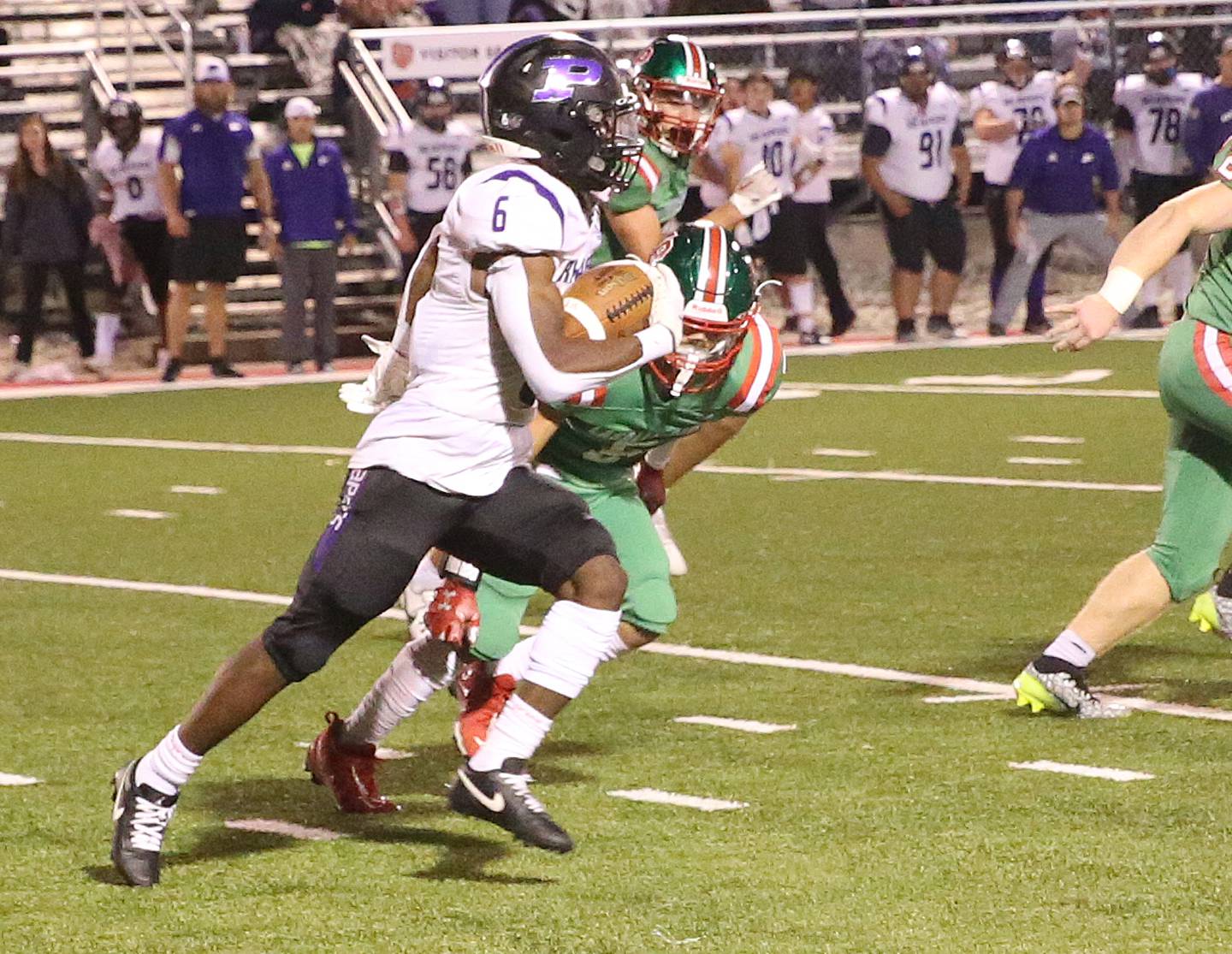 However, the L-P offense struggled and faced a fourth-and-6 with 1:23 to go. With the game on the line, Adams caught Boudreau's pass and was stopped near the first-down marker.
After a measurement, L-P got the first down by inches to keep its chances alive.
"Seth made such a great catch, and he really stretched out, so I thought he got [the first down]," Medina said.
With new life, Boudreau threw a 13-yard completion to receiver Kaleb Kennedy, then threw an incompletion and took a 2-yard sack to set up third-and-12 from L-P's 48-yard line. That's when he found Adams, who caught the ball wide open in the middle of the field and ran to the end zone for the game-winning score with 45.2 seconds left.
"We actually had two comeback routes on the outside, but I told [Boudreau], 'If it's there,' take it,'" Medina said. "And it was there. Brendan saw it, and he let it go."
The go-ahead TD capped a wild fourth quarter.
With Plano leading 6-3 entering the final 12 minutes, L-P took the lead on Boudreau's 2-yard TD run on fourth-and-goal to give the Cavs a 10-6 lead with 11:10 left in the game.
However, Plano's Waleed Johnson took the ensuing kickoff and weaved his way 99 yards for the score. The two-point pass failed, but it put Plano back on top 12-10 with 10:55 to go.
Adams, who already made a 38-yard field goal in the second quarter, put L-P back ahead when he kicked a 34-yard field goal to give the Cavs a 13-12 lead with 4:51 remaining.
Byrd's field goal put Plano back up 15-12 with 3:49 left to set up the wild finish.
"This game is a result of what happened to us last week," Ponx said. "We backed down last week, so all week we talked about being able to fight to the finish, and that's what you saw. We fought to the finish, and every time we got down, we bounced back."
Adams finished with three catches for 72 yards and the TD to go with two field goals, while Boudreau was 11 for 17 for 136 yards, 46 yards rushing, a passing TD and a rushing TD.
Plano running back Andrew Cox ran for 105 yards before he left late in the fourth quarter with an injury, while Johnson caught a TD and scored the kickoff return TD.
Next week, L-P travels to state-ranked and unbeaten Morris, while Plano plays host to state-ranked and unbeaten Richmond-Burton.