For Bears second-year cornerback Kyler Gordon, the 2023 season will be a chance to focus on one thing. The Bears intend to have Gordon focus solely on his role as a "nickel" or slot corner, lining up opposite slot receivers on the inside of formations.
It's nothing new for Gordon, who played that role all of last season. The difference, however, is that with the addition of rookie second-round draft pick Tyrique Stevenson, Gordon hopefully shouldn't have to flip flop between slot corner and outside corner like he did in 2022.
"I do really love nickel and being near the ball. I just get to be closer, which is more opportunities for me to make plays."

—  Kyler Gordon, Bears cornerback
"I do really love nickel and being near the ball," Gordon said. "I just get to be closer, which is more opportunities for me to make plays."
Last season, Gordon would play boundary corner on the outside when the Bears had four defensive backs on the field. When they went to a smaller lineup and swapped a linebacker for a fifth DB, Gordon moved to the nickel spot and veteran Kindle Vildor entered the game as a boundary corner.
Vildor and Stevenson will likely be battling it out for the outside corner spot this summer. Gordon can now focus on one job instead of two.
The nickel is a tough position to play. Cornerbacks aren't as big as linebackers, but the nickel is expected to help in run support. A nickel who can't do it properly will eventually be exposed by opposing offenses. Gordon plays with the physicality to get the job done.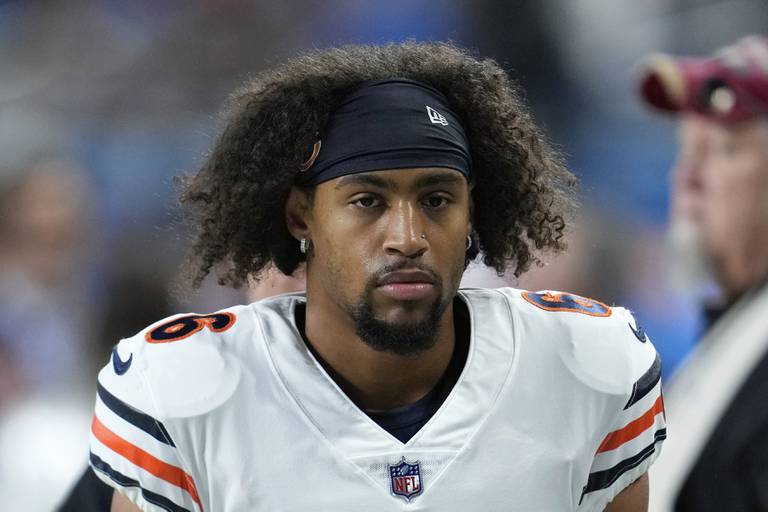 "That nickel position is a hard position," Bears head coach Matt Eberflus said this week during OTAs. "You can do a lot of different things in there, a lot of different techniques. Things happen fast in there. You have to fit the run."
Bears general manager Ryan Poles drafted Gordon and Stevenson in back-to-back drafts, and they are similar in the fact that they hit hard for DBs. The same goes for second-year safety Jaquan Brisker. That is clearly an attribute that Poles likes in his defensive backs.
Gordon had 71 total tackles last season, including two tackles for loss, to go along with three interceptions in coverage.
"I like to blitz and stuff like that," Gordon said. "Them giving me the ability to go and do that, that's what I love a lot about being in the nickel."
Bears cornerbacks coach Jon Hoke believes that Gordon's intelligence will make him a great nickel. He has a feel for the timing of the position, Hoke said, and he knows how to beat a block.
"He understands the concepts that he's being attacked with," Hoke said.
When asked about last season, the 23-year-old Gordon said some of his biggest mistakes were communication-related things, especially early in the season. He had his ups and downs, as any rookie corner does. But he played his best football late in the season, which was a promising sign for a rookie.
Playing both outside and in the slot was a big responsibility, and Gordon learned a lot from it. Now, he hopes to take those experiences and use them to become a better player.
"I needed those reps and experiences," Gordon said. "I understand why I was out there a lot and stuff like that. That year is over and I learned what I needed to learn from it. It's just going to get better and better."