LAKE FOREST – Bears head coach Matt Eberflus has had plenty of time to watch the tape now. He addressed the media Monday afternoon at Halas Hall in Lake Forest, less than 24 hours after a season-opening 38-20 loss to the Green Bay Packers at Soldier Field.
Not surprisingly, Eberflus said there's a lot that needs to be corrected. Here are the biggest takeaways in Eberflus' assessment.
On the offensive game plan
Bears fans probably were screaming at their TVs for quarterback Justin Fields to throw the ball downfield. Fields attempted only four passes that went more than 10 yards beyond the line of scrimmage through the air. One of them was a 20-yard touchdown to Darnell Mooney. Otherwise, it was all short stuff.
Fields chalked up the short passes to the game plan. That's how offensive coordinator Luke Getsy and the coaching staff decided it wanted to attack the Packers.
On Monday, Eberflus said he wants his QB looking downfield.
"We always want him to look downfield," Eberflus said. "That's an important piece to it. Certainly, before he scrambles and runs, we want him to take a look downfield to see open receivers, if they are."
The lack of targets for receiver DJ Moore, who the Bears acquired in the trade for the No. 1 overall draft pick, is baffling. Eberflus said the Bears need to "get the ball to our best skill [players]."
"We have to do a better job there," Eberflus said. "Were the plays designed for him to go there sometimes? Yep. And they had some different coverages rolled up to him at times and different things that they were doing, which some teams are going to do, but we certainly have to find ways to feed DJ and feed our skill [players]."
On quarterback Justin Fields
Simply put, Eberflus wants Fields to play better.
"He knows he can play better," Eberflus said. "He knows that. He's well aware of that, and he's going to work diligently to do that."
Fields finished the game 24-for-37 passing for 216 yards with a touchdown and an interception. The interception was simply a bad throw. He tried to fit the ball into a tight window and never should've thrown it. Packers linebacker Quay Walker returned it for a touchdown. Fields also lost one fumble and was sacked four times.
On the interception, Fields stared down Moore and likely should've looked elsewhere. He said so after the game. Eberflus said Fields "needs to scan the field" in that situation.
Eberflus later noted that he feels, overall, like Fields is "OK right now."
"I think always looking at those things downfield, we can always improve on that," Eberflus said. "And the receivers need to improve on their scramble drill as well. It's not just him. It's also the receivers working the scramble drill, too."
He knows he can play better. He knows that. He's well aware of that and he's going to work diligently to do that."

—  Matt Eberflus, Bears head coach
On the defense and the pass rush
Eberflus' 4-3 defense gave up 31 points in Sunday's game, pressured Packers quarterback Jordan Love very little and allowed the Packers to go 9 for 16 on third downs.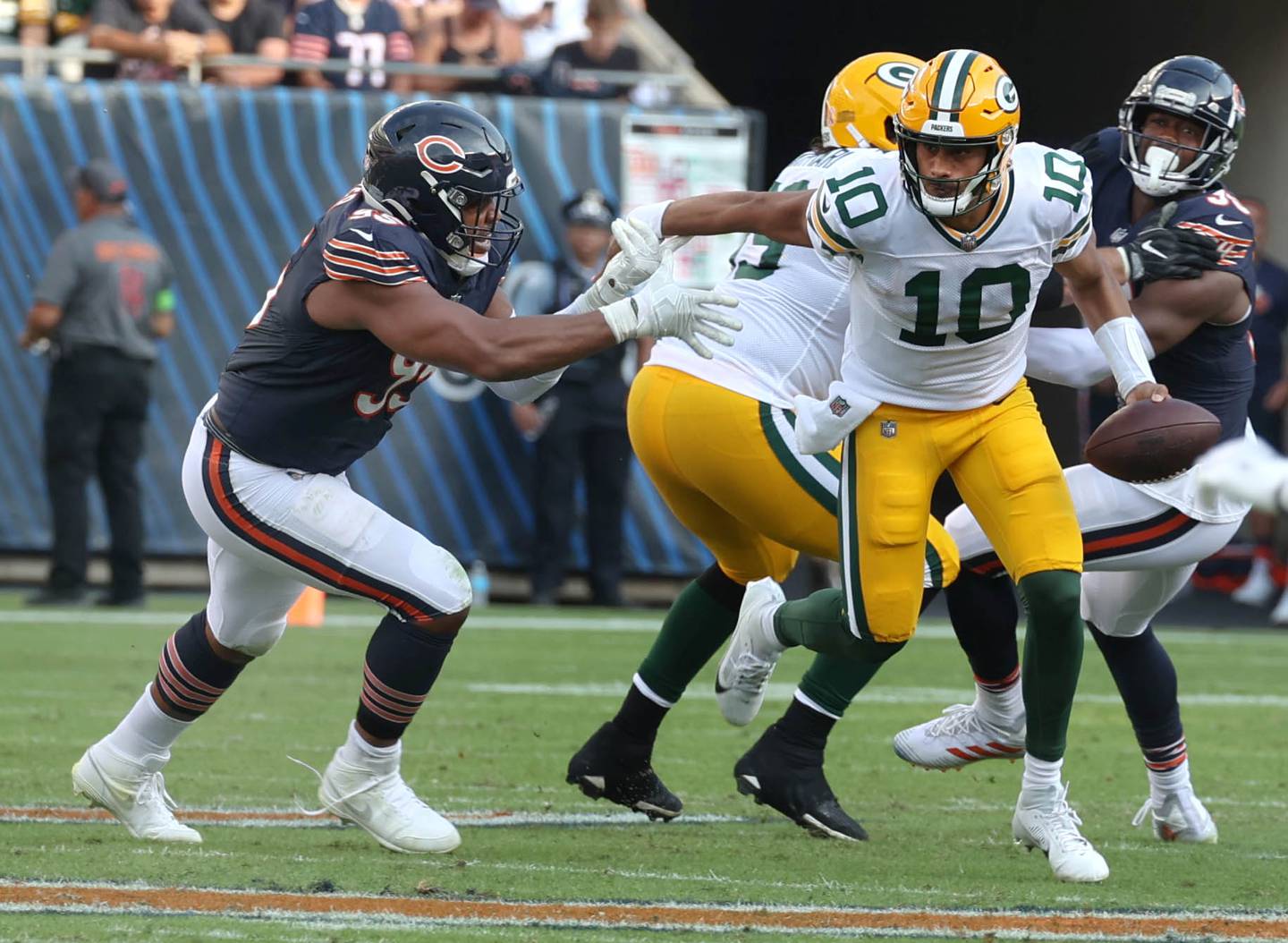 For Eberflus, it was the third downs that ate at him.
"I would just say third downs," Eberflus said. "The rush and the cover and the cover and rush. It is about the rush, no question, but it's also about the coverage. It's us having precision and detail there to be able to get off the field on those third downs."
On the pass rush, specifically, Eberflus said the defensive line has to be more coordinated. Yannick Ngakoue had the lone sack in the game. The Bears totaled three QB hits.
"Those guys need to work with each other," Eberflus said. "Because a lot of it is playing off each other."