As soon as the Thanksgiving turkey is off the table, community Christmas celebrations and activities will take place all across the Illinois Valley leading into the holiday. Here is a roundup of activities across La Salle, Bureau, Putnam and Livingston counties and some surrounding communities.
Cornell
A pancakes and sausage breakfast with Santa is scheduled 7:30 to 10:30 a.m. Saturday, Dec. 9, at the American Legion Hall, 506 Elm St. Cost is $7 for adults and $3 for children 13 and younger and free for children 3 and younger. There will be a craft table. The lighted vehicles parade will begin at 6 p.m. from the grade school. There will be carol singing and the Christmas tree lighting at Amity Park following the parade. Following the tree lighting, there will be children's gifts with hot cocoa and cookies, photo opportunities with Santa and a craft table at the American Legion. Donate non-perishable food items for the food pantry.
Dana
The inaugural Light Up Dana is scheduled 6 p.m. Saturday, Nov. 25, on Main Street.
Earlville
The EBA Christmas Festival is 3 to 6 p.m. Sunday, Dec. 3. Santa arrives at 3 p.m. at the museum. The Earlville High School band will perform. There will be photo ops with Christmas cars, a live nativity by Immanuel Lutheran Church, hot dogs for sale, hay rack rides, free s'more making, cookie decorating, face painting and a cookie sale.
The Earlville Police Department will host a Christmas party for all children 1 to 3 p.m. Sunday, Dec. 10, at the fire station, 99 East St.
Flanagan
Santa Sunday Funday begins at 2 p.m. Sunday, Dec. 3, at the Flanagan library, 124 S. Main St. There will be vendors, food trucks, barrel rides for kids and a visit from Santa. Bingo will be 3 to 4:30 p.m. at the American Legion. The Mr. Jack Frost and Miss Merry Christmas crowning will be at 4:45 p.m., followed by caroling around the Christmas tree at 5 p.m., the tree lighting at 5:15 p.m. and the parade at 5:30 p.m.
Grand Ridge
Pizza and Pajamas with Santa is scheduled 4 to 6 p.m. Sunday, Dec. 10, at Farm Ridge Township Hall. Bring letters for Santa. There will be ornament decorating, photos, carriage rides and ornament hanging and tree lighting.
Hennepin
Santa and Mr. Claus will be at the Hennepin Fire Station, 201 E. High St., 3 to 4 p.m. Sunday, Nov. 26. Free photos with Santa are courtesy of Quentin Buffington. Refreshments will be provided by Hennepin Fire Rescue and the Village of Hennepin. The lighting of Durley Boyle Park will follow at 4:15 p.m.
La Salle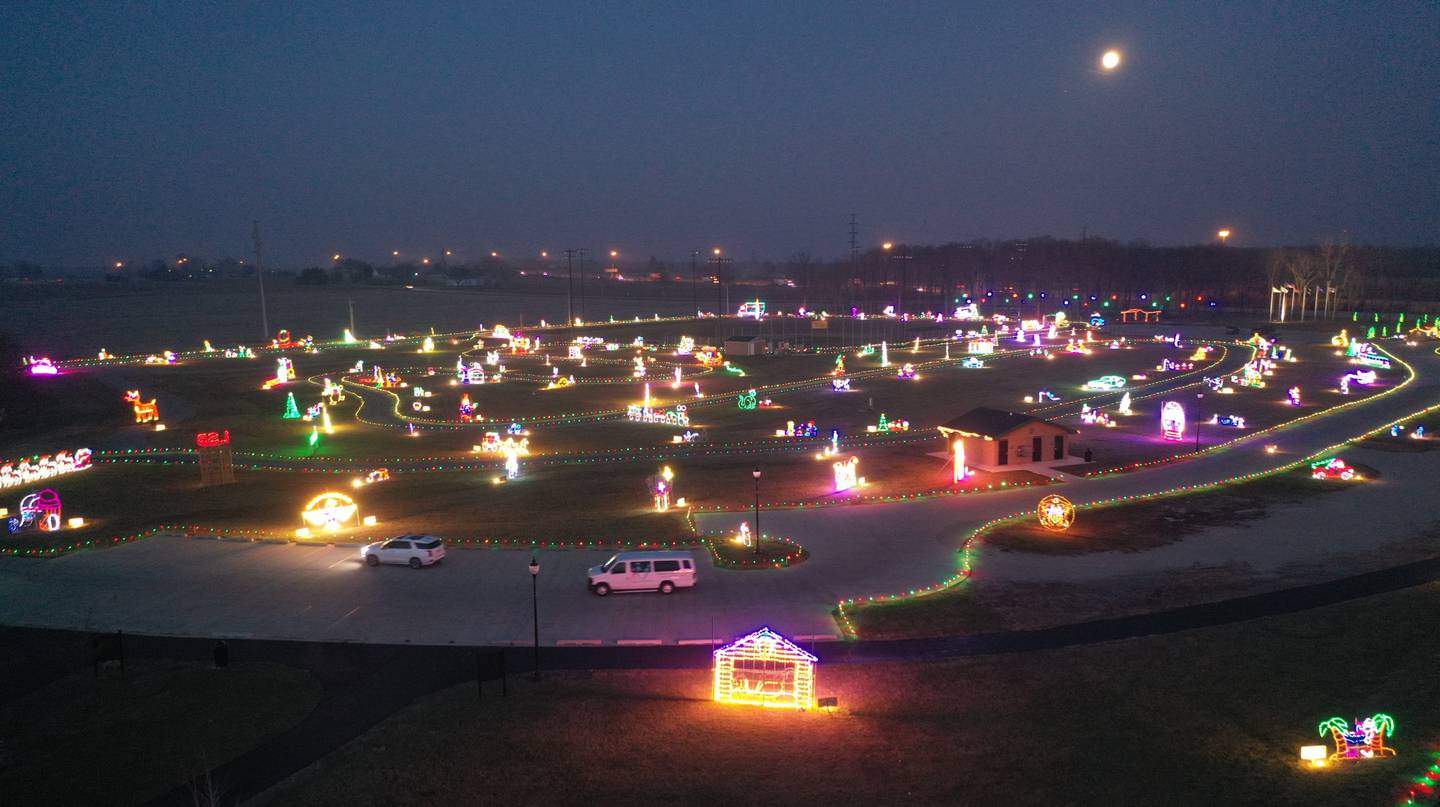 Celebration of Lights is open until Jan. 1 at Rotary Park, 2845 E. Fifth Road.
Miracle on First Street is set Saturday, Dec. 2, in the city's downtown. The activities begin 8:30 and 9:30 a.m. with Breakfast with Santa by reservation at the Auditorium Ballroom, 109 Wright St. (Call 815-223-3755, press 1 for reservation). Santa's Workshop will be 9 a.m. to 1 p.m. at Ax Church, 944 First St. There will be fire truck rides and s'mores from 10 a.m. to 1 p.m. at La Salle City Hall, 745 Second St. Photos with Santa will be 10 a.m. to 2 p.m. at the Auditorium Ballroom. Carriage rides are set noon to 3 p.m. at Second and Marquette streets. Christmas Family Bingo is 12:30 to 2:30 p.m. at the Grove Center, 1055 Sixth St. The activities will be capped off at 3 p.m. by the tree lighting at City Hall.
Ladd
There's Snow Place Like Ladd 2023 Christmas Walk takes place2 to 5 p.m. on Saturday, Dec. 9. The afternoon includes music, kids crafts and activities at various businesses, plus a chance to visit with Santa. Horse and wagon and trolley rides down Main Street, the Elm City Bell ringers, a scavenger hunt for prizes, balloon twisters, face painting, photo ops and plenty of food will be available throughout the afternoon. Buy holiday cookies at the Ladd Fire Department, 327 N. Main St., bake sale. There will be a vendor show noon to 5 p.m. at the Ladd Grade School, 232 E. Cleveland St., and mail your letter to Santa. The Lighted Snowman parade starts at 5 p.m. Ladd War Memorial Park will host the Golf Cart Decorating Contest. Cast your vote for best cart and check out the petting zoon. Lighting of the village Christmas Tree will be immediately after the parade. The Moose lodge,1528 E. Cleveland St., will be serving soup and sandwich supper from 6 to 8 p.m. For more information call 815-894-2092, 815-894-2440 or email info@villageofladd.com.
Leland
The Christmas parade is scheduled 6 p.m. Saturday, Dec. 9. Lineup begins at 5 p.m. behind the school. The parade will take a trip around town with Santa followed by visits with Santa at the gazebo and treats of hot chocolate, coffee and cookies. The event is sponsored by the Leland Town and Country Association.
Marseilles
The Holiday Magic Lighted Santa Parade and Light Up Knudson Park is scheduled Saturday, Dec. 2. The parade will begin at 6 p.m. from 200 Riverfront Drive with line up at 5. The parade runs north on Main Street, east on Washington Street, west on Broadway Street, to Aurora Street, then to Lincoln Street. Santa will be stopping at Knudson Park for the lighting ceremony and for photos and visits. Brookfield Aces 4-H will be offering hot cocoa for donations to Aperion Care Nursing. Marseilles Masonic Lodge 417 is offering hot apple cider and popcorn for donations of food. The Polar Express holiday train will be available for rides.
Mendota
A Mendota Christmas is scheduled Saturday, Dec. 2. There will be a holiday craft and vendor show from 10 a.m. to 3 p.m. at the Elks, 707 Indiana Ave. Santa and Mrs. Claus will be taking visitors 11 a.m. to 2 p.m. on Illinois Avenue. There will be free hot chocolate and hot dogs 11 a.m. to 2 p.m. from the Mendota Lions Club and horse drawn carriages at the same time. There will be a free book giveaway from Graves-Hume Public Library, touch-a-truck, performances from the Northbrook Grade School choir and cheerleaders, food trucks from Taco Guzman and Salinas Mexican Food, music from Charles Van Horn Entertainment and photos from Red Ranch Photography, among other activities from other businesses and sponsors. Win possible prizes at the information booth by participating in an ugly sweater activity.
Minonk
The 40th annual Parade of Lights will cap off a Saturday, Dec. 2, full of events. The parade is 6:30 to 7:30 p.m. and starts at the previous Heritage Nursing Home, head north on Locust, west on Fourth and then north on Chestnut. There will be business open houses, the house decorating contest, an Elf on the Shelf hunt, Santa's visit 7:30 to 9 p.m. at Hometown Bookkeeping, photos with Santa 10 a.m. to 3 p.m. at Onnie B Photography, horse and carriage rides 3 to 5 p.m., a vendor fair 3 to 5 p.m. at City Hall, letter writing to Santa 3 to 10 p.m. at Joe's Pizza, Trees for a Cure 3 to 8 p.m. at Knight Fitness, hot drinks, bathrooms and a warm-up area at Redeemer Church, among other activities.
Naplate
The Santa Parade will begin at 4:45 p.m. Saturday, Nov. 25. It begins at the Naplate Village Hall and concludes at Vittone Park, going west on Ottawa Avenue, south on 22nd Avenue, east on Libbey Street to 17th Avenue, then back to Vittone Park. Lifelong resident Carol Vittone LeBeau will be grand marshal.
Newark
The Winter Festival is scheduled for Saturday, Dec. 2. Santa is scheduled to arrive at the firehouse at 4:30 p.m. Children can visit with Santa. Families are encouraged to bring their own cameras. A fireworks show can be viewed from the fire house at 7:30 p.m. followed by the Lighted Fire Truck Parade. There will be popcorn at the firehouse sponsored by Heartland Bank and Trust. The Charles B. Phillips Library will have children's holiday crafts, cookies and hot chocolate 4:30 to 6:30 p.m. From 4:30 to 7 p.m., there will be hot chocolate and cookies will be served at the Fern Dell Museum (there also will be peach cobbler) and Rural Life Museum, s'mores in the park sponsored by Gary Underhill Trucking, a bake sale and supper at the fire house to support Millbrook Junior High School and apple cider at the fire house provided by Newark Lisbon Recreation Association. Newark Lutheran Church will hose a bake sale and soup supper 4:30 to 6:30 p.m. There will be bounce houses on the park's basketball court donated by Izzy's Jump.
Oglesby
Hometown Christmas will be 2 to 4 p.m. Saturday, Dec. 9, in Senica Square. The city of Oglesby will provide hot cocoa and live music to accompany Santa's visit. Many Oglesby businesses and organizations will host other children's and family activities. A list of participating organizations will be provided in December. Following the event, the second annual We Are Oglesby Winter Parade will take place.
Ottawa
Santa and Mrs. Claus are expected to make an appearance 6 p.m. Friday, Nov. 24, at the Festival of Lights parade downtown. The parade begins at the corner of Jackson and La Salle streets and travels south to Lincoln Place. Fireworks and the lighting of the Christmas tree will follow at the Jordan block. The city's others parks also will light up their displays as part of Deck the Parks.
Chris Kringle Market kicks off its first four weekends in downtown Ottawa beginning noon Friday, Nov. 24. The markets featuring small makers, bakers and creators from around the world will be set up in the Jordan block on Jackson Street on the weekends of Nov. 24-26, Dec. 1-3, Dec. 8-10 and Dec. 15-17. The markets are open 4 to 8 p.m. Fridays (except the first Friday), 11 a.m. to 6 p.m. Saturdays and 11 a.m. to 4 p.m. Sundays. Go to chriskringlemarket.com for a market schedule and map.
Peru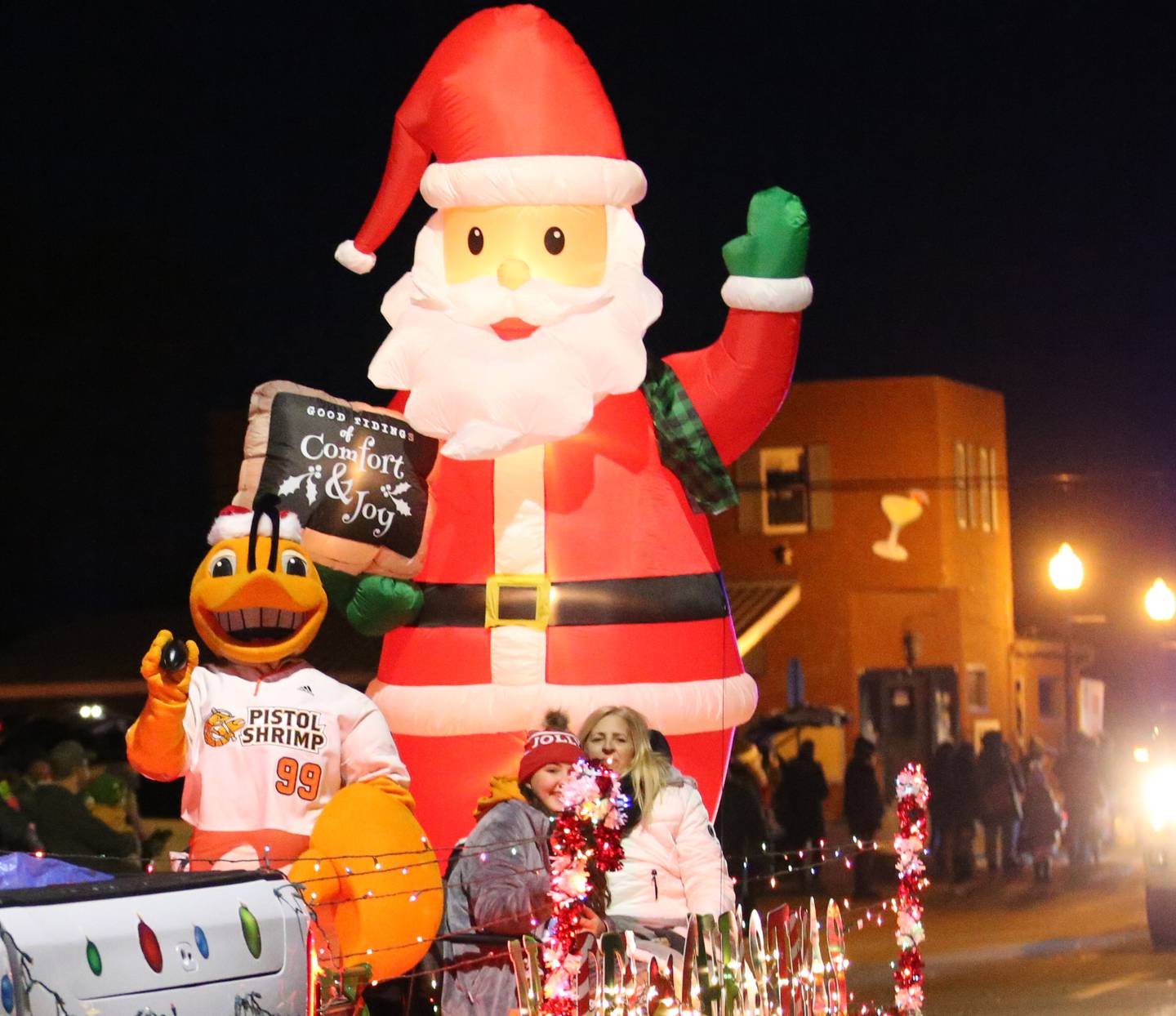 Light Up the Night is scheduled Saturday, Dec. 2. The city will host its third annual Lighted Christmas Parade at 5 p.m. The lighted parade has a new route. Line up begins at the Washington Park Splash Pad on Park Road. The parade will begin on the corner of Seventh and West streets, proceed through residential parts of downtown including West and Peoria streets, ending at Peru City Hall for activities to follow.
Princeton
The lighted parade is 6:30 p.m. Friday, Dec. 1, along Main Street. The tree lighting will proceed the parade at 6 p.m. at Veterans Park with a candy cane hunt at 7 p.m. at Soldiers and Sailors Park. There will be a live reindeer, along with the arrival of Santa. Breakfast with Santa, Santa's Workshop at Bureau County Fairgrounds and a free Christmas movie at The Apollo in Princeton will be Saturday, Dec. 2.
The Home for the Holidays Light Show runs 5 to 9 p.m. Fridays and Saturdays, 5 to 8 p.m. Sundays beginning Friday, Nov. 24, through Dec. 24, at the Bureau County Fairgrounds, 811 W. Peru St.
Sheridan
Hometown Holiday will take place Friday, Dec. 1. The parade will commence at 5:45 p.m. on Si Johnson Avenue with lineup at 5:30 on Rowe Street. Following the parade, there will be a book reading presented by The Sheridan Library and Mayor Tom Wehner will present Santa with the Town Candy Cane to light the Christmas tree. There will be free photos with Santa with a donation of a non-perishable food item. The Cub Scouts will be selling hot cocoa, cotton candy and popcorn 5 to 7 p.m.
Spring Valley
The Lighted Santa Parade is scheduled for 6 p.m. Saturday, Nov. 25, followed by the Christmas tree lighting directly after the parade. After a fire this summer, Spring Valley lost its 15-foot Christmas tree. This year, the city will "bring back the light" to the mini park with a display from the Quesse Family. The Santas On The Run 5k and one-mile walk is scheduled 10 a.m. to benefit the Hall Township Food Pantry from JFK School, 999 N. Strong Ave. Day of registration is 8:30 to 9:30 a.m.
Streator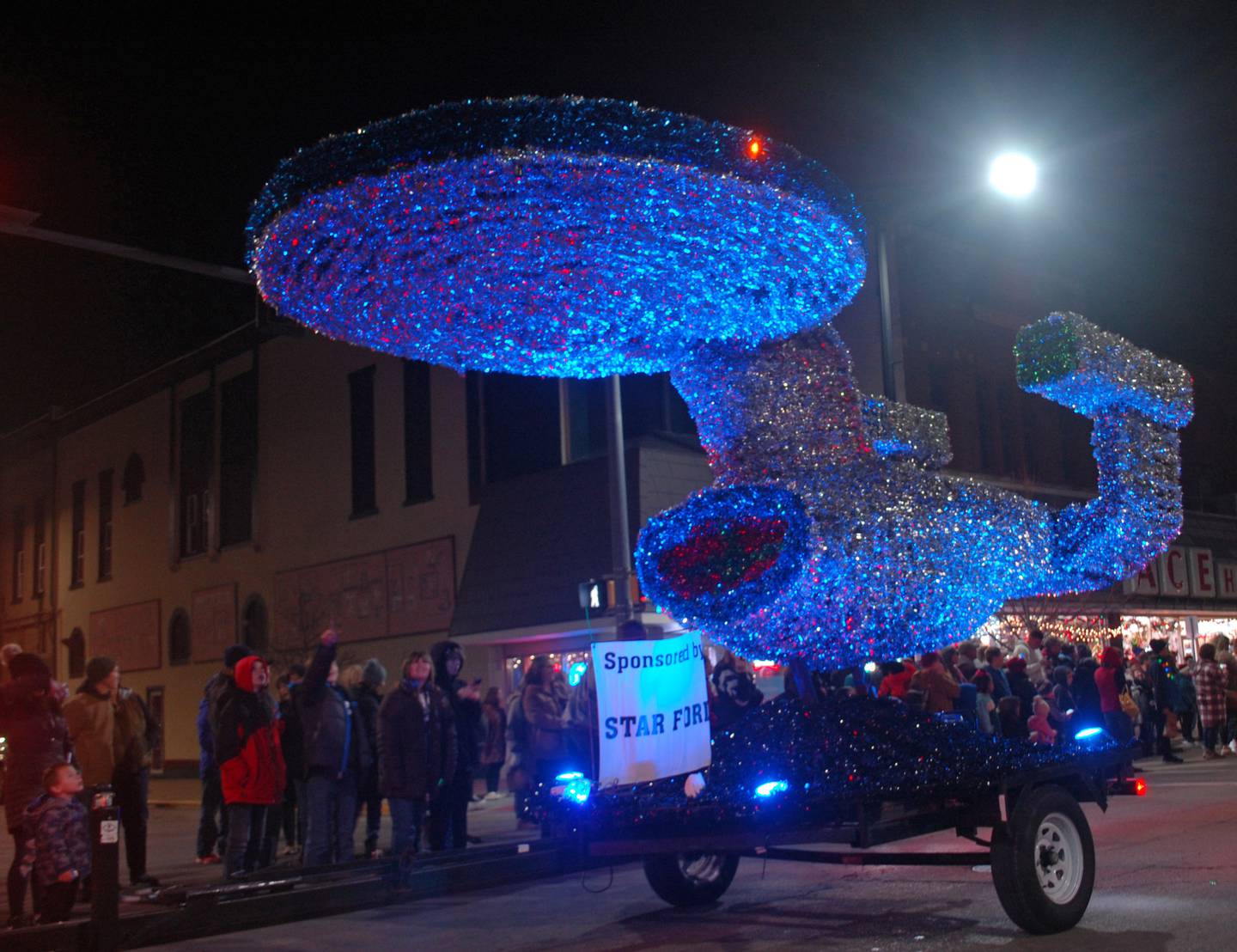 Keeping Christmas Close to Home is scheduled Saturday, Nov. 25, with a number activities including the illuminating of City Park by Light Up Streator and the Lighted Parade. Model trains will be on display 10 a.m. to 4 p.m. at the Incubator, 401 W. Bridge St.; vendor markets 10 a.m. to 4 p.m. at the Incubator, Bruce Township Hall, 216 N. Sterling St., and Park Place 406 E. Hickory St.; Ice sculpting 2 to 4 p.m. at Heritage Park; food trucks 5 to 9 p.m. at City Park; the lighting of City Park at 6:30 p.m.; the lighted parade at 7 p.m. on Main Street; and carriage rides 8 to 9:30 p.m. from City Park. The Screaming Eagles will be hosting its annual toy drive 9 a.m. to 2 p.m. on the southwest corner of City Park.
Christmas in City Park is planned 6 p.m. Saturday, Dec. 16. Music, hot chocolate, Cruisin Concessions, horse and carriage rides and a visit from Santa are among the activities in the City Park lit up by Light Up Streator.
Sublette
The lighted Christmas parade is 6:30 p.m. Sunday, Dec. 3.
Christmas in the Village will be celebrated 11 a.m. to 5 p.m. Saturday, Nov. 25, and 11 a.m. to 5 p.m. Sunday, Nov. 26. Horse-drawn carriage rides, a strolling barbershop quarters, free trolley service, children's activities 2 to 4:30 p.m. at the Heritage Center including cookie decorating, crafts, games, snacks and a visit from Santa and the Christmas in the Canal vendor show are among the activities Saturday and Sunday. The Santa parade is 4:30 p.m. Sunday.
Walnut
Christmas Open House will feature a day full of activities Saturday, Nov. 25. Breakfast with Santa and Make Your Own Ornament will be 7 to 10 a.m. at Didley's Bar & Grill, 112 S. Main St., Avanti Foods will have its Christmas Open House from 8 a.m. to 1 p.m. Children can meet Bluey and take part in Christmas crafts at the library, 101 Heaton St. There will be drinks, treats and face painting 10 a.m. to noon at the Masonic Lodge, 133 S. Main St.; a vendor show 10 a.m. to 1 p.m. at the community building (Santa will be there 11 a.m. to 1 p.m.), 129 S. Main St.; family bingo 1:30 to 3 p.m. at the community building; a hot cocoa bar 10 a.m. to 5 p.m. at Too Good Too Pass Re-Sale. There will be a scavenger hunt, coloring contest and free samples at the Walnut Acres Country Store.
Wenona
Home for the Holidays is scheduled 2 to 5 p.m. Sunday, Nov. 26, downtown. There will be a Christmas pet photo booth, elf-themed stop, a reading of "How the Grinch Stole Christmas" at 2:30 p.m., Letters to Santa writing session 2 to 4:30 p.m., a pre-loved Christmas decor sale, Christmas trivia and a visit by Santa Claus, Grinch games and punch, Christmas bingo, crafts and cookie kits, among other activities.
If you have a Christmas event you want to share, there's still time. Send your information to dbarichello@shawmedia.com and we'll add it to the schedule and share it with readers.