Prairie Ridge started the season without some of the big-name returning players it had in recent years, while coming off a 3-3 spring record and with its starting quarterback suffering an injury a week before the opener.
Yet the Wolves ended their season tantalizingly close to playing in a Class 6A semifinal for the fifth time in six years.
Lake Forest created a late turnover to stop a Prairie Ridge drive that would have sealed Saturday's quarterfinal playoff game, then drove 92 yards for the winning touchdown and extra point for a 22-21 victory.
[ Lake Forest comes up big late to defeat Prairie Ridge in Class 6A quarterfinals ]
"We're a week from a game, we lose our starting quarterback (Tyler Vasey), and to finish here in the quarterfinals, I'm really proud of this group," Wolves coach Chris Schremp said after Saturday's loss. "They got a lot better. We had a little lull in the middle with Cary-Grove and Hampshire, and these guys really responded from that point on. We really got better over the season."
The job Mason Loucks did stepping in at quarterback was remarkable. Vasey got most of the work all summer, but Loucks, a starting defensive back since his sophomore year, played well at quarterback running the Wolves' triple-option.
Fullbacks Nathan Greetham and Noah Solis, running back Zach Bentsen and Loucks gave Prairie Ridge good offensive production. Vasey, who suffered a broken bone in his right elbow, returned in Week 6 and further ignited the offense.
"I'm so proud of them," Bentsen said. "Every single one of them. Putting on this jersey every day, it defines who I am right now. I'm going to miss it a lot. I'm proud of all of them."
Loucks felt the same way.
"I love my brothers I got to play with all four years," he said. "The young guys have talent. Everybody, from the beginning, didn't think we were going to be a quarterfinals team. Our boys proved a lot."
Tigers make history: Crystal Lake Central had only been to the quarterfinals twice before this season (1978 and 2012), and while the Tigers' season ended Saturday one win short of their first semifinals appearance, the program still has a lot to be proud of after a bounce-back season.
[ Cary-Grove blows by Crystal Lake Central, rolls into Class 6A semifinals ]
After going 3-3 during the spring, the Tigers (8-4) won their most games since 2013 with a 6-3 record in the FVC. Central also was among the FVC's top offensive units and averaged more than 30 points a game.
Senior quarterback Colton Madura was one of the area's top playmakers, throwing for 1,846 yards, running for 962 and scoring 31 total touchdowns (19 passing, 12 rushing), despite missing almost three full games.
Senior running back Brent Blitek was the team's top rusher and eclipsed 1,000 yards on the ground with 1,135 yards and 14 TDs.
Tigers coach Jon McLaughlin stood in line and hugged his players at midfield after their season-ending defeat. After, he pointed to junior Jack Blum and sophomores George Dimopoulos and Jason Penza as a few of the players returning next year who are expected to fill in as team leaders.
"The seniors set the bar high for all the lower-level kids to kind of emulate," McLaughlin said. "They're a pretty resilient group. They gave us everything they had.
"Unfortunately, I told them once the playoffs start, only one team is going home with a smile on their face. It's nothing to hang their heads about. Their resiliency and fight all year has been great."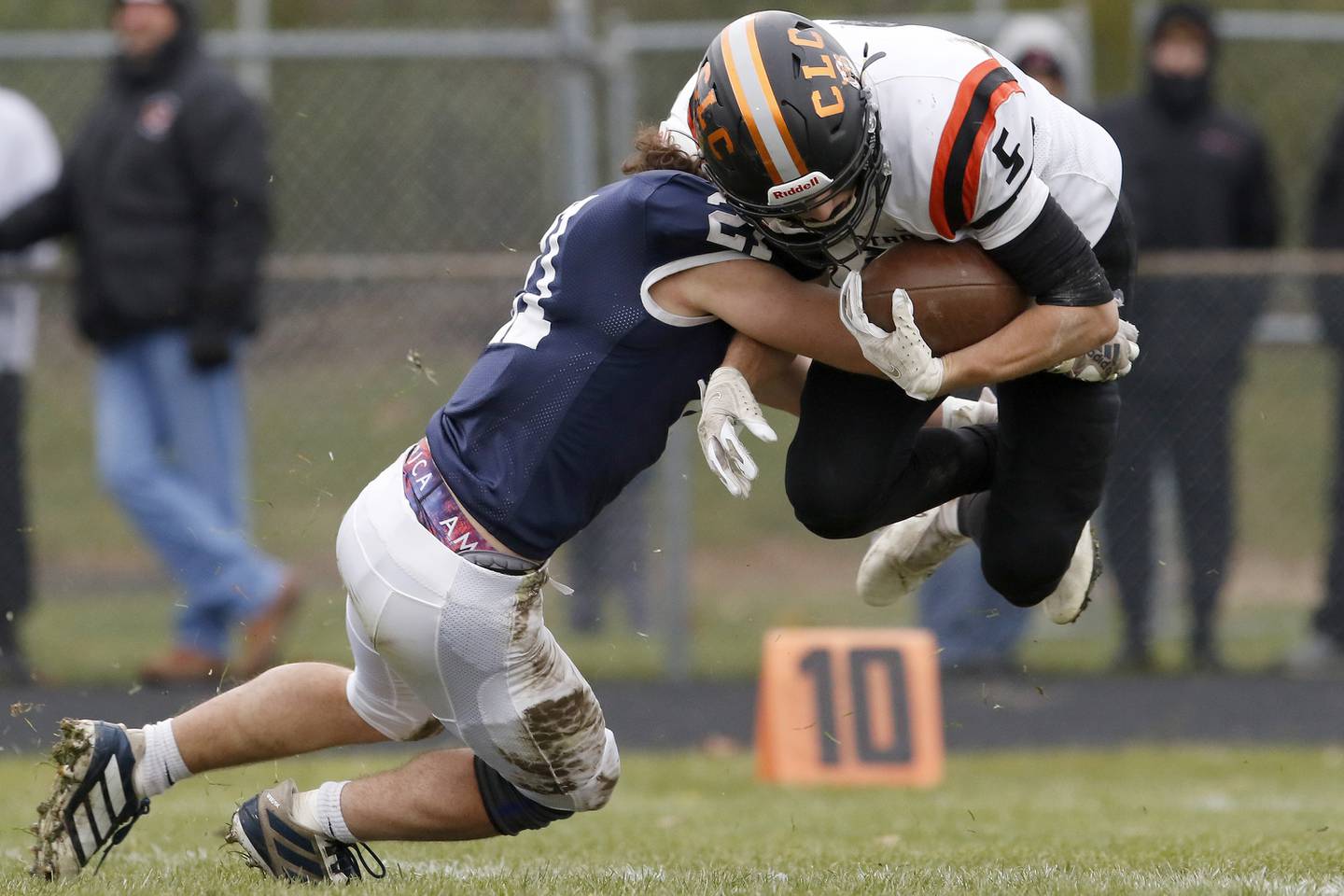 Trojans defense tough again: C-G's defense might get overlooked because of the efficiency and quick-scoring ability of the team's triple-option offense, but the Trojans are no slouch on defense, either.
C-G's starting defense held Central scoreless for a full three quarters. It wasn't until the starters were pulled with a running clock when the Tigers scored all three of their touchdowns. Central actually finished with more total yards than C-G, 384 to 356, based on the the fourth-quarter numbers.
The Trojans were well aware of the playmaking ability of Madura, who missed all but five plays after getting injured in the team's first meeting, a 48-14 win for C-G in Week 3. Even with Madura, the Tigers struggled to create offense.
"When you watch the film, he just makes defenders miss," Trojans coach Brad Seaburg said. "He just makes defenders look juvenile out there. He's really elusive, so we spent a lot of time trying to figure out how to grab him and how to contain him. He was definitely a big concern for us."
The Trojans had a blocked punt and return for a touchdown from Ben Hurt-Haller after forcing a three-and-out on the first possession and, leading 14-0, also had a key fumble recovery on the first play of the second quarter at their own 14-yard line on a fumbled snap.
In seven games at Al Bohrer Field, C-G has allowed only 12.7 points a game.
Making history: Richmond-Burton's 27-26 victory over Chicago Phillips on Saturday put the Rockets into the semifinals for a third consecutive year, marking the fourth time that has happened in area history.
[ Richmond-Burton holds off Phillips, will play in semifinals for 3rd straight season ]
Marian Central's 1985-1987 teams all played for Class 2A state championships, winning in 1986 and 1987.
Prairie Ridge has done it twice – 2009-11 and 2015-17 – and won state championships in 2011, 2016 and 2017.
R-B came close to making three straight years under former coach Pat Elder. The Rockets played in Class 4A semifinals in 2008 and 2009 and lost in the quarterfinals in 2010, then played for a state title in 2011, losing to Rochester, 42-39.
R-B lost to IC Catholic, the eventual state champion, in the 2018 semifinals and has not lost another game since then. The Rockets (12-0) take a 32-game winning streak, the longest area streak during the IHSA playoff era, into Saturday's 2 p.m. semifinal against Joliet Catholic (12-0) at R-B.
Rockets coach Mike Noll had a sparkling record in 28 years of coaching (16 years at McHenry and 12 at Glenbrook South) before coming to R-B in the spring of 2018. But Noll had never had a team reach a semifinal until then. Now, all of his R-B teams have made it to the semis, with the exception of the 6-0 team last spring when there were no playoffs.
More history: Along with Central, Jacobs also was making its third-ever quarterfinals appearance on Saturday. The No. 19-seeded Golden Eagles fell to No. 11 Prospect, 35-21, in their Class 7A quarterfinal.
Jacobs was back in the playoffs for the first time since 2017 and won two playoff games for the second time in school history, equaling the 2015 team's playoff run.
The Eagles (8-4) finished one win shy of the school record set by former coach Dean Schlueter's 1999 team (9-2). Jacobs tied former coach Bob Bejcek's 1979 team, which was 8-3.