Normally, Cary-Grove athletic director Jim Altendorf would leave the postgame speeched to the Trojans football coaching staff.
But Altendorf needed to break tradition Friday night at McHenry's McCracken Field and address the players because their coach had just reached a remarkable milestone.
[ Cary-Grove puts on another offensive show to beat McHenry ]
Brad Seaburg, in his 11th season at the helm, hit the 100-victory mark with C-G's 56-14 victory over McHenry. Altendorf told the Trojans he thought they had the best coach in the country and emphasized what it meant to reach that number so quickly.
It is staggering.
Basically, Seaburg has averaged 10 wins a year. Had the COVID-19 pandemic not shortened the 2020-21 season – C-G played only four of the allotted six games – Seaburg likely would have hit the century mark in 10 seasons.
Seaburg said the recognition goes to the entire program.
"We've had fantastic players and our coaching staff is second to none," he said. "It goes by fast. I was worried I'd get one and now, 100 later, I'm still worried about the next one."
The Trojans (4-0, 4-0 Fox Valley Conference) host Prairie Ridge (4-0, 4-0) at 1 p.m. Saturday for their homecoming game. C-G is ranked No. 1 in The Associated Press Class 6A poll, Prairie Ridge is No. 7.
It matches the FVC's top two coaches, Seaburg (100-20) and the Wolves' Chris Schremp (158-55).
Seaburg has reached 100 victories faster than any other area coach. Schremp, now in his 19th season, reached 100 in his 14th year. Richmond-Burton coach Mike Noll took over as head coach at McHenry in 1988 and reached 100 victories in 1999, his 12th season.
"Coach Seaburg's a great coach and the whole staff is awesome," quarterback Jameson Sheehan said. "It's just the culture he brings here. He's such a great coach. It's well-deserved. He's the one behind all of this."
Safety-kicker Toby Splitt concurred.
"Good teams start with great coaches, and coach Seaburg is probably the greatest coach I've ever known," Splitt said. "The way he runs practices and has a good mindset in the game, I couldn't think of anyone that deserves it more than he does."
For what it's worth, in Seaburg's two seasons with the fewest wins – 7-4 in 2013 and 2017 – the Trojans played for a state title the next year. C-G lost to Providence for the 7A state championship in 2014 and beat Crete-Monee for the 6A title in 2018.
The streak is alive: Richmond-Burton traveled to Plano and found something it had not seen since the 2019 Class 4A playoff quarterfinals: a close game.
The Rockets defeated IC Catholic, 24-14, on their way to the Class 4A state championship and were not challenged in the semifinals or title game. But on Friday, they got all they wanted from Plano before holding on for a 21-14 win.
[ Richmond-Burton holds off huge challenge from Plano, runs winning streak to 24 straight games ]
R-B, ranked No. 3 in Class 4A, pushed the state's longest current winning streak to 24 consecutive games with a late 80-yard touchdown drive and one final defensive stop. The Reapers tied the score at 14 with 3:30 remaining. Running back Steven Siegel ran for 71 yards on the drive, including the touchdown with 1:16 remaining.
Then, as Plano threatened to score, linebacker Brock Wood sacked quarterback Samuel Sifuentes, stripping and recovering the ball to preserve the win.
"It was good to be in a pressure situation on the road in the fourth quarter," Rockets coach Mike Noll said. "Our kids responded in a tough situation."
The Rockets are 4-0, 2-0 in the Kishwaukee River/Interstate 8 Blue Division.
Upon further review: In a game that was defined by one big offensive play after another, it was a monstrous play by Prairie Ridge's defense that provided the final twist of drama in the Wolves' 49-48 victory over Jacobs.
[ Prairie Ridge denies Jacobs' 2-point try to hang on for FVC win ]
The Golden Eagles scored with 2:33 to play, and Eagles coach Brian Zimmerman decided to go for the 2-point conversion. In the mass of humanity that ended the play, it was impossible to see who got the stop. But after watching the game film Saturday morning, Wolves coach Chris Schremp said that Sam Schultz and linebacker Matt Fryer combined for the tackle that kept Jacobs out of the end zone.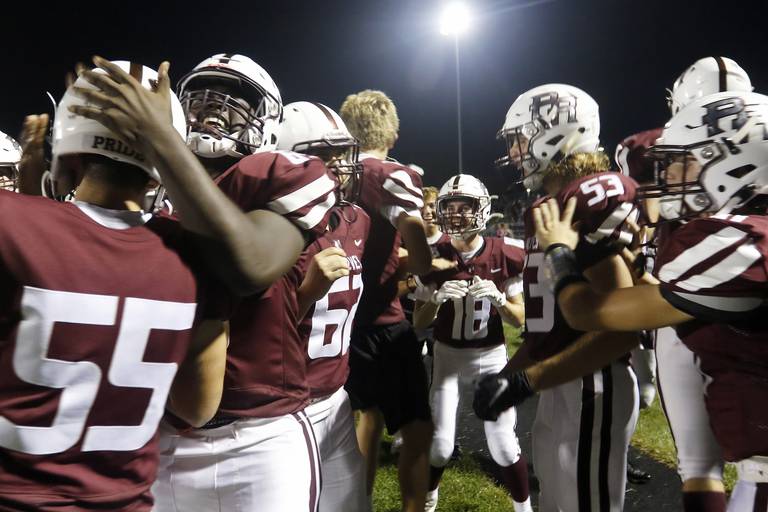 "Sam got him down by the legs, and Fryer came in with the tackle to drive him back," Schremp said.
"I thought about running to the left, but thought we could get [the conversion] up the gut," Zimmerman said. "Their kids made a good stick to stop us. You have to tip your hats to Prairie Ridge. But I'm really proud of our kids. I can't remember the last time we played [PR] this close."
Staggering numbers: The Prairie Ridge-Jacobs matchup was an FVC classic Friday night. The teams not only combined for 97 points, collectively they gained 843 yards - 698 of those on the ground - scored 14 touchdowns, made 13 of 14 extra points, tallied 34 first downs and punted only three total times.
In the second half, both teams scored every time they had the ball, save the final possession where the Wolves ran out the final 2:33 after Zach Lindquist recovered an on-side kick after the Eagles' final score.
• Sam Natrop contributed to this report.