Batavia (10-1) at Hononegah (11-0)
When: 1 p.m. Saturday
Last matchup: 48-0 Batavia in 2019 (playoffs)
About the Bulldogs: Batavia is clicking on all cylinders at this point with its high-flying offense and a defense that makes life difficult on whatever one throws at it. Isiah Brown is heating up in the postseason, while the offensive line cannot be ignored for the job its doing protecting Ryan Boe and paving lanes for Chalie Whelpley, Zach Granberg and co. Defensively, keep an eye on the secondary with Chase Osborne, Josh Kahley and Luke Alwin with the double-duty.
About the Indians: Cole Warren has a 25-to-3 touchdown-to-interception ratio and has 1,644 passing yards on the season. Hononegah has four players over 200 yards rushing, but Greyson Motter and Estin Fichter both share an equal workload in the backfield with a combined 130 carries. Isaiah Houi is a big-play candidate and had four catches for 112 yards and a TD, plus a punt return for a TD, in the massive win over Willowbrook. Linebacker Kurt Smith leads with 62 tackles on defense.
Who's next: The winner plays either Mt. Carmel or Quincy in a semifinal. If Batavia and Mt. Carmel both win, it represents a rematch of last year's 7A state title game next week.
FND Pick: Batavia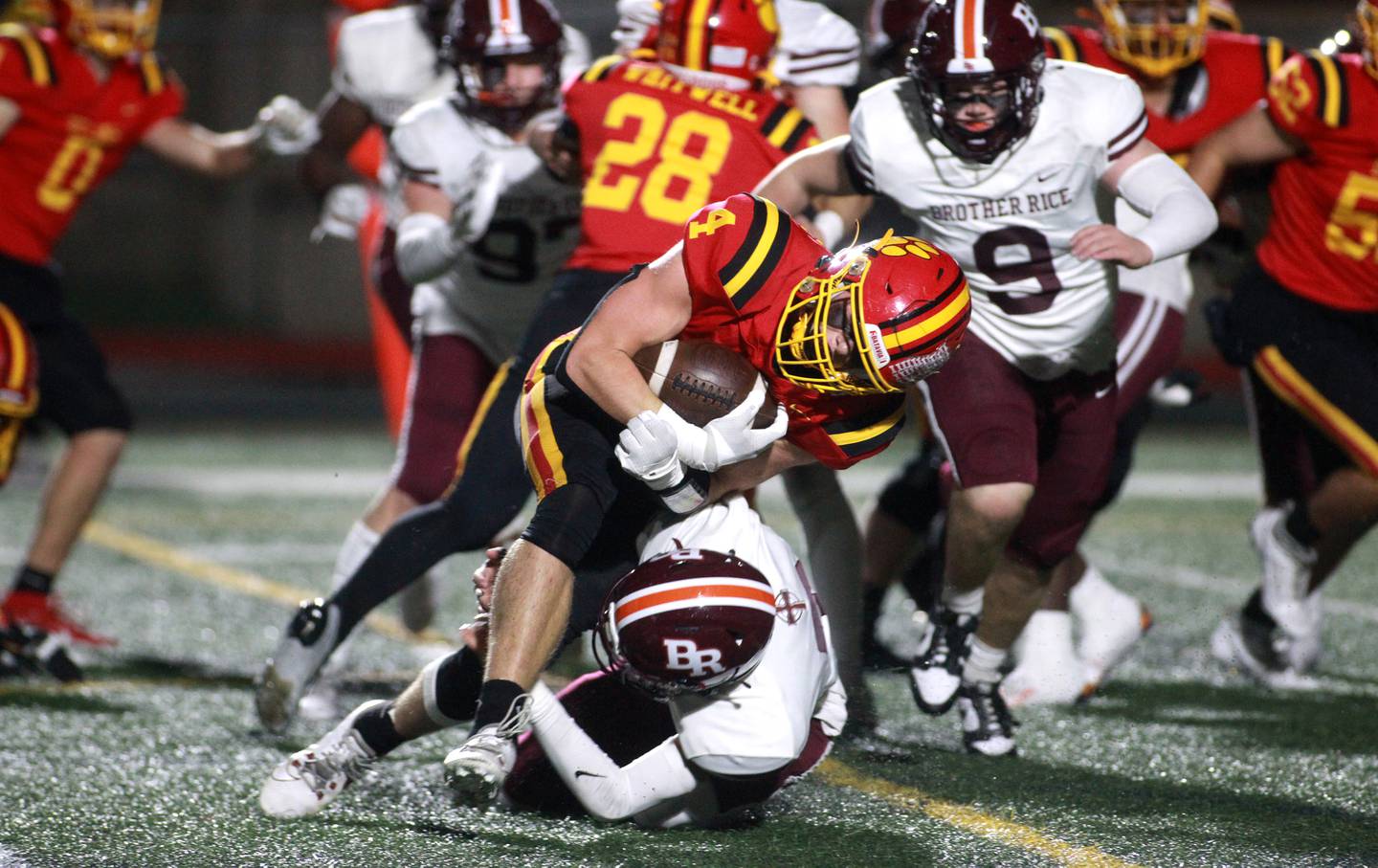 Class 6A
Geneva (9-2) at Cary-Grove (9-2)
When: 1 p.m. Saturday
Last matchup: First known matchup since at least 1996
About the Vikings: Geneva has cruised through the first two rounds, outscoring Senn High School and Lake Forest a combined 92-15. The offense is, of course, paced by senior quarterback Nate Stempowski (107/184, 1,335 yards, 17 TDs). Finn Weppner (26 catches. 344 receiving yards) has made the most of his opportunity with Talyn Taylor's status unknown for this weekend regarding his injury. Troy Velez and Michael Rumoro are a strong one-two punch for Geneva in the rushing attack. Meanwhile, the Vikings' defense is headlined by linebacker Tommy Diamond (56 tackles) and defensive back Charlie Winterhalter (83 tackles) and defensive lineman Rocco DiLeonardi (38 tackles, three sacks).
About the Trojans: C-G beat Highland Park 49-29 last week to reach the quarterfinals for the 15th time in 19 years. … C-G is 59-24 in its playoff history and is 14-1 in its last 15 playoff games, with two state titles in that stretch. The Trojans won Class 6A titles in 2018 and 2021. … FB Logan Abrams is third in the area with 1,251 rushing yards and 18 touchdowns. RB Andrew Prio has run for 1,044 yards and averages 15.6 yards per carry. … The Trojans don't throw often, but are extremely effective when they do. QB Peyton Seaburg has completed 13 of 21 passes for 305 yards and nine touchdowns.
What's next: The winner plays either Belvidere North or Lake Zurich.
FND pick: Geneva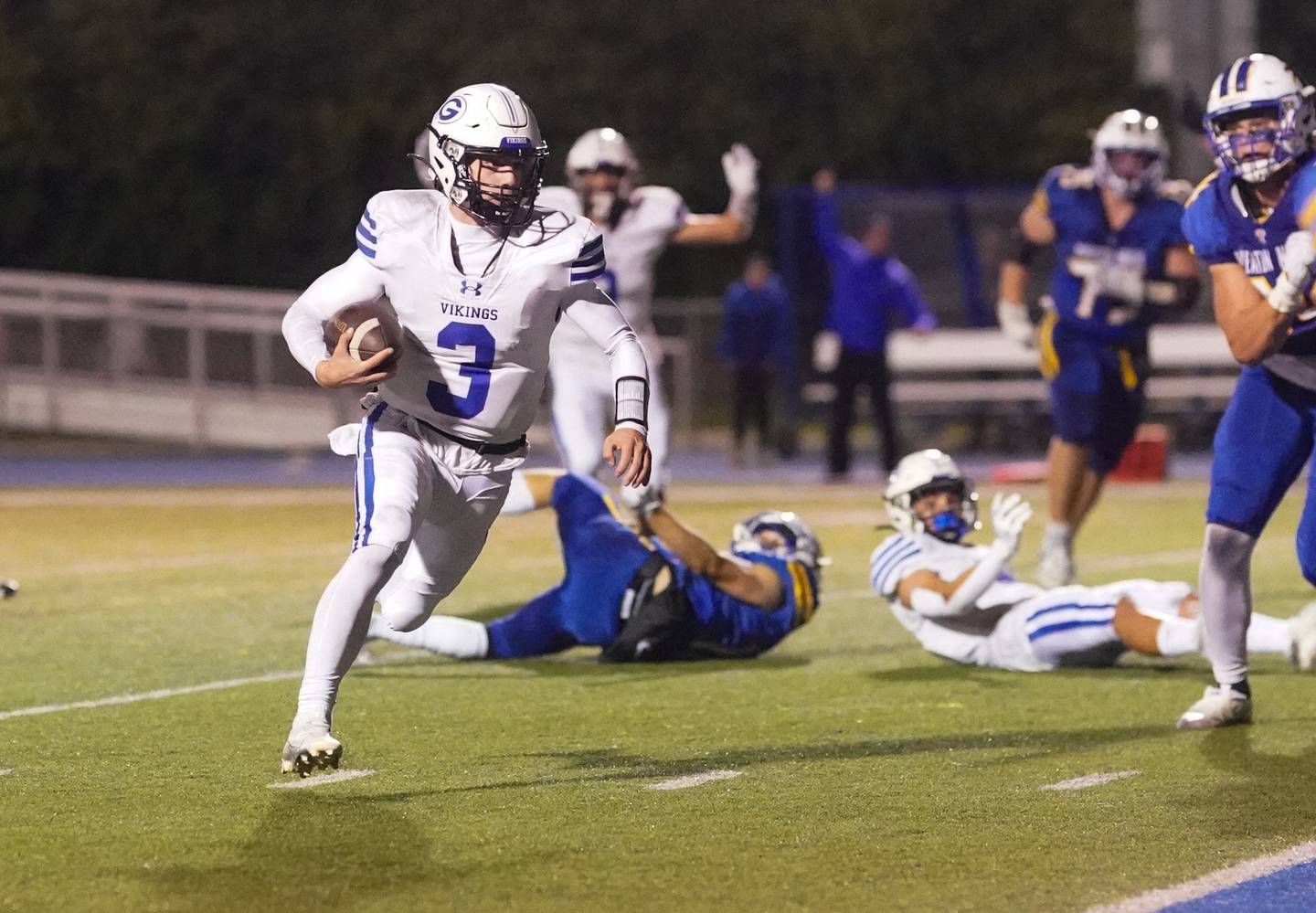 Class 5A
Morgan Park (10-1) at No. 8 St. Francis (9-2)
When: 12:30 p.m. Saturday
About Morgan Park: The Mustangs forced a fumble late against Sycamore in the second round to secure a 27-21 win and return to the quarterfinals for the second straight season. They came back from an 18-7 halftime deficit thanks to strong performances from different playmakers. Quarterback Marcus Thaxton threw for 94 yards, Keshawn Lewis-Hunt rushed for two touchdowns and 85 yards. Illinois commit Tysean Griffin leads the offense at wide receiver. Morgan Park will try to make its first semifinal appearance since 2004.
About St. Francis: The Spartans won their seventh straight game and advanced to the quarterfinals after a dominating 49-8 win over Sterling. Ball State commit quarterback Alessio Milovojevic once again showed off his standing as one of the best in the state, throwing for 285 yards and four touchdowns with no interceptions. He also rushed for a score. St. Francis' defense came away with five turnovers and has now allowed 22 points in its last two games. St. Francis won a share of the CCL/ESCC Orange title and has been dominant during its winning streak, besting playoff teams like Joliet Catholic, IC Catholic, St. Rita and Nazareth. The Spartans will try to reach the semifinals for a second straight season.
Up next: The winner faces either No. 15 Nazareth (6-5) or No. 6 Carmel (10-1).
FND Pick: St. Francis
* Shaw media reporters Michal Dwojak and Joe Stevenson contributed to this report